As a small business owner, any asset that can help you build brand awareness is a must. One such asset that your competitors are certainly using that you may be underutilizing is online business directories.
An online business directory is much more than what traditional listings like the Yellow Pages used to be. They can be ideal for potential customers to find and learn about your business online when it is the most on-topic result of what they are searching for. This makes a local business directory a unique asset to bring new customers to your door.
Before we get into the benefits of an online business directory for your business, let's take a closer look at optimizing your online business listing for SEO. In this 11-minute audio guide, you'll learn key tactics and tips to optimize your business listings for SEO that will boost search ranking, drive more traffic and grow your business like never before. You'll also discover the SEO value of listings; how increasing referral traffic through reviews can improve rankings, why errors in local listing management are a problem if they go unresolved over time; plus much more.
Benefits of a business directory list
Let's look at the top 6 benefits of online business directories and see how they can do wonders for your business. With an online business directory, you can:
1. Enhance your online presence
When you search for your business on search engines like Google and Bing, your business might appear in listings you didn't submit to. This is because some listing sites find listing information from larger directories to create their own. So, when you are listed in a more extensive business directory, you can also get more listings in smaller directories.
The only downside to this is that the information provided on one of the smaller listings could be inaccurate since it did not come directly from you. To avoid such a situation, it is vital to regularly check your listings and fix your online presence as much as you can.
2. Improve your local visibility
About 46% of online searches are users looking for local information. For this reason, having your information listed in an online directory can improve your online presence and help local customers find you more easily through advanced filter options specific to your business. With a massive increase in "near me" searches that most often bring up local business directories, it is more likely that new customers can find your business when you have your information listed in at least some local directories.

3. Get discovered easily
A business directory list can increase your chances of getting discovered by potential customers, even if they don't search for your business by name. To increase your odds, make sure that all of your business information is up-to-date and accurate on all directories that have listed your business. This is helpful as most customers don't search for a business name when looking for a service or product. Some search terms that customers use are "cosmetic surgeons near me" or "best restaurants in San Diego."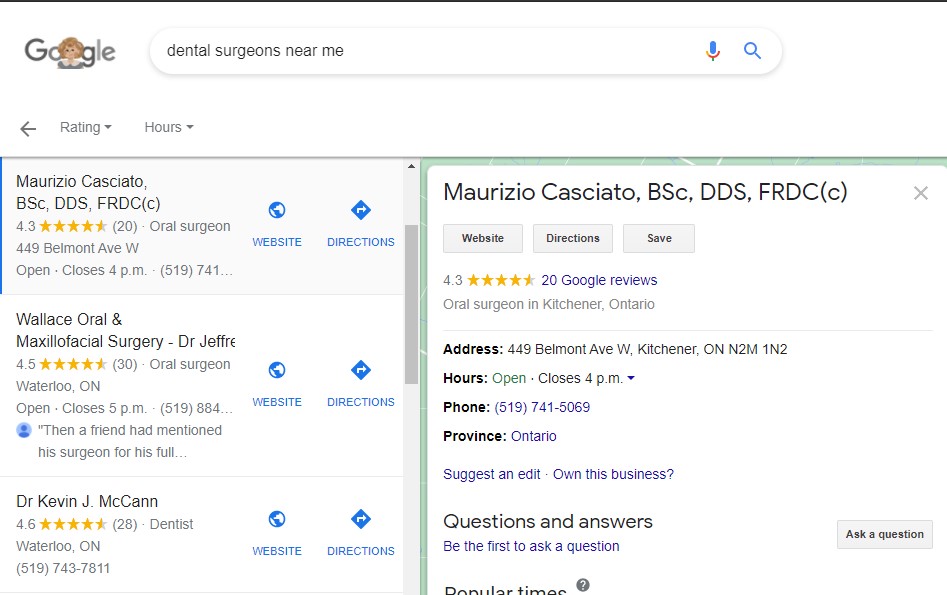 4. Create your brand awareness
When customers perform a search in an online business directory, a list of matching results, each with a snapshot and business details are listed. To learn more about the business, you can click on it. In this case, even if the customer does not click on your business name, they still see your business. Each time a customer sees your business, it increases the awareness of your brand in the customer's mind and improves your chances of getting business from them.
5. Boost your SEO and rank higher on search engines
Search engine optimization (or SEO) is intentionally optimizing your content so that search engines like Google will find it relevant and rank it higher on their results pages. While implementing SEO practices on your site can provide these results, it can take months to see success.
However, online business directories are considered a valuable and trusted source of information by Google and other search engines. Because of this, the first page of results for local business searches usually contains results for online business directories. If you get listed on a business directory website, you have a chance of benefiting from their well-established SEO and appearing on the first page of major search engines like Google and Bing.
6. Improve local customer interactions
Not only will persistently finding and adding your businesses to online directories help local customers find you, but it will also provide you with more customer feedback. Most directories sort business listings by location, which makes it much easier for potential local customers to find you. Keeping your business's contact information on local directories will make it that much faster for them to reach out for your services.
Many business directories also provide the option to rate and review the business they list. Having positive reviews next to your business on a directory can make the difference between a new customer choosing your business over the competition. Birdeye highly recommends requesting reviews from satisfied customers and asking them to leave positive reviews on the business directory where they found you can give you an edge over the competition.
The final thought
While having your business listed on online business directories is a great advantage, incomplete and inaccurate business details can affect your online reputation and frustrate customers who are looking for your business. Customers, if unable to contact you, will shift away from your brand and might end up landing on to your competitor's perfectly updated listing and eventually doing business with them.
Online reputation management solutions like Birdeye are equipped with powerful tools that help you fix your online listings (name, address, and phone number) across various listing websites and sites like Google, Facebook, Bing, and Yahoo, in one go.

Originally published