It used to just be a phone call or an in-person visit. Then came email – then text, followed by social media and webchat. People now engage with multi-location brands across multiple channels. Every day, the average consumer jumps between email, social media, chat, and more throughout the customer journey. Furthermore, the range of customer touchpoints varies widely depending on the purchase. Consider that research from Google has found that online customer touchpoints can range from 20, all the way up to 500.
On the other end of the line are customer-facing teams who have to juggle all of these interactions while also attempting to do everything else. Staying on top of so many customer interactions across multiple channels can be overwhelming, particularly when these channels don't share customer interaction data with each other.
That's why we created Birdeye Messaging. Organize all customer messages from every channel – even reviews, surveys, and referrals – in one place, and streamline the process of responding to customers on their preferred channel.
To learn how to convert your leads with messaging, check out this article on how to convert more leads and delight more customers.
Centralized customer engagement for your company
Birdeye's Messaging enables you to craft the perfect response for every customer interaction, centralize your customer communications, and engage teams across the company to deliver a winning customer experience every single time.
Here are some of the top features Birdeye Messaging offers you and your team:
One inbox for every interaction: Whether it's reviews, referrals, surveys, texts, email, livechat, voicemail, video chat, Facebook messenger, Google Business Profile messenger, Instagram messenger and more.
Messaging history: View the full interaction history with each customer, and send the perfect response every time.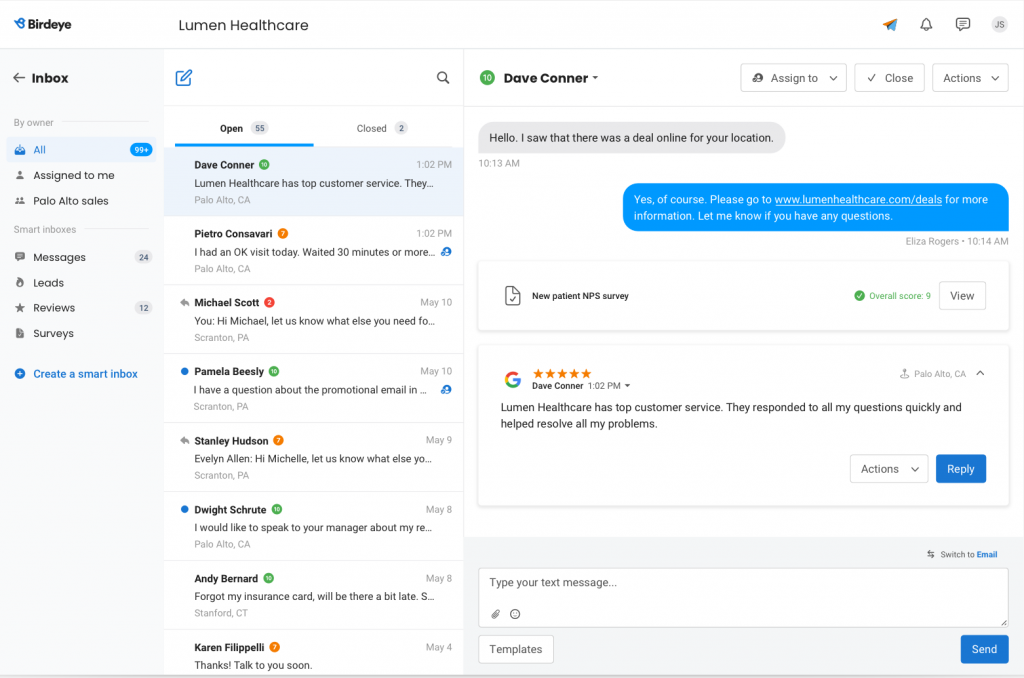 Text your reviewers: Easily identify who wrote a review, then respond to them directly with a private text or email conversation
Smart inboxes: Customize your inboxes to stay organized, route feedback to the right people and get more done as a team.

As more consumers engage on digital channels, personalized messaging is paramount to providing high-quality customer experiences. Centralizing customer messages break down internal data silos and allow your teams to create consistent personalized experiences at every touchpoint.
Centralize your messages today.

Originally published