Consumers gravitate to brands that offer simplicity, speed, and convenience, whenever they need a question answered or a problem solved. These highly valued attributes extend to when and how they connect with businesses across communication channels. For consumers, messaging is now their preferred method of communication. That's why we're providing Birdeye Messaging to every new and existing Birdeye customer. Businesses can give customers the ability to connect with them on their preferred messaging channels, while seamlessly managing them by centralizing every customer interaction through powerful customer messaging software.
Why having messaging capabilities is so important
According to a Forrester study commissioned by Google, over half of consumers rank at least one form of messaging (including text or messaging through social media, third-party apps, or a brand's mobile application) in their top three preferred methods of communication with a business.

Furthermore, people especially prefer messaging businesses for queries rather than calling or sending emails. 60% of consumers prefer a digital tool such as online messaging over telephone calls, emails, and in-person visits for simple questions and inquiries.
However, messaging is still a nascent offering among businesses: Fewer than half of decision-makers report their business offers messaging through their own or a third-party app.

Consumers prefer the speed and convenience of messaging, so they can resolve issues or get information while on the go. Businesses need to be 'messaging' enabled to support one-on-one communication with the preferred channels of their prospects and customers.
Birdeye Messaging now makes your business textable, organizes customer interactions from every channel – even reviews, surveys, and referrals – in one place, and delivers one-on-one communication. It even allows businesses to collaborate and assign incoming messages to internal teams, so the right people can address new leads and solve customer queries faster and more accurately.
How Birdeye Messaging software benefits your business
Birdeye Messaging enables you to craft the perfect response for every customer interaction, centralize customer communications via 2-way texting, and engage teams across the company to deliver a winning customer experience every single time.
In short – it makes your business textable.

With Birdeye, messaging is more than conversation — you can solicit reviews, answer tickets, request referrals, send surveys, answer calls, and more, all with the convenience and ease of the single dashboard.
In this video discover how Kasey Hogland, Marketing Director at Williamson Foundation Repair uses Birdeye Messaging and Webchat to help her company never miss customer messages and address urgent customer questions and requests even though there is no one in the office to attend phone calls. These features have allowed Williamson Foundation Repair to continuously provide the excellent customer service they are known for.
Improve customer experience with messaging
Birdeye's all-in-one Experience Marketing platform already provides a plethora of powerful tools to optimize customer experience – intuitive smart surveys, streamlined reviews management, and powerful referral marketing solutions just to name a few.
Birdeye Messaging ties all of the pieces together to help you deliver seamless, convenient, one on one communication at key touchpoints throughout the customer journey from one unified inbox.
You'll be able to provide prospects and customers alike the speed and convenience of messaging in every interaction – whether it's inbound messages from prospects through Google search or texting a happy customer with a referral request.
Amplify growth with messaging
Given the popularity of messaging with consumers, it's important to provide customers with the option whenever they interact with your business. Utilizing messaging for customer engagement provides your business with the opportunity to boost engagement, retention, and revenue.
When consumers can use the communication channels they prefer, over 50% are more likely to:
Make a first-time purchase
Buy more often from the business
Recommend the business
Grow your referral business with messaging – Easily send referral requests via messaging and provide your customers with their preferred channel for referring your business to friends and family. You'll also be able to easily respond to referrals through messaging to speed up conversion.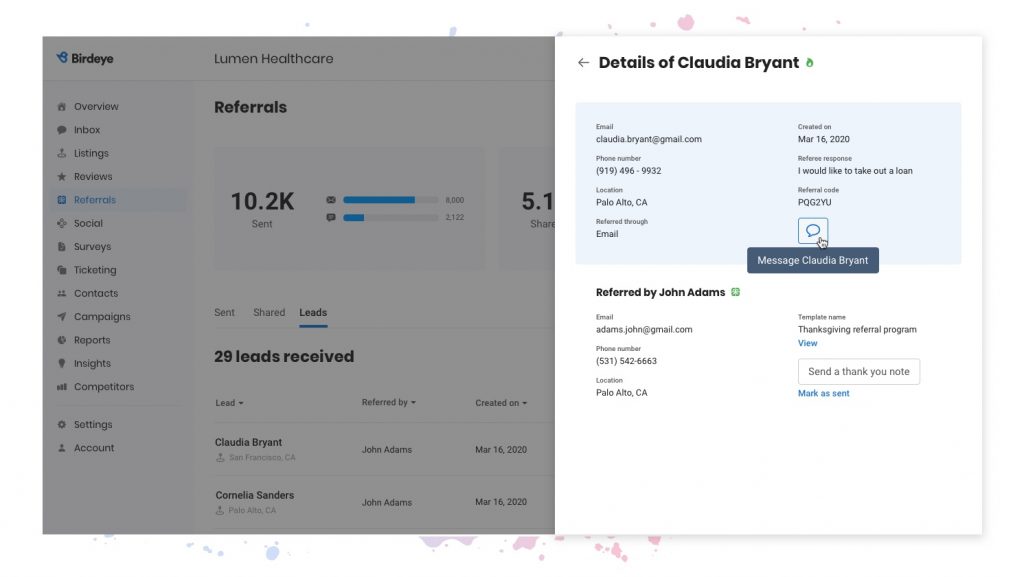 Text your reviewers – Easily identify who wrote a review, then respond to them directly with a private text or email conversation. You'll be able to quickly address negative reviews and thank your customers for the positive feedback.
Continue the conversation in Pulse Surveys – Send pulse surveys using 2-way texting to boost response rates and seamlessly text survey respondents. You can glean valuable feedback by continuing the conversation in survey responses. You can then use these insights to improve the customer experience.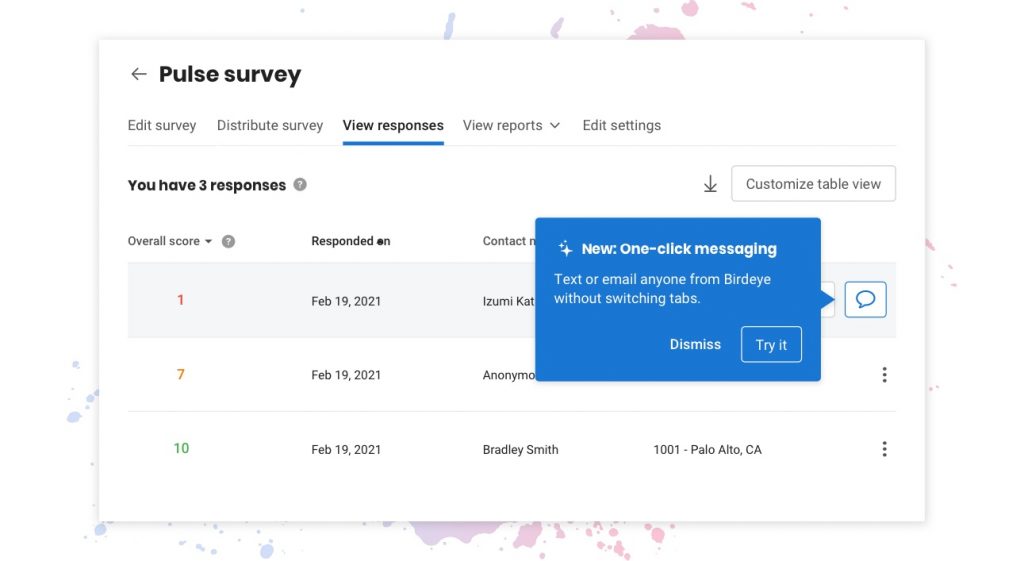 These are just some examples of how your business can leverage Birdeye Messaging to drive customer engagement. You can also:
Get new reviews
Run surveys
Resolve tickets
Get referrals
Answer voicemails
Furthermore, you'll be able to easily manage all of these messages through one unified inbox. Whether your customers message from Google, a survey, Facebook, or any other relevant channel, you'll receive all messages in one place and team members can access a customer's entire interaction history to keep your team on the same page and ready to deliver one on one communication.
This puts your business in a prime position to significantly increase conversion rates for website visitors, review requests, referral requests, and survey responses. Higher conversion rates across these initiatives translate into accelerated revenue growth.
In fact, businesses that offer advanced messaging have 5% or greater revenue growth. Better communications mean happier customers, which leads to more/bigger purchases and advocacy.

Customers prefer messaging and thus expect businesses to provide them with the option at their convenience. Making your business textable throughout the customer journey is paramount to delivering memorable customer experiences and accelerating growth.
Ready to make your business textable and meet your customers on their preferred channel? Click the banner below to learn why over 100,000 businesses use Birdeye's customer messaging software to centralize every customer interaction and deliver better business outcomes.

Originally published