With many states, cities, and counties practicing shelter-in-place orders and social distancing, it might be difficult to know if your contract work will be put on pause. Though essential businesses differ depending on your location, many contractors and home services companies are still open for business. How is the industry adjusting, and how can contractors communicate during COVID-19?
In this video discover how Kasey Hogland, Marketing Director at Williamson Foundation Repair uses Birdeye Messaging and Webchat to help her company never miss customer messages and address urgent customer questions and requests even there is no one in the office to attend phone calls. These features have allowed Williamson Foundation Repair to continuously provide the excellent customer service they are known for.
Contractors and home services can keep up business with Birdeye
New leads through Webchat
Our contractors and home services clients are thankful that Webchat is still bringing in new customers during this uncertain time. Website visitors can easily ask questions by clicking the Webchat icon, leaving their name and mobile number, and typing in their query. A representative responds quickly via SMS text messaging.
After realizing their roof had a leak, a customer contacted one of our home services clients through Webchat. Within minutes, a representative from this company responded to the customer's questions and scheduled a time for a contractor to assess the damage. This helped the company get another client on board, and the customer was happy to have their roof repaired quickly. Tools like Webchat keep contractors communicating during COVID-19.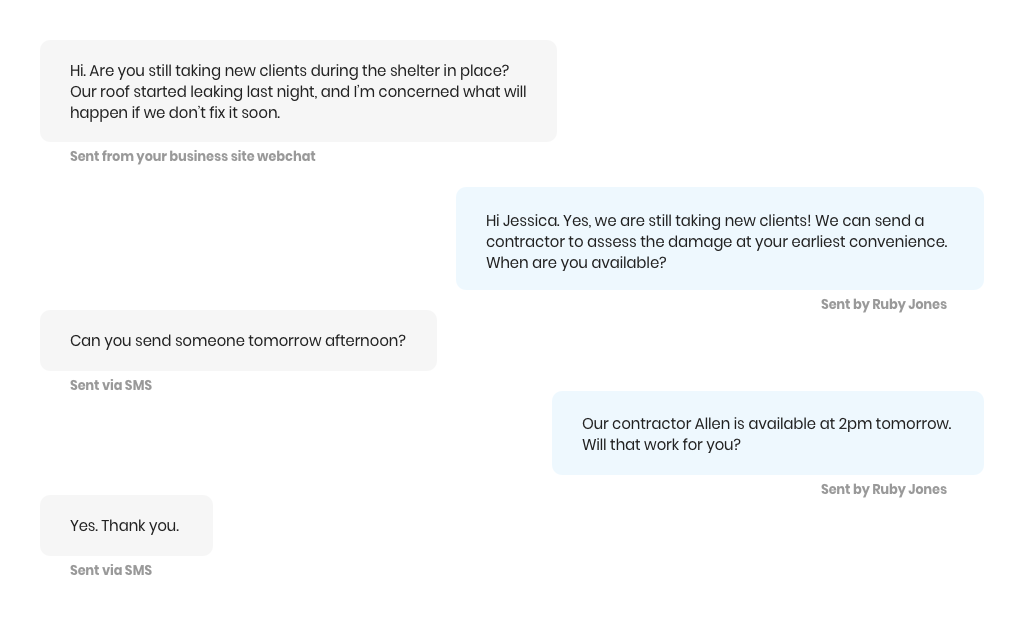 SMS text messaging to keep up communications
While Webchat is great at getting new customers or answering customer questions, SMS texting is how businesses can have sustained two-way communication with their customers. Having a Messaging inbox that tracks all the communication via Webchat, Facebook Messenger and text helps them communicate seamlessly and efficiently. By carrying on conversations over text, Birdeye contractors can keep communicating during COVID-19 while keeping everyone safe.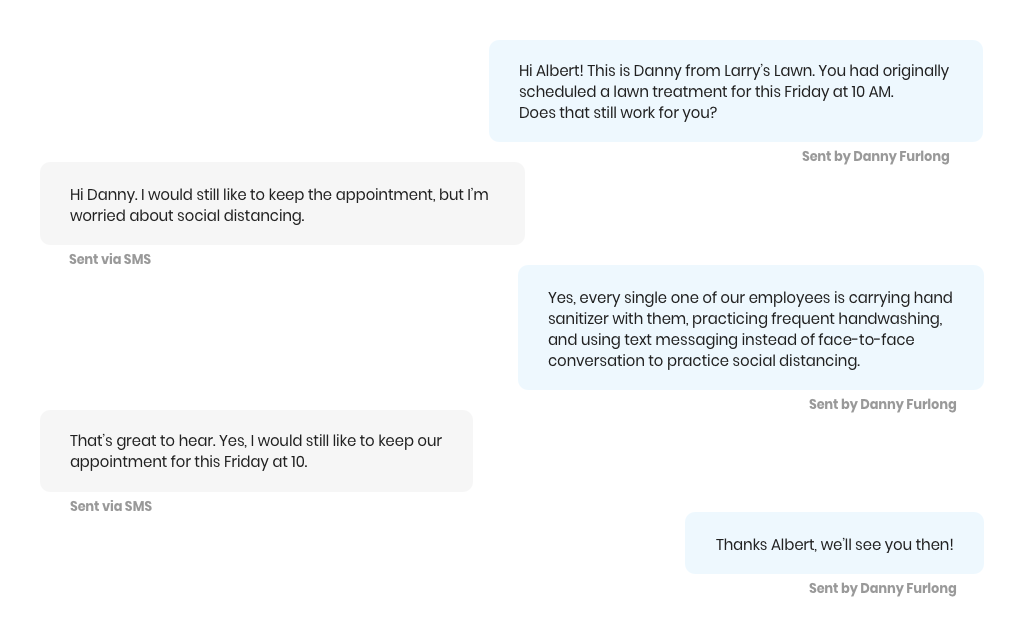 SMS texting also makes it easy to keep up with your customers in real-time. Let's say you're a gutter company, and upon cleaning your client's gutters, you realize that one of the downspouts has been severely damaged in a recent storm. You can text your client, informing them of the issue. The client can then communicate with you, asking for options and more information on how to proceed. Texting is a great way to regain efficient communication with your customers during this unusual time we are living in.
Send photos through Birdeye Messaging
In the home services industry, there are so many instances in which an employee or a customer needs to see something in person in order to understand the situation. But, through Birdeye Messaging, both customers and businesses can text photos to each other. This makes it much easier for for contractors communicating during COVID-19 because they can keep up the conversation while avoiding personal contact.
Send Announcements to keep customers informed
Is your business taking special precautions during COVID-19? Or do you need to let your customers know that you will only be working three days a week now? Important information like this can be sent efficiently using Announcements. Create an email and send it to all of your customers in a flash.
Update your business listings
There are new developments each day as the pandemic unfolds. It can be tough for customers to know which businesses are remaining open or if they have changed their hours. Keep your local business listings on 50+ sites up to date easily through the Birdeye dashboard. All you need to do is put in your most up-to-date information, and Birdeye will ensure that those changes are reflected across all of your listings, saving you valuable time.
Adapt your business with the right tools
Our contractor and home services clients have been using Birdeye to keep their business operations running as smoothly as possible. We are living in uncertain times, but with the right tools, we can all do our best to keep up business as usual. Our contractors communicating during COVID-19 are proof of this! With Birdeye you can…
Keep in touch with your customers through Messaging. Through Birdeye Messaging you can have access to Webchat and Landline SMS texting.
Send Announcements. Keep all of your customers notified about important changes through email.
Update your business listings. Keep all of your online information up to date.

You can also discover the top contractor review sites to which your business should give priority.
Originally published