Do you use your landline phone to stay connected with your customers? Do you use your office landline to call your customers to ask questions, provide information, or simply schedule appointments? If yes, then this article is for you. When your customers get a call from your number they know it's a call from your office. But there's one more thing you can do to communicate with your customers – texting from a landline.
Here's why texting from your landline phone matters and how your business can get started today. If you're short on time to read through this article, check out our video for on-the-go listening.
Why do you need to make your landline phone textable?
So, why do you need to text through your landline? It's the form of communication your customers prefer. Studies show that the open rate for text messages is more than 4x the open rate for emails. While it's easy to miss an email, customers almost always check their text messages.
But this doesn't just help your customers. Adding text capabilities makes communicating more convenient for you — the business owner. You don't need to drop what you're doing to take a customer's call. You can text your customers while you're taking care of your business.
So, why landline texting? While many businesses choose to send customers text messages with a separate number, this can be risky. After all, this number often won't be recognized by customers' phones. Meanwhile, your landline phone number can show up in your customers' Caller ID, making it significantly more likely that your messages will get a response.

Reading and replying to texts on your landline
Now, it's time for the obvious question: how are you supposed to check texts that are sent to your landline? Chances are that your landline doesn't have a screen like your smartphone.
The answer is to have a solution like Birdeye that can add texting functionality to your existing landline.
What does the process of enabling landlines for text look like?
Enabling your landline for text messaging isn't a complicated process. In fact, there's zero technical expertise needed.
We allow Birdeye customers to do it in just two steps. All you have to do is enter your phone number on the Birdeye dashboard. You will soon get a call with a verification code to make sure that you're actually the owner of the phone number. And just like that, within 24-48 hours, you'll be able to send texts through your landline.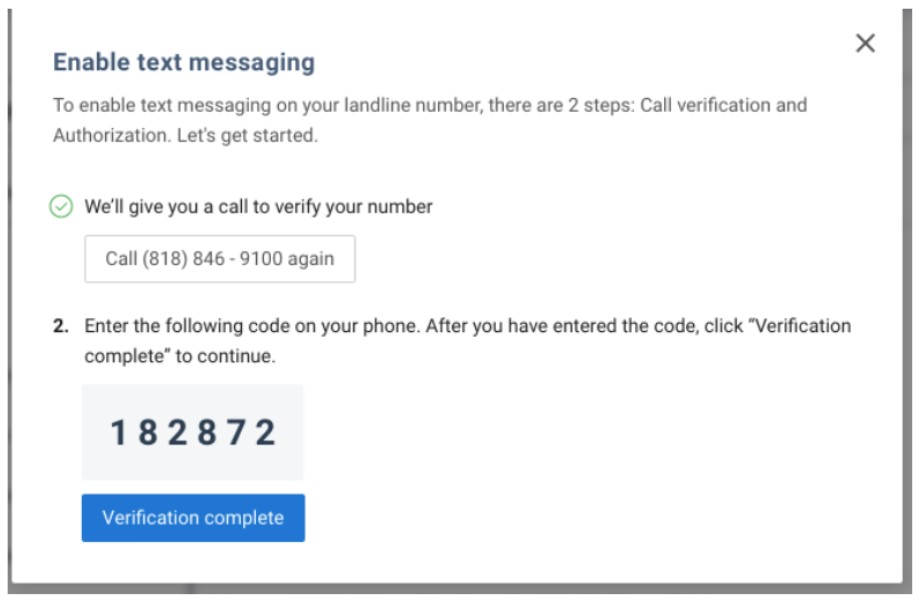 Once the texting functionality is added to your phone, you can start sending texts to your customers as well as receive texts within Birdeye Messaging. You can then monitor and manage these messages on your desktop or on your smartphone with the Birdeye mobile app.

A quick note: While landline phones can be enabled for text messaging, VoIP phones cannot. If you're not sure what that is, think of it this way: a VoIP phone is a phone that needs the Internet to work. If your phone doesn't need the Internet, then you should be able to connect your phone to Birdeye Messaging.

Guidelines for texting from landline
Before you start texting your customers, you should keep these tips in mind. These tips can make your texts more effective, whether they're through your landline or not.

Give your customers the option to opt-out
Some of your customers might not want to be texted for one reason or another. Make sure that they have an easy out, so they don't end up becoming frustrated with your business. Include a button where customers can opt-out of your texts. To prevent customers from becoming frustrated and wanting to opt-out in the first place, make sure they understand from the beginning how often you'll be contacting them.
Keep the timing in mind
Be sure that you are sending messages to your customers at the right time. Nobody wants to get a text after 9 pm. Different times work best for different businesses. Experiment to see when you get the best results.

Personalize your interactions
Customers won't answer a generic text message that seems like spam. That's why it's important to make sure that your texts are personalized. Remember, texts the
Frequently asked questions about texting from landline
Let's answer some questions we often hear about landline texting for businesses.
Can I use my existing landline phone for text messaging?
Yes. With a service like Birdeye, you will be able to use your existing landline to send text messages to your customers.
Can landline phones send text messages?
While a landline phone can't send text messages, a landline number can be enabled to text with a service like Birdeye.
Will landline texting change the way I use my landline today for voice?
No, the use of voice calls will not be changed in any way.
Will enabling landline texting change my current billing with my phone carrier?
No, it does not change anything attached to your carrier billing or terms.
Is there any special hardware or technical expertise needed to enable landline texting?
No, Birdeye ensures you do not need any special hardware or technical expertise to set up the service on your business landline.
Make your landline textable with Birdeye
Want to add text message capabilities to your landline? Birdeye can help.
With Birdeye, businesses can stay connected with customers easily. Whether it's via SMS or Facebook Messenger, you'll be able to manage your customer interactions via the Birdeye Inbox. It's easy to send appointment reminders, ask customers to leave reviews, and answer customer questions.

Originally published