In today's fast-paced business world, building and maintaining strong customer relationships is crucial for success. That's where Customer Relationship Management (CRM) comes in. CRM software helps drive sales growth by helping the business manage customer relationships, build customer loyalty, and enhance the overall brand image.
With the ability to store and manage customer information, automate processes, and provide personalized experiences, CRM technology is essential for any company looking to stay ahead of the competition. In this blog post, we'll dive into the benefits of CRM software and provide real-life CRM examples to help you find the perfect solution for your business.
What is Customer Relationship Management
Customer Relationship Management refers to the process of managing interactions between a business and its customers. This involves tracking and analyzing customer data to gain insights into customer behavior and preferences and using this information to improve customer engagement, retention, and overall satisfaction.
The goal of CRM is to build stronger, more profitable relationships with customers by delivering personalized experiences and addressing their specific needs and concerns. By improving customer relationships, businesses can increase customer loyalty, drive sales growth, and enhance their overall reputation and brand image.
How does CRM software help Customer Relationship Management
Customer relationship management software can be used to store and manage customer information, such as contact information, purchase history, and communication preferences. It can also automate various customer-facing processes, such as marketing campaigns, sales activities, and customer support.
5 key benefits of CRM software
1. Centralized customer data
CRM consolidates all customer information in a single database, facilitating the automation of tasks and understanding customer behavior. The benefit of a CRM tool lies in the ability to keep all stakeholders informed and up-to-date. This is especially important for companies where sales, marketing, and service departments operate across different locations. The entire organization is better equipped to serve customers effectively with customer information readily available.
2. Automate everyday tasks
CRM systems automate many of the smaller tasks involved in the sales process, freeing up sales representatives to focus on closing deals and addressing customer pain points. This allows them to work smarter, not harder, and build stronger customer relationships. By taking care of ancillary tasks such as filling out forms, sending reports, and addressing legal issues, CRM systems allow sales reps to concentrate on providing top-notch customer service and growing the business.
3. Personalized customer experiences
CRM software tracks customer interactions and compiles a wealth of information, enabling businesses to personalize their marketing, sales, and customer support. This creates a better customer experience and fosters loyalty. For instance, when a support rep references previous conversations with a customer, it shows that they care and understand their concerns. This personal touch can lead to repeat business and positive word-of-mouth. CRM software helps you provide exceptional customer experiences that keep customers returning for more.
4. Increase Customer Retention
A CRM system can increase customer retention by:
Providing personalized communication based on customer behavior and preferences
Ensuring timely follow-up with customers through automated reminders and messages
Proactively identifying and addressing customer issues before they become major problems
Collecting customer feedback through surveys, reviews, and social media to improve products and services
Strengthening customer relationships and loyalty over time
5. Reliable data analytics and reporting
By storing all your information in one place, a CRM allows for better analysis of your data. Plus, it can be easily integrated with other tools and plugins to generate automatic reports and save time. Personalize your dashboard to quickly access mission-critical information, such as customer data, sales goals, and performance reports. With better reporting, you can make informed decisions that drive long-term profitability.
5 best examples of CRM software
• Salesforce
• Hubspot
• Zoho
• Freshworks
• Pipedrive
The market offers a vast range of CRM platforms that cater to different business sizes, industries, and unique requirements. Here are some of the most popular CRM systems available to businesses.
Salesforce
Salesforce's CRM, Customer360, consolidates customer data and provides access to sales, service, marketing, commerce, IT, and analytics in one place. It offers lead and contact management, sales opportunity management, automation, and customizable reports and dashboards. Salesforce apps like Einstein AI help businesses achieve their goals, and Employee Experience features streamline work collaboration and improve motivation.
Hubspot
HubSpot is an all-in-one CRM platform that tracks customer relationships and optimizes marketing, sales, and service processes. This service is available to businesses of any size, from the smallest startups to the largest enterprises, and all departments, including marketing, sales, customer service, operations, and executive-level leadership. HubSpot brings together Marketing Hub, Sales Hub, Service Hub, and CMS, along with hundreds of integrations to:
Align internal teams
Generate valuable insights
Report success and growth opportunities
Deliver exceptional customer experiences
Enhance adoption, and
Amaze your target audience throughout the entire buyer's journey
HubSpot simplifies software management and manual tasks, giving you more time to focus on your customers, improve the customer experience, and grow your business.
Zoho
Zoho is an integrated and cloud-based CRM with lead management, analytics, workflow automation, and marketing process management features. It has an AI sales assistant called Zia. Zia helps businesses interpret CRM data, tracks website visitors, and predict sales. This CRM's gamification feature keeps your reps motivated and focused on quota. Zoho's Google Ads integration helps to align your sales and marketing teams by bringing your ad spend and sales revenue to light. You can also use Zoho to support customers and prospects via phone, email, live chat, or social media.
Freshworks
Freshworks is an AI-powered customer engagement platform combining Sales and Marketing Cloud. Sales Cloud helps attract and qualify leads as well as forecast sales using AI. Marketing Cloud automates customer conversations with AI-powered chatbots and provides insights into audience behavior and engagement to help you create highly-targeted campaigns and experiences. Freshworks uses AI to personalize customer experiences, enabling your sales and marketing teams to focus on delivering high-quality customer interactions.
Pipedrive
Pipedrive is a customer relationship management and pipeline administration tool designed specifically for small teams that need an efficient way to manage their sales. It has various features that allow for easy tracking of performance, managing deals, and automating repetitive tasks. By automatically visualizing the pipeline, Pipedrive helps identify where efforts should be focused.
Birdeye integrates with over 3,000 software systems, helping you manage your customer relationships and other marketing efforts from a single dashboard.
Different types of CRM software
There are three main types of Customer Relationship Management (CRM) systems: Operational, Analytical, and Collaborative CRM. Let's discuss how the three types of CRMs differ and provide some CRM system examples.
Operational CRM
Operational CRMs play a crucial role in helping businesses streamline their customer relationship management processes. By offering a range of powerful tools and features, these systems let companies visualize data better and manage the entire customer journey, even when it involves many touchpoints.
From a customer's first interaction with a company's website to lead management, sales pipeline tracking, and ongoing customer behavior analysis, operational CRM systems provide end-to-end support to help businesses deliver a seamless customer experience.
CRM examples – Operational CRM
Analytical CRM
An analytical CRM analyzes customer data to gain insights into customer behavior, preferences, and needs. Analytical CRM uses data mining, machine learning, and other advanced analytical techniques to identify patterns and trends in customer data, which can be used to improve marketing, sales, and customer support.
By using an analytical CRM system, businesses can:
Improve customer targeting: Enable businesses to identify high-value customers and tailor their marketing efforts to attract and retain them.
Personalize customer interactions: Help businesses personalize customer interactions, providing a better customer experience and increasing loyalty.
Optimize sales and marketing strategies: Businesses can optimize their sales and marketing strategies by understanding customer behavior resulting in higher conversion rates.
Boost customer service: Businesses can identify and proactively address common customer issues, improving customer satisfaction and retention.
CRM examples – Analytical CRM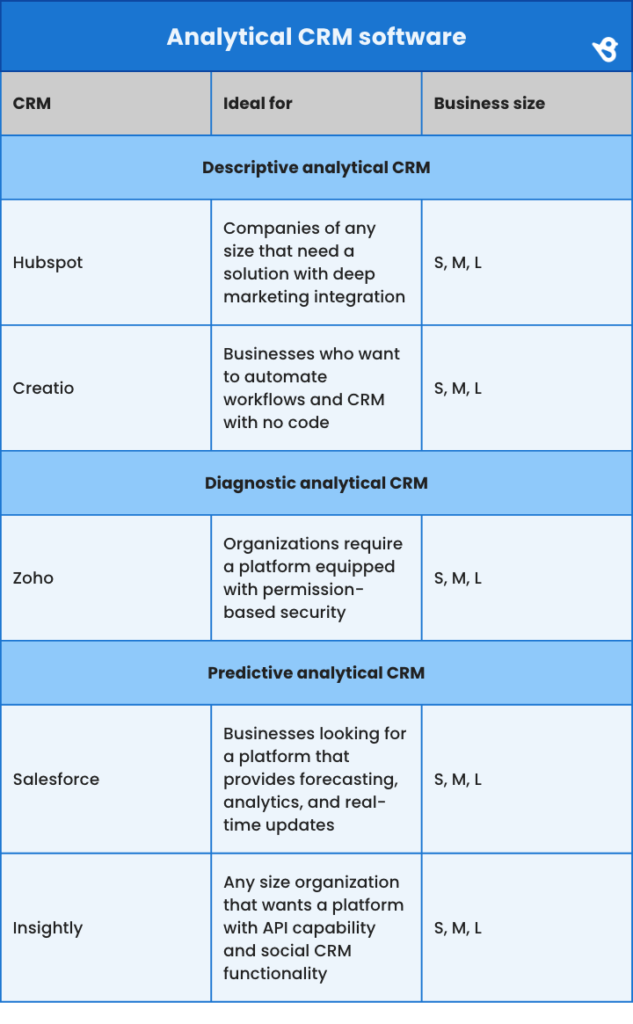 Collaborative CRM
Collaborative CRM systems focus on breaking down organizational silos to create a more connected and seamless customer experience. Marketing, sales, and customer support teams are often located in different departments, making sharing information difficult and maintaining a cohesive strategy difficult. This is especially true for larger organizations, where factors like geography, product focus, or skill specialty may separate teams.
To address this challenge, collaborative CRMs provide all teams with real-time access to the same up-to-date customer data, regardless of which department or channel they work in. This ensures that customer support agents have access to all the information collected by marketing and sales teams and that call center agents can access updated data on customer interactions across multiple channels.
CRM examples – Collaborative CRM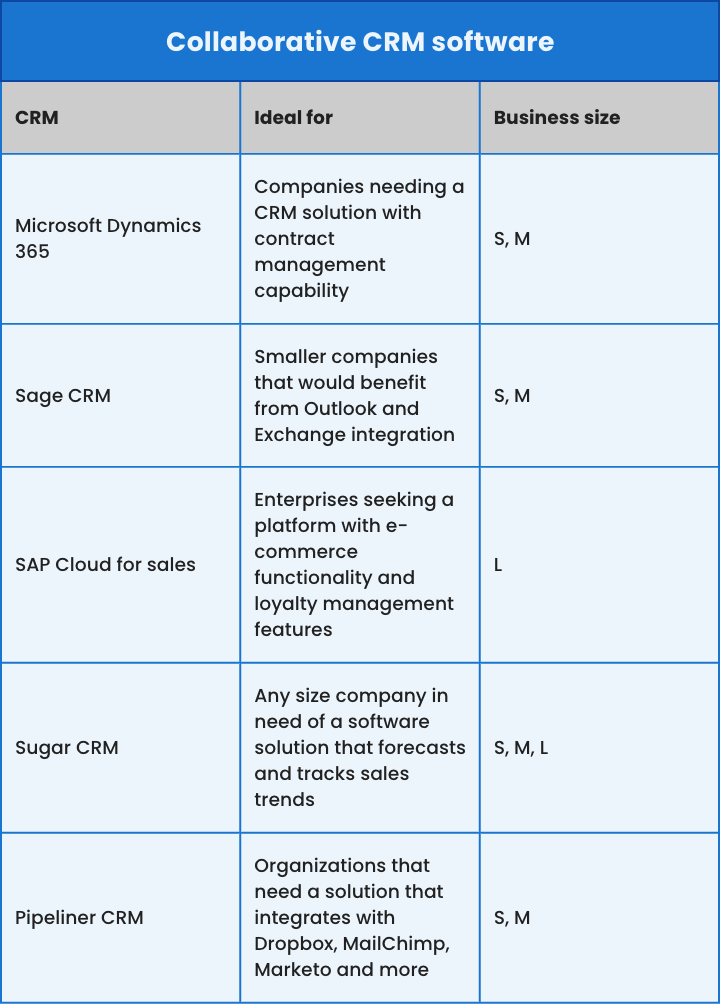 Frequently asked questions about CRM examples
What are the 3 types of CRM?
There are three distinct categories of customer relationship management: operational, analytical, and collaborative. Each offers a set of unique tools and opportunities to manage customer data, gain insights, and create personalized customer experiences.
What is a common CRM?
Common CRM systems include Salesforce, Microsoft Dynamics 365, Zoho CRM, Oracle CX Cloud, and HubSpot.
What are 3 examples of CRM strategies?
Three examples of CRM strategies are customer segmentation, automating processes, and personalized customer service.
Final CRM software takeaway
To sum it up, customer relationship management (CRM) is an essential tool for any business seeking to forge meaningful connections with its customers. Through the use of customer data analysis, CRM empowers businesses to understand their customer's behavior and preferences, resulting in better engagement, higher retention rates, and overall satisfaction. With centralized data management, task automation, and personalized experiences, CRM software can help businesses build profitable customer relationships while boosting their reputation and brand image.

Originally published