Search engine optimization (SEO) is no longer a one-size-fits-all marketing solution. What works for a small, mom-and-pop business might not work for a larger enterprise with hundreds of locations. 
Enterprise SEO is a unique field with best practices and strategies that are tailored to large-scale businesses. In this blog, we'll explain how you can get started with enterprise SEO and teach you how to take your SEO efforts even further.
Frequently asked questions about enterprise SEO
SEO can be a pretty technical topic. Let's start by answering some common questions to help you fully understand how it works.
What is domain authority?
Domain authority refers to the strength of a website based on the quality of the content it offers. The more external websites that link back to your content, the higher the authority it has earned. If your business has a high website authority, you'll also have a higher search engine ranking.
What is web crawling?
Web crawling is when bots scan a website for its keywords, images, and links. This process helps search engines like Google, Bing, and Yahoo! index websites quickly and accurately. Bots regularly "crawl" the internet for new content.
What is web indexing?
Web indexing is when a search engine collects, organizes, and stores data from websites across the internet. This information helps search engines connect users with ideal search results.
Enterprise SEO explained
Enterprise SEO is a type of search engine optimization focused on optimizing websites for enterprise-level businesses like large corporations, government agencies, and educational institutions.
It usually requires a more comprehensive approach to optimization because enterprise websites are much larger and more complex. It may also involve more customized solutions, as each enterprise has unique needs. Ultimately, enterprise SEO helps scale SEO tactics to meet the demand of the enterprise market.
Enterprise SEO vs traditional SEO
Enterprise SEO is similar to traditional SEO in many ways, but there are some key differences to keep in mind. For one thing, enterprise SEO requires a more holistic approach, taking into account factors such as the company's brand, reputation, and overall online presence.
It often focuses on larger-scale projects and campaigns instead of individual keywords or pages. As a result, enterprise SEO can be a more effective and efficient way to manage a website for the long term. Due to its complexities, it is generally more expensive than traditional SEO.
Benefits of enterprise SEO
Enterprise SEO can be a game-changer for businesses that rely heavily on website traffic for leads and sales. Most people think of SEO as a way to improve their visibility in search engine results pages, but it does so much more than that. SEO is all about aligning your website and digital presence with your business goals. That means:
Creating content that appeals to your target audience
Optimizing your website for the keywords your target audience is searching for
Making sure your website is mobile-friendly and loads quickly
Providing an accessible and secure experience
Enterprise SEO can also help improve how customers interact with your website. They'll have an easier time finding the information they need, and they'll be more likely to make a purchase from your business. The bottom line: enterprise SEO can help you attract more qualified leads, boost sales, and grow your business.
Simple enterprise SEO strategies
Enterprise SEO can be challenging for even the most experienced digital marketers. There are plenty of moving parts, and it can be difficult to know where to start. Here are a few simple enterprise SEO strategies that can help get you started.
Faster page speed – Take a look at your website and try to spot issues that could potentially slow your page(s) down. You might see large image files or redundant, unnecessary code on the backend of your website. You may need to hire a web developer to solve these problems, but having pages that load quickly will go a long way to improve search rankings.
Content maintenance – Outdated content can hurt your SEO efforts, so it's important to keep your website updated with current information. This process doesn't have to be difficult – in fact, it can be as simple as adding a new paragraph or two to keep content relevant. You could also add videos or reorganize your existing content. When you're updating older content, be sure to protect its domain authority and backlinks – especially with pages that have consistent web traffic.
Strategic keyword selection – Identify the keywords your target audience is using to find information about your products or services. Then, make sure your website content is optimized with those keywords. Include them in your messaging, headers, meta descriptions, and your image's alt text.
Mobile optimization – Most online searches happen on mobile devices, so you'll have to make sure your website is designed for small screens. When designing your website, use a responsive layout that automatically adjusts to fit any screen size.
Link building – Inbound links from high-quality websites can help improve your website's search engine authority and ranking. Try building relationships with publications and influencers who create similar content. Also, get in the habit of posting press releases for new products or features. Your press releases could be picked up by new outlets and help improve your link profile.
4 scaling SEO strategies for enterprises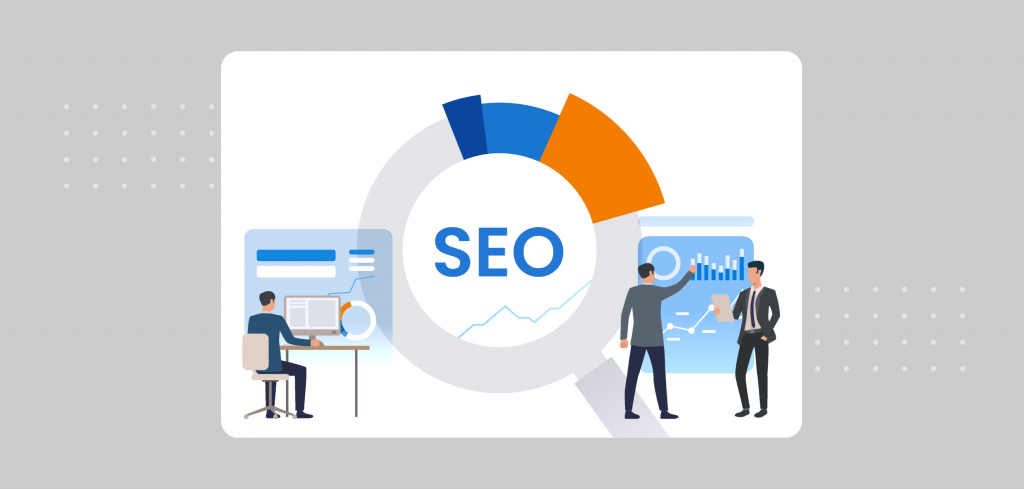 The biggest factor for a successful enterprise SEO program is the ability to scale many of the strategies we listed above. When dealing with thousands – or even millions – of web pages, manual processes just won't cut it. Here are four strategies that can help you scale your SEO efforts.
1. Automation
Many enterprise SEO strategies can be automated. Automation can help your business save time and become more efficient. For example, you might want a bot to crawl your website each month and spot issues that impact your search ranking.
Link building tools can help you find high-quality links from other websites and track their progress over time. These tools also eliminate the need to create and maintain a database of potential partners.
Content management software can help you schedule updates to your digital content, including social media posts, blog articles, and email newsletters. These tools can also perform routine maintenance, like checking for broken links and corrupted files, to help keep your website's content fresh and relevant.

Helpful automation tools: Sprout Social, DataBox, Hootesuite
2. Workflow and processes
It's also important to have a well-defined workflow in place, especially when it comes to keyword research and content creation. An efficient workflow will also help you track the progress of your SEO efforts over time.
One way to create a workflow for enterprise SEO is by using a project management tool. These tools make it easy to create, assign, and track the tasks your team is working on. You'll have a bird's-eye view of what still needs to be done and what has been completed. You can even create boards and cards for each step of the SEO process.
Another option is to use spreadsheets. This might sound outdated, but spreadsheets still serve a purpose for enterprises. You can customize spreadsheets to fit your specific needs and share them with team members. Creating pivot tables, formulas, and functions to calculate metrics can help keep everyone on the same page.
By taking the time to define workflow and processes, you'll make it easier for your team to collaborate.

Helpful project management tools: Trello, Asana, Wrike, Monday.com
3. Content templates
Content templates can help you produce uniform content and make it easier for search engines like Google, Bing, and Yahoo! to index your site. There are many different types of content templates for enterprise SEO, including:
Social media – Promoting your content on social media is a great way to increase website traffic. If your marketing team is consistently creating new content, you might consider using a social media post template. 
Email – Email templates can help you nurture relationships with customers and quickly promote content to your subscribers. Creating a template for each type of email will save time and keep your messages on brand.
Landing page – Collaborate with your design and marketing teams to create landing page templates you can use to promote new products, features, or services. Make sure they're always SEO friendly.
Case studies – Case studies can showcase how your enterprise was able to meet and exceed a customer's needs. Using a template such as the STAR (Situation, Task, Action, and Results) format for your case studies can help you publish this information quickly.
Helpful content creation tools: Canva, Jasper, Copy.ai
4. Data reporting
By tracking the progress of your SEO efforts over time, you can make decisions about which techniques are working and which ones need improvement. Here are some examples of the types of data reports available:
Website traffic – This report shows how much traffic your website is getting and where it's coming from. Knowing where traffic originates can give you insight into which channel (social media, email, etc.) you should be prioritizing.
Keyword ranking – Keyword data shows how well your pages are ranking for specific keywords in search engines. This information can help you identify content that is working and can be used as a model for future material.
Competitor analysis – This report compares your website to competitors. It includes data on traffic, backlinks, and keywords. Understanding how the competition is performing and what they are doing will help you make informed decisions about your own enterprise SEO strategy.
SEO performance – A high-level report of your SEO efforts and how they change over time is critical for short and long-term strategic planning. The data should include organic traffic, click-through rates, and conversions.
Helpful workflow tools: Google Analytics, Semrush, Moz
Boost your SEO with Birdeye
Keywords, backlinks, and relevant content are all essential in enterprise SEO — but they're only pieces of the puzzle. Birdeye is a proven enterprise-grade SEO tool that can help your business generate reviews, manage business listings, and send referral requests all on an easy-to-use platform. Plus, our Google partnership lets you seamlessly post reviews to the world's most popular search engine. Watch our free demo and learn more about how now.


Originally published