In today's cutthroat business world, staying informed about your competition is more crucial than ever. As the renowned business strategist Peter Drucker once said, "If you can't measure it, you can't improve it." That's where competitor analysis comes into play. This powerful tool lets you dissect your competitors' strategies, strengths, and weaknesses, enabling you to make data-driven decisions that propel your business forward.
In this article, we'll explore why it's beneficial to include a competitor analysis in your business strategy, give tips on how to thoroughly identify and investigate the differences between your business and your competition as well as share a free competitor analysis template.
What is competitor analysis?
A competitor analysis evaluates the choices your customers have when shopping for your product or service.
Let's say you're a legal office specializing in elder law and estate planning. Your competitor analysis can size up your direct competitors, such as the law firm across town. Or it can check out your indirect competitors, such as a website that provides DIY legal forms. Basically, anyone that can claim a bit of your market share is fair game for a competitive analysis report.
But your competition analysis doesn't just tally rivals that might hurt the longevity of your business. Detailed competitor analysis is empowering. With it, you can create an effective marketing strategy to help increase brand awareness and, ultimately, gain a competitive advantage, all based on the revelations you learn.
In the next section, we'll tell you all the reasons why a competitive analysis is a good business strategy.
Why is the competitor analysis beneficial?
It would be nice if simply producing a quality product and delivering exceptional customer service were all you need to ensure that your doors never close. Being excellent is still paramount. But a commonsense business strategy is still needed. And that includes regularly conducting a competitor analysis.
Identify strengths and weaknesses
Through your competition analysis, you can spot your competitor's strengths and weaknesses. And in doing so, you can also spot your own.
Suppose you're a dance studio in direct competition for market share with another studio. You can create a competitive analysis template to learn more about your competitor's marketing strategy, service quality, and the potential customers they're targeting.
This leads you to find that your adult dance classes are, in fact, a similar product to the classes offered across town. You then realize neither business is marketing effectively to engaged couples. This leads you to tweak your similar product to target betrothed couples. You can research the latest trends for the first dance at weddings and offer something unique. You just used your competitor analysis to stand out from the competition.
Understand market trends
Your competitor analysis will help you understand market trends. For example, everyone is talking about artificial intelligence (AI). Knowing how your competitors are reacting to new technology will help you forecast your industry's, along with your own, future.
Discover gaps in the market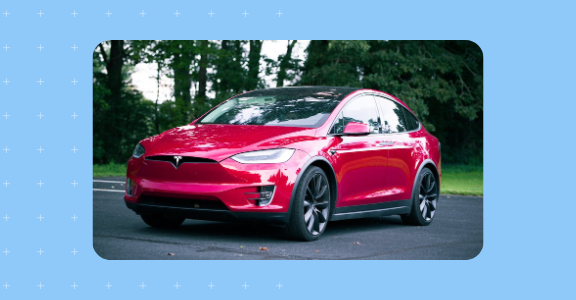 You can use your competitor analysis to spot gaps in the market. A well-known example of a company that stepped up to fulfill an unmet need is the electric car manufacturer, Tesla, Inc. What started as just another producer of luxury sports cars has become the most dominant supplier of electric vehicles in the world.
Tesla used competitor analysis to remain relevant and become a leader in an emerging market. According to McKinsey, the luxury car market has plateaued at least through 2031. Electric vehicle sales, on the other hand, increased by 41% in 2020 and are expected to continue to rise. You can use your competitive analysis to discover gaps in your own industry's market.
Improve product offerings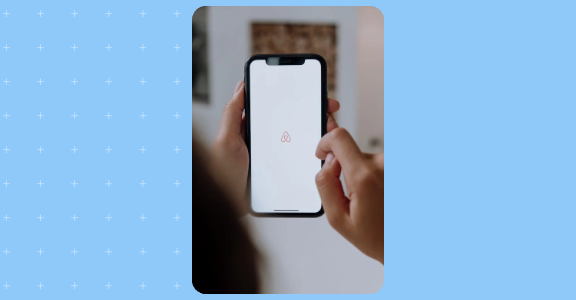 Mediocrity can become the norm. Take hotels, for example. Impersonal service, unclean rooms, and a lack of amenities plague hotel guests. Even New York's top hotels struggled with bed bug outbreaks back in 2015.
Airbnb used its competition's weaknesses to provide a better product. They offer travelers the chance to stay at homes with a variety of amenities. Airbnb monitors guest feedback without taking on the burden of hundreds of guest rooms. Instead, they hold property owners accountable for improving the guest experience.
Following the same methods, you can use the results of your competitor analysis to provide a better product or service than your competition.
Refine marketing strategies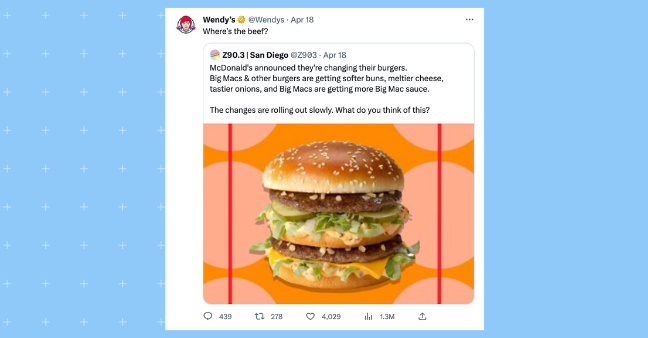 Your marketing strategy is all about increasing your brand awareness and market share. But you can't stand out if you're marketing the same old way as your competition.
For example, the stand-up comedian Don Rickles lives on in Wendy's now-famous Twitter roasts. The fast food chain's tweets are so successful that if you ask a Millennial when Roast Day is, the made-up holiday in which Wendy's tweets go extra salty, they'll likely know it's February 12th. Twitter users line up to get roasted by Wendy's, and there's plenty of sarcasm left for Wendy's competitors.
Wendy's continuously analyzes the competition's social media posts to burn them with their own tweets. Wendy's humor may not be to your tastes, but you can learn how to refine marketing strategies using competitor analysis from them.
Benchmark performance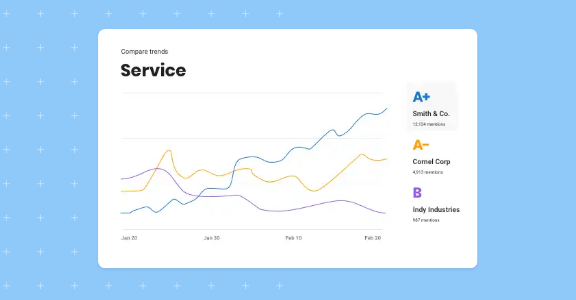 Driving your success is perhaps the biggest benefit of using a competitive analysis template. You can leverage it to benchmark your performance against your competitors.
For example, perhaps you're losing market share to one of your competitors. You can create a competitive analysis to create benchmarks for your performance. In this way, a competitor analysis can help you set goals for metrics such as social media followers, delivery times, or five-star reviews.
Mitigate risks
Sometimes you look to your competitors to know what not to do, especially in the planning stages of starting your own business.
For example, a thorough competitor analysis will tell you if the market is large enough for another player. Or it can help you identify geographic areas in which the market is already saturated.
You can additionally use your competitor analysis to examine the logistics of setting up shop. For instance, perhaps your competitors have access to lower-cost supplies that you simply cannot replicate. Your research can help you avoid investing where circumstances beyond your control will stymie your success.
Learn from best practices
Of course, your goal is to blow the competition out of the water. But sometimes the competition does something better than you. When that happens, your next best strategy is to swallow your pride and conduct a detailed competitor analysis. You can learn how they achieve lightning-fast delivery times, snag top reviews, or reel in the best talent and apply it to your operation with your own unique twist.
Set realistic goals
You may set impossible targets in your race to outclass your competition. And in the process, you'll frustrate your employees. A competitor analysis can provide a reference point for setting realistic goals. For example, if you're a restaurant chain, you may want to expand your locations into neighboring states. But a competitor analysis may reveal that restaurants in the area are suffering from a severe talent shortage.
Stay agile and adaptable
It's cliché to say industries and markets are continuously changing, but only because it's true. Technology alone changes faster than the weather. And if your competitor is using the latest AI to analyze data or robots to move packages, you want to know. A competitor analysis can help you stay ahead of the game.
Steps to execute a competitor analysis
Now that you're familiar with and understand all the great reasons to use a competitive analysis template, it's time to get down to the actual nuts and bolts of how to perform one. Below, we outline the precise steps you should take in your competitor analysis. Like everything else, it's easy to get lost in the details. It's important that you gather enough data to gain useful insights while keeping the scope of your analysis small enough to remain actionable.
Identify your main competitors
Chances are that your list of main and potential competitors is quite long. Focus on the top 20% or so for your analysis. You can choose to go deep into your investigation of one competitor. Or narrow your scope to one or two business areas and examine a few competitors.
Gather information
If they really are competition, then they probably hold their cards close to their chest. You're not going to always get all the information you want. But you can get clever to gather as much business intelligence as possible. This article from MIT contains links to several business research sites. Investing in benchmarking or review monitoring software can help you analyze your competitors in real-time.
With Birdeye's competitive benchmarking software, you can track your competition's reviews from hundreds of sites using our Natural Language Processing (NLP) algorithm. This will help you keep your sales and marketing strategies optimized for the best results.
Analyze their product and service offerings
Now's the best time to do a bit of reconnaissance without the fake mustache and dark glasses. Go ahead and purchase their product or experience. Think of it as gifting a small boost to their sales right before you bring down the hammer. An alternative is to research their offering using product review websites. See what customers are saying about their services and products, and use that intel as your starting point.
Assess customer experience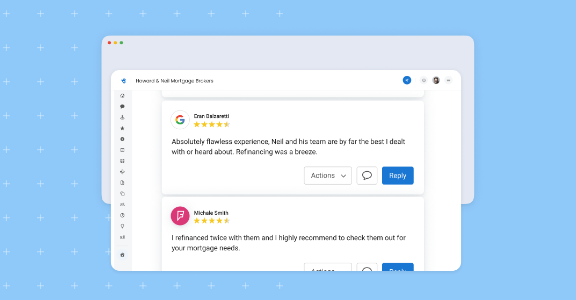 This is where your review monitoring software can come in handy. Track every online review on every forum and review site in real-time. Review monitoring software will even highlight the most common complaints or the most common reasons for good reviews.
You can also pay the store or website a visit and get first-handle knowledge of the customer service experience. What's the atmosphere like? Do their employees do a great job answering customer questions? Are there any red flags that could be problematic for future customers?
Examine their online presence
More than half of shoppers research online before they buy. Find out what they're learning about your competition when they do. Pro-tip, this is a great area in which to use competitive benchmarking. Your potential customers should see you in the same online places they stumble across your competition.
Review pricing strategies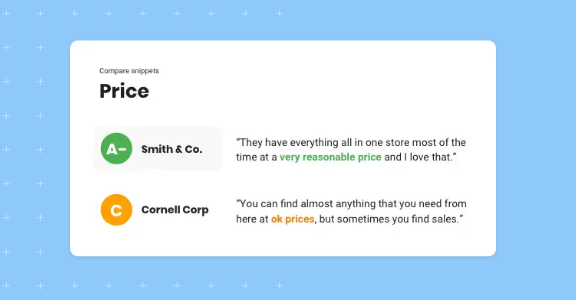 Pricing isn't everything. But it is something — a big something. Find out where your competitors are on pricing. If their pricing is lower than yours, expand your competitor analysis to find out why. Be prepared to sell your value to your potential customers if you can't match your competitor's pricing strategy.
Identify their target audience
Our previous example of the dance studio targeting engaged couples is an example of how a small marketing tweak can pay dividends. Your competition may be similar in many ways. Shifting your target audience to a gap in the market is much more efficient than rethinking your entire product line.
Monitor their social media engagement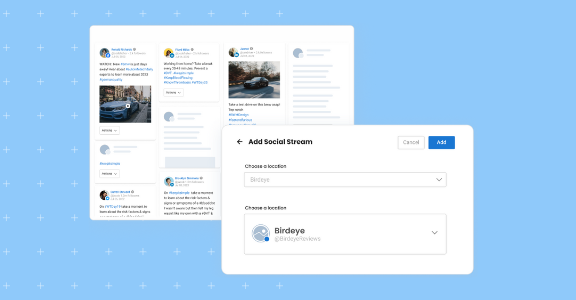 Social media is often touted as an inexpensive and accessible alternative to traditional advertising like TV and radio. The truth is social media done right is an investment. An analysis of your competitor's social media marketing strategy can help you pinpoint where to focus that investment.
Conduct a SWOT analysis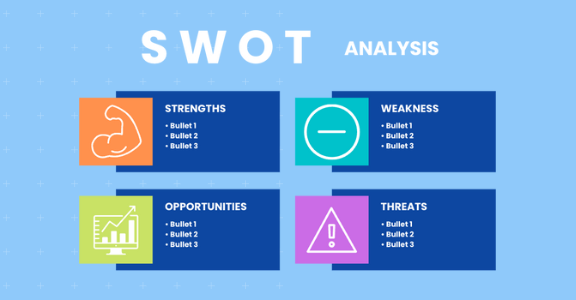 A SWOT analysis that examines certain strengths, weaknesses, opportunities, and threats is a tried-and-true way to ensure you don't miss anything in your competitor analysis. For a rough reference, your competitor's strengths translate into threats to your success. And their weaknesses highlight opportunities for you to come out ahead.
Stay updated
Plan to make analyzing the competition your new hobby. Because performing your competitor analysis continuously will help you spot trends and adapt to change. Benchmarking and review monitoring software can take much of the work out of competitor analysis. But acting on the insights from competitor marketing is the best way to stay competitive.
Ways to use competitor analysis
The uses for competitor analysis are endless. But to avoid overwhelming you, start by focusing on the following.
Improve offerings: Keep your products and services relevant by analyzing the choices your potential customers face when purchasing.
Develop a unique value proposition: Don't be a cookie-cutter replica of your competition. Your analysis will uncover the market gaps that will help you attract new customers.
Refine marketing strategies: Just because you build it, they won't necessarily come. They'll only know you're there if you sing it from the rooftops or if you separate yourself from the noise with a better marketing plan. In other words, perform a competitor analysis to better inform your marketing strategy.
Optimize pricing strategies: There isn't any economy in which price isn't important to customers. Wherever your pricing compares against your competitors, you'll need to explain your value to your customers. A competitor analysis can help you do just that.
FAQs about competitor analysis
How do you write a competitor analysis?
To write a competitive analysis begin by identifying your main competitors and their offerings. Then, conduct a SWOT analysis to evaluate their strengths, weaknesses, opportunities, and threats.
What are the four components of competitor analysis?
Four components of competitor analysis: 1) Identifying competitors, 2) Assessing their strengths/weaknesses, 3) Evaluating strategies, 4) Monitoring changes.
What are three possible benefits of a competitor analysis?
Three benefits of competitor analysis are more customers, more sales, and more success, i.e., gaining a competitive advantage.
Free competitor analysis template
Competitor analysis can be an invaluable tool for businesses looking to understand how their competition is faring and what strategies they could use to beat them. But getting started can be a challenge. To help with this process, download our free competitor analysis template and customize it to fit your needs.

Originally published