Right now, there's a huge opportunity for small businesses to engage with their customers: Facebook Messenger. Let's talk about how you can use Facebook Messenger marketing to start growing your business.
Frequently asked questions about Facebook Messenger marketing
What is Facebook Messenger Marketing?
Facebook Messenger Marketing is when businesses use Facebook's messaging app to attract new leads, promote content, and turn them into paying customers. 
Why You Should Use Facebook Messenger Marketing
Traditional marketing is just not working the way it used to. While tools like direct mail may have worked in the past, they become less effective when every business starts doing the same thing. After a while, customers just start throwing out this junk mail.

Email marketing has been overused and prospects no longer react to them the way they used to. Most of these emails just end up in the "Promotions" tab, where almost all such emails are ignored. That doesn't mean there's no way to reach out and attract customers. Customers are much less likely to miss a message from a Messaging app than they are an email.

Plus, building an email list can be tough. Not only does the customer have to actually give you an email address, but they also have to go into their inbox and accept a confirmation email. On the other hand, starting a Facebook Messenger chat is low-effort. All they have to do is send a message.

There's a simple reason why you should use Facebook Messenger: your customers are already using it. It's been estimated that more than a billion users worldwide use Facebook Messenger to communicate with friends and businesses.

Facebook Messenger is yet another medium that your business can use to communicate with customers and prospects. You can use it to market your product, offer discounts, and special offers and even use it to engage with your prospects.

Right now, it's got a huge advantage over other mediums: Very few businesses have discovered the power of Facebook messenger marketing. You can start using it to grow your business before your competitors catch on.
Messenger Livechat or Chatbots?
You may have read or heard that the key to successful Facebook Messenger marketing is using chatbots. Chatbots are configured to answer the most commonly asked questions. While this may seem useful, we don't necessarily agree.

Your customers like talking to real people. Think about the times when you call a business to ask specific questions. You are looking for an agent who can give you an exact answer to your question. Instead, you are asked a series of questions and asked to select from the options provided in the IVR.

After 10 minutes of struggling with the choices – and still without an answer, you may simply hang up the phone in frustration. We don't necessarily rule out chatbots altogether. For a business that gets a lot of questions via this medium – it may be useful and help route only the most complex queries to a live agent.

Before you start creating a Chatbot for your Facebook Messenger, remember, Chatbots require significant effort to set up. The more complex your business use case, the more complex the chatbot will be. So it's not always an easy process- especially if you're a business owner with a million other things to worry about.

That's why we recommend livechat. You might be wondering if this is too much work. Even if you have multiple locations and expect your prospects to reach out through the Facebook pages of all those locations, you can keep it simple.

Just invest in a platform that can get all your Facebook messenger messages in one place. Once you have these in one place, you or any other member of your team can easily keep a track of these messages and respond to them as soon as time permits.

Birdeye's Messaging platform helps you manage text and Facebook Messenger messages (even if you have multiple locations) in one place.
Getting Facebook Messenger Subscribers
Facebook, like most other messaging platforms, has a strict anti-spam policy. What this means is that you can only write to a follower or your Facebook page visitor, if they write to you first.

Once they have sent their first message to you via Facebook Messenger, it is deemed to be their opt-in to get messages from your business. You can then start interacting with them through this medium.

Here is a great way to get people to write in: Tell them that you are offering a special discount for customers who send a message through Facebook Messenger. Once they message you, you'll have a new way to stay in touch with them.

5 Ways to Use Facebook Messenger Marketing
Once you have visitors and customers writing in via Facebook Messenger, there's a lot that you can do. Let's talk about some of the specific ways you can use Facebook Messenger marketing to attract new customers.

Do you have a sale coming up? Let your customers know through Facebook Messenger.

Answer Customer Questions
Often times, a potential customer will chat with your business on Facebook Messenger to ask questions about your services. By answering these questions in a timely manner, you can see more of these prospects turning into leads.

Is your business hosting an event soon? While you can create a Facebook event, make sure to promote it on Facebook Messenger as well.

If you're offering a new product or service, announce it through Facebook Messenger. Your Facebook Messenger subscriber list will be first to know.

Occasionally, a prospect might reach out to your business but for whatever reason don't end up becoming a customer. You can reach out to these prospects again to make sure that they convert.
Facebook Messanger Marketing Examples
Here's an example of a real business using Facebook Messenger to market its services. .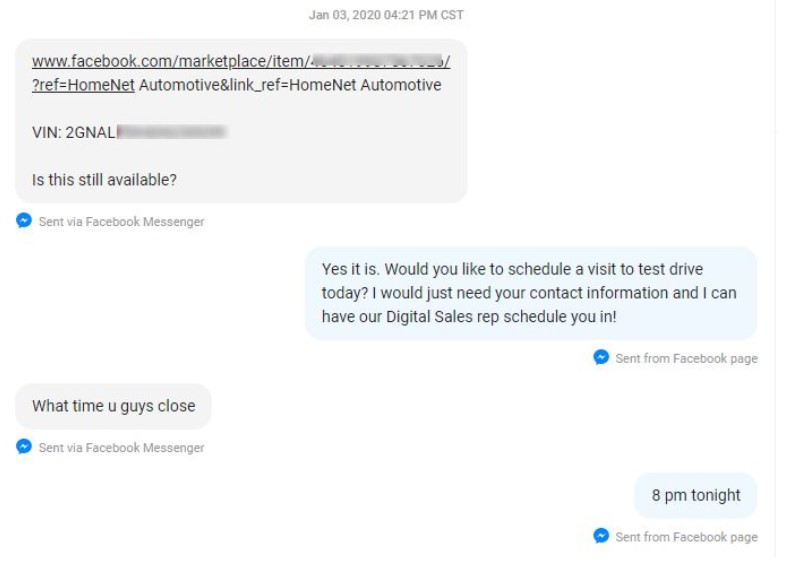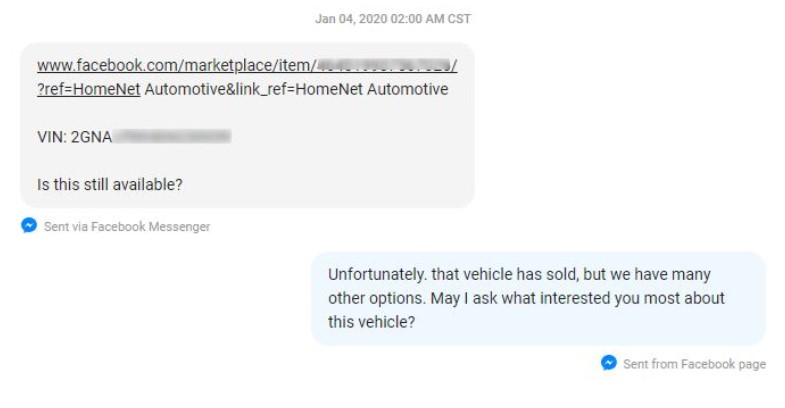 Using Facebook Messenger Ads
Communicating with existing customers isn't the only way you can market your business with Facebook Messenger. If your business is currently running Facebook ads, you can start running them on Facebook Messenger as well.

Your ad will show up as a chat within the customer's conversations on their mobile device. If the customer opens up the chat, they'll see your full ad. From the ad, you can include a CTA to get customers on to your website.

Here's an example of a Facebook Messenger ad: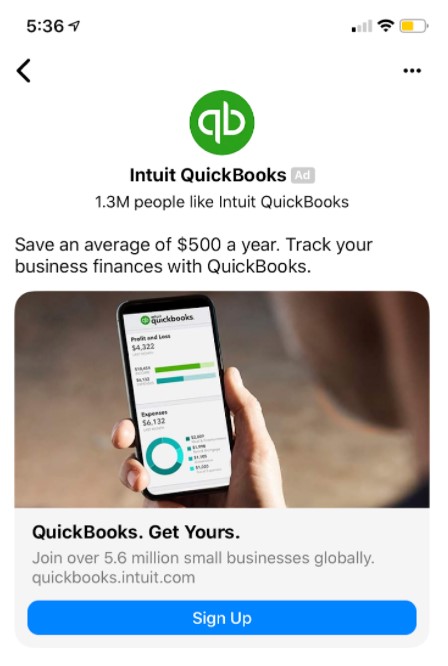 How to Make Facebook Messenger Marketing Simpler
It's true, it might be a little complicated to add Facebook Messenger marketing to the communication channels your business is already using. Between texts and Messenger, things can start to look overwhelming. Luckily, a platform like Birdeye can help.

Birdeye integrates with Facebook Messenger. You'll be able to handle all of your customer messages within the Birdeye dashboard whether they're through text or Facebook.

Once a customer messages you on Facebook, you also have the option to add their phone number. Then you can see all of your past communication with the customer on a single screen.

Originally published