Nearly 84% of the world's population owns a smartphone, and text messaging comes readily available on these devices – no additional app downloads are necessary. Tack on the fact that SMS messages have a 98 percent open rate, and it's clear why businesses are starting to use SMS marketing to help accelerate their growth.
With such impressive engagement, it doesn't take rocket science to realize how text messaging can help to generate more leads. But what matters is the quality of the experience you deliver in your messages. The fact is not all SMS marketing messages provide the same results.
When used successfully, it creates an effective channel for communicating with customers on the go. However, it's important to remember that you are connecting with the customer on their personal device. This isn't a broad display ad or mass email. And because of this, it's important to deliver personalized, relevant messages that speak directly to the recipient. Delivering that type of quality customer experience requires a few basic best practices.
What is text message marketing?
Also called SMS marketing, text messaging marketing is a form of mobile marketing that allows businesses to send text messages directly to consumers' cell phones. This type of marketing can be used to promote deals, send coupons, update customers on new products, or simply to increase brand awareness.
In the age of the smartphone, text message marketing is one of the most effective ways to reach your target audience. Unlike emails or social media posts, which can easily be ignored, texts have an unmatched open rate and are almost guaranteed to be seen by your customers.
Furthermore, texts are personal and immediate, which makes them more likely to encourage customers to take action. For these reasons, text message marketing can be an extremely powerful tool for businesses of all sizes. If you're not already using text message marketing, now is the time to start.
Benefits of SMS marketing
Over six billion people use mobile devices. This accessibility is a huge benefit for businesses looking to connect with their customers through text messages. Additionally, since 60% of consumers are reading texts within the first five minutes of receiving them, businesses can be confident that their messages will be seen by their customers.
Text message marketing also provides businesses with another channel to reach out to their customers. Unlike email, which can often go unnoticed in a customer's inbox, text messages are more likely to be responded to due to their personal nature. This direct line of communication can help businesses to build better relationships with their customers and drive more sales.
Some other benefits of using SMS marketing include:
Flexibility – Whether you're sending a 1-to-1 text or a mass message to thousands of customers, SMS marketing is a flexible way to reach your audience at scale.
Affordability – With virtually no need for expensive equipment or software, businesses of all sizes can take advantage of SMS marketing.
Speed – SMS messages are delivered almost instantly, making them a great way to send time-sensitive information to your customers like expiring rewards or payments. Text messages provide a quick and easy way for businesses to connect with their customer.
Attachments – Text also allows for pictures and videos to be attached to messages. This can come in handy for things like product demonstrations or coupons. And who doesn't enjoy a silly GIF from time to time?
Data tracking – Text messaging can easily be tracked and measured. Knowing the open and click rates allows your business to see how successful a campaign was as well as what adjustments need to be made.
Automation – Having the ability to automate responses to text messages lets your business continue the conversation even when you're not available. You can also create templates ahead of time for various customer scenarios so that you are responding with relevant information. And knowing that your SMS campaign can be placed on auto-pilot gives you more time to help other aspects of your business.
SMS marketing is a powerful tool that can help businesses to reach their customers quickly and easily. With its high open rate and affordability, SMS marketing is an attractive option for businesses of all sizes. The infographic below provides 8 essential tips for generating leads with SMS marketing. Let's dive in.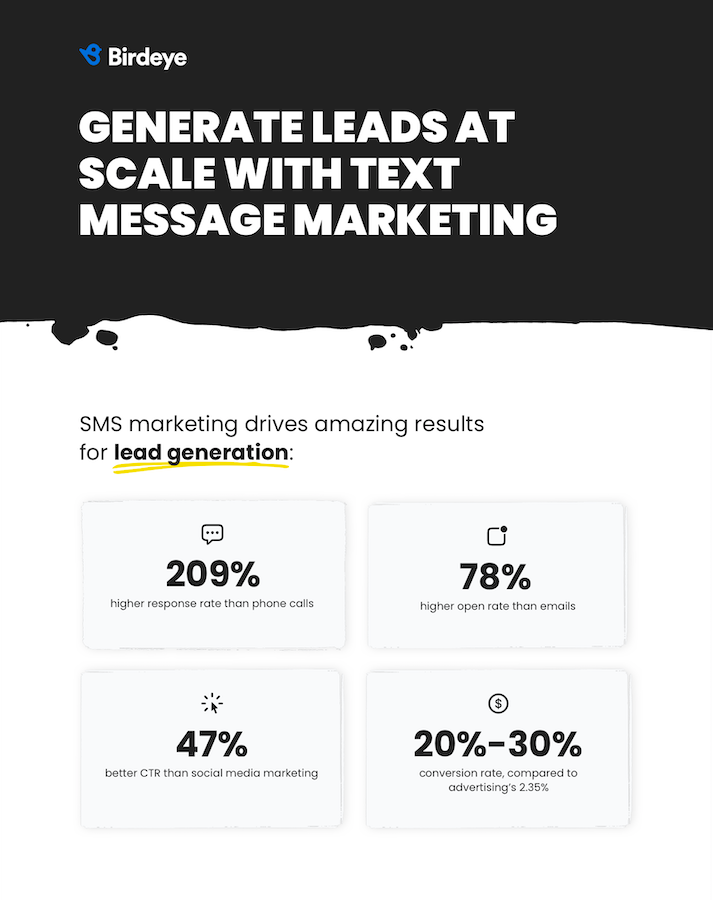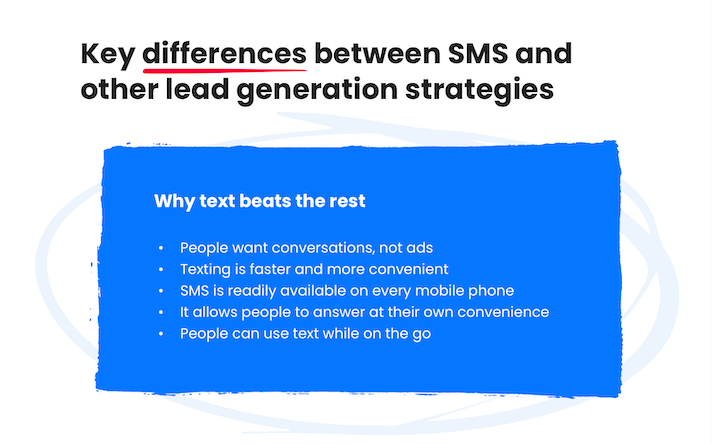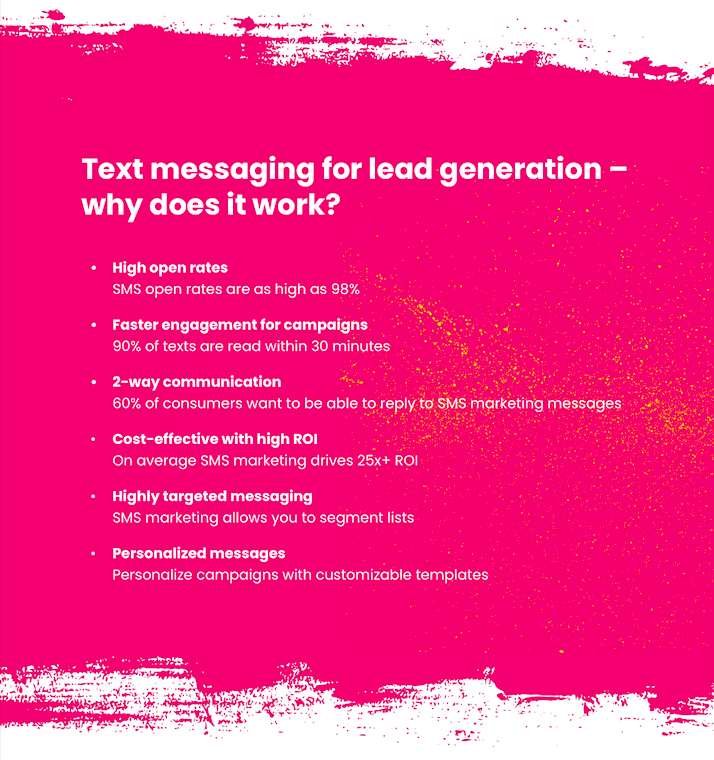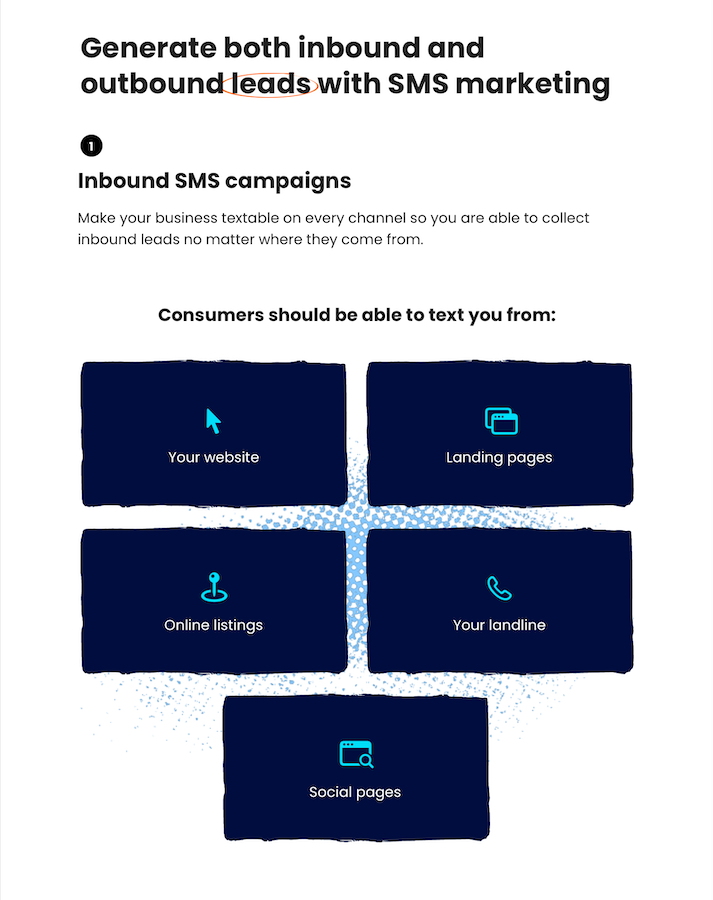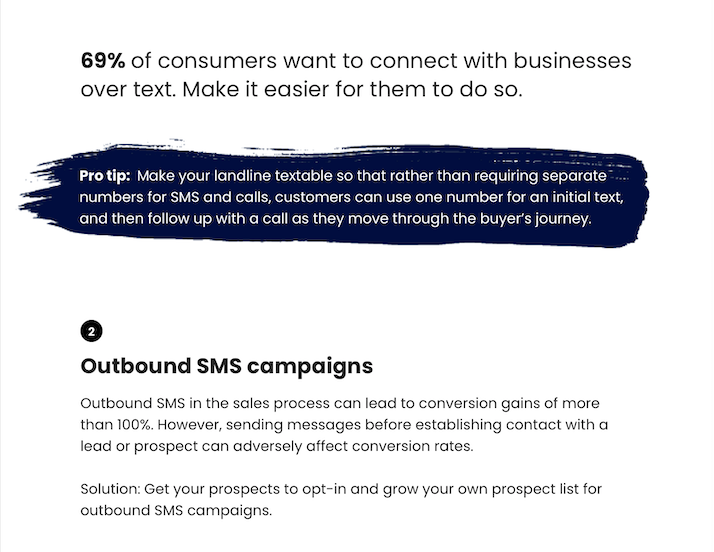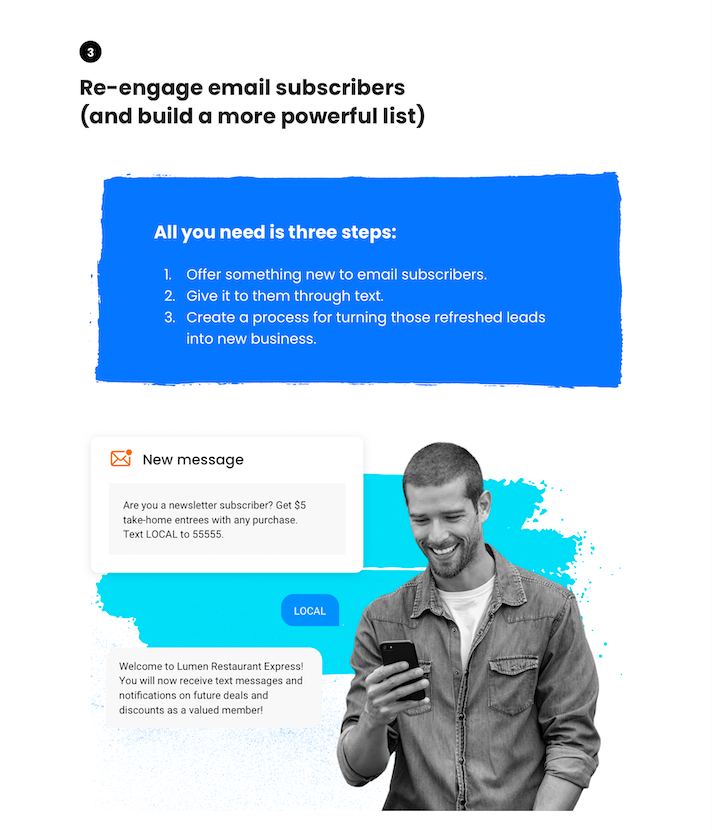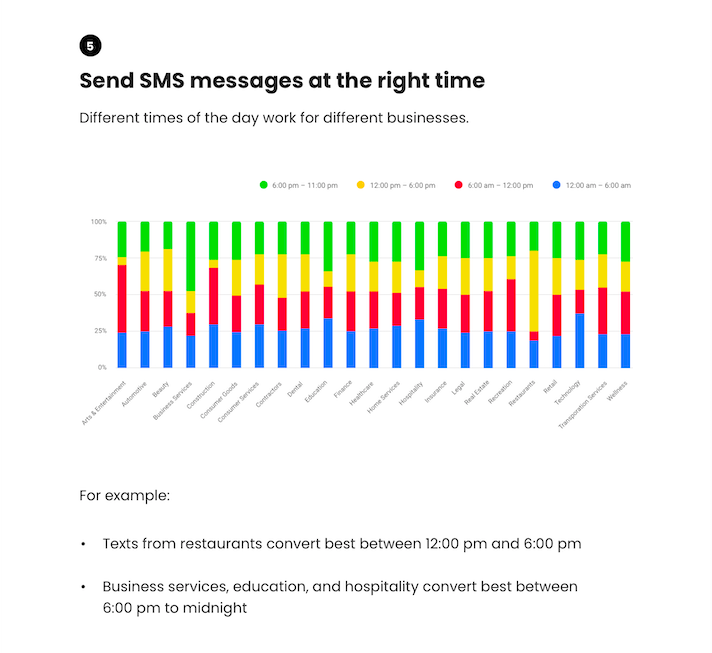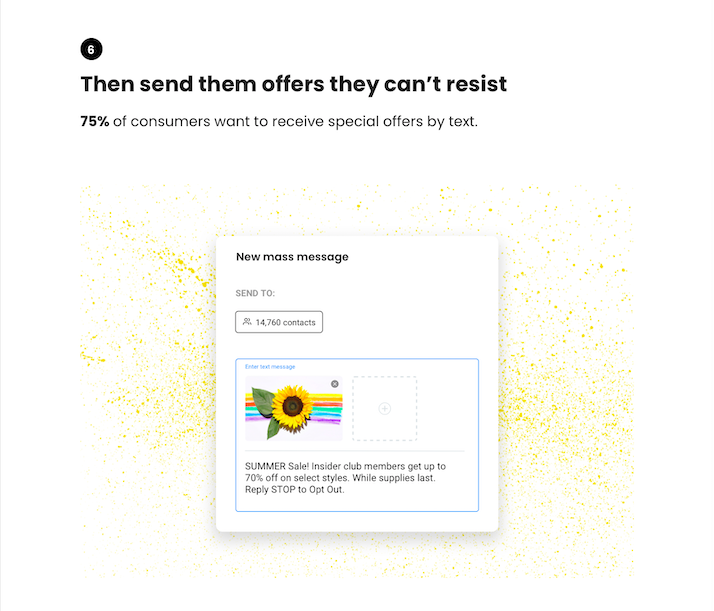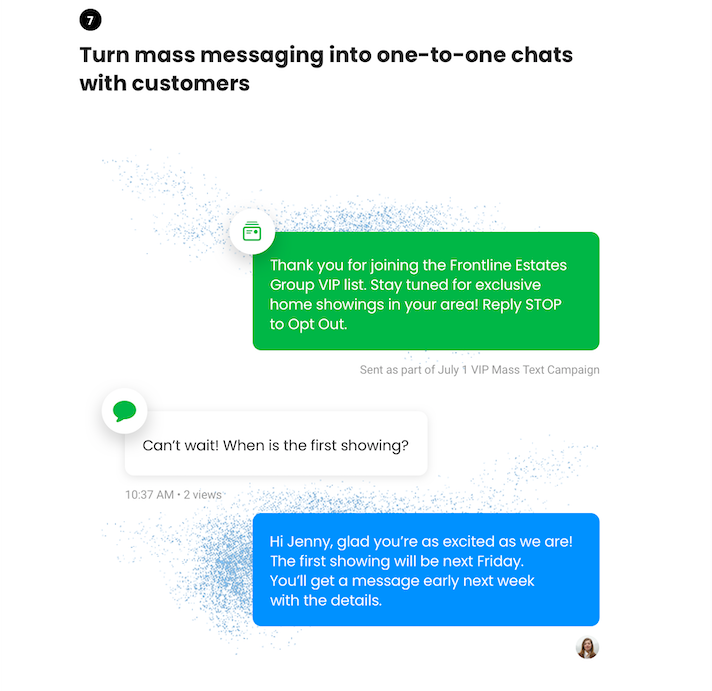 Customer opt-in strategies
We hope our infographic above was helpful. And as you can see, text message marketing offers multiple ways to attract more customers. But did you know that before you click send, you'll need to be sure customers want to receive your marketing texts?
Asking your customers to opt-in isn't just a best practice for SMS marketing – it's also a legal requirement per the Telephone Consumer Protection Act (TCPA). Violating the TCPA's guidelines is a bad idea. You can be fined heavily for each text message that isn't compliant. To help, here are a few ideas to you get customers to opt-in and avoid these penalties:
You could offer a discount or incentive for signing up. Something like "Text 'JOIN' to 555-555 to get 10% off your next purchase."
If you have a physical store, display sign-up sheets at your entrance and exit.
You could have your staff members ask customers at check-out if they'd like to sign-up for text messages from you.
Another option is to promote your text message campaign on social media or on your website.
You could even run a contest or giveaway that requires an opt-in to enter.
No matter what approach you take, make sure it's clear how customers can opt-in, what they can expect to receive by signing up, and that they can opt-out at any time.
How Birdeye can help you generate leads with SMS marketing
If you want to get started with SMS marketing, Birdeye is the platform for you. Birdeye gives businesses the tools they need to get connected with customers through text messaging and webchat. But, that's not all. Birdeye's all-in-one platform also allows businesses to collect reviews on 150+ sites and collect in-depth feedback through customer surveys, get new business via referrals and much more.
Originally published