Business text messaging is one of the best tools that you can use to help you market your business and connect with customers. Here's what we'll be covering in this article.
Frequently asked questions about business text messaging
What is SMS Marketing?
Short Message Service (SMS) Marketing, also referred to as text message marketing, is a method in which businesses communicate with customers who have consented to regularly receive promotional and transactional text messages for time-sensitive offers, updates, news, reminders, and alerts.

What is the best time to send text marketing messages?
The truth is it depends on your business. For example, restaurants are more likely to convert if they send a text between the hours of 12 pm and 6 pm. In contrast, business services, education, and hospitality have a better chance of getting a response if they text in the evening – from 6 pm to midnight.
Why does business text message marketing work?
Customers prefer texting. Very few people want to get a phone call from a business if texting is an option. It's important to meet your customers where they are and texts also have a higher open rate
Texting means less hassle for the customer. Don't believe us? Here's a quick stat for you – 9 out of 10 consumers want to use messaging to communicate with businesses. 85% want this communication to be two-way where they are able to respond to the business using text as well. So what can we take away from this? It's simple: No matter what industry you're in, it's important to invest in business text messaging.

Text messaging or SMS marketing works for several reasons. Remember, it's important to meet your customers where they are. Now more than ever, customers are easiest to reach through text. It's estimated that the average American spends more than 3 hours on their phone every day and sends an average of 3 messages per hour.

Plus, when you message customers via text, you can get significantly higher open rates.  Studies suggest that texts have an open rate of 98%, compared to just 40-50% for emails. So while an email might get lost in your customer's inbox, a text is more personal and more direct. 

The high open rates mean that business text messaging is an easy way to get your customers to take desired actions- whether that's claiming a discount, leaving a review, or sharing your business with a friend or family member.
If you are considering text messaging from your business's landline, check out our article on how to easily enable texting from your business landline.
SMS Marketing tips to boost engagement
Before you fire off texts to your customers, there are a few things to keep in mind.
1. Always ask permission and be transparent
In order to be compliant with TCPA guidelines you first need to ask your customers for permission to receive text messages. When it comes to preventing customer frustration you need to be clear about the frequency of texts they will receive and the type of messages they'll receive (promos, reminders, sales, etc.).
Double Opt-in Ensuring your SMS messaging services are legal is an essential part of your business and responsibility. An opt-in means that if a customer asks to join your campaign they confirm their permission with the first text message they receive.
2. Make sure that your customers can opt-out
Remember, nobody likes getting unsolicited texts. Plus, almost all countries have anti-spam laws that state that you should only send texts to people who opt-in. Make sure that you are only texting customers who have opted-in to receiving communication from you via text.

Be sure to include an opt-out option in all of your messages. All your customers have to do is just click the button so they won't receive any more messages.
3. Time your texts carefully
Texts are more intrusive than emails. If you send a promotion text offer at 3 AM, your customer will not be happy. Make sure you time your texts during normal 'awake' hours. We've seen that different times of the day work for different businesses. Experiment with different times and figure out what works best for your business.
4. Add relevant CTAs
Remember, the whole purpose of text message marketing is to motivate your customers to take relevant actions. To do this, it's important to have a call-to-action at the end of your text. This can be something as simple as "Buy Now" or "Leave a Review". Just make sure that your CTAs are short, to-the-point, and immediately understandable.

5. Use URL shorteners
In your texts, you can send your customers to review sites, social media profiles, and your business website. However, sometimes these URLs can be absurdly long and will take up a ton of space. To make these URLs more convenient for your customers, use a free URL shortener online. Services like Bitly can create free short URLs for your business.
Related: For even more tips on SMS marketing best practices to generate more leads, check out our infographic – How to generate leads at scale with text message marketing

Text messaging templates for business
Here are a few business text messaging examples that you can start using to text your customers. Remember, your customers don't like reading long texts any more than you do. Besides, a single text message can only accommodate 160 characters. Remember to keep your texts short, simple, and to-the-point.
Requesting a review
You can also use text messages to solicit reviews from your customers. When requesting customer reviews, be sure to link to your business's profile on review sites like Facebook and Google.
Reminder text message
If you run a business that requires your customers to take appointments, it can be good to send reminders to make sure that they show up on time.

Surveys
If you want to collect feedback that can help your business improve, consider sending customer surveys. Be sure to find a provider that can help you build surveys and analyze the data.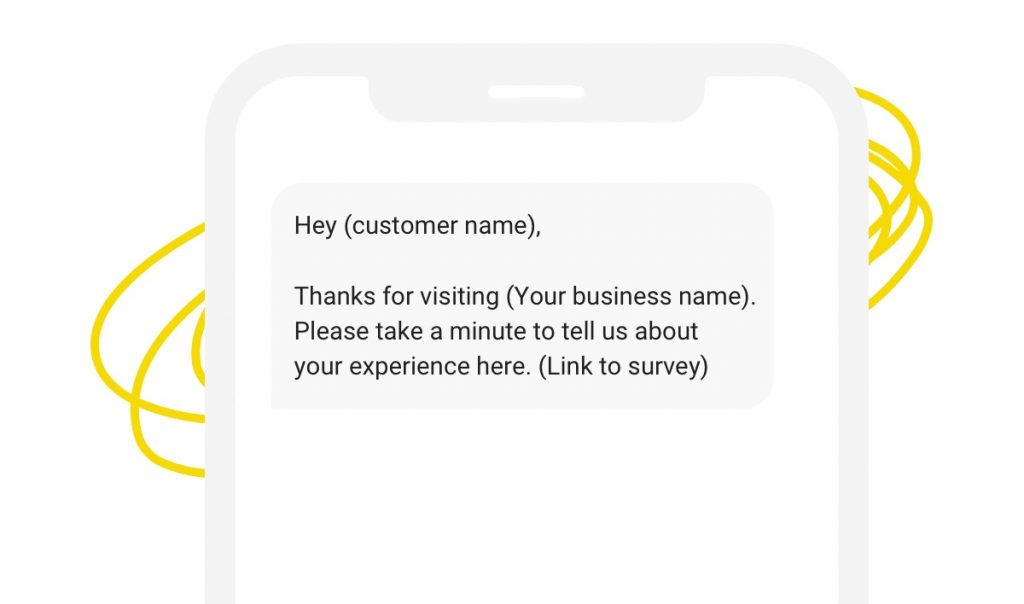 Promotions
You can reward your existing customers with rewards and discounts through text. Here's an example template that we created for dental practices.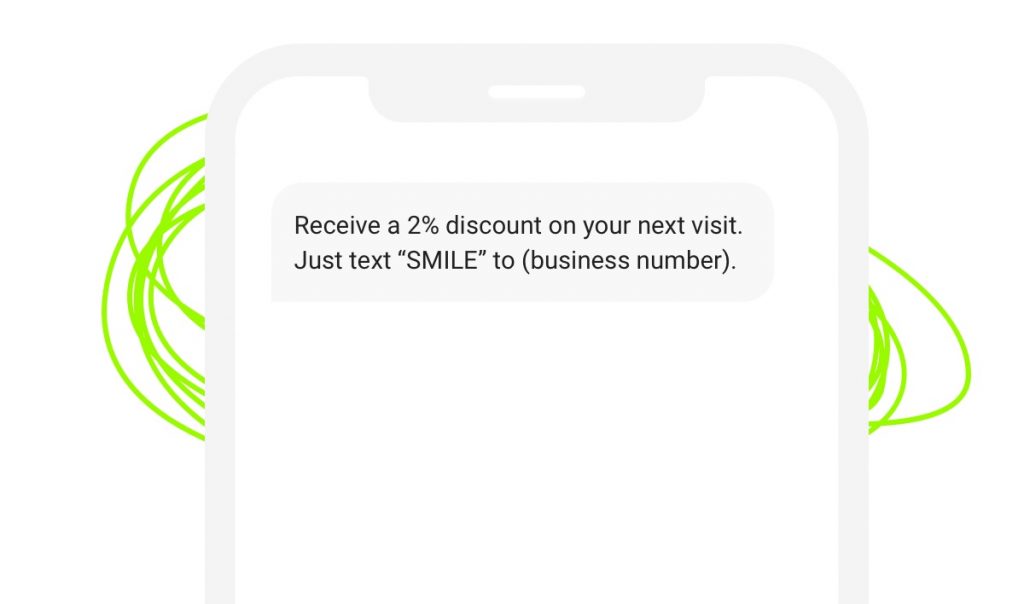 Collect payments
Your business runs on payments, but sending payment requests by email can get lost in spam. Get paid faster by requesting payment via text.
Start messaging your customers with Birdeye
To streamline your SMS marketing efforts you'll need business text messaging software. The right solution will tie all of the pieces together into one platform, helping you deliver quality, personalized experiences via SMS.
With Birdeye, it's easier than ever to start texting your customers. Let's run through a few of the ways that Birdeye can help be connected with your customer base.
Automatic Review Requests
Text messaging review requests to your customers is a great way to get more reviews. The only problem is that it's time-consuming. Luckily, you don't have to manually text review requests to every one of your customers. Birdeye allows you to automate the process. Birdeye automatically sends review requests on the same day of the sale or customer visit that link to sites like Google and Facebook.
Customer Experience Templates
Text messages are also a great opportunity to collect feedback from your customers. Birdeye allows you to send customer experience templates that help your business get feedback in just a few seconds. Customers are given three options: happy, sad, or neutral. With just one click, you can get feedback that will help you improve your operations.
Add media
The saying "A picture is worth a thousand words" may be why companies that include images in their messaging have a staggering 70% conversion rate. This especially applies to products or messaging meant to drive conversations, such as your unique value proposition and key information about what makes you unique from competitors.
Birdeye Webchat
Imagine that if one of your website visitors had a question, you'd be able to answer as soon as you're able to. You don't have to imagine. With Birdeye Webchat, it's easier than ever to communicate with your website visitors. Your website visitors will see a chatbox on the lower right-hand side of their screen. These queries will be sent to your cell phone, so you can respond right away.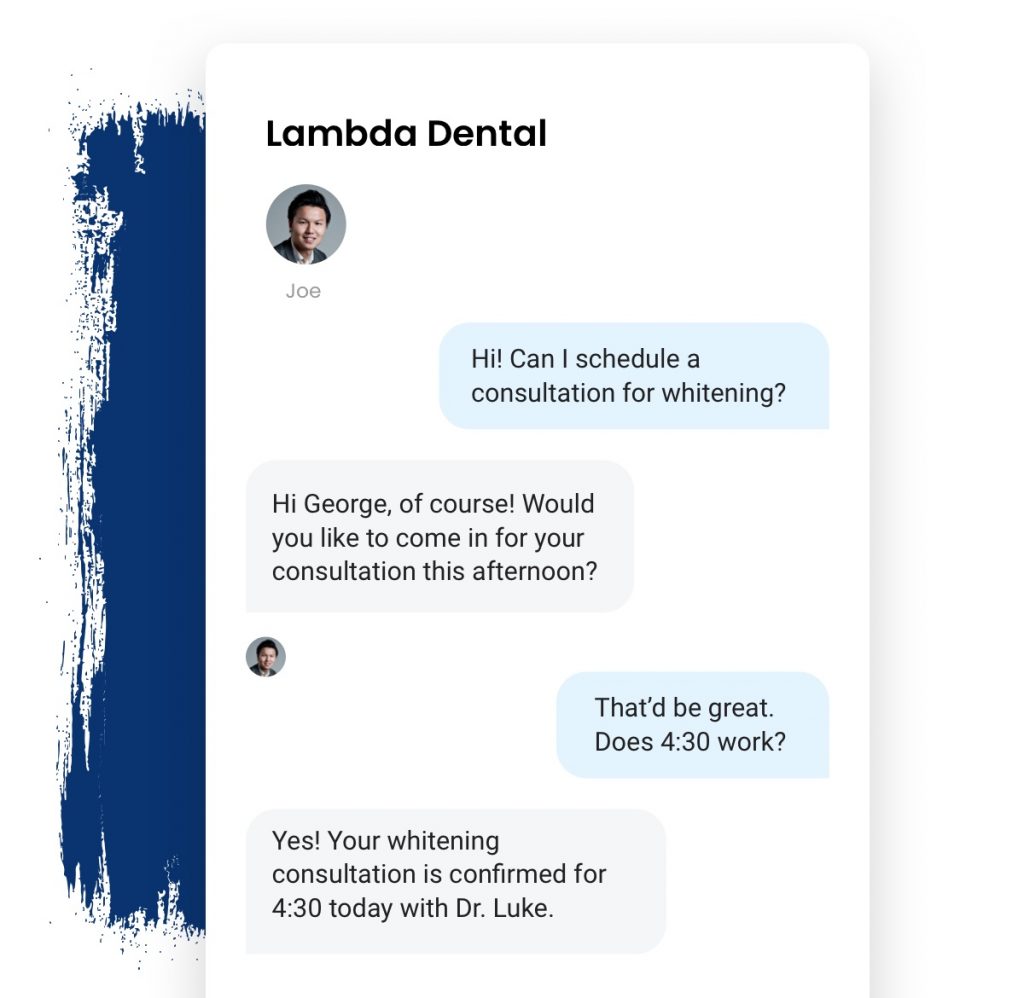 Birdeye Messaging
All Birdeye subscriptions come with the versatile Birdeye Messaging. You can use this to send texts to your contacts from your dashboard. You can use Birdeye Messaging to send promotions, discounts, appointment reminders, birthday or anniversary greetings. When your contact responds, you can view and continue the conversation within the Birdeye dashboard.
Business text messaging software – Get connected with Birdeye
Birdeye's all-in-one Experience Marketing platform helps businesses connect with customers. Send review requests, connect with customers via livechat, and grow your business. More than 100,000 businesses use Birdeye for customer messaging, send surveys, collect reviews, and drive revenue.


Originally published