Did you know there are 2.52 billion more mobile connections than people worldwide? If you aren't leveraging text messaging as a form of communication with your customers you are missing out. With texting, you can meet your customers where they are, on their mobile phones.
Why does business text messaging work
Text messaging is a powerful marketing tool that can not be overlooked.
In this video, discover how Aaron Novella of Keller Williams was able to leverage Birdeye text messaging in real-time allowing clients a simple and effective way to communicate. In this success story, Novella was able to meet his client's expectations while boosting sales.
It's much easier to manage your texts when you have text messaging software, but not every platform is created equally. Here are 7 features that your platform needs to have. While phone calls and emails are by no means dead, they are oversaturated. Email inboxes are often stuffed, while businesses and customers are often stuck playing "phone tag." Texting allows you to engage your prospects and customers quickly.
Top 7 text message software features every business needs
It's much easier to manage your texts when you have text messaging software, but not every platform is created equally. Here are 7 features that your text messaging platform should include.
1. It should be convenient
It's hard to deal with customer interactions when they're all scattered across different channels. The problem is that you can't be everywhere at once! With so many ways of reaching your customers, it becomes easy to let things slip past. You need something
simple but powerful: a platform designed with all-in-one features to help your business grow.
2. Allow you to send mass texts
Sending mass text messages is the easiest way to engage with your contacts in an easy and effective way. Want to promote a new deal, launch a product or even update your store hours? Mass texting allows you to keep your entire audience up to date and informed on the latest with your business whether you are sending 10 or 10,000 messages.
3. Allows teams messaging
Let's be real: You're busy. You can't manage every customer interaction, so you hand off some of them to your team. Chances are that you'll get a text message that you don't have time to respond to. While you can hand off the text to an employee, how can you ensure that they're managing the message in exactly the way that you want them to ensure customer satisfaction is being met?
Birdeye allows businesses to use internal notes so that you can tell employees exactly how to respond to inquiries.
If you are interested in reading more on this topic, check out our other article on how to select the right team chat software for your business.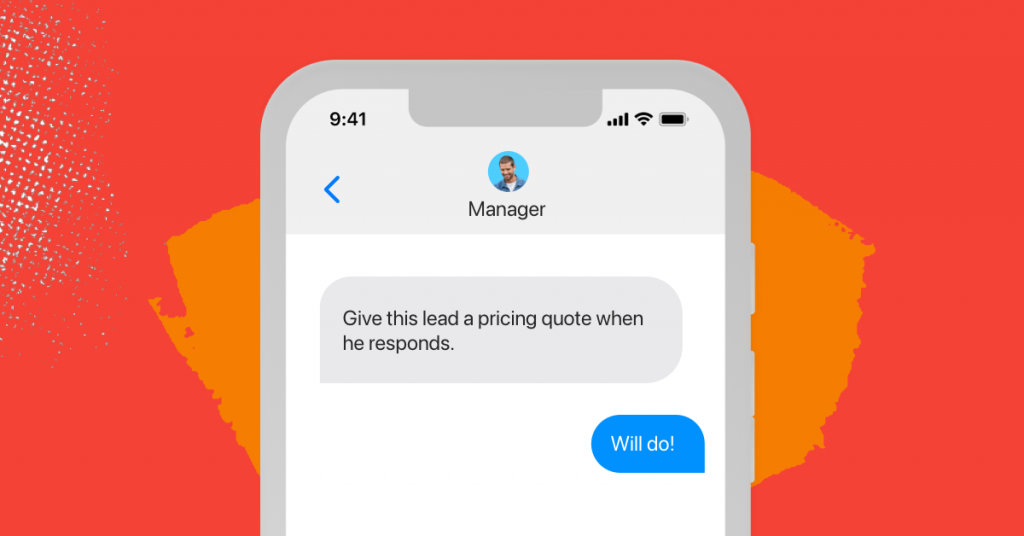 4. Includes pre-configured messaging templates
Using text templates, you can save time and optimize response times by creating predefined responses for common questions or actions in your workflows. A template is just a script within your software that deals with customer issues commonly encountered during transactions; it's like having an answer at hand when someone asks "How do I…? Templates can also be used to address customer complaints.
For example, you can create a template for customer complaints that's something like "We apologize for the inconvenience. We'd love to know more about your problem so we can resolve it for you."
5. Send images or PDF documents
Today, 64% of U.S. consumers and 59% of all consumers feel companies have lost touch with the human element of customer experience. Images are one of the most effective ways to communicate with customers.
Imagine this: You're a contractor who's doing a text conversation with a customer. They ask whether you'd be able to repair their roof. You could tell them that you could come over to their house and provide a quote. On the other hand, you could make the process significantly easier by just asking the customer to send an image.
Make sure that your text messaging software allows you to send and receive images and pdf documents. In certain situations, it can make customer interaction a lot easier.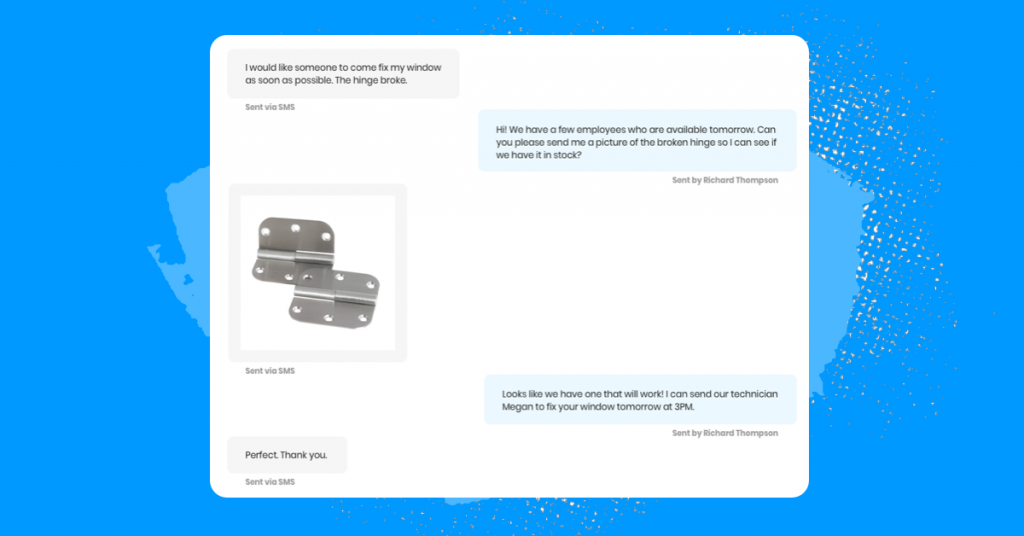 6. Allow you to text from your landline
Most people today don't bother answering calls from unknown numbers. The same concept applies to text messaging. If a customer receives a text message from an unknown number, they might not open it. That's why it's important to get text messaging software that allows you to send texts from your landline number – a number that the customer is likely to have on their list of contacts. As a result, the customer will be more likely to check your message and respond to it.
7. Allow you to send texts to request online reviews
Send text messages to solicit reviews from your customers, and you will be surprised at how much power this has. Reviews are authentic social proof that search engines value. Having great customer reviews not only means they're more likely to choose you but it also helps them rank higher for relevant keywords in Google searches – meaning your company could take off even faster than before if they had relied solely on organic traffic alone.
Birdeye allows businesses to send review requests via text. Businesses have the option to automatically send texts on the same day as a customer visit. Birdeye review requests can link to Google, Facebook, and 250+ sites on the web.
Frequently asked questions about text messaging software
What is the best texting software?
The best texting software is one that allows your business to manage your customers at any point in the customer journey and manage all messages from prospects and customers in one easy-to-use platform.
Is text message marketing legal?
Yes, it is. Almost all countries have anti-spam laws that state that you should only send texts to people who opt in.
How do you use text messaging in business?
Use text messages to engage your customers with a couple of clicks. You could send out offers, promotions, product launches, announcements, update business hours, and more using this simple medium that most people have access to.

The best text messaging software
If you're looking for text messaging software, check out Birdeye. Birdeye offers mass texting, team collaboration, templates, landline texting, and review requests in a single, easy-to-use platform. More than 100,000 businesses in 8 countries use Birdeye to stay connected with customers, send review requests, and grow business.

Originally published