If you haven't used Google Maps Marketing to get local customers to your business, you're missing out on an invaluable tool that can help you stay competitive. Google Maps is an easy-to-use functionality that many customers use to find local businesses and services. If you're a local business owner, creating and optimizing your Google Maps listing is an essential tool that can help your customers find you.
If you're just getting started on a Google Maps marketing plan, there are several tips and tricks that can help you get ahead. This article covers ten easy ways to use Google Maps Marketing to your business's advantage.
What is Google Maps marketing?
Google Maps marketing is simply using Google's Maps functionality to make sure customers can find your business online. This type of specialized marketing is especially ideal for local businesses that want to gain more visibility and attract new customers. With Goole Maps marketing, you can make sure that potential customers are more likely to choose your business over competitors when searching for the services you provide.
How to add a location on Google Maps
While there are plenty of locations on Google Maps already, some places may still need to be added. If your business or one of its locations is missing, here's how you can add it on Google Maps to attract local customers:
Go to maps.google.com
Search for the address using the search bar
When Google can't find the location, click "Add a missing place"
Add all of the necessary information like name, location, and category
Submit the location to Google
Now that we've covered the basics of Google Maps, here are ten tips to get local customers through your doors with Google Maps marketing.
What is Google My Business?
Google My Business (now known as Google Business Profile) is a free tool that helps businesses manage their online presence across Google. When you create and verify your business on Google, you'll be able to control how customers see your business and decide which information is displayed in search and on Google Maps. Now let's discuss the 10 Google Marketing tips that can help you be seen.
10 Google Maps marketing tips to attract local customers and local ranking
1. Create a Google Business Profile
If you haven't already, you need to create a Google Business Profile. This is a quick and easy step that will optimize your online presence and help you get local customers. It's also how you add a local business to Google Maps. Here's what you need to do to create your Google Business Profile.
Go to google.com/business
Create or log in with your Google account
Enter your business name
Enter your business address
Choose storefront or service provider
Choose your business category
Add your phone number and link your website
Verify your local listing
Finish creating your business profile listing
2. Make sure to fill out an accurate address
If you want to get local customers, you need to make sure your business is properly listed on Google Maps. When you create your Google Business Profile, make sure you include the most accurate, up-to-date address for your business's physical location. Here are a few things to keep in mind when adding your address.
Use your exact business location. Google will not accept mailboxes or PO boxes
Use an address that's been verified by USPS or another postal agency
Don't include keywords, URLs, or anything else that is not your precise address
Don't rely on broad information like city names to ensure your address is as precise as possible
If you can't find your address, pin your location directly on Google Maps
After you've added your address, you'll need to add your service area. Your service area determines whether you provide services at your location, your customer's location, or if you're a by-phone service provider.
3. Verify your Google Business Profile
Setting up your Google Business Profile is a good starting point, but you won't see the fruits of your labor without getting your listing verified.
Here's how verification works:
1. Choose your verification method.
Google offers several verification methods including phone calls, SMS messages, emails, video recordings, and postcards. Pick the one that works best for you and follow the instructions from Google.
2. Once your verification is complete, Google will review your information.
This can take up to seven days. You'll be notified when your business has been verified. If Google is unable to verify your business the first time, you'll be prompted to try again using another verification method.
3. Wait for verification approval.
After your profile is verified, it can take a few weeks for your updated business information to show up across Google.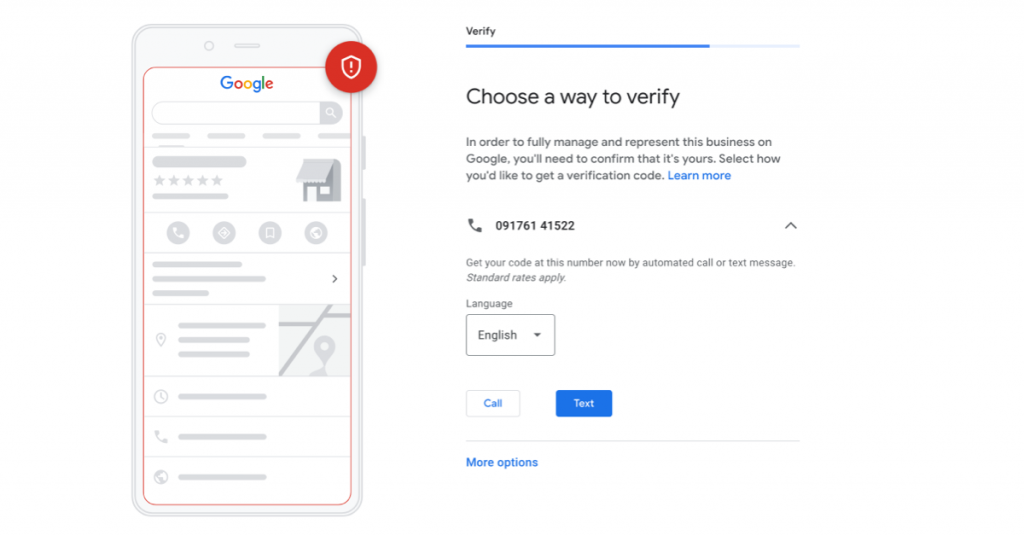 After your business has been verified, you can update your information at any time and communicate with your customers using posts, reviews, and messaging through your profile.
4. Fill out an optimized Google Business Profile introduction
Creating a detailed, concise Google Business Profile introduction is a crucial step in making sure Google can determine if your business is related to the terms your potential customers are searching for. There are a few things you can do to optimize your Google Business Profile introduction.
Give your mission statement. Explain how your business got started and why you are in operation currently.
Differentiate yourself from your competitors. Explain what sets you apart and why potential customers should choose your business.
Don't stuff keywords in your profile. Keywords are important for SEO, but Google does not appreciate it when businesses use their profile introductions for keyword cramming.
Tell your customers what they want to know. Think about any potential questions your customers might have and answer them.
Enable Google messages on your profile so that customers can reach you easily right from a Google search.
Remember to tailor your introduction to both your audience and Google. You want to optimize your introduction to increase your business listing on Google while also relaying who you are and what you can do to get local customers.
5. Add as much information as possible
The more information you have in your Google Maps listing, the more Google has to show your potential customers. That's why it's important to include every possible detail when building your profile to attract local customers.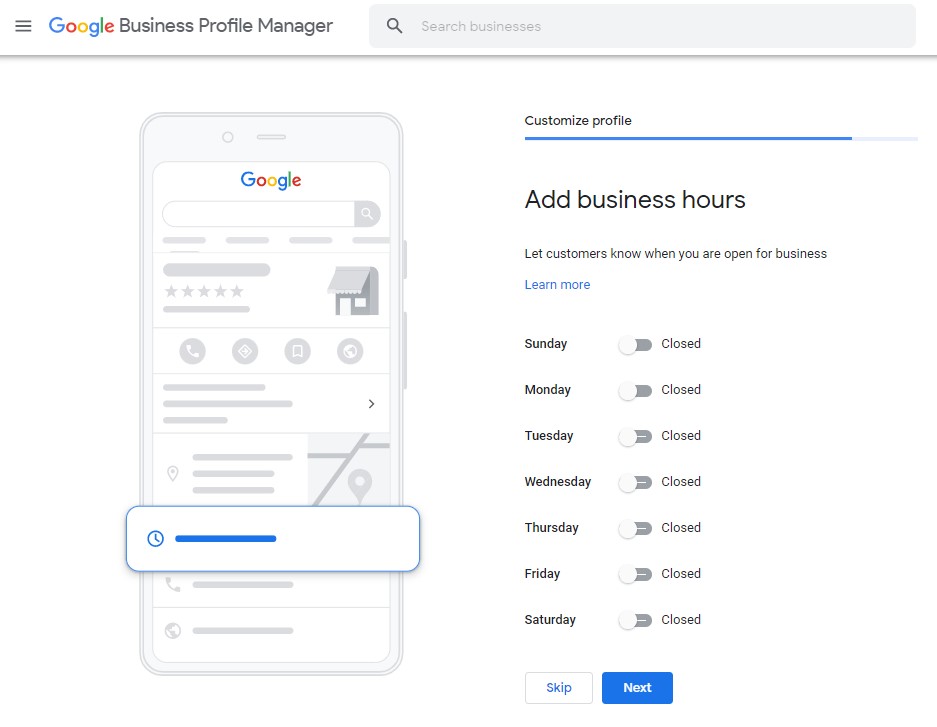 Include your operating hours, links to your website, your phone number, and any other relevant information that could be useful to your customers. The more information you have, the more accurately Google will display your business on Google Maps.
6. Avoid any duplicate content
It's clear that having a lot of information on your Google My Business profile is important. That said, it's also important to make sure you don't have any duplicate content on your listing. If you add additional addresses, phone numbers, or contact information, Google may think your business is a duplicate of another business.
To make sure your business isn't mistaken for a duplicate, add information that's useful and makes you stand out from the competition – but don't add excess information for the sake of having more. You want to be recognizable without making Google think you're a different business.
7. Add high-quality images to your GBP profile
Images don't just grab the attention of your customers. They also provide information that could be essential to Google's ranking of your business and determine whether potential customers choose you over the competition. For example, restaurants benefit greatly from including high-quality images in their Google Maps listing. When a customer looks for a new spot to get dinner, they can see how the food looks and survey the ambiance of the restaurant.
Adding high-quality photos is a great way for customers to see what your business is like before they ever step through your doors. Use images that reflect the best parts of your business, including the inside and outside of your building, your employees, your products, and your customers.
8. Request reviews from customers
If you have a business listed on Google, reviews are an essential part of building your online reputation. Google takes into account the number of reviews you have and your average review score. This is why requesting reviews from your customers is a useful tool – and something Birdeye can help you with.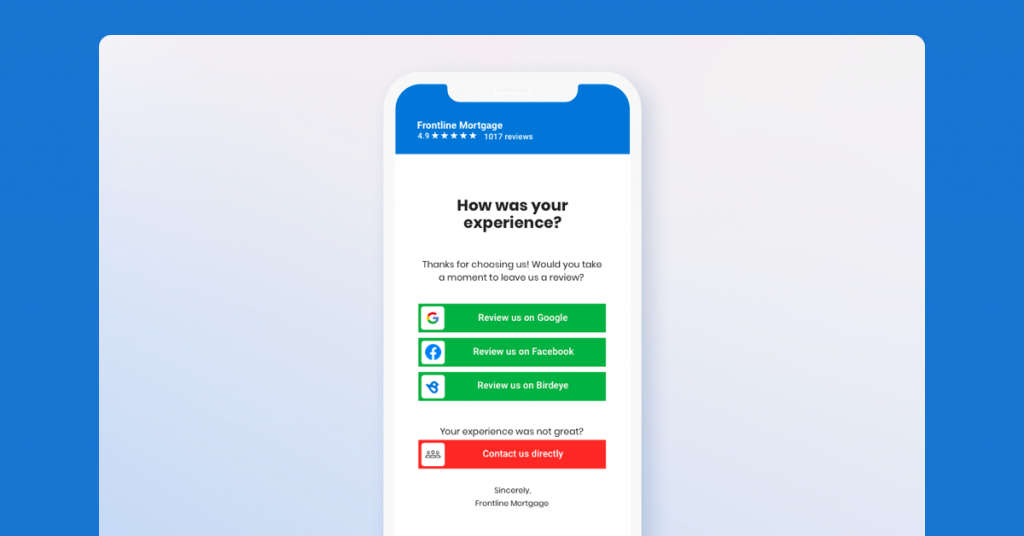 It may not be feasible to request reviews from all of your customers, but with Birdeye, you can automate requests based on the parameters you set. For example, every time your customer purchases a product or service, you can send an automatic email, SMS or another message online that thanks them for their purchase and asks them to leave a review. 
When you receive a negative review, it's important to respond in a timely manner to let customers know their feedback matters to you. With Birdeye, you can receive notifications each time you receive a review below a certain threshold you select. That way, you can reach out to customers right away to resolve the issue.
Birdeye makes it easy to manage all of your reviews with a single, streamlined dashboard. We have everything you need to increase your review count and improve your average star rating on Google.
9. Get local citations for your business
It's standard practice for any business to rely on directories, media, blogs, etc. to spread the word about who they are and what they do. Local citations simply extend this practice online. A local citation is any mention of your business containing your name, address, and/or phone number online. A great way to spread awareness of your business is to rely on online local directories, directories related to your industry, local blogs, and even local entities like your Chamber of Commerce and local news media. 
You'll also receive a local citation when your business is mentioned on other websites like Yahoo Local. Reach out directly to these resources and get as many online mentions of your business as you can to increase your local citations.
10. Build links to your website
One last thing you can do to increase your visibility on Google Maps is to get more links back to your site. An easy way to do this is to reach out to local businesses and ask them to link to your site whenever they mention your business or talk about topics related to your business.
A great way to monitor where your business is mentioned and request more backlinks is using a free Google tool called Google Alerts. Google Alerts can tell you when your business is being talked about online. When you see that another website or business has mentioned your business, but hasn't linked back to your website, simply reach out to them and politely ask for a link back to your homepage. After all, they're already talking about you.
Conclusion
Google Maps marketing is an incredibly affordable and easy way to boost your business online and get local customers through your door. By following these steps, you can bolster your reputation on Google and increase your visibility on Google Maps. If you're eager to get more reviews on Google, Birdeye can help. Find out how by clicking the banner below.

Originally published