When prospective customers search for a company, they will likely use Google. When looking for local companies near them, they often turn to Google maps. This is why creating a Google maps marketing strategy is critical for the success of your local company.
Not only does Google maps act as a search engine, but it also directs customers to the front door of your company when you are one of the top search results related to the user's search. Let's talk about how you can increase your visibility and be your customers' first choice on Google Maps.
What is Google Maps marketing?
Google maps marketing is as simple as optimizing your presence on Google Maps so that you will rank higher in search and gain more customers. The more your company is optimized on Google Maps, the more likely you are to be discovered by potential customers.
This is important for small and big organizations alike, but it is critical for local companies. The search term "near me" is often used when searching for a company or product on Google maps.
The companies closest to the customer and most relevant to what they are searching for will be among the top recommendations by Google and the most likely to be found by that customer. This is why optimizing your local company on Google Maps is essential.
[Free Guide] Get Google reviews: A no-nonsense guide
Download Now
Why Google Maps matters
Google Maps matters for a straightforward reason: it's one of the most popular ways for new customers to discover your company.
When you do a "near me" search for local companies, you'll see results like these.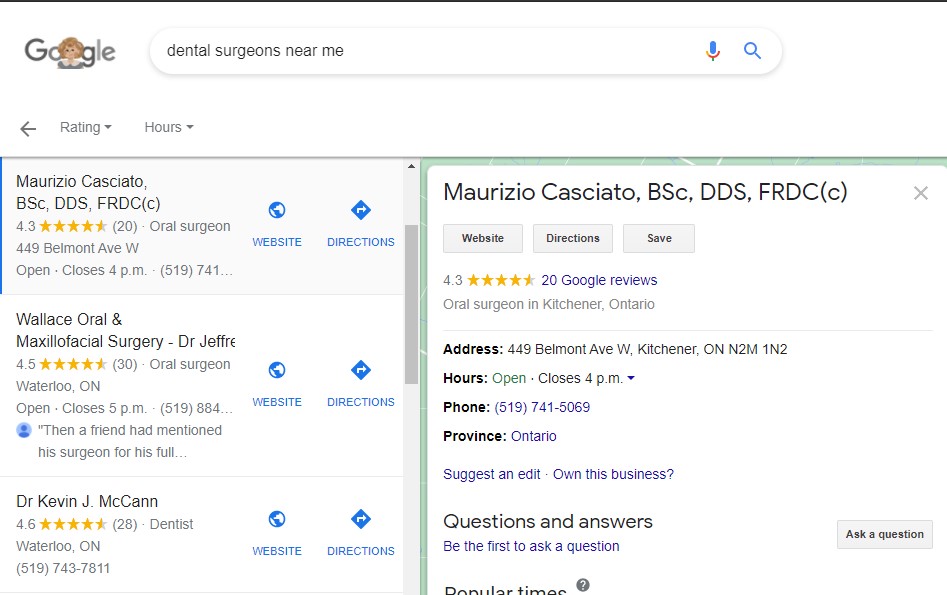 With mobile search becoming more and more prevalent, these types of searches are becoming more and more common.
Google ranks companies on Google Maps based on three factors: distance, relevance, and prominence.
Distance: This metric takes into account how close a potential search result is in comparison to the location of a search term from a user on Google Maps. If your company is one of the closest to potential customers, you have a higher chance of showing up on Google Maps.
Relevance: This refers to how closely related a local company profile is to the search term entered by the user on Google. The more detailed and accurate information you can provide to Google, the more likely your company will show up on Google Maps for your industry's related search terms.
Prominence: This simply depends on how well-known a company is. For example, certain landmark destinations like museums are likely to have a high prominence on Google maps. It can also be affected by information gathered by Google, like articles, links, and positive reviews.
Claim your Google Business Profile
The first step to marketing your company on Google Maps is setting up and optimizing your Google Business profile. Your Google Business Profile (formerly Google My Business) controls how you appear to prospective customers on Google Maps. Your profile is free to claim and register.
To start, claim your Google Business Profile profile if you haven't done so already. Most existing companies already have a Google Business Profile. Go ahead and follow a step-by-step process to claim your Google Business Profile.
Having a Google Business Profile profile will help your organization get discovered by more customers. According to Moz, Google Business Profile is the #1 factor determining your local search ranking. You have a significantly higher chance of ranking at the top of search results by claiming your profile and adding relevant information.
[Free Guide] The complete Google My Business marketing toolkit
Download Now
How to optimize your Google Business Profile listing
Remember, the more information you provide on your Google Business Profile listing, the better chance you have of ranking higher on search.
The key here is to keep in mind the three main factors of distance, relevance, and prominence. Here's some company information that can help you with these three factors.
Add an accurate company description
Google allows companies to give short descriptions of 750 characters or less. This is a great opportunity to give customers and potential customers relevant information about your company.
Try not to stuff a bunch of keywords into your company description, but make sure that you're giving your customers relevant information about your services. This is the place to tell customers who you are as a local company.
Relevant categories
Remember, one of the three factors that Google ranks your company on is "relevance". That makes it important that you're claiming all the relevant categories for your company.
At this point, you can add up to 10 categories, with the initial category having the greatest influence on your potential rankings. Then, you can add more categories based on your company's important search phrases and categories your competitors are using.
So, if you are a local dentist, your primary Google Business Profile category might be "dental clinic." But, maybe a nearby competitor is well-known for their dental implants – a service you also provide. You could include "dental implants periodontist" as another category to increase your visibility for that service and compete with nearby dental clinics too.
Include high-definition photos
Customers form first impressions of your company based on your Google Business Profile profile. Make sure that their first impression isn't a badly-lighted picture of a blurry storefront. According to Google, companies with photos get 35% more clicks to their website.
With a third-party app, you can also add metadata to your photos. This information will help Google's bots "read" your photos and help visually impaired customers know what is in your image. Here you can add relevant information about the services your company provides.
Increase visibility with Google Maps marketing reviews
Collect authentic customer reviews



Remember, Google trusts reviews. The more reviews you have, the better chance you can collect customer reviews and bolster your prominence on Google Maps.

So here are a few tips to help you get started collecting reviews: 

Send review requests via text or email 

Chances are that you have a lot of customers out there who would be more than happy to leave a review. The only problem is that most of them aren't going to be proactive and try to find your profile on review sites. By sending review requests via text and email, you can make the process easy for your customers. 

Send review requests to all of your customers 

More reviews are always better, so be sure to send review requests to all of your customers. Chances are that you might get a few negative reviews. That's nothing to worry about. A few negative reviews can convince potential customers that all of your reviews are authentic.

Claim your Google Business Profileshortlink 

While reviews from industry specific review sites like Avvo are important, Google prioritizes the reviews posted on its platform. So, when you're sending review request texts and emails, you can include your own custom GMB short review link to get Google reviews. Here's a guide to claiming your short review link. But, with Birdeye, you actually don't have to do this. Our integration with Google, easily sends your customers straight to Google from the review request email or text.


Respond to customer reviews



Remember, the story isn't over when the customer has written the review. Make sure to respond to all of your customer reviews. 

While responding to reviews helps you to build customer loyalty, it can also help you turn users into loyal customers. Google has confirmed that responding to customer reviews leads to a higher ranking on search and Maps. 

Want to know how you can start responding to both positive and negative reviews? Download our free guide
"Review Response Templates."

Use Google Business Profile posts



Google Business Profile gives you the option to make posts. These posts are temporary updates that will appear on your Google Business Profile for seven days.

These posts are a great way to promote time-sensitive information. Google Business Profile Posts is an easy way to share discounts, promote upcoming events and news about your company.

Keep track of Google insights



Google Business Profile provides you with insights that tell you how your company is performing in important metrics like direction requests, times for phone calls, and how many customers have seen your listing information. You can use this information to see how customers interact with your company.

Paid advertising on Google Maps


If you're willing to spend, paid advertising on Google Maps can help get your company more visibility. Local search ads help your company appear on Google Maps more often. You'll be required to pay every time a potential customer clicks on your ad.
Frequently asked questions about Google Maps marketing
Can I earn money from Google Maps?
No, there is no method of earning money directly from Google Maps, but marketing your company on Google Maps can bring in more customers and revenue.
Does it cost anything to advertise on Google Maps?
No, it does not cost anything to advertise on Google Maps.
How do I advertise on Google Maps?
1. Enable location assets for your Google Ads. 2. Set up or update your Business Profile listing. 3. Use location targeting and bid by your location. 4. Optimize keywords for local search queries.
How much does it cost to put your company on Google Maps?
Adding your company to Google Maps is free.
How do I get more customers on Google Maps?
1. Make sure your company information is accurate. 2. Optimize your GBP introduction. 3. Get GBP verified. 4. Ask your customers for reviews. 5. Create local citations. 6. Build high quality links.
How Birdeye can help
Remember, reviews are one of the most important factors determining your brand's prominence on Google Maps. But, keeping track of your online reviews is hard to do manually. Company owners typically don't have time to send review request texts and emails every day and respond to reviews across hundreds of sites.
Luckily, Birdeye can help. With Birdeye's all-in-one reviews platform, you can automatically send review requests to all of your customers. This gives you the opportunity to garner more authentic reviews from your satisfied customers and improve your visibility on Google Maps.
Birdeye makes responding to customer reviews easier than ever. You don't need to switch between Google, Facebook, and the hundreds of other review sites on the Internet. Birdeye aggregates reviews from 150+ sites within its dashboard. When you type a response, it will appear on the site where the review originally appeared.
Try Birdeye, the #1 review software
Don't fall behind on Google reviews. Birdeye gives you all the tools you need to collect authentic reviews and leverage them for growth. More than 100,000 companies use Birdeye to collect authentic reviews, improve customer experience, and drive revenue.
[Free Guide] The ultimate guide to online reviews
Download Now


        

This blog post is part of our Google Maps Marketing Guide 


      

            

Google Maps Marketing Related Training        
Originally published