Google Shopping List makes it super easy to jot down a quick list of items you want to buy before heading out of the house. And the genius part is you don't have to lift a finger to make your grocery list. It integrates seamlessly with Google Assistant so you can use voice commands to add items to Google Shopping List hands-free.
Let's explore how to leverage Google Shopping List to streamline your shopping experience. In this blog, we'll show you how to use it and gain a better understanding so you can apply strategies to leverage it for your business and products.
How do you create a Google Shopping List?
It's simple to create your list with the help of Google Assistant. If you're wondering how to do it, follow the steps below.
Apple products
Open the Google Assistant app first on your iPhone or iPad and sign in.
Hold the microphone icon or say "Ok Google" to activate Google Assistant.
Once the Assistant is listening, say a command like, "Add wheat flour to my shopping list."
After each voice command, the Assistant will confirm.
Continue adding items to your list until you're done.
When you're all done, say, "Show my shopping list," to view your finalized list.
Android
Long-press your Android's home button, then say, "Hey Google."
Once your Assistant is listening, give it a command like, "Start a shopping list," or "Add milk to my shopping list."
Google Assistant will respond to you by saying, "Got it. I've added milk to your shopping list."
From there, continue adding more items and repeating the voice-prompt process.

These commands will automatically show up on your list.

After you're done adding to your list, take a look at it. Users can view their lists easily by saying, "Show me my shopping list" or "What's on my shopping list?"
How do you change, check off, or remove items from your Google Shopping List?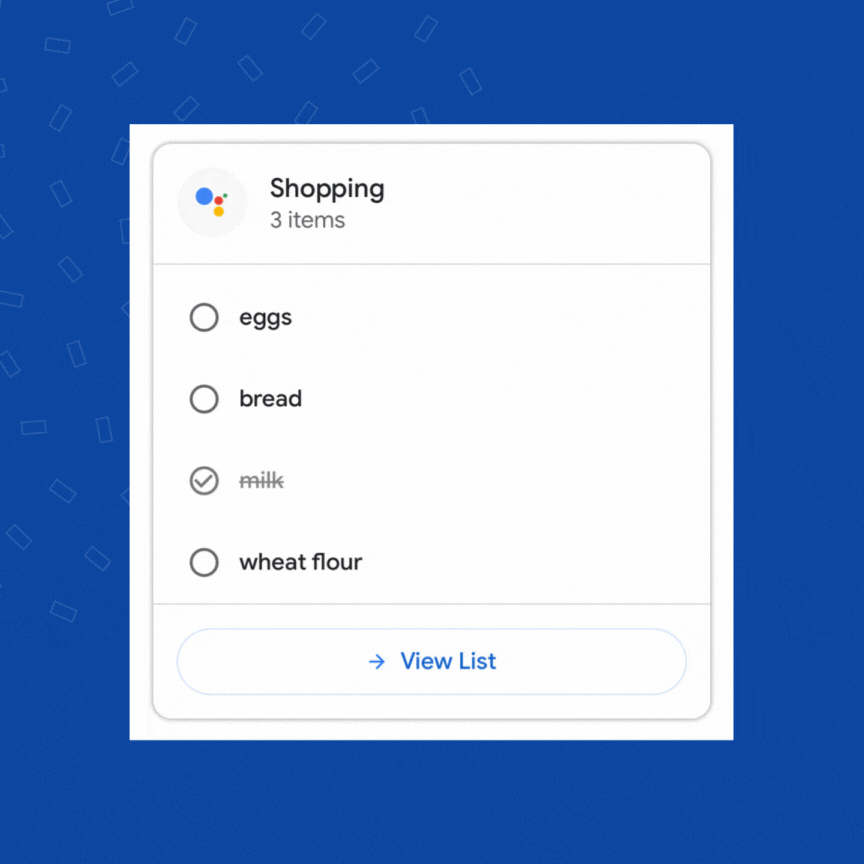 With Google Shopping List, you hop in at any time to change, remove, or check items from your list while shopping. Here's how to go about it.
Apple products
In the Google Assistant app tap the shopping cart icon.
You'll see your entire list and check off items as completed by clicking or tapping the checkbox next to them.
You can also edit or delete items from the list by tapping to select the item and selecting the appropriate option to remove or edit the listed product.
Android
Press and long-hold the home button to activate Google Assistant.
To remove something from your list, say, "Remove milk from my shopping list."
To check completed products on your list, instruct the Assistant to mark them as done. Say, "Mark milk as done" or "Check off milk."
Now, if you want to replace one thing on your list with something else, ask the Assistant to change them by saying something like, "Replace milk with almond milk."
When you're completely finished with your list and are ready to start fresh, say, "Clear my shopping list" or "Delete all items from my shopping list."

The app will then remove everything from your list.
What are the benefits of a Google Shopping List?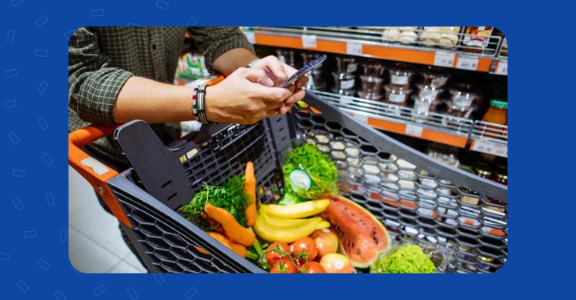 Google Shopping List is a great app simply for its ease of use and built-in functionality. As we've shown, you can create and add to your list using voice commands with the help of Google Assistant or manage your list using the Google Home app as well.
Google Shopping List also provides smart shopping ads and various product suggestions based on your previous shopping habits. This makes it even quicker to add those essential household products or routine purchases to your list. Another cool convenience feature is your ability to ask for product recommendations or compare product prices from Google Merchant Center.
Other benefits include:
Organization and convenience
Google Shopping List simplifies your life and your shopping experience by providing a centralized platform to create, manage, and access your lists. You can easily add items, categorize them, and share the list with friends or family.
Real-time collaboration
One of the standout features of Google Shopping List is the ability to share and collaborate on lists with others. This is particularly useful for families or roommates who need to coordinate their grocery shopping. Tag team your errand running, and never worry about duplicating purchases. When someone adds or checks off an item, the changes are synced in real-time.
Cross-platform accessibility
Google Shopping List is available on various devices, including smartphones, tablets, and computers. It works through the Google Home app, Google Keep, or Google Assistant, making it an incredibly handy app for nearly every digitally-connected home or office. Businesses can leverage their merchant center accounts to streamline inventory management, simplify collaboration among team members, and integrate with Google services.
FAQs about Google Shopping List
How do I access Google Shopping List?
To access Google Shopping List, simply open Google Assistant or Google Home app, say "Hey Google, show me my shopping list," or visit shoppinglist.google.com on your device.
What happened to the Google Shopping List app?
The Google Shopping List app was revamped in 2022, giving it a completely fresh design. One notable change is that checked-off items no longer automatically hide under a separate tab. However, they do still move to the bottom of the list.
How do I use Google Shopping List on my phone?
Google Shopping List is integrated with Google Assistant. Activate your phone's Assistant and verbally use it to create your list, collaborate on your must-buy items, set reminders, and stay organized.
Shop confidently with Google Shopping List
An easy way to shop effortlessly and confidently is to use your Google Shopping List app. Capture and organize your need-to-buy items on the go. Check off items you've already purchased. And stay on top of your household or business list without the hassles of traditional or manual lists.

Originally published