SMS marketing is one of the most powerful ways that financial institutions can reach their customers. Unfortunately, many financial services institutions haven't yet caught up. Let's talk about how financial services businesses can use SMS marketing to drive revenue.
Why SMS marketing works
Today, there are many financial institutions who are content to rely on traditional methods of communication like phone, email, and mail. Just relying on these modes of communication may be a mistake as these are already oversaturated. Think about all the times you've been left on voicemail, had something that got lost in your inbox, or thrown out direct mail. The numbers show business text messaging is the most convenient method for customers.

SMS marketing and the TCPA
In order to comply with the TCPA, you will need to get the customer's consent before sending them text messages that market your business. So when you collect the customer's phone number, be sure to ask them for permission to text you and let them know upfront what kind of texts you are planning to send.

3 benefits of SMS marketing
If you're not yet sold on SMS marketing, here are three ways that it can help your business.

Reach hundreds of customers at once: Mass texting capabilities allow you to send a message to hundreds of customers at a time. If you need to get the word out about a promotion you're offering, you can do so easily and reliably.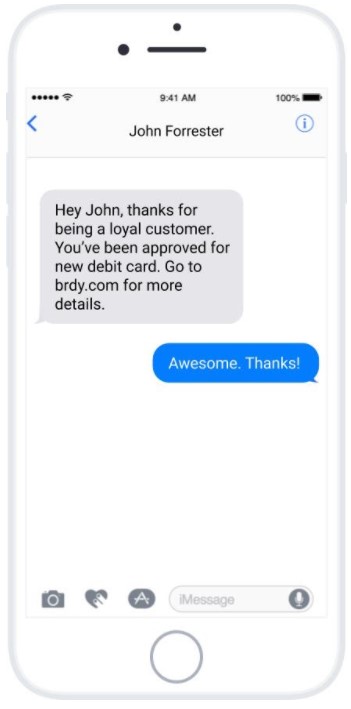 Build customer loyalty: If a customer has some kind of a problem with their account and they aren't made aware of this right away, they can immediately turn frustrated and disgruntled. Sending text messages is a way to solve this problem proactively and build customer loyalty over time.

For example, if you see suspicious activity on a customer's account, you can send them a text message so that they're alerted immediately. If it turns out that the customer did lose their card, the potential damage will be limited and the customer will most likely be grateful that you reached out to them.

Get the word out at low cost: Instead of spending money on Google Ads or Facebook ads, consider using SMS marketing to upsell your existing customers. If one of your customers is looking for a new credit card and you send them a relevant text message, you can get more revenue at very little cost.

Remember, text messaging is a highly effective medium for communication. Instead of spending tons of money for clicks and impressions, you can send messages that go directly to your customers' phones.

Best practices for SMS marketing
Before you start sending out text blasts, keep these best practices in mind.

Offer an opt-out: If customers don't want text messages, give them a way out. Make sure that customers can opt-out of text messages if they so choose.

Send texts from your landline: Texting customers from an employee's phone number can lead to a lot of confusion down the line if the customer ever needs to call you. Get a text messaging software that integrates with your existing landline.

Don't text too frequently: If you're sending too many texts, you might see lots of your customers unsubscribing. Try to limit texts to 1-2 every week.
Templates for SMS marketing
Here are a few templates that you can use in your SMS marketing campaigns.

Personalized promotion:
Hey (customer name), we'd like to thank you for being a valued customer! We'd like to extend a special offer to you. You've been approved for a ($) new (loan/debit card/etc.) Respond to this text for more details.

Account activity:
Hey (Customer name), we've received your deposit. It might take (expected time frame) for this money to reach your account. In the meantime, respond to this text if you have any questions.

Unusual activity:
Hey (Customer name), we've noticed some unusual activity on your account in the last 24 hours. Please review your account as soon as possible.

Appointment reminder:
Hey (Customer name), just a reminder that you have a meeting with our loan officer tomorrow at 2. See you then.
Review request:
Hey (customer name), thanks so much for visiting us today! If you'd like to give us feedback, please review us on Google.

Loan payment due:
Hey (customer name), your next payment of $X is due on Monday. Please call us at this number if you have any questions.

Missed payment:
Hey (customer name), we have not yet received your payment of $X that was due this Monday. Please pay within 24 hours to avoid being charged a late fee. Call us at this number if you have any questions.
Will SMS marketing keep my customer's data secure?
As you already know, any financial service business needs to consider the security of customer data. That includes staying compliant with rules and regulations while texting your customers.

A platform like Birdeye can help you text your customers while maintaining data security. Birdeye has been rated as Enterprise-ready by the prestigious Skyhigh Networks CloudTrust™ program. Thousands of businesses in the financial services industry use our platform to stay connected with customers and prospects.
How Birdeye can help you communicate with customers
If you want to start communicating with your customers, Birdeye's all-in-one experience marketing platform can help. The Birdeye Inbox allows you to check messages from text messaging, Facebook Messenger and website chat all in one place. Birdeye serves more than 100,000 businesses, including many in the financial services industry.

Originally published