This year, businesses all over the world learned the importance of flexibility. Real estate businesses are no exception. Still, some realtors were able to carry on mostly uninterrupted through digital means. Let's talk about how your business can use digital transformation to stay prepared for whatever the world throws at us next.
What drives digital transformation?
One of the key factors that set apart winning realtors from the competition was how much they embraced digital transformation. Here are a couple of reasons why digital transformation is so important.

Consumers expect digital experience: We've found ways to use modern technology to make every aspect of our lives easier. We use Waze and Google Maps to find directions, use social media and text messaging to communicate with friends and family, and use Amazon to buy products. Each one of these platforms makes the process feel seamless.

The average consumer now expects the same seamless experience in any interaction. Buying and selling a house is no exception. Real estate agents should make an effort to use digital technology to make every aspect of the buying process as effortless as possible.

Digital experience gives your business flexibility: Of course, the fact that the entire world is moving towards digital isn't the only reason your business should embrace it. When a crisis hits, digital transformation helps your team be flexible. No matter what happens in the physical world, it's essential to have other options available to connect with your clients.
5 ways to digitally transform your real estate business
Here are five ways that your real estate business can get started with digital transformation.

Text your clients
While digital transformation sounds complicated, there are some steps that you can take that are relatively easy. Getting started can be as simple and straightforward as having one of your team members send text messages to clients.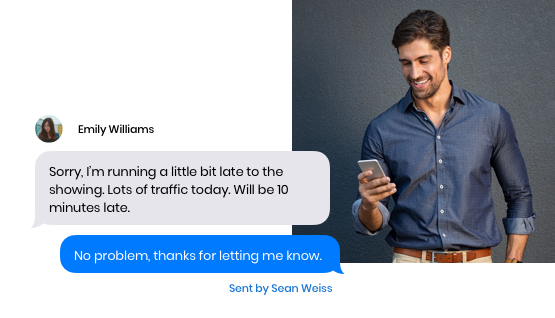 Realtors should use text messaging for a simple reason: clients are more likely to see it than any other medium. Studies show that text messaging has a stunning 98% open rate. It's also a great way to promote new listings and open houses. Since most people have their phones with them for most of the day, it's also a great way to communicate.
In this video discover how Real Estate Agent and Coach, Aaron Novella of Keller Williams leveraged Birdege text messaging to engage clients on a personal level adding to their overall experience. Texting allowed him and his team to gain a clear advantage over competitors by providing a real-time, seamless, and highly effective communication process.
Offer video tours of your homes
As you know, physical tours are a great way to show off your homes. Unfortunately, the option isn't always available for potential buyers. To ensure flexibility in all situations, you can offer the opportunity for video tours.

A physical open house requires excellent attention to detail. The same applies to an open house conducted via digital means. Make an effort to make sure that the home is well-lit and make sure that you're showcasing all the home's positive attributes. Just as you would for a physical tour, point out amenities, and suggest ways that homeowners could use different rooms.

Hold digital seminars
Digital can also be a great way to introduce your brand to new audiences. Some real estate businesses choose to hold digital seminars on platforms like Zoom to position themselves as local thought leaders.

These seminars can be on topics that hold importance for target customers in your area. They can be centered on an issue specific to the neighborhood, give information about buying a home, or give local renters advice about the steps they need to take to purchase a home. When done well, these seminars can be a great way to drive pipeline, since there is a good chance at least some of the attendees who feel like they benefited from your seminar will turn into clients.

Remember to keep your format engaging and relevant to potential clients and do some practice before the actual seminar. If you are going through a slide deck, go through the presentation on your own to make sure that you are telling a compelling story.

Not sure how to promote the event? Sites like Eventbrite are a great way to promote these digital seminars. You can also promote the event on your Google Business Profile through a temporary post.
Use video calls
A one-on-one meeting is an excellent opportunity to build rapport and a connection with your prospects. However, it's often hard to do this through traditional communication methods like email. While it's not a perfect substitute for an in-person meeting, there is one digital tool that helps you get close to a 1-on-1 meeting: video calls.

A video call sends an emotional signal to the client: your team is dedicating them complete, undivided attention. They can see that your team members are focused on them and their needs and are not checking email or engaged in another task. Plus, they'll be able to see facial expressions to avoid any potential miscommunication.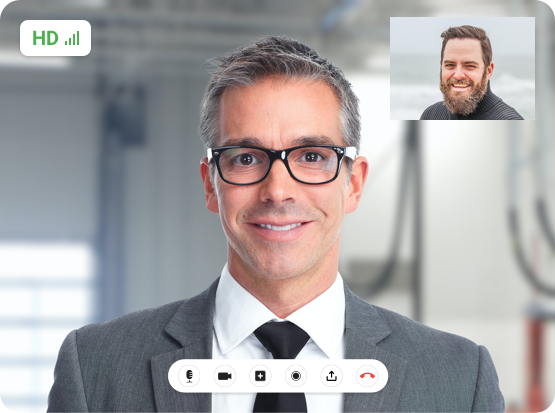 Switch to e-signing relevant documents
If everything has gone right, your client will eventually be signing a contract. But there is a way that you can make this process easier for both sides. Instead of getting your client to sign a dotted line in-person, consider using electronic signatures through software like Docusign. It can save time for both parties since there's no need to meet physically.

Plus, electronic signatures can make your documents easy to access in case of an emergency. If anything comes up, there's no need for you to have to go to the office. You'll be able to take care of the problem from the comfort of our home.

Case study: The Novello Group
Aaron Novello is a Birdeye customer who used our software to digitally transform his business. He is the owner of The Novello Group, a 13-location real estate business based in South Florida. Aaron is a big believer in using digital tools to stay ahead of the competition. He has said that if companies want to stand the test of time, digital is "non-negotiable." Here are some of the ways that Aaron uses digital tools to interact with clients.

Text messaging: Aaron Novello uses text regularly to connect with clients. He tells clients that he is available to answer their questions via text whenever they need him.
Livechat: The Novello Group has a livechat widget on the business website, so prospects can reach out whenever they have a question. One of the team members of The Novello Group can answer questions and provide information to turn prospects into clients.
Podcasting: Aaron has a podcast where he teaches others the art of real estate selling. This type of content helps introduce his brand to new audiences and positions him as a thought leader in real estate.
Video: Aaron sends a personalized video to new clients who start using his services. It's a great way to both build a genuine connection and show that he genuinely cares about the client's needs.
Want to know more about digital transformation?
If you want to know more about how your real estate business can win in an uncertain future, check out our on-demand webinar. It contains a few bonus tips and strategies that aren't in the article.

Originally published