Getting feedback is amazing for your business always. But asking for that feedback from customers can be quite tricky. There are several ways to go about it. But what's best for one business might not work for another. It all comes down to the way you ask (and when you ask) your customers which determines whether they provide it or not.
How do you write an email asking for feedback? Email is a very effective way to ask customers for feedback as long as it's done in a timely manner. However, customers today are wired into their phones 24/7, so SMS requests (texts) often have a higher conversion rate into reviews. Since every customer base is different, Birdeye lets businesses request reviews both through email and SMS.
Before we examine how to ask for feedback from your customers with some helpful email example examples you can use right away, are you ready to discover why online reputation management is crucial for your multi-location business in under 15 minutes? Hear 10 tips that can help each one of your locations get discovered online. By the end of this audio guide, you will know how to start collecting more reviews from customers in order to drive conversions! Reviews are important to businesses because they offer fast, authentic feedback from customers. Negative reviews can leave a bad taste in your mouth but there are ways you can deal with them and prevent brand reputation issues– like how some companies will only collect positive customer comments at each location rather than on the company level.
How to ask for feedback from customers?
1. Ask for a rating.
There are a few ways you can ask for a rating from your customers. You can use the standard 5-star scale: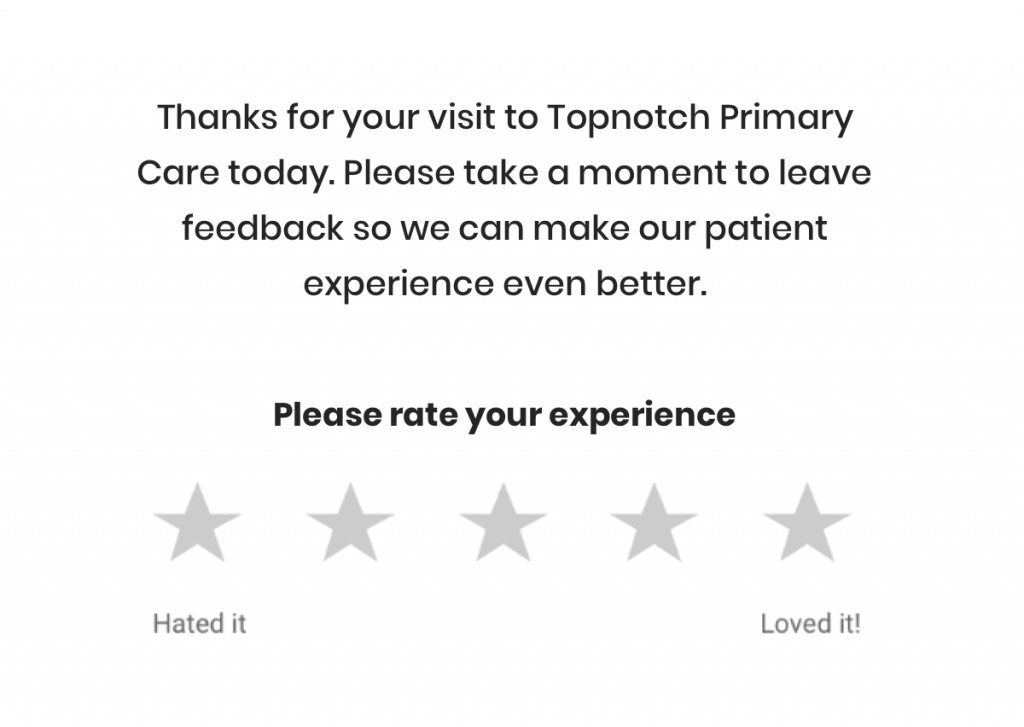 Another way to ask for feedback from your customers could be using the Net Promoter Score method:
Traditionally, you'd survey your customers with the one question, "Would you recommend us?" Based on their 1-10 rating, you'd classify your customers into three categories: detractors, passives, and promoters.
The benefits? This way is quick, easy, and quantifiable.
2. Ask for a third-party review.
Requesting feedback from clients: Amplify customer voices to the public. Include direct links to the review sites that are most important to your industry. Such as Zocdoc if you are in healthcare.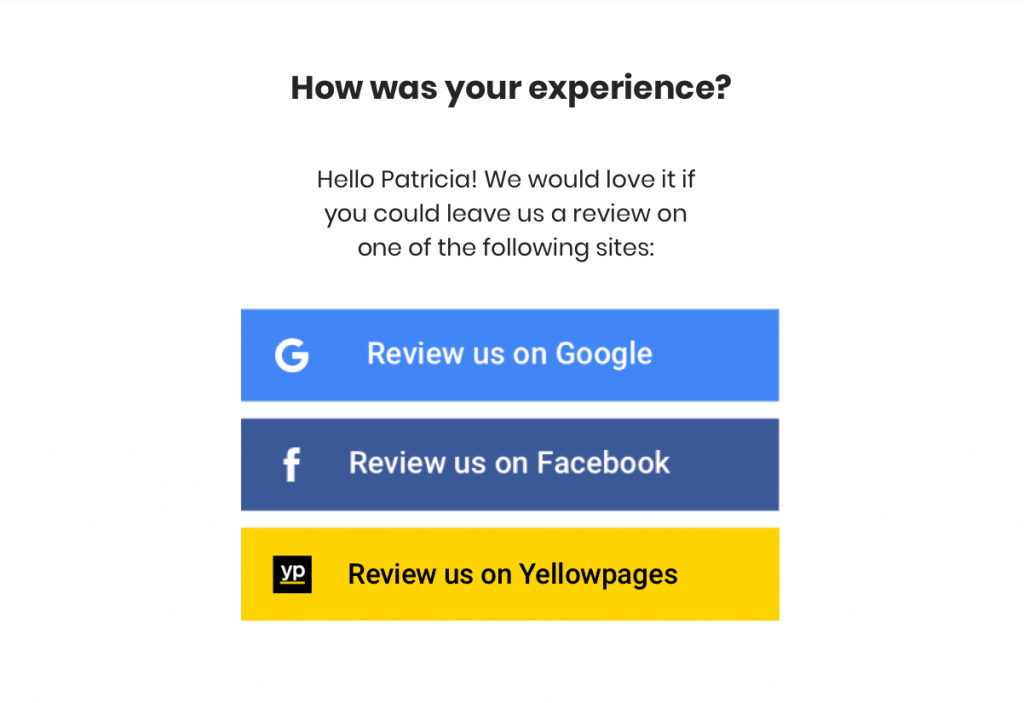 The benefits? Your business gets free promotion, boosts ratings, and improves search engine optimization (SEO).
3. Send a survey link
With a customer service email, you can get deeper insights into key areas of your business operations with custom surveys that ask only the questions that matter most. Here's a sample.
The benefits? Run surveys for everything, including market research, employee engagement, and customer experience. Knowing what your customers really want (or really don't want) is a huge part of making your customers happy (and keep them coming back for more).
Ask customers for feedback email: Customers are happy when you fix their problems. But they forget to share their experience with others. The feedback interview solves this problem. How does it work? You simply ask customers for their feedback. And how do you ask your customers for feedback? Just review samples 1-3 above. Now get started collecting that feedback!
Before you send any emails to your customers, make sure you define your goals and decide how you plan to measure success. Don't stress out, just relax — all of Birdeye's email, SMS, and survey templates are totally customizable so you can continue making tweaks until you find what's just right for your business.
Want to know more about collecting customer feedback?
Sending a review and/or survey request is just the beginning. Ultimately, the best businesses use this feedback to implement fantastic experiences across the board. Check out our free guide to find out how your team can build a winning customer feedback process from start to finish.

Originally published