Building a successful sales strategy for your agency requires significant effort on your part. You'll need to find the right team, identify the right type of clients you would like to sell to, and find the right software partner that can help you support those clients year after year.
We wanted to figure out how marketing agencies can find the right software partner to drive results. We decided to sit down with JD Dammeier, owner of the Birdeye partner agency Bizinga, to hear some of his tips, tricks, and insights.

Hi JD, thanks so much for meeting with us. We'd love to hear a little bit more about your business Bizinga. Can you tell us a little bit about your team and how many clients you currently serve?
Thanks for having me. Bizinga is a marketing agency that partners with Birdeye. We're focused on helping businesses collect reviews, get discovered online, get connected with customers, and get the feedback they need to offer great experiences.
Right now, we offer multiple Birdeye products to our clients including Reviews, Referrals, Website Chat, Listings, Surveys, Insights, and Benchmarking. Currently, we're serving over 400 clients all over the United States and beyond. We actually have a few clients as far away as Australia. 
We used to offer other packages to clients like website development. We've since stopped. We've found that products like Reviews and Referrals are really what drive the best results for clients. It's also what's easiest for our lean team to manage. Right now, we have just one full-time employee and one employee who does part-time work for us.
That's a lot of clients. How is your small team managing that many different businesses?
The key factor is automation. It would be pretty much impossible for our team to manage that many relationships manually. Luckily, integrating Birdeye with the software systems our clients are already using is a huge time-saver. Once that's taken care of, Review, Referral, and Survey requests go out automatically. Then, we just let the system drive results. After the initial set-up, there's no need for anyone on my team or the client's team to get involved.
Automation is also great for managing churn. The biggest reason why I believe why clients churn from agencies is that clients often don't have the time to handle all the manual work that may come with a shiny new software platform. They end up not getting any results and then just cancel the contract. On the other hand, automation ensures that they're getting the results they're looking for, even if their team is too busy to even take a look at the platform.
One other thing that I've found to be very helpful when it comes to managing client relationships is streamlining the messaging process. There are several different channels that a client might use to message you and it can be hard to stay on top of them all. The Birdeye Messaging helps simplify the process for my team. All of our clients' messages from Facebook, text, email, or website chat are all in our Unified Inbox. If an issue comes up, we can notice and get in touch right away.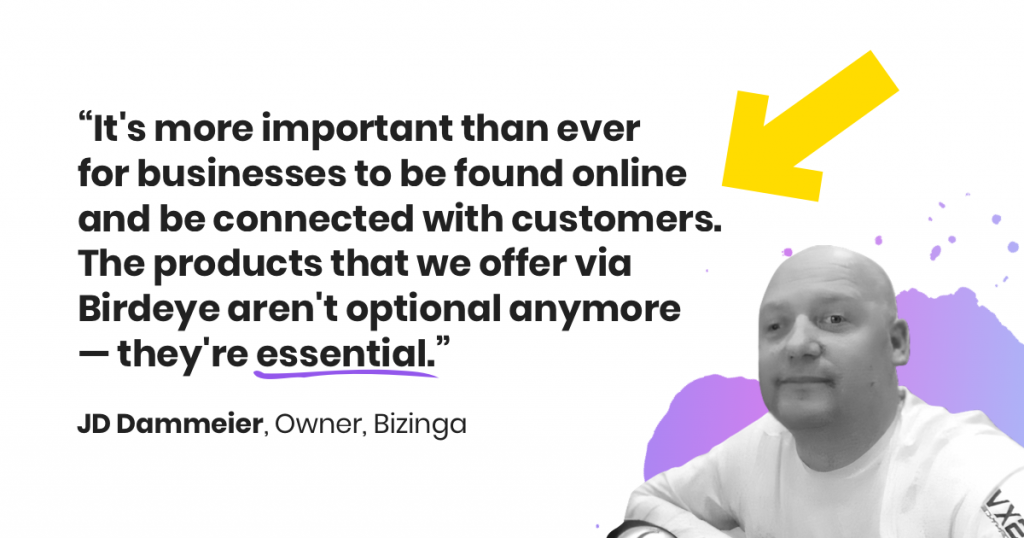 How has the business been faring during the pandemic?
Surprisingly, churn has actually gone down for us during the pandemic. It's partially a consequence of the type of businesses that we serve — we have a lot of clients in the automotive space, and they've fared better than other verticals.
Of course, our low churn rate also shows how valuable the products that we're offering are during our current time. The whole world is moving to digital. It's more important than ever for businesses to be found online, be connected with their customers, and collect feedback to improve their operations. The products that we offer via Birdeye are more essential than ever.
That's amazing. You talked about the importance of automation earlier. What else are you doing to keep churn rates so low?
It really starts from the initial conversation you're having with your clients. Too many agencies make the mistake of overselling and talking about all of these cool features you can offer the client. For a business owner, it can feel like an information overload. After a while, they stop really understanding what you're saying and just stop listening entirely.
I like keeping the benefits simple and straightforward in that initial conversation. I let them know that my team can help them make their life easy — we can help them collect reviews from their customers. I make sure that the expectations are clear and they understand exactly how we can help them collect more social proof and how much time it will take before they start seeing results.
How do you show results to your clients month after month?
So, this is going to be similar to my last answer: the most important thing is that you don't overload your clients with too much information. Most business owners have a lot going on already and probably don't have time to learn about the importance of some of the really technical SEO metrics that agencies throw at them.
Again, I find that the best solution is keeping things simple. One metric I like to show is how many reviews they received. Not everyone understands things like page load speed, but pretty much every business owner understands how important reviews are.
Do you have any advice for agencies that want to find the right partner?
So there are a few factors that every agency should pay attention to. Let's go through them.
First, it's got to be an all-in-one platform. Point solutions can create more work for your team as well as your clients. They don't have time to be flipping between all of these different products. They want the ability to view everything in one place.
Next, the software you're using should be able to integrate with the software systems your clients are using. I spoke about the value of automation earlier. Again, it's crucial for helping your clients see results without them having to do manual work.
It's also important to find a platform that's easy to set up. You don't want your team spending too much time on that initial onboarding phase. You want to get the ball rolling as quickly as possible so you can start delivering results right away.
Then, you need to make sure that it's a reliable platform. No client wants to work with a product that's so buggy it just doesn't work from a technical perspective. That's why it's so important to pay attention to third-party reviews for any platform you're considering. You should also look for partners who have a strong Support team that can step in and help in case anything goes wrong.
Finally, you need a platform that's scalable. Like I said we're currently working with more than 400 clients, so we need a system that works for all of them. We're lucky that Birdeye helps us serve all of their needs.
Get started with the #1 Experience Marketing platform
Birdeye is the #1 Experience Marketing Platform on the market, trusted by Bizinga and thousands of other partner businesses. Birdeye's all-in-one platform offers Reviews, Referrals, Interactions, Listings, and much more. It's everything you need to help your clients be found, be connected, and be the best.
Birdeye's team gives agencies all the tools they need to succeed. You'll be paired with a Customer Success Manager who can help you make the most of the platform as well as provide guidance on any problem that you encounter. If there are any technical issues with any of your clients, our Support team is happy to step in to find a solution.
Want more tips on how to drive results for your clients? Check out our on-demand webinar down below.

Originally published