Google is becoming a top choice for product searches in 2023. With Google Shopping rapidly increasing in popularity, now is the time to create your product listings on the platform and attract new customers to your business.
If you want your products to feature in the top results, it is important to employ the best strategies to improve your Google Shopping rank.
Let us take a look at how it works and explore the top 10 tips to improve Google Shopping ranking.
Google Shopping rank: Paid vs organic
Before we talk about how businesses can improve their ranking on Google shopping, let us explore the different ways to list products on the platform: paid and organic listings.
What is a paid vs. organic Google Shopping listing?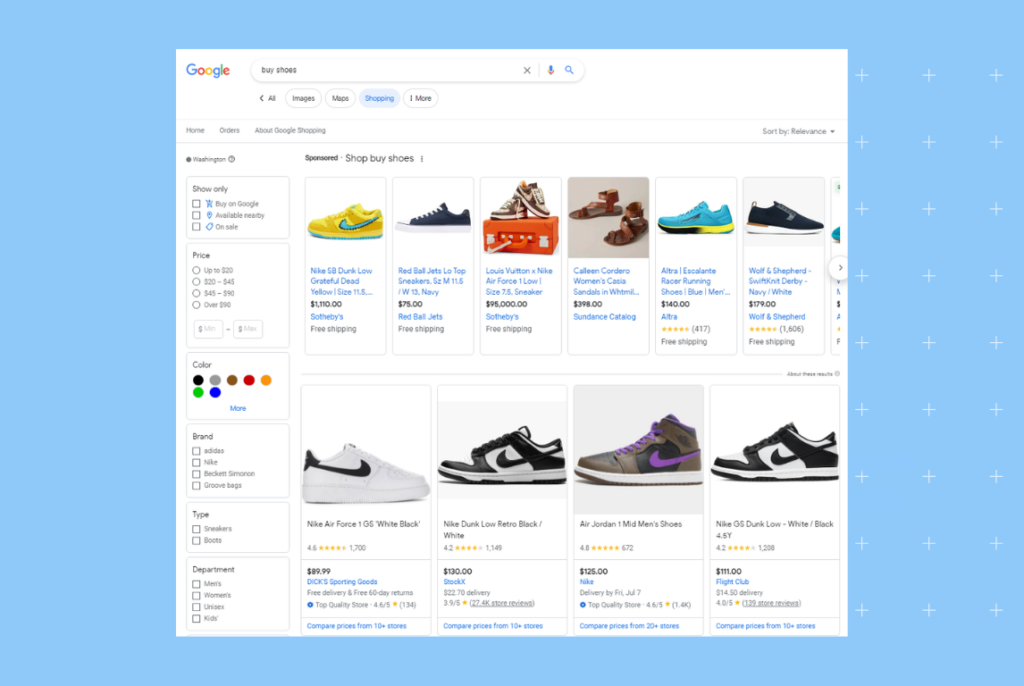 As you can see in the image above, every product-related search query on Google returns two sets of results – sponsored and featured. When businesses run ads on Google for their products, they show up under sponsored listings. The process for this is similar to other ads: you pick a keyword, bid for the spot, and run the ad.
But, Google also has an option to add free product listings via the Google Merchant Center. If you have a gmail business account, you can list your products on the Merchant Center and link it to your ecommerce site for payments and checkout processes. For these products, Google scans product titles, descriptions, attributes, and other data provided to list your products for relevant search queries.
Why is a high Google Shopping rank important?
A higher Google Shopping rank helps you outshine your competitors and make your products visible to your target audience. Some of the major benefits of a high Google Shopping rank are:
It helps build trust with shoppers. A higher rank is perceived as a recommendation from Google.
Businesses can leverage the visibility from Google search to boost brand awareness of their products. This in turn, improves lead generation and conversion rates.
Higher visibility as Google is the most popular search engine.
Improve website traffic as product listings in the top 3-5 ranks get the most clicks.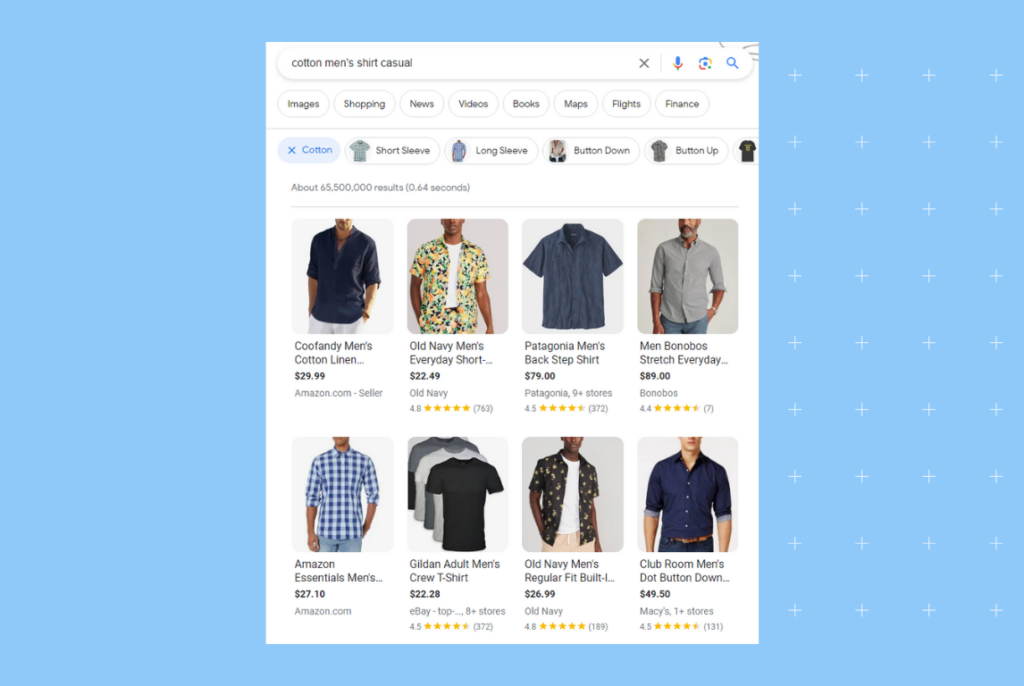 How to rank higher on Google Shopping
Here are 10 ways to improve your Google Shopping ranking. Follow these steps to ensure your products get seen.
Work on title enhancements
Use your primary keywords in the Google Shopping product titles. Use terms that your customers are likely to use when searching for the product you're selling.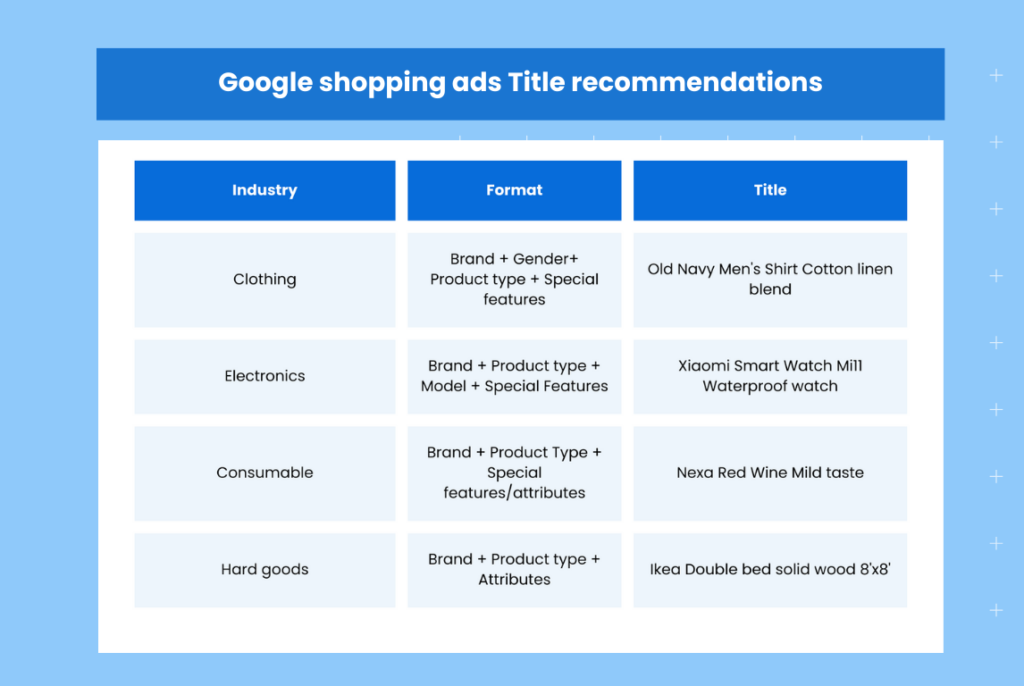 For instance, a water bottle may also be referred to as a "thermos" or "tumbler." It may be hard to choose one specific keyword for titles but use the keywords that are closer to search intent and have high search volume.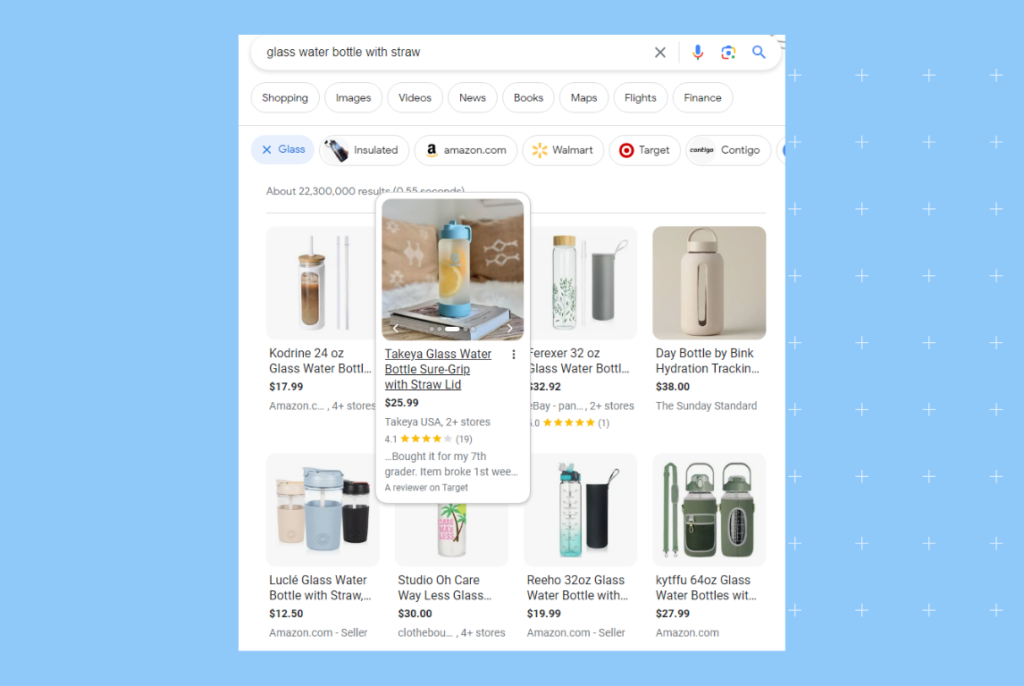 If you want to boost your discoverability in Google Shopping, it is important to think outside the box by using synonyms and related terms in your titles.
Google Shopping campaign segmentation
Segmenting your campaigns can increase the visibility of your products in Google Shopping. There are three precise things you can do to improve your campaigns:
Experiment with three-tiered campaign structures. This means creating three campaign types based on priority.
Optimize bid strategies with location, device, or audiences. Google has Smart Bidding features built in for automated optimization.
Use negative keywords. You cannot use keywords in Google Shopping, only negative keywords. They prevent your ads from showing up for certain phrases and events to help targeting. Use these to reach the right audience.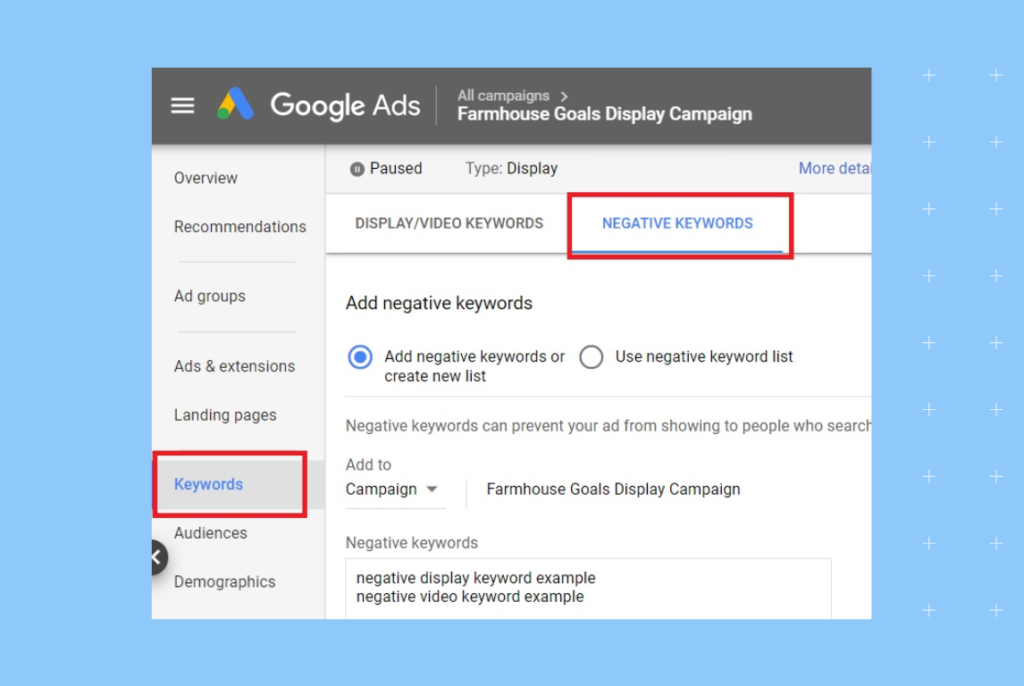 Optimize product details
Provide all relevant information for your products, including category, titles, product photography, descriptions, and prices. Fill out all required fields, as this is the first step in improving Google Shopping ranking.
Also, look at competitor listings and determine to find keywords you can incorporate into your title or description. Use a data-driven approach to understand what your customers are searching for and optimize accordingly.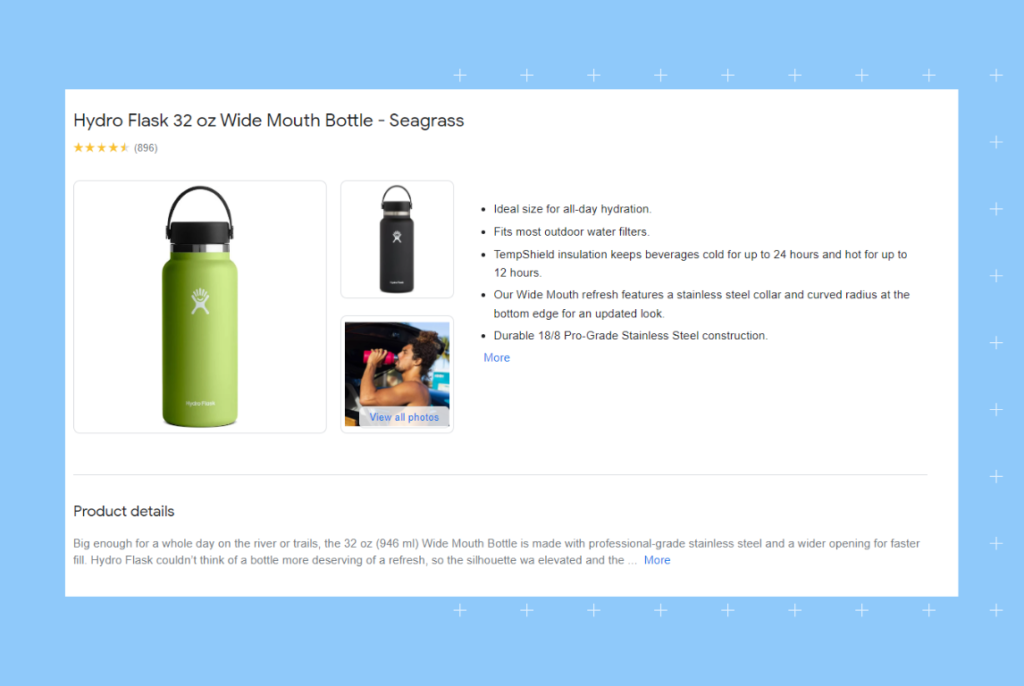 Optimization is rarely "one and done," so make sure to keep an eye on the analytics and tweak as needed.
Improve product photos
With Google Shopping, you must provide a main image for all your product listings. To ensure you rank higher in Google Shopping, you must follow Google's guidelines:
Use a photo, not an image, illustration, or graphic. Direct product photos are more trustworthy and set the right expectations with customers.
Use a high-resolution product image against an all-white background with no logos or watermarks. This way the product is in the focus and nothing else.
Show the product in its entirety. Try to take photos that show the product from all angles. You can add feature-specific photos in the listing later on.
Monitor campaign to optimize performance
Google analytics provides data that shows which of your products are outperforming others. Identify why certain products are doing better than others. Then, apply your learnings to your other product ads and listings.
This way, you can adjust your bids based on location, device, and schedule. For example, if more purchases are coming from desktop computers versus smartphones, increase your bid on desktops.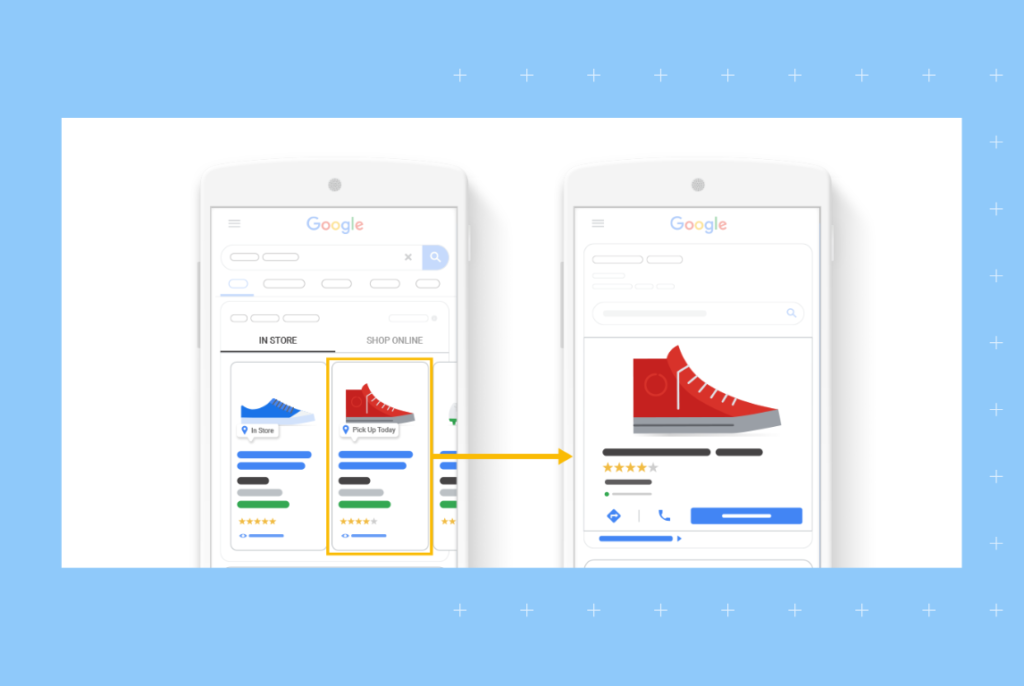 Use the right keywords
Your titles and descriptions tell Google and the customer if the product is a right fit for the search query. And you can send the right signals by using appropriate keywords in your Google Shopping titles and descriptions.
For example in the image below, you can see that the product description has many relevant keywords. Terms like "office use", "glass water tumbler", "easy to clean", and "BPA free" show the search engine that this is a highly relevant and useful listing for a consumer.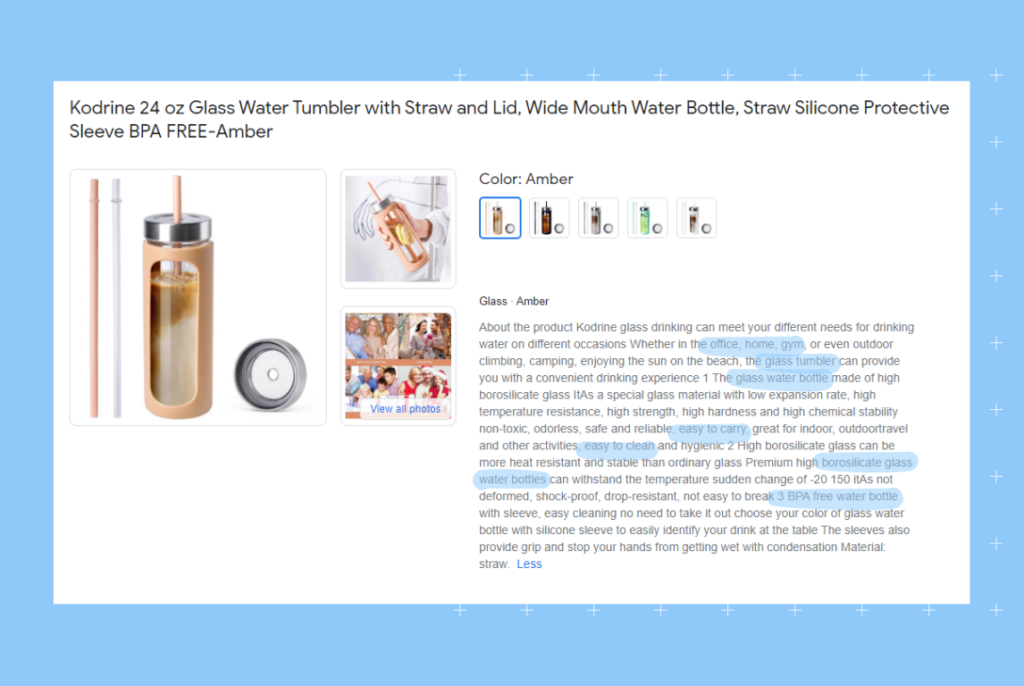 We have already spoken of enhancing the titles for your product ads, so let us focus on how the keywords can make a difference.
Customers look for a product using various search terms that may not be directly the product's name. A vacuum cleaner may also be called a floor cleaner, furniture cleaning equipment, and so on. Understand the variants and include them organically.
Your competitors may be ranking for different keywords for the same product line. Analyze competing products and determine the keywords that can help you rank ahead .
Work with SEO experts to understand top ranking keywords for the product to include long-tail keywords in the description.
Follow all Google requirements
One of the most important steps to follow while setting up Google Shopping is to create a checklist and make sure you follow Google's requirements for product data. The comprehensive documentation helps you get into the platform's good books and improve your chances of success.
Some of the most important features in the product data requirement documentation are:
How to provide product data. Google tells you what is required, what is mandatory, and what is good to have. Pay close attention to it.
How to list pricing and product availability
Choosing the right product category as it has a direct impact on the search popularity of the listing.
Understanding product identifiers
Creating a detailed product description
Optimize website for mobile traffic
According to research, 55% of website traffic comes from mobile devices. Failing to optimize for mobile experiences could limit your traffic and, therefore, your sales. Test your listings and ads on mobile devices to ensure they work properly on phones and tablets.
Improve Google quality score for your brand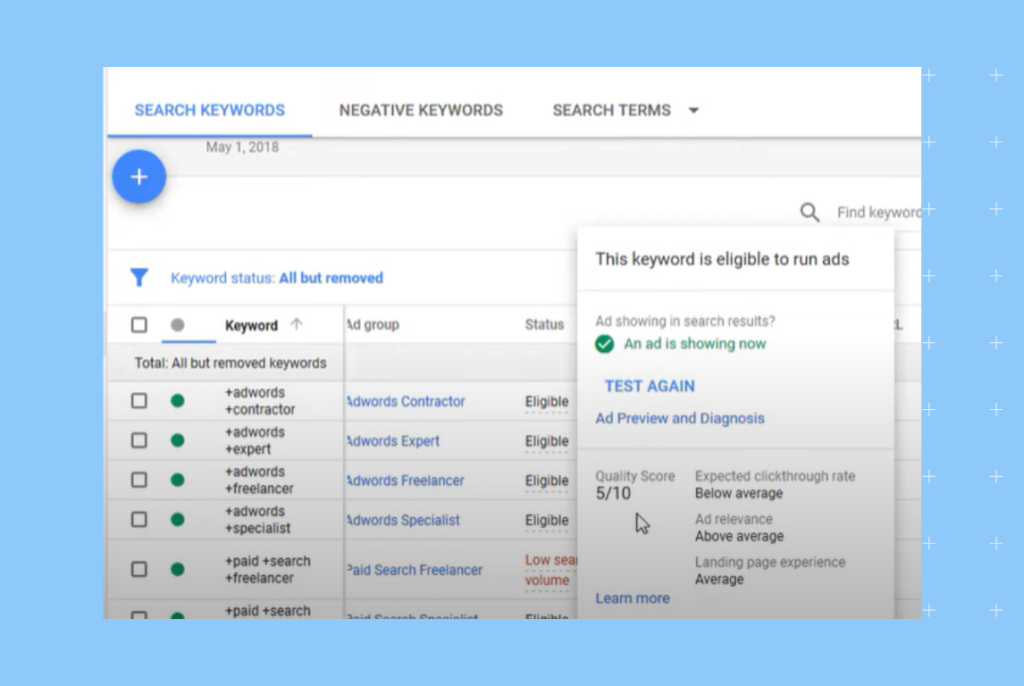 Google employs quality score to tell advertisers how good their advertisement is in comparison to the industry standards. It is a ranking system on a 1-10 scale and is based on many factors including:
How relevant your ad is to the search terms
How likely is it that your ad will be clicked when customers see it
How useful is the content to the search query
The quality of landing page experience
The platform determines this based on historical data so that it gives you an accurate view of your advertisement.
Boost product and seller ratings with reviews
Positive online ratings and reviews can help improve your ranking in Google Shopping. Reviews appear under your product description in your listing. You can participate in Google's Product Rating program once you've amassed 50 reviews across your products.
Google aggregates these ratings from your Google Business Profile and other recognized aggregators. But for Google to easily find these ratings, you can also submit product reviews to the platform via Google Merchant Centre. This is, however, possible, only if you have connected your Merchant Centre account to your business website.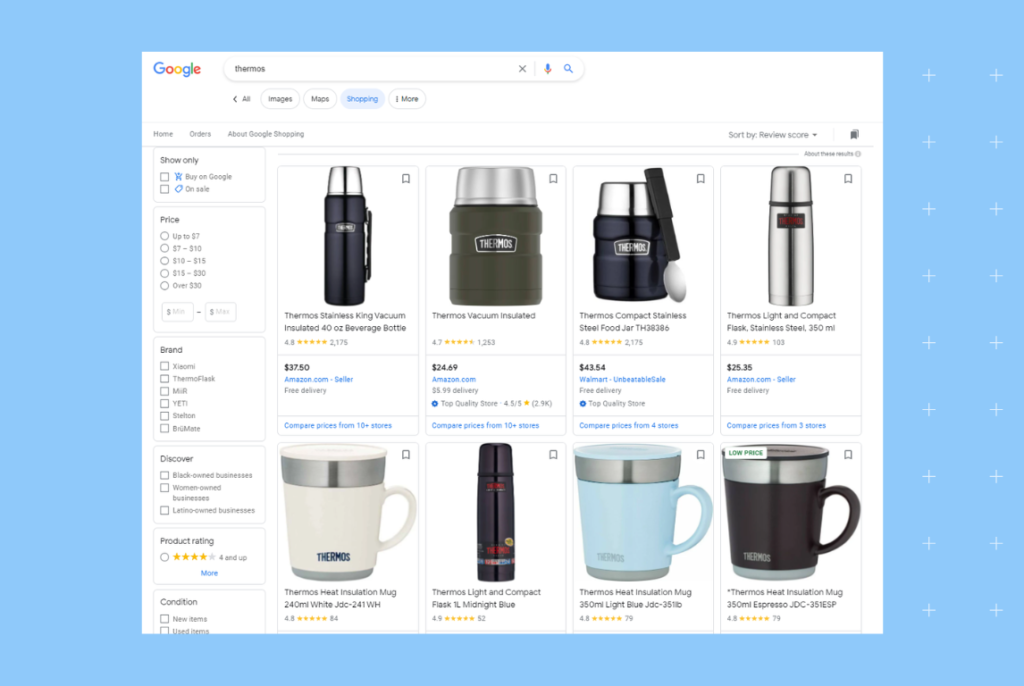 As you can see, ratings appear under the product title for each listing. It becomes an important factor in customer decisions and clicks.
FAQs about improving Google Shopping ranking
How can I improve my Google Shopping performance?
Look at top-performing competing products in Google Shopping and learn from their titles, descriptions, images, and price points. Continually improve your ads based on the intelligence you gather.
What is the most important element when optimizing a Google Shopping campaign?
An effective title is the most important element. Include relevant keywords in your title, but avoid keyword stuffing. Check competitive products for examples of what's working.
How long does it take for Google Shopping to optimize?
Google takes four to six weeks to optimize your ads. Keep an eye on your ads and manage and optimize them continuously so you can adapt to changes.
Conclusion
A higher ranking in Google shopping can help you grow your brand, improve your sales, and build a strong reputation in the market.
Consistent optimization and management can help improve your ranking in Google Shopping. Closely monitoring your listings and ensuring that you are following Google's guidelines is an important step in the right direction.
Follow the steps in this guide to boost sales from Google shopping for your business.

Originally published