If you're a retail or eCommerce business owner, you must be looking for an effective ad platform to advertise your products. In 2023, the best way to showcase products is with Google Shopping Ads. It's a better option for delivering results when compared to traditional text ads.
While it is similar to Google Ads (formerly Google Adwords), search ads, and social media advertising, designing your Google Shopping strategy still needs some unique approaches.
This blog post explores everything you need to know to run effective Google Shopping ads and boost your business growth.
What are Google Shopping Ads?
Google Shopping ads are product advertisements displayed at the top of Google search results in response to a relevant search query. These results are placed under a "Sponsored" tag above the organic product listings.
You've probably encountered Google Shopping Ads without even realizing it. When searching for a product using Google, ads will appear near the top or right side of the screen. In the Google Shopping Ads example below, a range of applicable products and pricing pops up after typing in "buy Versace sneakers."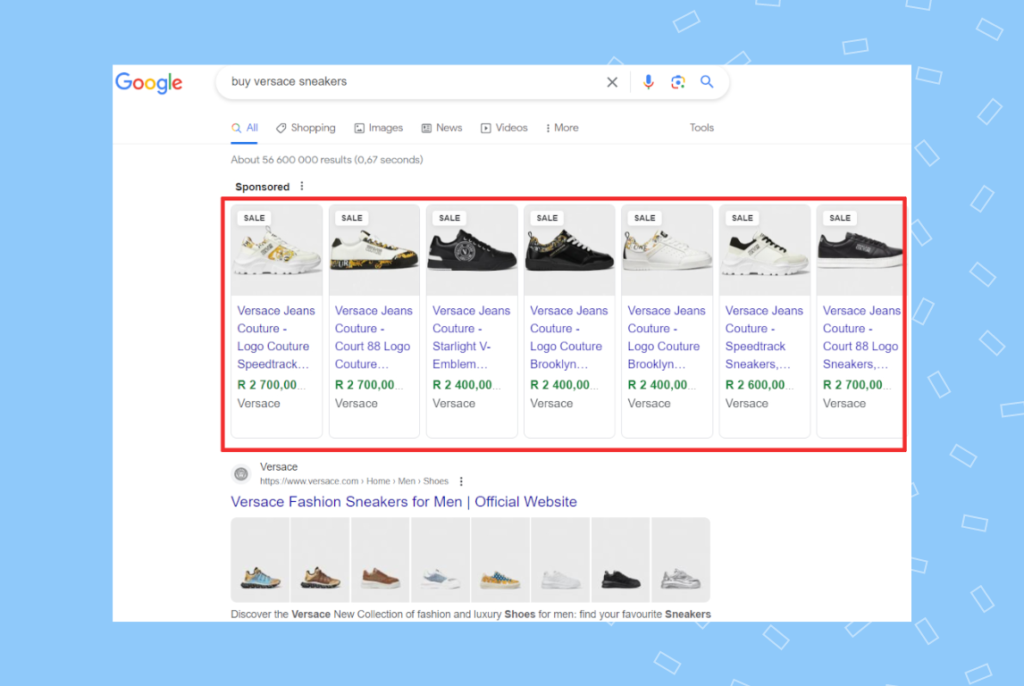 How do Google Shopping Ads work?
When you connect your Google Merchant Centre account to your business website, you can showcase your products via Google Shopping. If you want to get a leg up on your competitors, you can also run product ads for the same listings for certain search queries as you would with other Google ads. 
Businesses that leverage Google Shopping Ads will use Google's Merchant Center to run campaigns. Instead of using keywords, however, you'll use product data and choose where to display your ads. Google will use this information to match user searches with the best-fit products shown in these ads.
Why invest in Google Shopping Ads?
Google Shopping Ads have surpassed text ads in key markets, including the U.S. & U.K. In the U.S., they comprise 76.4% of search ad spend and earn a whopping 85.3% of total clicks. And the U.K. achieves even more impressive figures, with 82% for search ad spend and 87.9% for total clicks.
Google Shopping Ads also offer better visibility on Google's Search Engine Results Pages (SERPS.) This means that ads will appear on the top of the first page, immediately visible to users searching. And it results in more users viewing and engaging with these ads.
Some popular retail and service industries that have seen success with Shopping ads include beauty and personal care, business and industrial, consumer electronics, fashion and apparel, home and garden, personal health, sports and fitness, and occasions and gifts.
What is the cost of Google Shopping Ads?
There's no way to determine the exact cost per click (CPC) for Google Shopping Ads. The industry you're in, the level of competition, the target audience, and the overall success rate of a Google shopping campaign influence the cost.
Setting up impactful campaigns and monitoring the landscape to guide your bidding process is important.
How to set up and optimize Google Shopping Ads
You'll need a Google Merchant Center account to proceed with Shopping Ads. If you don't have one, create one using our detailed post about setting up a Merchant Center.
Setting up Google Shopping Ads
Once you've set up your Merchant Center account, choose "Shopping Ads Setup" and click "Products" in the left sidebar. You can now "Add a single product" or "Upload multiple products," as shown in the snapshot below: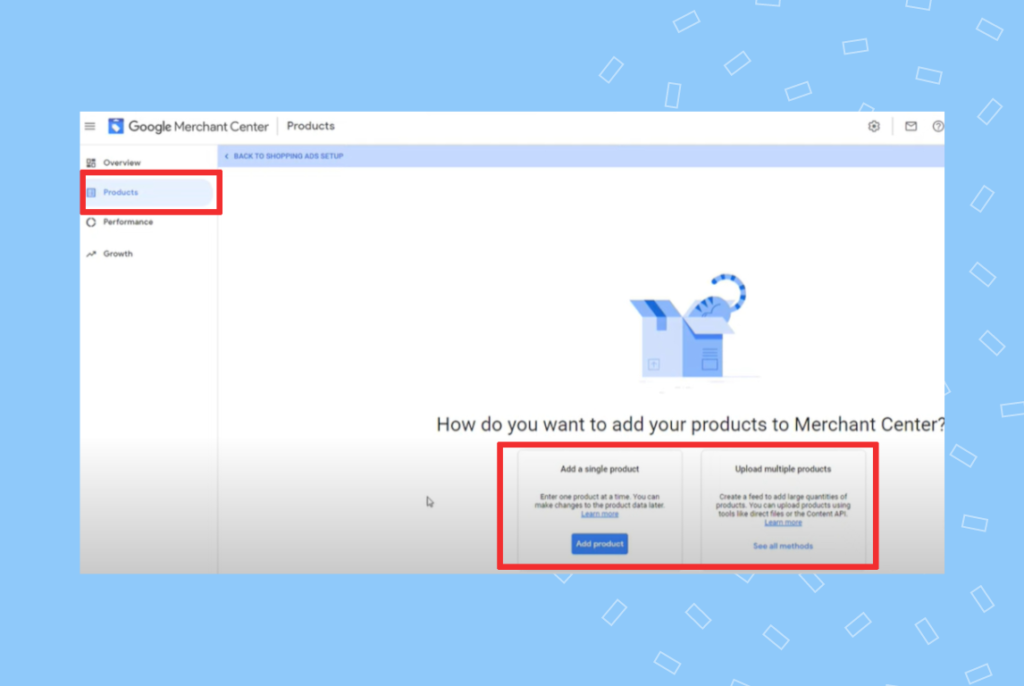 For a single product, enter the following "Product Data:"
ID or SKU: This is the identification number of the product you're listing.
Title: This is the product name that will appear on browsers.
Brand: This is your brand or another vendor, i.e., Shopify.
Description: This is a short but detailed explanation of the product.
Product category: Choose from several predefined, best-fit categories.
Link to website or landing page: This is where the user ends up after clicking on your ad.
Image link: This is the attractive image in your ad.
Availability status: This is whether the product is in stock or not.
Condition: It's crucial to fill this out if you're selling used goods.
Sale price: This may include sales tax and delivery fees.
If you're satisfied with your product listing and details, click the "Save" button so that Google can review your product. The Google listing review process takes approximately one business day.
Alternatively, if you're looking to list multiple products, choose the "Google Sheets" option. This will feed all your product data to Merchant Center as follows: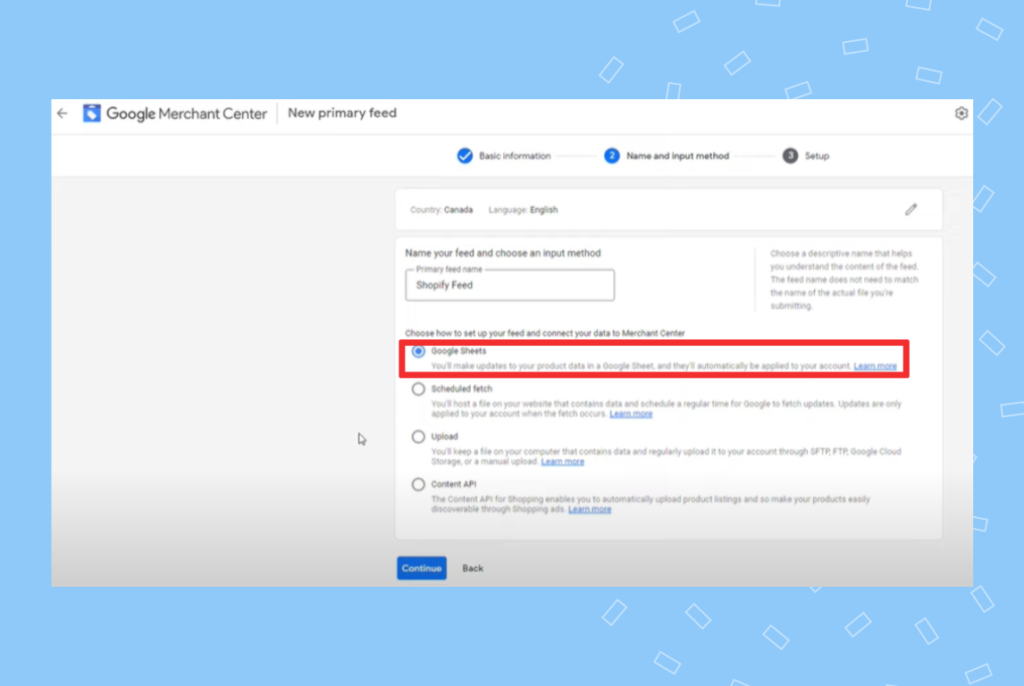 You can use an existing Google Sheet or let Merchant Center generate a template. Either way, you'll have to enter all the product data for multiple products just as you would for a single product.
Be sure to link Merchant Center with your Google Ads account before proceeding to the next step. From Google Ads, choose a new campaign, then click the goal that best suits your Google shopping campaign:
Targeting options
The product data you've entered will determine how Google displays your ads. But you may enhance your targeting of specific devices, locations, and target audience demographics. You can also create customized audience and interest profiles and schedule Shopping Ads to appear with your customized schedule.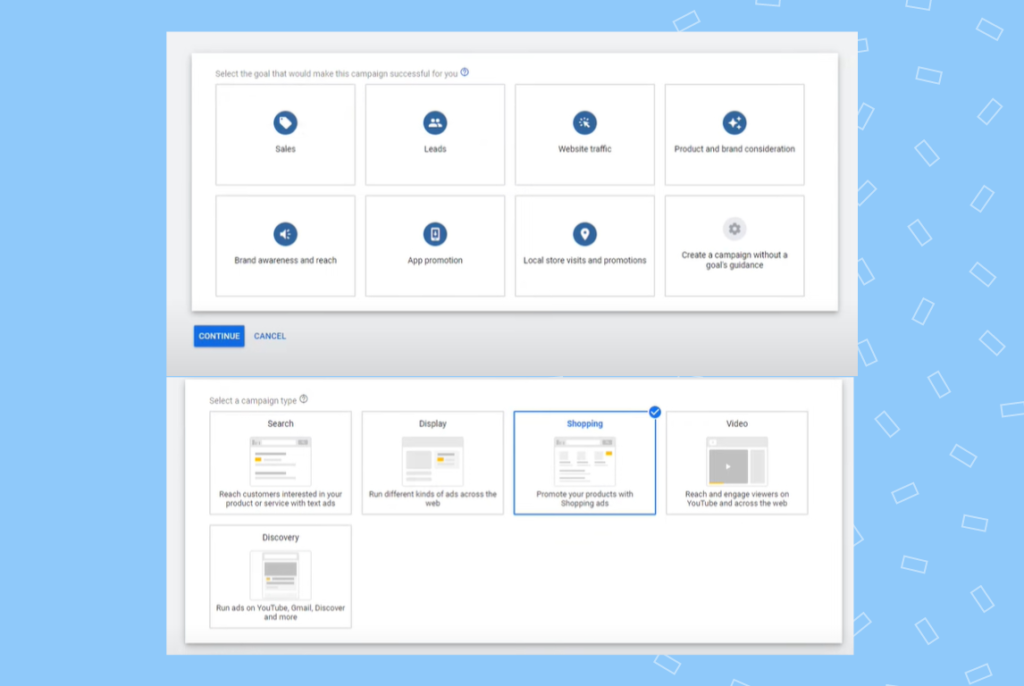 Recently, Google has upgraded its Smart Shopping Campaigns, known for using machine learning (ML,) to Performance Max. This will help your business simplify its Google Shopping campaign and Google Shopping strategy. It enhances existing Google Shopping management services and automates ad placement and bidding procedures.
Organizing product groups
You'll want to organize all your items into product groups to enhance targeting and simplify optimization.
In your Google Ads dashboard, click "All Campaigns" on the left sidebar, then "Product Groups," and then the products (represented by "All Products") you wish to group: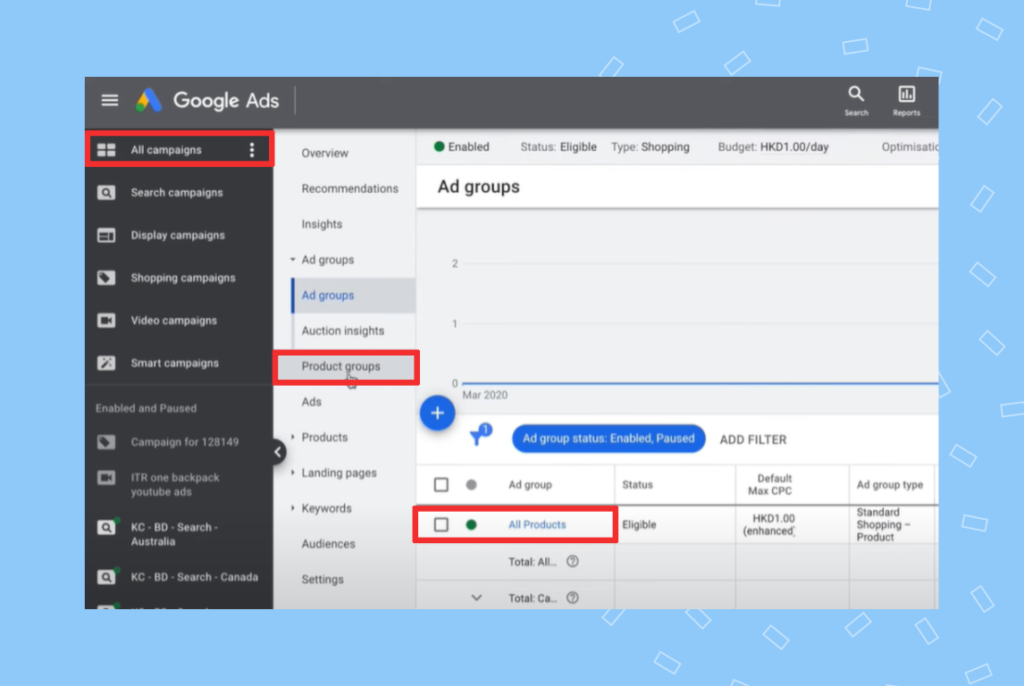 Now you can group your products based on several criteria, as shown below: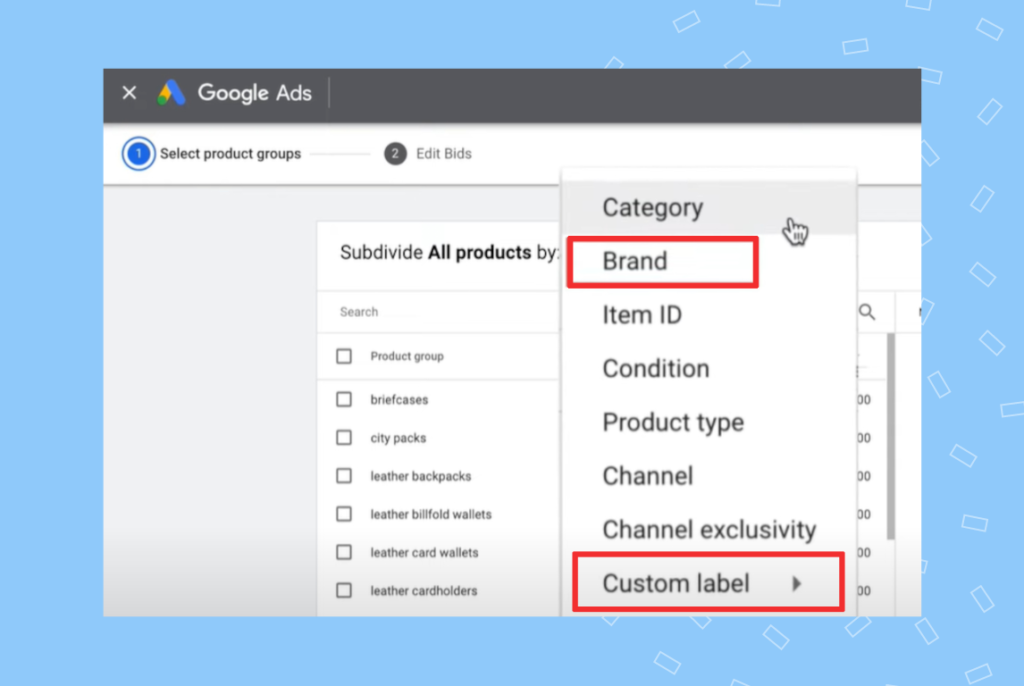 You may use your existing product data or choose a "Custom Label." Creating labels for your items based on their profitability and how well they sell is a good approach. Now, you can bid higher for better-performing items and lower for weaker sellers.
Product bidding
Product bidding is an art form that takes time to master. But it's an essential part of your Google Shopping strategy.
Here are a few insightful pointers to get started with product bidding the right way:
Begin with low bids, preferably around $1, and then adjust your bids higher or lower based on the data you've collected.
Never bid higher than your projected profit margins.
Bid lower for those locations and demographics less likely to purchase your products.
Opt for manual bidding as a beginner to learn the process. You'll have more control this way. When you're more seasoned, use Google's automated ML algorithms for launching an intelligent shopping campaign.
Keep an eye on Impress Share Metrics to gauge how well various competing products perform and whether your items perform competitively.
Optimize product listing
You can motivate users to click on your ads by delivering the most relevant, compelling, and optimized product listing.
Let's start with product photos: The first impression gained from your product photos determines whether or not users click on your ads. Use only high-quality images that comply with Google's guidelines. And it's worth hiring a photographer and photo editor to produce professional results like seen in this Google Shopping Ads example: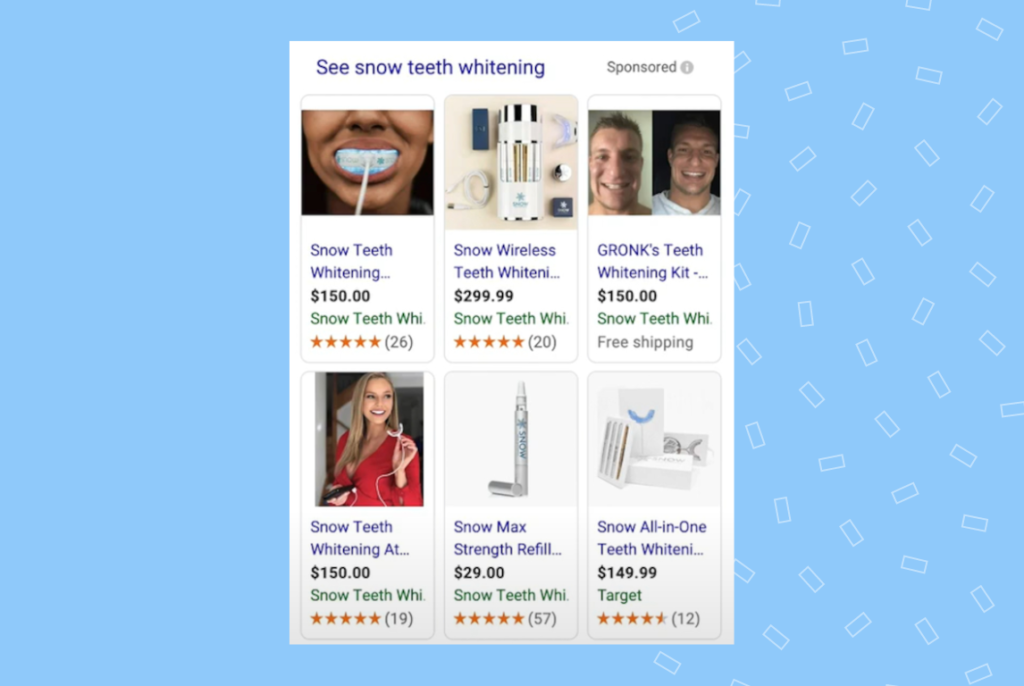 Pricing strategy: Your price will also determine whether users will show enough interest to click on your Shopping Ads. If your competitors sell a similar product at a lower price, run a sales promotion to increase your click-through rate (CTR.)
Shipping: Many online shoppers expect and want free shipping, and your competitors likely offer this too. You may offer it too, but make sure it's easily visible on your Shopping Ads and will entice clicks.
FAQs about Google Shopping Ads
What is the difference between Google Shopping Ads and Google Search Ads?
Google Shopping Ads rely mostly on product descriptions and photos to attract customers. Alternatively, Google Search Ads work with keywords for ad campaigns.
What triggers Google Shopping Ads?
As users type in products in the search bar, Google automatically matches them with the applicable product data. This is based on details in the Merchant Center, ad quality, and the bid amount.
Are Google Shopping Ads worth it?
Yes, they're worth it for retailers, eCommerce businesses, and forward-looking brands that take advantage of the richer product presentation Shopping Ads offer.
How do I buy Google Shopping Ads?
Set up the Merchant Center first, then link it to the Google Ads account. You can then launch an ad campaign. Remember to set a monthly cap so that you'll only pay when users click the ads.
Conclusion
Google Shopping Ads have become a powerful advertising tool for retailers and eCommerce businesses of all sizes. Leverage the many benefits of Google Shopping Ads for your business and sell more products.
Create a streamlined Google Shopping strategy to target and optimize your ads for the right audience.

Originally published