Did you know that 20-30% of business phone calls go unanswered? And 34% of callers who hang up won't call back — ever. Every missed phone call is a missed opportunity. You have a business to run, and it is almost impossible to answer the phone each time it rings, nor respond to voicemails in a timely manner. Birdeye's Receptionist answers your calls for you when you can't get to the phone in time. Eliminate phone tag and turn missed calls into new opportunities by engaging callers through a text message response.
The voicemail and text responses are stored in one single Inbox, so your whole team knows when someone has responded to a new customer voicemail.
When your callers leave a message, Birdeye's Receptionist transcribes the voicemail and sends you a notification. Your caller also gets a text acknowledging that their message has been received. Respond to the callers through text in a timely manner and convert missed calls into customers.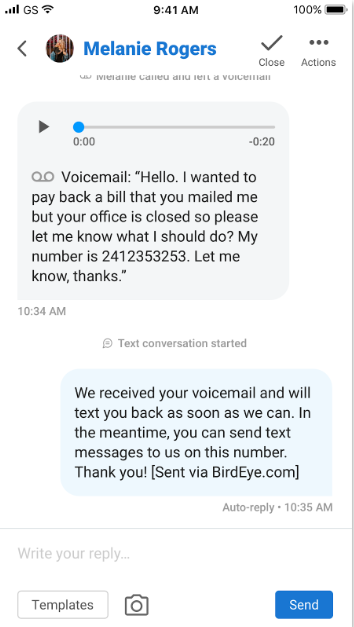 What happens when the Receptionist answers the call?
When you are unable to answer the phone call, Receptionist will answer the call for you.
The caller is greeted by the Receptionist and encouraged to leave a voicemail.
This voicemail gets transcribed. The voicemail audio is sent along with its transcription to your Birdeye Inbox.
Listen, read, and respond to the caller at your earliest convenience. You can respond by calling them back, or simply by sending them a text message response.
The caller is sent a text message after they leave the voicemail, assuring them that your business will respond to them as soon as possible. The caller is also encouraged to text your business with any questions they may have.
Answer calls 24/7
Let the Receptionist answer your calls when you can not get to the phone. Robin, our chatbot, can instantly answer frequently asked questions without you having to lift a finger. All of your missed calls and voicemail transcripts will be available in the Birdeye Messaging unified inbox, so you can listen to the caller's voicemail or read the transcripts at your convenience. Engage your callers by responding via text message from within Birdeye Messaging, or give them a callback.

Understanding the power of Receptionist
Birdeye Receptionist does not only answer the phone for you – it also captures the caller's contact information, helps you answer questions automatically, and more.
Know who called you. See the calls you have missed by customer name and contact number. If you have interacted with this person before, you can see your prior conversation history before responding. Know the caller and have all of your communications stored in one spot.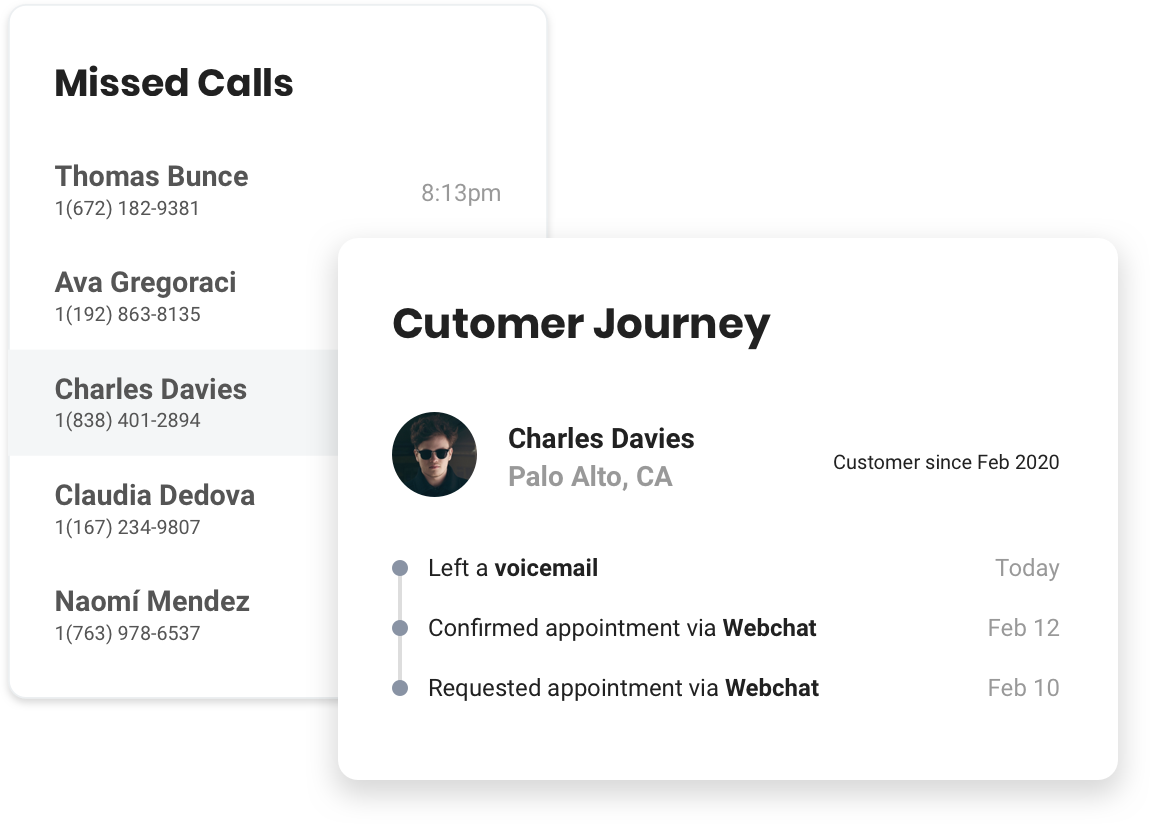 Auto-answer questions. Our chatbot Robin engages the caller immediately. Robin can interpret the content of each voicemail and send relevant answers to frequently asked questions automatically. It also frees up your staff to respond to more complicated questions.
Text responses. Sometimes callers prefer to use text. With Receptionist, you can read the transcript of a voicemail or listen to the audio recording, then continue the conversation through text. Bonus: Our text message platform also supports sending photos and attachments!
Professional greeting. It's important that your business is able to maintain its brand. Customizable voicemail greetings aim to do just that. Edit your voicemail greetings to match the voice and tone of your company and provide a consistent experience across all business locations.
Anytime, anywhere. Whether it's on your desktop or mobile app, get notified immediately when you've missed a call. Listen, read, and respond to the missed call through your Birdeye dashboard or through the Birdeye mobile app.
Capture new leads with Receptionist
Don't let missed calls lose you any more business! Receptionist is here to help you turn your missed calls into new opportunities. Never miss out on another customer interaction, and deliver a fantastic customer experience, every time. Head to our Interactions page to learn more about Receptionist and the other features that make Birdeye Interactions a must-have in order to grow your business.

Originally published