LinkedIn is a professional platform that helps you establish and reinforce business relationships. With over 875 million members across the world, LinkedIn marketing can be an invaluable addition to your digital marketing strategy. Though the platform can be a goldmine for customer acquisition, most businesses struggle with reaching and converting the right decision-makers.
In this blog, we'll show you how to use LinkedIn to attract decision-makers and generate more leads. But first, let's talk about what is LinkedIn marketing.
What is LinkedIn marketing?
When it comes to marketing on social media, LinkedIn is often overshadowed by platforms like Facebook and Twitter. However, LinkedIn marketing can be extremely effective, and it offers some unique advantages that other platforms don't.
For one thing, LinkedIn is the only major social media platform that is geared specifically toward professionals. This makes it an ideal place to connect with potential customers who are already in a business mindset. LinkedIn also gives you a better chance of connecting with actual decision-makers, which can be invaluable to your sales process.
Another advantage of LinkedIn marketing is that it offers more opportunities for targeted marketing than other platforms. LinkedIn allows you to target your paid ads by location, job title, company size, and other factors, so you can be sure that your ads are reaching the right people.
And finally, LinkedIn has a very high conversion rate for paid ads, meaning that people who see your ad are more likely to take action on it. In fact, LinkedIn has the highest conversion rate of any social media platform for B2B marketing.
How to use LinkedIn for marketing
Here are some of the common ways businesses use LinkedIn for their marketing efforts:
Content distribution: Create a compelling professional business page. The company page can be used to post articles, images, polls, and other content that will organically populate your follower's feeds. The key here is to share high-quality, engaging content. The more engaging the content, the better it will perform.
Sharing company news: LinkedIn is also great for sharing company news with followers, from product announcements to company milestones. It's a great way to keep followers updated on what's going on with your company. The main objective of this is to create brand awareness.
Generating leads:

Organically – The content you share on your page can help attract visitors to your website and convert them into leads. Publishing highly engaging content on LinkedIn with clear, actionable calls to action (CTA) can help.
With LinkedIn Ads – A LinkedIn ad campaign should be based on marketing goals you want to achieve. LinkedIn offers several ad types to meet your marketing objectives – sponsored content, dynamic ads, or simple PPC text ads. LinkedIn also provides helpful tools for targeting specific groups and individuals. This makes it easier to connect with high-quality prospects who are likely to be interested in your products or services. 

Hiring and recruiting – LinkedIn is also a powerful tool for hiring and recruiting. Businesses can post job openings and connect with potential candidates quickly. The platform also offers a number of recruitment features that can help businesses find the best candidates for their open positions.
[Free Guide] The ultimate social media marketing guide for businesses
Download Now
LinkedIn marketing goals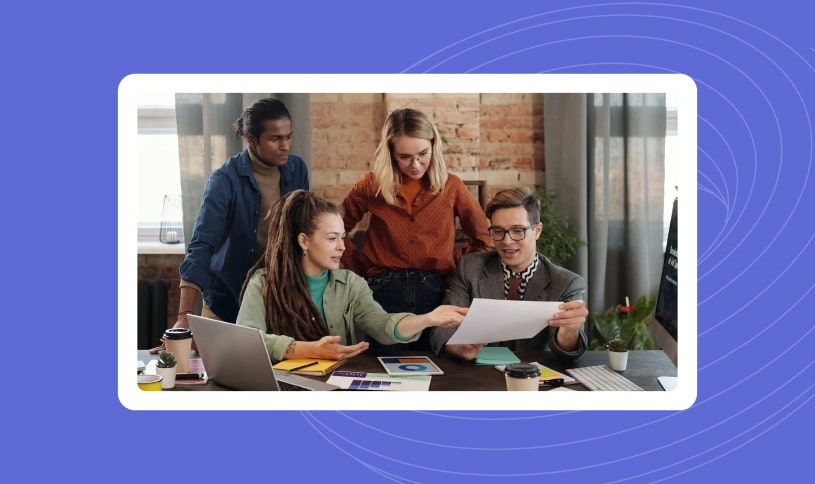 As we mentioned earlier, LinkedIn can be a great tool for marketing your business, but it's important to set goals so you can track your progress and adjust your strategies as needed. Here are a few goals to consider as you get started marketing on LinkedIn.
Increase brand awareness – With a strong presence on LinkedIn, you can increase the visibility of your brand and reach new followers.
Boost website traffic – By sharing links to your website content, you can drive more traffic to your business website.
Generate more leads – By sharing relevant content and using LinkedIn's targeting features, you can attract more high-quality leads for your business.
Improve customer engagement – Interacting with customers and prospects will help build relationships and create a more engaged customer base.
Getting started with a LinkedIn marketing strategy
Now that we've explained what you can achieve with your LinkedIn marketing campaigns, we'll walk you through how to get started.
Create a company page
A company page on LinkedIn is a great way to promote your brand and build credibility. Include information about your company history, products, services, and any awards or recognition you've received. You can also post updates about your company, which will appear in the news feeds of your followers.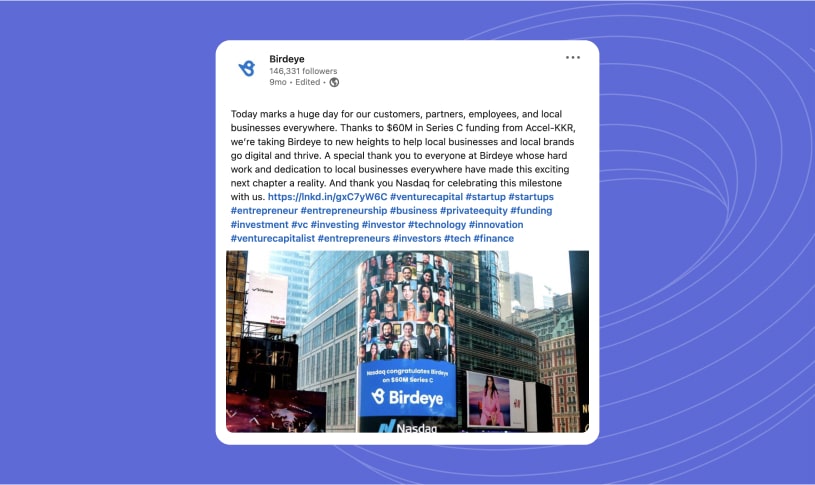 Share content
Content is king on LinkedIn. Share blog posts, infographics, and videos that will interest your target audience. It's worth noting that you don't always have to share just original content. It can also be an external link to content posted elsewhere. Just make sure it's linked to your industry and helpful to your followers. And when sharing links, make sure to add a brief description, so your followers know what they're clicking on.
Also, remember to publish your content on a consistent basis. Frequently posting to LinkedIn means that you're providing your followers with a steady stream of relevant content. Even if you're only able to post content weekly, you can increase your engagement by two times.
Join groups
Groups are a great way to connect with others in your industry and build relationships. When joining groups, make sure they're relevant to your industry and that you'll be able to contribute to the conversations taking place.
Participate in discussions
An important part of LinkedIn is engagement. When you comment on someone else's post or join a discussion, you're putting yourself out there and increasing the chances that others will take notice of you and your business.
Run ads
LinkedIn offers several different types of paid ads that can be targeted to a specific audience. These include text ads, video ads, sponsored InMail messages, and dynamic ads. Do some research and figure out which type resonates with your followers the most. Running targeted ads can help attract new customers faster.
LinkedIn marketing best practices
When it comes to successfully marketing your business on LinkedIn, managing a company page is only the beginning. By following these six best practices, you can maximize your reach and engagement.
Include images or videos with your posts. By adding images, you increase the chance of comments by two times. Videos increase engagement by five times.
Use hashtags to help people find your content. LinkedIn recommends using up to three hashtags per post. Make sure your hashtags are in CamelCase, which is the capitalization of the first letter in each word of multiple-word hashtags. For example, #LinkedInMarketingTips. This makes them easier to read and inclusive.
Add alt text to images. LinkedIn will generate descriptive text from the images you share, but you can improve this by including your own alt text. This will help LinkedIn users with visual impairments access your content.
Include a link to your website on your company page. This is a common misstep on LinkedIn. Visitors may be interested in learning more about your business beyond what your company page provides. By including a link to your website, you make it easy for them to find out more.
Use calls to action (CTA) in your content. A CTA, like "learn more," can encourage users to take the desired action. This can be in the form of a link at the end of a post or a CTA button on your LinkedIn ads.
Publish content regularly. Consistency is important when it comes to LinkedIn marketing. By posting frequently, you'll keep your business top of mind for potential customers and clients.
Add a page follow button to your website. This will allow website visitors the ability to follow you on your page, which can be an effective way to gain new followers. Use social media widgets or plugins to add this feature.
Leverage @mentions in your status updates. By utilizing this tactic, you can create an immediate connection and potential dialogue. This is a great way to engage with industry experts or influencers and can help get your message seen by more people.
By following these simple tips, you can make your Linkedin marketing strategy incredibly effective.
Popular LinkedIn features to boost your LinkedIn marketing efforts
Any business using LinkedIn for marketing should know about the platform's features that can help them achieve their goals.
LinkedIn Live lets businesses stream live video content so that they can engage with followers in real-time.
LinkedIn carousel lets businesses showcase products or services in a single slide-show format post. This is especially helpful for businesses that offer a variety of products or services because it lets them highlight multiple offerings without having to create multiple posts.
LinkedIn audience polls let businesses gather feedback and valuable insights from their target market.
LinkedIn Product Pages provide an overview of a business's multiple products or services. They also offer a way for customers and followers to contact the business directly to ask about pricing and product availability. Customers can also leave reviews on the page.
LinkedIn newsletters provide a great way to keep your followers up-to-date on the latest news from your company.
LinkedIn analytics tools let businesses track metrics like their impressions and follower growth rate so that they can measure the success of their marketing efforts.
Each of these features provides businesses with a unique way to connect with their followers and promote their brand on LinkedIn.
Frequently asked questions about LinkedIn marketing
How do you market for free on LinkedIn?
LinkedIn provides a number of ways businesses can market for free. These include creating a company page, sharing content, joining groups, and participating in discussions.
How do you market events on LinkedIn?
By joining groups and forum discussions on LinkedIn, you can spread the word quickly about your event. You can also pay to promote your event using InMail messages or by running a sponsored campaign.
Is LinkedIn marketing effective?
It depends on how well you execute your campaigns. For content, make sure it's relevant and that you're sharing it in the right places. For paid ads, make sure they're targeting the right people.
How do you market yourself on LinkedIn?
Be sure to complete your profile, including your job history, education, and skills. You can also join groups related to your industry and post relevant content to share with your network.
Is LinkedIn a good marketing tool?
LinkedIn is an effective marketing tool because it lets you target your ads by demographics such as job title, company size, or geography. This ensures that your advertising reaches the right people.
Improve your social media marketing with Birdeye
LinkedIn is one of many social media outlets businesses use to market their products or services. However, managing and monitoring multiple social media accounts can be tricky. With Birdeye Social, you can keep all your social channels in one place, so you never miss an opportunity. Schedule an appointment today with one of our experts. Plus, click on the banner below to get your free social media toolkit – templates included.

Originally published