Are you looking for ways to increase your social media followers? Or are you looking for a creative way to promote new products and services? If the answer to either question is yes, you should consider running a social media contest.
Contests are a great way to get people excited about your brand, and they can be a lot of fun for participants as well. In fact, research shows that contests can be up to three times more effective than regular posts at generating engagement on social media.
In this blog post, we'll show you how to properly run a social media contest. We'll also share nine ideas for contests and giveaways you can use in your social media campaigns.
[Free Guide] The ultimate social media marketing guide for local businesses
Download Now
What is a social media contest?
A social media contest works by having your followers enter into a competition with the chance of winning a prize. Prizes can range from something small, like a discount code, to something greater, like a free vacation. A creative social media contest gives followers a chance to engage with a brand in a fun, interactive way. Plus, followers who participate in contests often share them with their own social networks, increasing visibility considerably.
What is a social media giveaway?
Social media giveaways are an easy way to engage with followers and raise brand awareness. Participants typically enter giveaways by liking, commenting, or sharing the post on social media. Essentially, you're offering followers something of value in exchange for an action benefiting the business's social media presence. Winners are then selected at random. This is the key differentiator between a giveaway and a contest.
Why social media contests and giveaways work
Social media contests and giveaways can be used by businesses of all sizes. They work for all social media platforms and are cost-effective to create and run. By offering followers free stuff you can increase engagement with your content, build your follower count, and drive more organic traffic to your website. Plus, contests and giveaways are a low-commitment, high-reward scenario for businesses. One click on social media can make your brand visible to thousands of people.
How to run a social media contest
Running a social media contest can quickly generate interest in your brand. But before you post any type of contest, you'll need to hammer out all the details to make sure it runs smoothly. Here are some tips to help your campaign succeed.
Define your goals and decide on a prize
It's important to have a clear understanding of what your goals are and how the contest will help you achieve those goals. Some goals around a contest can be increasing brand awareness or improving your overall engagement. Next, think about a prize that will help you achieve those goals. For example, if you're looking to promote a new product or service, offering it as a prize might be the way to go.
Choose the right platform
When it comes to choosing the right social media platform for your contest, there are several important factors to consider. First, determine which social networks your target audience is most active on. If your audience doesn't exist on a specific network, then it won't be worthwhile to launch a contest there as it won't have the desired reach.
You'll also need to understand the different features available on each platform and how they can be used to create a successful contest. For example, if you're looking to run a photo or video contest, then Instagram may be your best option.
Finally, look at how a social media platform can help maximize the visibility of your contest. Does the platform lend itself to more organic traffic, or is it better suited for promotion using sponsored ads? These are important considerations, as it can determine the best platform(s) for your contest.
Set the rules and be compliant
You'll need to set official rules for your social media contest that are fair and easily understood by all entrants. Transparency is key here, so be sure to include any eligibility restrictions, how winners will be chosen, and when the contest will end within the contest post. Also, check the guidelines of the social media platform where the contest is happening to make sure the contest is compliant with any laws and regulations.
Create reasonable timelines
When setting the timeline for the contest, make sure you give your audience enough time to participate but not too much that it loses interest and falls off the radar. On average, a social media contest should last about 2 weeks. Also, be sure to make the deadline for when you'll announce the winner abundantly clear.
Promote your social media contest
Once the contest is ready to go, it's time to start promoting it. There are several strategies you can use to promote your social media contest successfully.
Showcase the prize – Use eye-catching visuals of the prize in the post. This will naturally draw users in and help your contest stand out.
Use hashtags – Take advantage of relevant hashtags on social media, particularly on Twitter and Instagram. Hashtags can help you reach anyone interested in that topic.
Start an email campaign – Another way to promote your social media contest is through email marketing. Your emails should include clear instructions on how to enter the contest, as well as a link back to the specific post for your contest.
Ask for shares – Encourage people to share the contest with their friends and followers to boost visibility. The more eyes on your contest, the higher chance of participation.
Paid ads can help – If you have the budget, you might want to promote your contest using paid ads. This can help create greater reach and stir up interest faster, and can even help you target specific demographics.
Track the data and evaluate the results
Always track the performance of your contests. When your contest is complete, make sure to also evaluate the results. How many participants did you have? Did you meet your goals? Some of the key metrics to help you determine your success include:
Engagement rate (e.g., likes, comments, shares)
Follower growth rate
Click-through rate (CTR)
Conversion rate
Impressions
Look at the data to determine what worked with your social media contest and how you can improve it for next time.
Top social media contest ideas
Coming up with ideas for social media contests can be tricky. Here are five you can use to get started.
1. Best caption for photo or video
One of the best ideas for a social media contest is a photo or video caption contest. This kind of contest requires minimal effort. All you need to do is select a photo or video and ask your audience to come up with a creative caption. Pick a funny photo or video to give your audience more incentive to come up with something entertaining.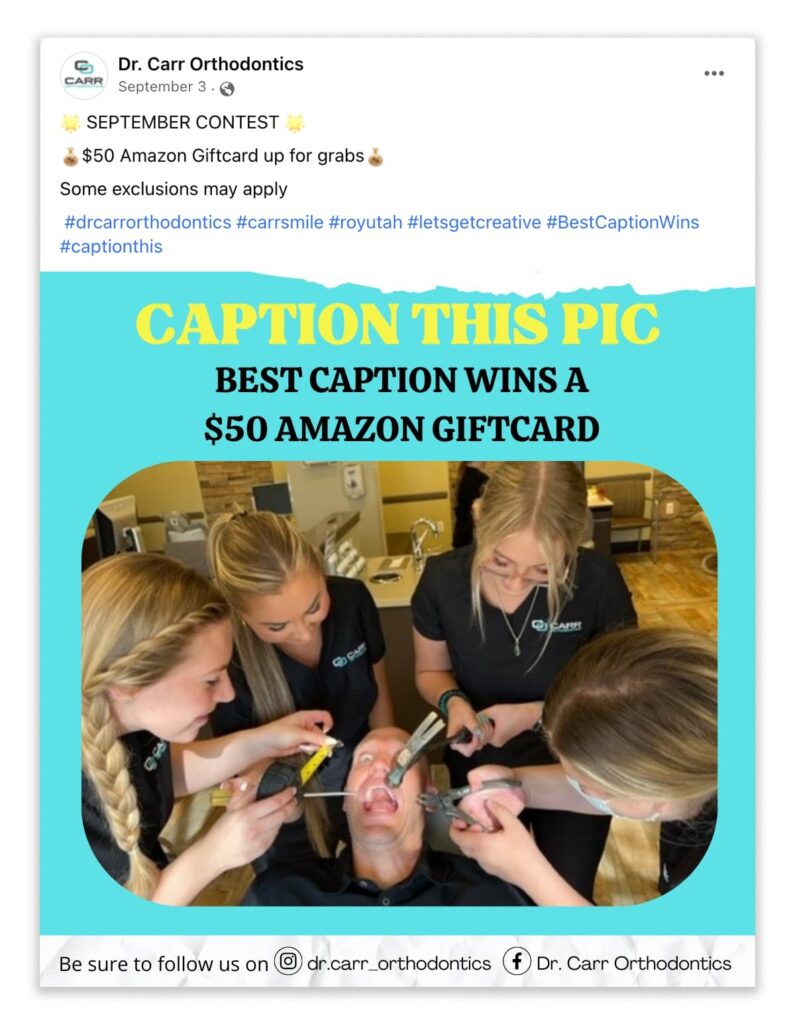 2. Trivia contest
A trivia contest is always a fun way to generate buzz for your brand. In order for it to work, you'll need to create interesting questions that are relevant to your target audience. The questions shouldn't be too easy to answer, but they should be interesting enough to encourage people to participate in the contest. If you're struggling with question ideas, you can always tap into pop culture, current affairs, or childhood nostalgia.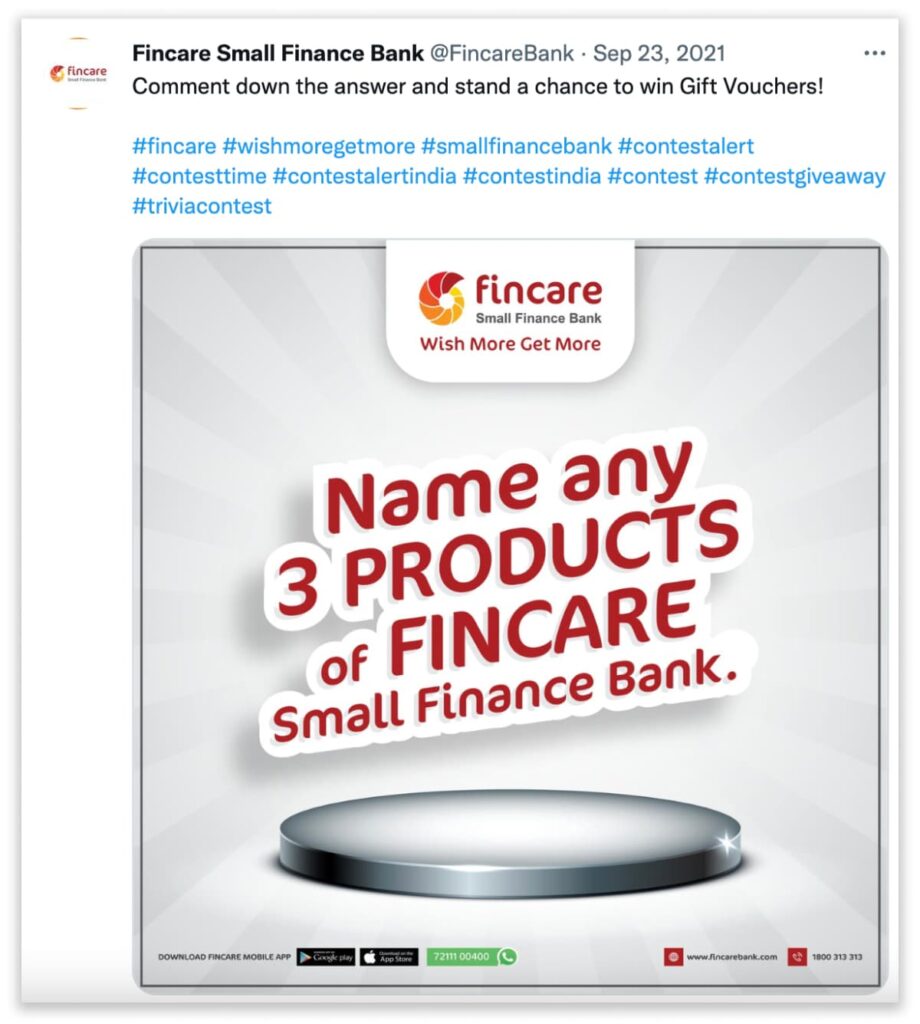 3. Submit a short-form video
To run a video contest, you'll need to decide on a theme for the competition. You could ask your followers to "Show us how you use our product" or "Share your most creative take on our service." You should include an example in the post to help followers better understand what you are looking for and spark their creativity. Also, don't forget to mention the desired length of time in the post. This will make sure that the entries are consistent.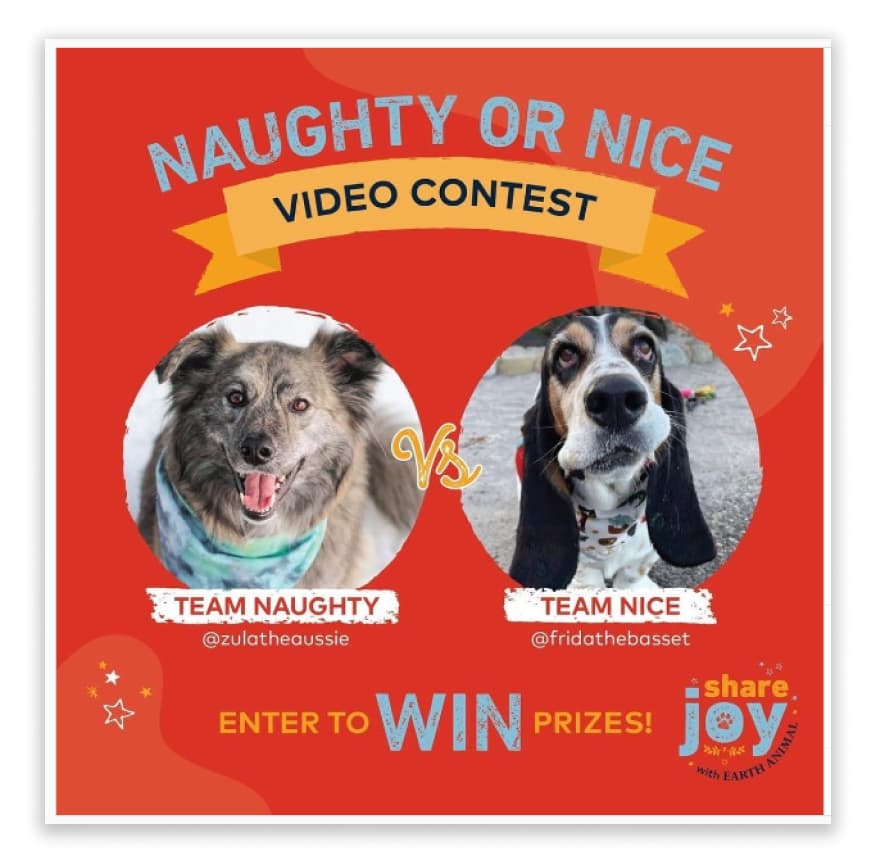 4. Follow or comment to win
A 'follow or comment to win' contest is an effective way to build your social media presence faster. In this type of contest, you'll ask participants to follow your business profile on the designated platform or leave a comment on a specific post. If they do so, they'll be entered into a drawing for prizes. You could even live stream the drawing to reveal the winners to drive more engagement to your social channels. The winners can then direct message your account to claim their prize.
5. Digital scavenger hunts
Digital scavenger hunts are one of the most exciting social media contests. To get started, choose the items that need to be gathered during the contest. Next, create a post for each item. This will make it easier to manage the contest and track progress. Participants of the contest then need to complete each task in order to progress through the scavenger hunt.
You should give the scavenger hunt a theme tied to a product or special event. For example, your scavenger hunt could be about finding items related to a specific holiday to promote an upcoming sale. This is a creative social media contest that can help get more traffic to your stores or website.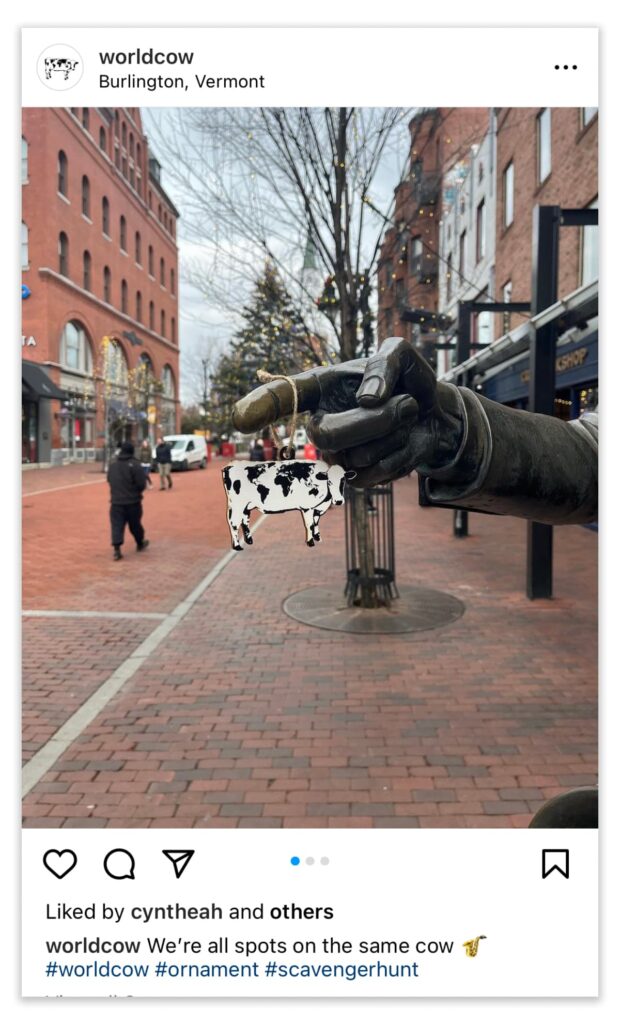 Popular social media giveaway ideas
Giveaways can be just as effective as contests. In fact, the name 'giveaway' implies that everyone has an equal chance of winning, which can attract more participants. Some popular social media giveaway ideas include:
6. A trip to a dream destination
An exciting giveaway like this can definitely draw more eyes to your brand. Admittedly, this kind of giveaway requires a higher budget, but if you can swing such an expensive prize, you can certainly expect an increase in engagement and followers. All you'll need to do is pick a desirable destination and ask participants to enter the contest by completing a task like sharing the post or opt-in to a text messaging list. The prize could be airfare and a hotel stay in that particular location. This type of giveaway works for businesses in the travel industry or if you're looking for a quick way to increase your social media presence.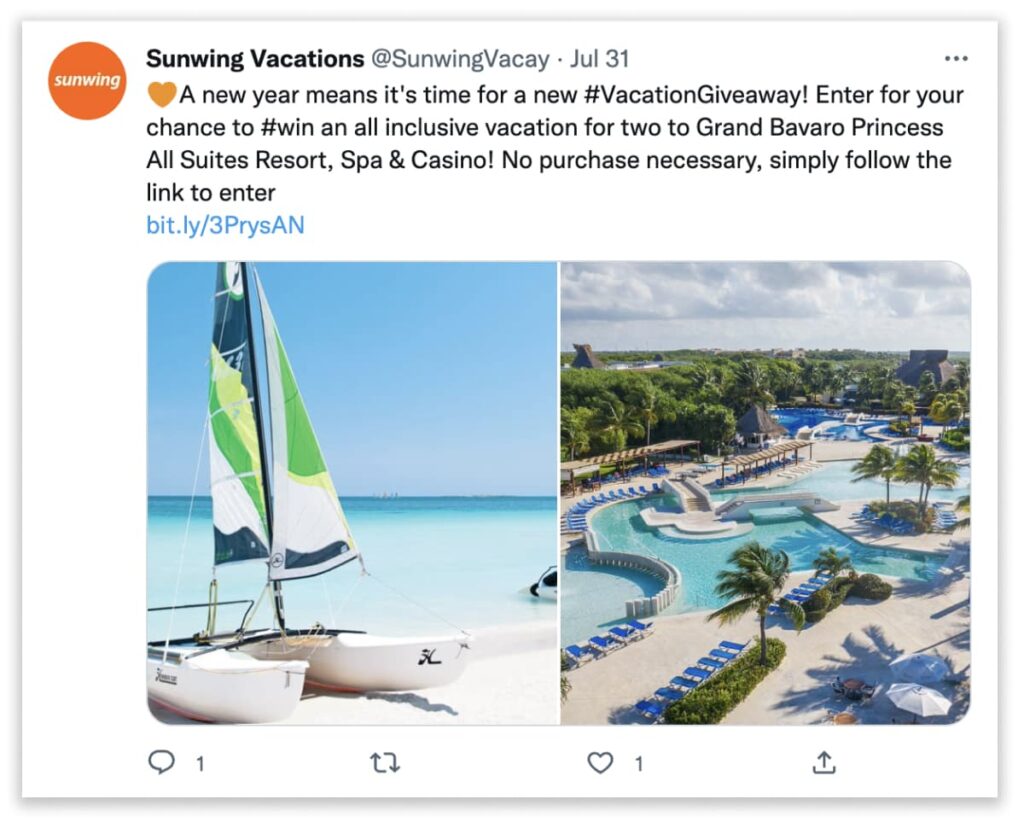 7. Mystery box
Mystery box giveaways are also popular with social media users. As the name suggests, the prizes in these boxes remain a surprise until the winner is announced. However, you can drop subtle hints in the post's message. You can use this type of giveaway to launch new products or create more awareness for an existing product. Just make sure the prize is worthwhile or it could put off followers.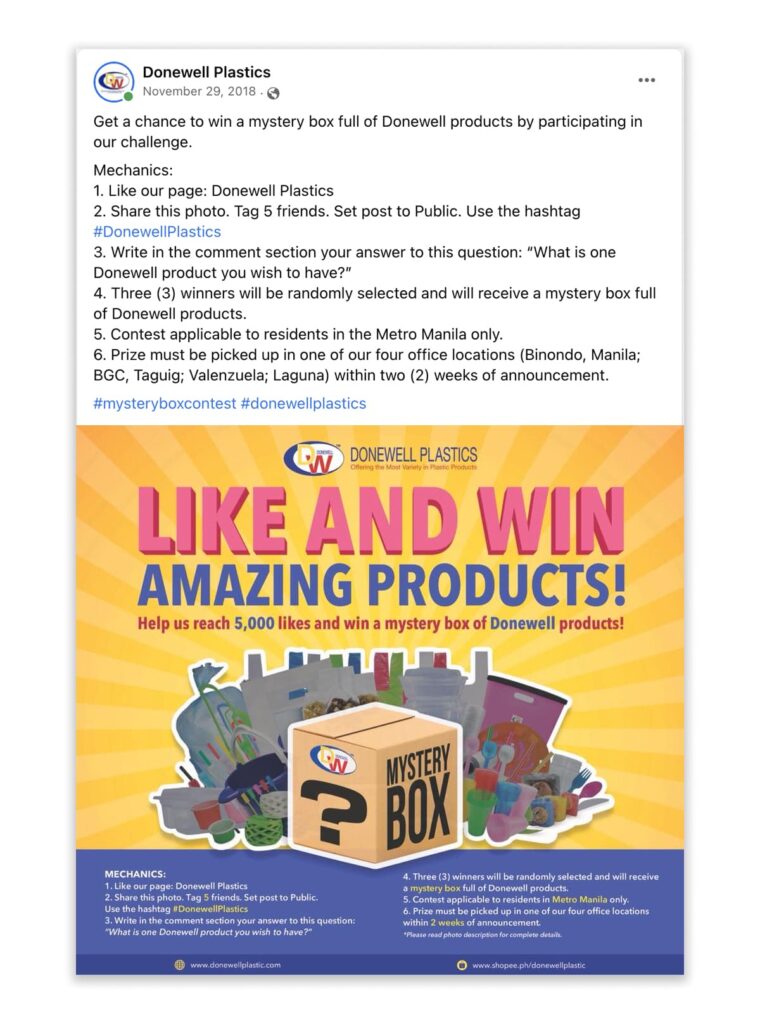 8. Reward loyal customers
You could offer exclusive rewards to customers who have been following your business for a while. These types of social media giveaways don't require participants to do anything other than follow your page and be loyal to your brand. You can either pick random followers or award points for engagement activities like commenting, reposting, and likes. This shows your followers that you appreciate their loyalty, as well as shows potential customers that you value your customers.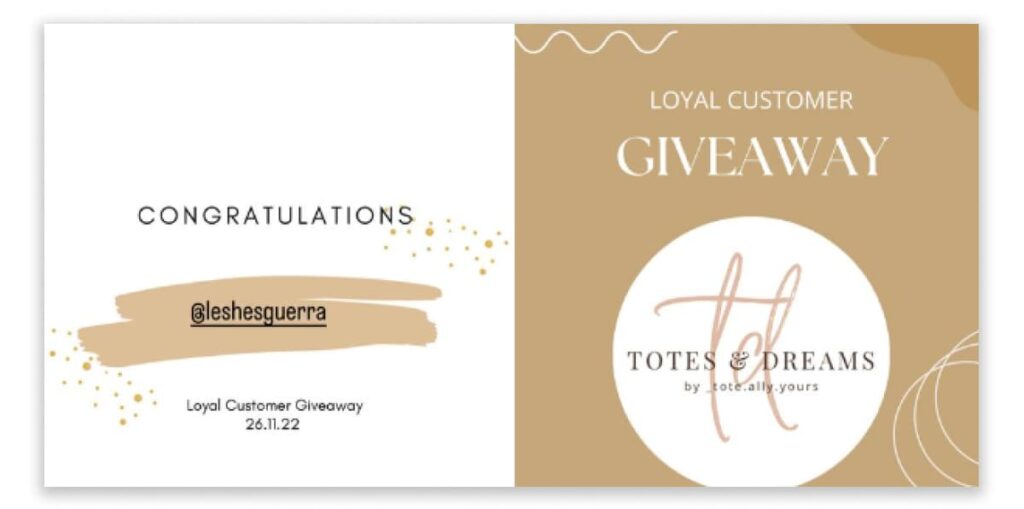 9. Follower milestone giveaway
A follower milestone giveaway is a good way for businesses to reward their current followers and gain new ones. The basic concept of this type of social media giveaway is that the business sets a certain number of followers as a milestone, such as 100, 500, 1,000, 10,000, etc. You'll want to build awareness and excitement for the milestone by promoting it ahead of time. Once the milestone is reached, publish the giveaway post and ask followers to celebrate by leaving a comment with the first 10-20 comments winning the prize.
Frequently asked questions about social media contests
What are social media contests?
Social media contests are activities that businesses ask followers to participate in. Typically, the winner is awarded a prize. Contests are a fun and interactive way to raise brand awareness.
How effective is a social media contest for business?
They can help increase followers, build loyalty, and drive traffic to your website or stores. However, it's important to have a plan before launching a contest to give it the best chance for success.
What are some best practices for running a social media contest?
Make sure the prize is desirable, make the entry process easy, and make sure the contest is well-promoted. Also, make sure your contest attracts the type of followers you want for your business.
How do I make my social media contest compliant with the law?
Make sure you're compliant with the terms and conditions for each platform and you aren't collecting personal information without consent. Also, be sure to include the official rules in the post.
How do you pick a social media contest winner?
You can pick a contest winner based on the entry's creativity, speed of submission, or at random. Whichever you decide, be sure to include this information in the contest rules so there's no confusion.
How do you run a social media photo contest?
To start, decide on a theme for the contest. Then create the rules and post them along with the announcement of the contest. After the contest ends, announce the winner and thank the participants.
How do you promote a contest on social media?
Start by promoting the contest before it beginnings to help generate buzz. Once it's live, you should post reminders, highlight posts from current participants, and use hashtags to extend its reach.
Publish posts faster with Birdeye Social
Having multiple social media accounts lets you reach more customers but publishing content to each can be challenging. With Birdeye Social, you can connect the most popular networks such as Facebook, Instagram, LinkedIn, Twitter, Google, and YouTube to a single inbox. This will let you publish your content in bulk saving time and energy. Watch our demo now and learn more.


        

This blog post is part of our Social Media Management Guide 


      

            



Originally published