As a business owner, you understand the challenges that come with local SEO: why are your competitors ranking above you in search results? Why do you not show up on page 1 when you type your business name into Google? Local SEO is a frequently overlooked part of many SEO strategies even though it's one of the most important. Adding and maintaining accurate business information – name, address and phone number (NAP) on your website, directory listings, and business profiles are necessary steps towards ranking well in local search results.
FREE audio guide: Before we get into the nuts and bolts regarding formatting your NAP properly, let's take a closer look at optimizing your online business listing for SEO. In this 11-minute audio guide, you'll learn key tactics and tips to optimize your business listings for SEO that will boost search ranking, drive more traffic and grow your business like never before. You'll also discover the SEO value of listings; how increasing referral traffic through reviews can improve rankings; why errors in local listing management are a problem if they go unresolved over time; plus much more.
Things to remember while formatting your NAP
While creating your local listings on critical business directories and listing sites such as Google My Business, Bing Local, Yahoo Local, Facebook and Twitter, it is imperative to add correct business information and ensure that it is in the same format everywhere.
Here are some essential tips for formatting each part of your NAP for Local SEO.
Name
The first and most important part of the NAP is your business name. To leverage the power of search engines, the first step is to have a business name that is easy to comprehend and consistent across all your listings. Let's say your business name is St. Louis Dentistry and a few years back you signed up with Yellow Pages as "St. Louis Dentistry Inc." and with Google My Business as "St. Louis Dentist Group".
Since search engines are extremely detail-oriented, all 3 listings may be considered different businesses. This will ultimately lower the listings' overall local ranking. Ensure you use one name for your business presence on the internet. Refrain from using different names for your business.
Address
Just like the business name, your business address needs to be same across all your listings. This way you can avoid losing a good local SEO ranking. Consistency is the key here. A useful way to decide an apt format of your address is by searching for your business on Google Maps. Use the same address format as it appears in the Google Maps search result. Customers expect a seamless journey from finding out about your business to visiting your store or clinic. Any inaccurate or incorrect business information will push them to choose your competitors and not you!
Phone Number
It's common for a business nowadays to have multiple phone numbers for various departments. However, it is not a good idea to add all of them to your online listings. It can be confusing for the customers as well as the search engines.
For instance, if you have three business phone numbers listed on Google My Business and only two of them listed on Facebook and Yellow Pages, the search engine may consider this a case of business information mismatch. This might have a negative impact on your local SEO ranking. Narrow down your choice to one phone number. It can be your front-desk number, sales number, or your store number. The decision is yours. Also, keep the format the same across all your listings. Whether you use (444)444-4444, 444-444-4444, or 444.444.4444, it is essential to use the same format across all your listings.
Here are some examples to help you identify the best format to list your business on the web:
✅Listing #1: The Perfect Listing
St. Louis Dentistry
XYZ Blank Street
Hartford, CT 06103
444-444-4444
www.stlouisdentistry.com
❌Listing #2: The Close Yet Far from Perfect Listing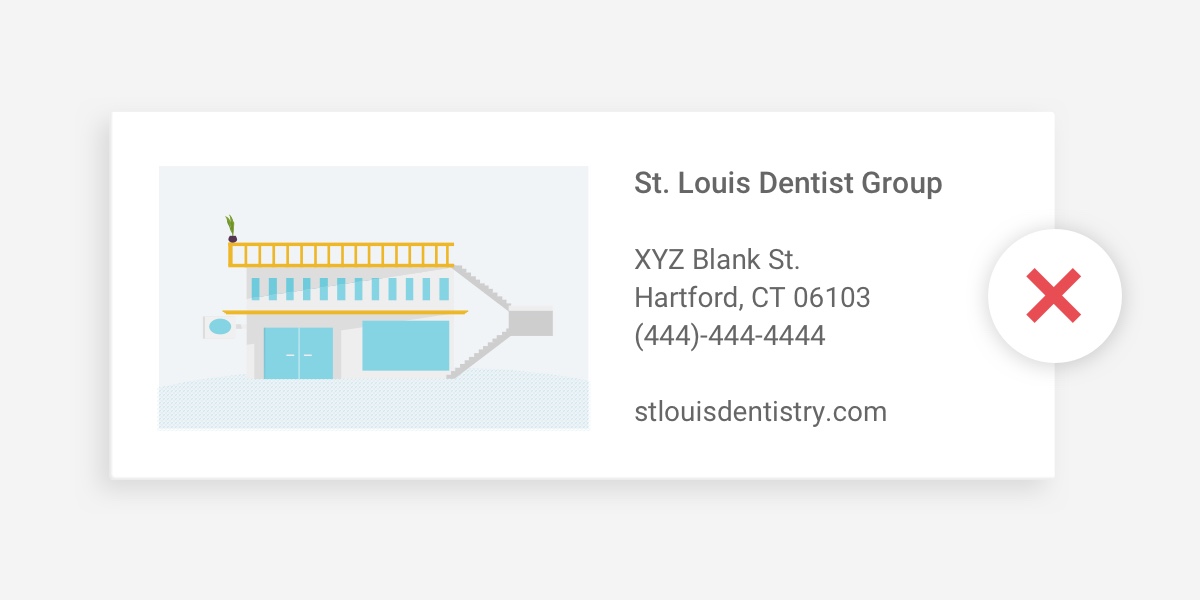 St. Louis Dentist Group
XYZ Blank St.
Hartford, CT 06103
(444)-444-4444
stlouisdentistry.com
❌Listing #3: The Casual Listing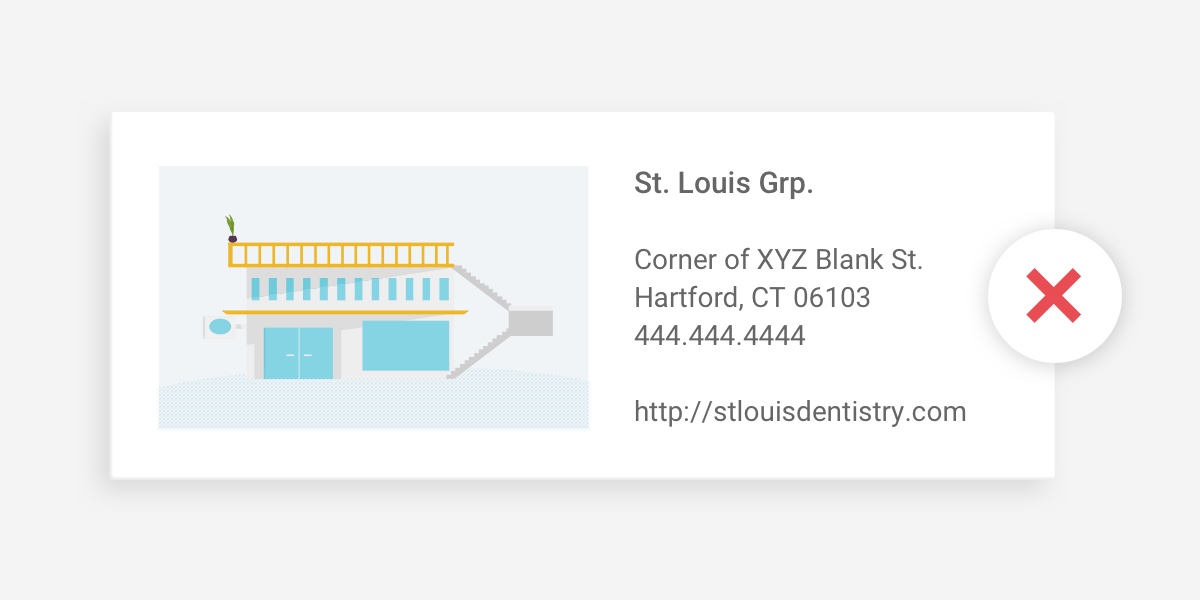 St. Louis Grp.
Corner of XYZ Blank St.
Hartford, CT 06103
444.444.4444
Since search engines like Google prefer content that is high-quality and valuable for users, inconsistencies imply a lack of legitimacy. That's why it's crucial to ensure your NAP data is consistent and precise across different web directories, online listing sites, and your social media profiles.
Leverage enhanced content to increase conversions
Although your business name, address and phone number (NAP) are the cornerstones of your business information, they do not define the nature of your business. You need to present your business' quality and the difference of your products from your competitors.' Enhanced content is a more detailed, location-specific information about your business' online reputation management and what it has in store for its customers.
To help customers decide why they should choose you over a similar business in the same location, it's critical to provide them information like customer reviews, photos, videos, etc. to help them make informed decisions. Enhanced content increases customers' confidence and trust, giving them a comprehensive, honest view of your business.
Stay ahead of the Local SEO game with Birdeye
Using Birdeye's listings management tool, you can scan your business' missing information and inaccurate listings in real-time and fix them (NAP) across 50+ sites and online directories. This will help you fix NAP for Local SEO.
Birdeye also provides you with a platform where you can create engaging profiles for a specific business location by adding enhanced content such as photos, videos, hours of operation, and so on. All this enhanced content boosts SEO, increases click-throughs and conversions.

Originally published