Search Engine Optimization (SEO) is important in today's world because the customer journey starts online. 81% of consumers conduct an online search before physically going into a store but only 25% of internet users ever even go to the second page of a Google search. That's why it's vital that your business ranks well because even if you have a website and you show up on Google if you're not on that first page you're not going to get near the number of clicks that you could be getting if you utilize local SEO.
Now, SEO can be a bit intimidating. Where do you begin? What do you do? Despite how complex and technical it may seem, there are simple things you can do to help improve the ranking of your business.
To understand what businesses need to do to rank higher on search, we sat down with renowned SEO expert and the CEO of SEO Growth Partners, Joey Randazzo.  
Here are some of the tips he shared in the interview. You can watch the entire interview here.
What is the first thing that businesses should do when starting their local SEO journey?
The very first thing is to create a comprehensive Google Business Profile, which is a free listing profile that Google gives you so that you can add your business information like your name, address, phone number, and a description of services. It's a profile that you can fill out as much or as little as you like, but the best practice is to be as comprehensive as possible. Google wants you to share as much information as possible about your business, what services you offer, and everything that you can fill out in your Google Business Profile. If Google gives you 750 characters for your description, you should use 750 characters. If you can add custom services, you should add custom services.
If you were to search for a specific type of business or service on Google, the very first thing to pop up is what's called the Google Local Hub. It's basically the Maps area of Google that will populate in the local search results page, and there are only three businesses that have the opportunity to rank there. This is essentially beachfront real estate on the internet. If you do not have a comprehensive Google Business Profile set up, you have a zero percent chance of ranking in that Google local hub.
If you're a multi-location business, would you need to create a Google Business Profile for each individual location? How does that work if you have multiple locations?
If you're a single-location business, you're going to have one Google Business Profile. If you're a multi-location business, then you're going to have a Google Business Profile for every single location that you have. Google looks at every single location as its own separate entity and separate business, so if you're a multi-location law practice and you've got a location in Bend, Oregon, Salem, Oregon, Vancouver, Washington, and Portland, Oregon, you need a Google Business Profile for every single location.
What's really important with multi-location businesses is how those are connected to your website. You need a local landing page on your website for every single location that you offer. If you've got 500 locations, you need 500 separate pages on your website, clearly indicating each location. Add the name of that location address, and phone number, services offered at that location. If that location has separate staff and you're willing to put in the time to share the staff of that location on that individual location page. All of these things add more comprehensiveness to Google. When you set up your Google Business Profile, you'll be prompted to add the URL of your website to your profile, but this is where many people make a mistake. Most people add the homepage URL of their website to their Google Business Profile, but this is incorrect. Instead, add the landing page of that specific location from your website, not your homepage.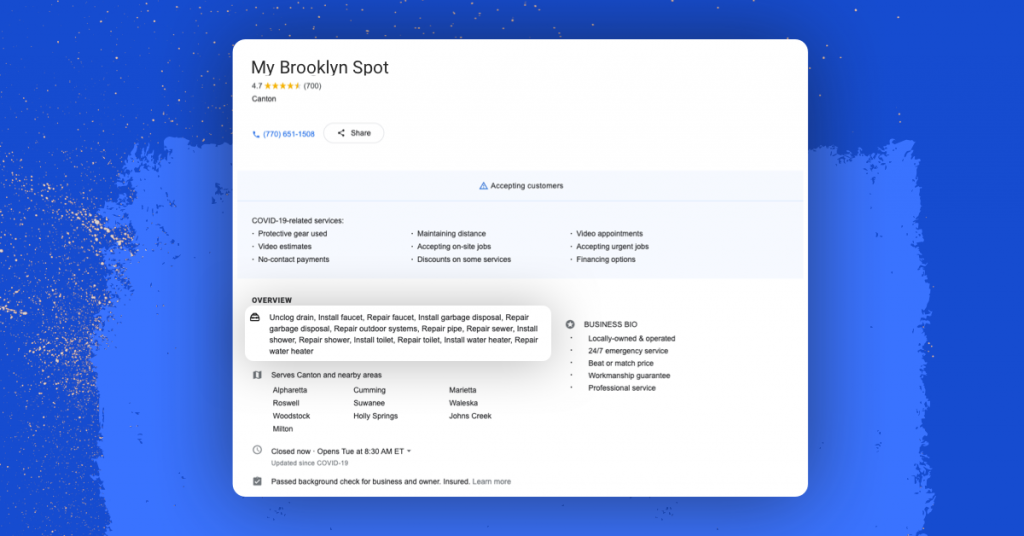 How does your Google Business Profile affect local SEO?
This relates to how people are searching. Going back to the law firm in Oregon and Washington mentioned in tip #2, how would people search for this? They could search a couple of different ways. They might search for a "lawyer in Oregon", but also the "best lawyer in Bend, Oregon" or a "divorce lawyer in Bend, Oregon" or even a "divorce lawyer in Bend, Oregon, that specializes in men". All of a sudden you realize you've got a 20-word query that you're searching into Google, and this is how people search for things.
So how does this relate to local SEO? It's advantageous to be really, really specific on your website and on your Google Business Profile because this is how people search. Even if every single one of your locations offers the exact same services, you need to clearly list those out on each location page. When listing your services, think of the type of customers you see, the types of problems they have, and some common questions that people ask about your business, and get as specific as possible. Being very specific on your website and clearly articulating everything that you do with extreme specificity is going to give you an advantage when people perform a local search for these very obscure long-tail searches in Google.
Let's stay on the topic of local businesses but shift the conversation to content. How does content play a part in the local search results?
This goes back to the specificity of what people are searching for. Let's take a plumber for example. Some people might do a local search for, "plumber near me", or they might search for a "plumber in Portland". Some people are not quite ready to pick up the phone and call a plumber right now and think that they can handle the problem themselves, so they might search, "how easy is it to fix a leaky sink?" People might also search for obscure things like a "plumber that specializes in walk-in showers in Portland, Oregon". If you've got a piece of content that talks about walk-in showers (and you're located in Portland), Google knows the connection between your Google Business Profile and your website, and say, "Let's put those two things together. This business is going to be the best solution because they've created content around walk-in showers, which is what this user is searching for."
Overall, people search very specifically and they search for lots of different things related to your business. Even if you're not confident about how to create content around your business, people ask a lot of questions, so just focus on answering those questions. By creating that content, you're giving yourself the advantage to rank higher on Google local search.
How could a smaller business without a big marketing budget create relevant content for Google local SEO?
Trying to figure out what content to publish on your website can seem daunting. You might even have a lot of content ideas, but not enough bandwidth to execute them. One of the best ways to approach content creation is by thinking through the top 20-30 questions that your target audience is asking. These could be questions that your customers are typing into Google or even asking you in person.
Once you have a list of questions, it's time to create the content. A quick and easy way is to take your phone and record yourself answering each question for about 2-3 minutes. Then take that recording and import it into a transcribing tool such as Rev.com or Trint.com. Once your recording is complete, you just have to clean up the text a bit and before you know it, you've written a blog that you can publish to your website!
Now you've just created a piece of content, potentially in 10 or 15 minutes. And if you do one of those a week, all of a sudden you've got 52 pieces of content on your website every year. And it's highly likely that most of your competitors are not creating that much content. This puts you at a huge advantage in terms of content compared to your competitors on local search, simply by recording your voice, transcribing it, and publishing it on your website.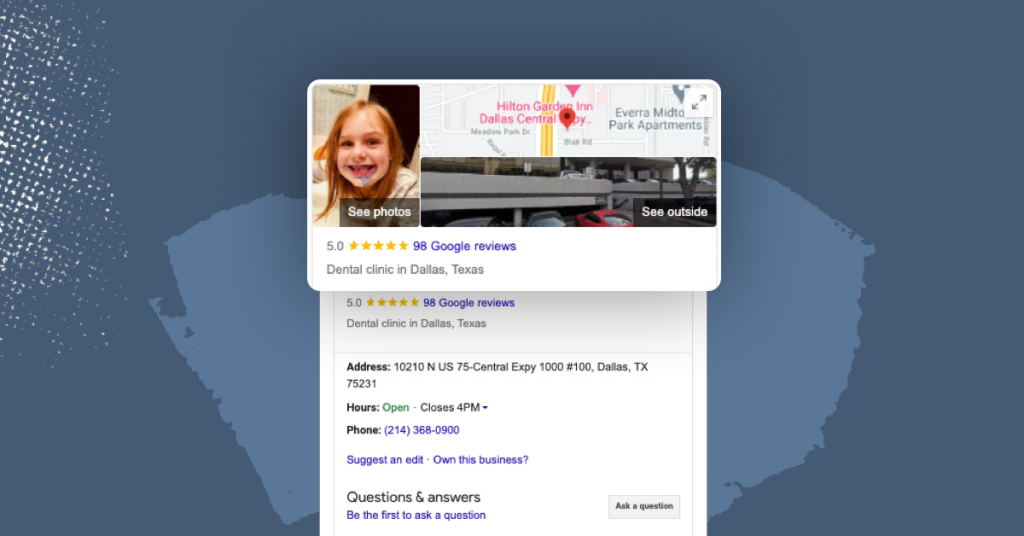 How important is it to add photos to your website, and your Google Business Profile? So what kind of weight do they actually carry when ranking on local search?
This may seem like a no-brainer, but adding photos to your website and Google Business Profile carries a large impact on your online presence. In fact, businesses with 100+ photos get 1,065% more clicks than the average business. Photos provide trust, which is what Google is looking for when ranking businesses in search results. They want to make sure you are who you say you are, you do what you say you do, and you're located where you say you're located. Users look at photos, they go to Google Business Profiles, and they look at reviews because they want to know what they're walking into, so show them.
Do reviews have an effect on local SEO?
People are searching more and more using the word "best". For example, they might search for "Best Bookkeeper in Portland". Now, Google has to figure out what "best" means. So, how does Google know what best is? A big thing that Google thinks about when someone searches for the "best" is the number of reviews and the quality of the reviews.
If you go to Google right now and type in "bookkeeper in [your city]", and then you do a second local search for "Best Bookkeeper in [your city]". You'll likely notice that the businesses that rank for "best" have slightly more reviews and slightly better reviews. If you have a lot of reviews that are high quality, you're giving yourself a definite advantage over your competitors. Now the question is, how do you get reviews? How do you manage them? How do you make sure that you don't have to chase down every single customer to leave a review? The answer is with Birdeye.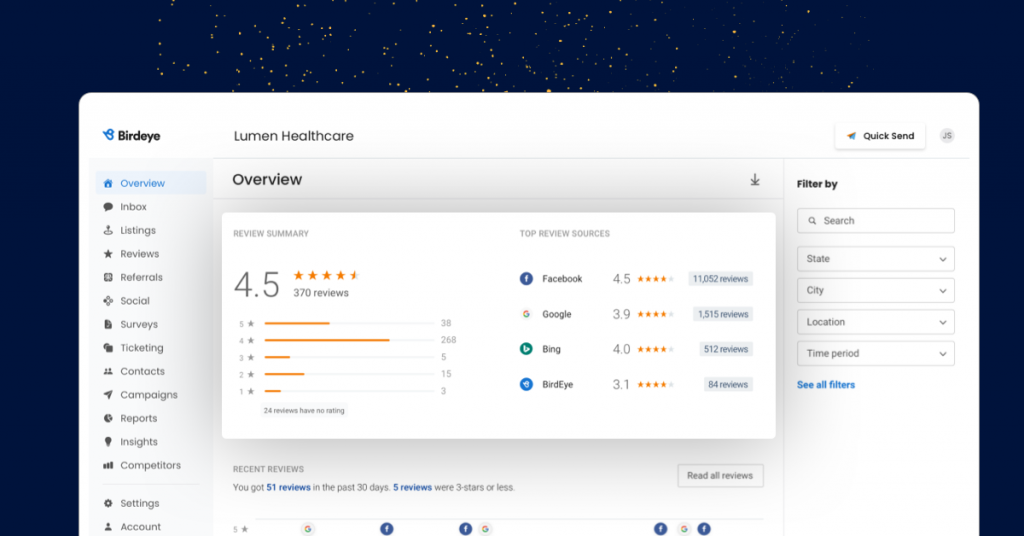 Birdeye: The best review management software for businesses
With Birdeye, you can monitor and manage every review of every location of your business from one simple dashboard. Instead of logging into multiple Google Business Profiles or Facebook accounts to manage your reviews (this is a big time-waster if you have a lot of locations), you can simply just log into your Birdeye dashboard and take care of everything from one place.
Birdeye also helps you generate more reviews from your happy customers using its powerful suite of solutions. Birdeye's streamlined and simplified review process will help your business deliver a fantastic customer experience and grow like never before.



Originally published