To make sure your customers can find your business with a Google search, you need an effective local SEO strategy. While SEO can benefit every business, local SEO strategies can help local businesses leverage location-based searches and improve conversion rates.
It's especially important to invest in local SEO campaigns if you're a multi-location business owner. Getting one location to rank is already challenging – and juggling multiple locations can be even trickier.
In this blog, we'll outline the steps you should take when creating a local SEO strategy for your multi-location business.
Local SEO
Local SEO is the process through which a business optimizes its content for search engines like Google. Any search related to a specific location, like "dentist in Houston" or "best dentist near me" is a local search. When a business optimizes its content to appear in similar local search results, they're using local SEO.
FAQs about SEO for multi-location businesses
Why is local SEO important for multi-location businesses?
Multi-location businesses might struggle to connect with customers in specific geographic areas. Generating common leads and then funneling them toward multiple locations can be a tricky process. Optimizing your listings, reviews, and content for local searches can help generate location-specific leads and streamline your conversion process. 
Who needs local SEO? 
SEO is a marketing practice that almost every business uses to strengthen its position in Google search results. Local SEO is a specific type of SEO that benefits businesses targeting customers in a specific area. 
Local SEO helps your business feature in the local map pack results (seen below) for your target location and industry.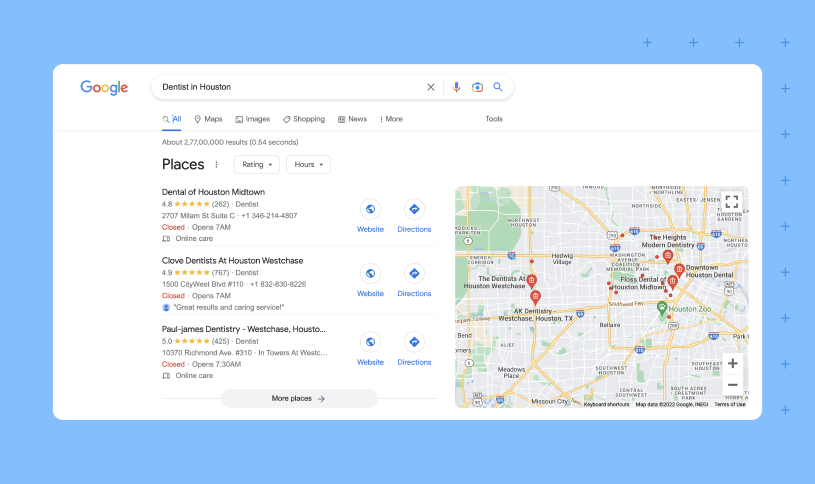 Local SEO Strategy
Local SEO might seem simple on the surface. Updating your Google Business Profile with accurate information and a few pieces of local content sounds easy enough – but the reality is that local SEO is actually quite complicated. That's why approaching local SEO with a well-designed strategy can make a huge difference for your business.
What does a local SEO strategy look like?
An effective local SEO strategy is tri-fold. You'll need to focus on three things: review and reputation management, content creation, and link building. It's important to have a balanced approach for all three to succeed in your local SEO efforts.
While we're at it, let's define what success looks like for a local SEO campaign.
Businesses should rank in the local map pack results for their target keyword
Businesses should rank in local finder results on Google Maps
A business's website or profile should appear in search engine results for the target keyword
Google's stand on link building can change without notice. With that in mind, it's important to stay focused on review and reputation management, and content creation.
Google's local SEO algorithm
Google's local search engine optimization algorithm is different from the global SEO algorithm. There are three main factors that can impact the results of local SEO for small businesses:
Proximity
When someone searches for a business on Google, the search engine will prioritize businesses near that user's location. The closer you are to a customer, the more likely it is you'll appear in Google's local map pack search results.
That's why it's important for your business to evaluate your target locations and make sure the zip code in your Google Business profile is correct.
Prominence
Prominence is similar to domain authority. Google will evaluate your Business Profile to decide if you're worth ranking higher than your competitors. Google's algorithm scans for things like reviews, website traffic, user activity on your profile or website. If your business has a high review count, you'll be seen as more prominent.
Relevance
To determine if your business matches the search query, Google looks for relevant text in your business's description, keywords, categories, service list, and website.
Understanding and analyzing local keywords before implementing a local SEO strategy can help businesses stay relevant in local searches.
6 steps to supercharge your local SEO strategy
Here are six ways you can supercharge our local SEO strategy and outshine your competitors.
Get back to the basics.
Even if you already have an SEO strategy in place, you should treat local SEO like a brand-new project and begin with mastering the basics. Global SEO and local SEO algorithms vary quite a bit, which means some trial and error might be involved.
Begin by understanding:
Goals: What are your expectations from local SEO? Are you looking to improve website traffic, generate more foot traffic, or increase customer engagement from your Google Business Profile? You might need to update your Google Business Profile based on your goals.
Competitors: Your main competitors may not be the top competitors in your local map pack, so you'll need to decide who you want to outrank in your area. For multi-location businesses, this may vary for each location.
Budget: Set a dedicated budget for local SEO campaigns. With a set number, you'll know how much you want to invest in content creation, publishing, and link-building projects.
Conduct local SEO keyword research
Let's say you own a multi-location car service dealership in Austin, Texas. Your target keyword for global SEO would center around car service providers and car dealerships.
But as a local business, you'll need to know what local customers are searching for to identify local SEO keywords. The highest-ranking local SEO keyword in Austin might be "oil change dealership near me" or "car dealerships in Austin."
A location-specific SEO keyword search will help you:
Create a content strategy for each location
Build location-specific search pages with the target keyword
Update each business location's Google Business Profile with the right keywords
Conduct a location-specific SEO audit
A thorough local SEO keyword research strategy can help you build a strong presence across all your business locations.
Claim and update your Google Business Profile listing
Local SEO and your Google Business Profile are best friends. They'll help each other out, so making the most of them is important.
If you haven't yet, claim or create a Google Business Profile (previously known as a Google My Business profile) for your business.
Your Google Business Profile can directly impact your local SEO efforts. Here are some tips for when you create or update your profile.
Keep your business information like name, address, phone number, and zip code up to date and accurate.
Choose the right categories for your business. The businesses with the most relevant categories will show up higher for local search results. To identify the most suitable category for your business, check out which categories your competitors are ranking in.
Add relevant photos that can help your customers when they visit your profile. Google checks for user activity, which means the longer a user stays, the better your ranking will be.
Don't overcrowd your profile with unrelated keywords, categories, or text. This may confuse Google's algorithm.
Collect and optimize reviews
Reviews probably have the highest impact on local SEO from both a customer's perspective and the algorithm's perspective. The reviews that your brand gets on your Google Business Profile can significantly impact your local search rankings.
For best results:
Collect as many reviews as possible. Your review volume is a significant factor in buyer decisions and Google's local SEO algorithm.
Respond to all reviews to show customers you're happy to engage with them.
Build a successful review collection process. Google uses your most recent reviews to determine your prominence and relevance for a local search query – so you'll want to get fresh reviews often.
Aim to develop a high rating for your business by collecting as many positive reviews as possible.
Don't engage in review gating.
Review and reputation management is a large part of local SEO for small businesses. The best local SEO services are those that help you gain results.
Verify local listings and citations
When you manage a multi-location business, tracking multiple directories, checking various review sites, and ensuring consistency can be difficult. However, keeping tabs on these things is essential. Google regularly checks how your business name, address, and phone number appear across the web, including on third-party sites like Zillow, Realtor.com, Yellowpages, etc. Inaccuracy may confuse the algorithm and impact your ranking in local pack results.
You might also have many online links to your small business from a variety of listing directories. These links could be inaccurate and list the wrong location or an old phone number.
If you want to stay organized, create a system to manage your mentions and third-party listings across the web. Though doing this might sound like a hassle, it can seriously impact your local SEO results.
For more information, check out our complete guide to business listings management. For a quick reference, there's also an audio guide for on-the-go listening.
Optimize for voice search
Voicebot reports that 58.6% of US consumers have tried using voice search. Voice searches are prominent in local searches, too. Start optimizing your local content for voice searches to get ahead of your competitors.
Most users use voice search to ask questions about products and services. Businesses can start by populating frequently searched questions on their Google Business Profile with the targeted keywords so that Google can pick them up.
Focus on keywords and questions that begin with "what", "who", "when", "why", and "how."
You can improve your ranking on local mobile searches drastically by optimizing for voice search.
Magnify your business in local searches with Birdeye
Mastering local SEO can be challenging, especially if you run a multi-location business. Staying on top of each review, listing, and mention can be both exhausting and time-consuming. With Birdeye, you can grow your business and rank higher on Google all from a single dashboard. For more information about the most comprehensive solution for local SEO, book a free demo.

Originally published