Marketing strategy for dental clinic – Better online reviews translate to better business in every industry imaginable — and the dental sector is no exception. Based on recent surveys, online reviews are one of the most important influencers in a patient's selection process for finding a new dentist. However, using the correct marketing strategy for a dental clinic will prove beneficial for dentists.
Taking the healthcare sector into consideration:
88% of patients read online reviews and base their choice of a healthcare professional, such as a dentist, on the reputation of the practice and its average star rating on sources such as Google
85% of patients are more likely to choose a dentist who has high star ratings and positive reviews.
70% of patients say that online reviews of dentists are just as important as the dentist's professional credentials.
This data points in one direction – the average patient is likely to choose a practice that has a high star rating complemented by the regular addition of positive reviews. Positive reviews can help you get more patients to your dental practice in several ways.
Marketing strategy for dental clinic
Here are six:
1. Google loves great online reviews
When a patient wants to find dentists in a particular location, Google turns to both reviews on its own site as well as third-party review sites to find information related to local dentists. Generally, dental practices that have more positive reviews coming in on a consistent basis rank higher than practices with fewer reviews or reviews posted a long time ago. Getting new patients is difficult if your practice doesn't rank at the top of search results, as only 10% of people go beyond the first page of results to find a practice. Reviews help push your practice's listing higher, giving your office more visibility, more click-throughs, and more patients.
Read also: How do customer reviews help SEO?
2. High star ratings increase conversions
If your dental practice has several positive reviews and a high average rating on Google, you'll most likely be shortlisted by that 94% of patients who tend to choose businesses of all types, including dental practices, that have a 5-star rating. The average star rating of your practice is crucial to standing out from the competition. Research shows that even a one-star increase in your practice's average star rating can increase the number of patients visiting your practice by 9%.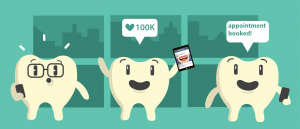 3. Reviews build patients' trust
Over 72% of American consumers trust online reviews as much as personal recommendations that are made by their family and friends. In the healthcare industry, the trust factor is even more crucial, as patients want to visit a practice that they can trust. If your dental practice has a large number of positive reviews, patients are likely to choose you over your competition which might not have as great an online repository of positive reviews.
4. Reviews let you connect with your patients
Like social media websites, review websites act as communication channels that you can leverage to build lasting relationships with your patients. Satisfied patients are more likely to return to your practice for further appointments, and will likely encourage their friends to visit you when they're seeking dental care. On top of this, if you're responding to all your reviewers, you're spreading the word that you care for your patients and are eager to listen to their feedback.
5. Positive reviews are free advertising
Every review that your patients leave on a review website is a form of free advertising. This advertisement carries all the necessary stuff – including your practice's name, the kind of services that you offer, how much you care about your patients, and what an average patient can expect when visiting your practice for the first time. Moreover, all this is coming from somebody who's perceived as neutral and doesn't have any vested interest in your practice. This organic and free advertisement exposes your services to fellow readers who might be looking for a dentist. Reviews can be as powerful as spending thousands of dollars on other digital marketing techniques.
6. Feedback helps you improve your practice
While you should aim to get positive reviews from patients, you need to be prepared to receive a few less-than-awesome reviews too. If you've received a negative review, it isn't the end of the world. Rather, think of it as an opportunity: as a marketing strategy for a dental clinic. Research shows that 30% of consumers assume that all your reviews are fake if there are no negative reviews published online. Just make sure that you respond to negative reviews promptly and thoughtfully, and try to resolve the patient's concerns in as few steps as possible.
More positive reviews translate into more patients for your practice — the concept is simple and a great marketing strategy for a dental clinic, but getting new reviews on a regular basis can be difficult. Fortunately, there are tools available like Birdeye that make review generation easy and automatic so you can get new reviews without sacrificing time with your patients.
Marketing strategies for dental practices – Let's get right to it. Research your competition. Blind shop your direct competitors. Establish your brand. Get involved. Pinpoint your target market. Send them postcards. Reach new movers before your competition does. Make your message immediately clear to recipients. Show your pearly whites.
Dental clinic marketing ideas – Marketing your dental practice can be difficult, especially when your attention is pulled in so many directions. Between finding new patients and catering to your established clientele, marketing can fall low on your list of priorities.
Creative dental marketing ideas – Growing a business isn't easy, especially when you don't have time for marketing. Most dentists are trained to fulfill dental services and don't have time to find new ways they can tap into dental marketing strategies. This is why reading about various dental marketing ideas can help you and your practice immensely.
Marketing plan for dental clinic – Marketing is strategic. As a dentist, you don't open a patient's mouth and start treatment without first doing an exam, charting existing restorations, taking x-rays, and recording periodontal measurements. As a practice owner, you should approach marketing the same way

Originally published