In order for your dental practice to continue to grow, it is important that you receive a continuous stream of new reviews. Many patients are nervous about finding a new dentist (or going to the dentist at all), and a great reputation can ease their concerns to help them get the dental care they need. Patients need to be assured that you are the right dentist for them. Here is a list of the top 8 dentist review sites that you cannot ignore.
Importance of dentist review sites
Dentist review sites give your patients all the information they need to know to help them determine if you are the right choice for their needs. Not only will you provide them with important information about your practice, but you'll also put your reputation with previous patients on display, proving that you are an expert in your field that will give them a positive experience.
Review sites also allow you to grow and improve your practice. The more reviews you gain, the more valuable feedback you have to act on – positive or negative. Each review is a chance to double down on what you already do right or change what you need to do better. The more you act on the reviews you get, the more appealing you will be to potential patients, who will be more inclined to choose your practice for their needs.
Why your practice needs dental review sites
Dental review sites help your practice be found, stand out from the competition, and establish credibility. Here is why your practice needs online reviews on top dentist review sites.
Be found
Online reviews help your practice rank higher in relevant Google searches. The more online reviews you have, the better your SEO, or search engine optimization, will be. Collect more reviews and be discovered by new patients through Google search.
Stand out from the pack
There is likely more than one choice when it comes to dental practices in your area. If your practice has multiple positive reviews, and your competitors have no reviews, this makes your practice look more appealing. Online reviews are a key factor in a patient's decision-making process, and the better your reviews are, the more likely you are to stand out from the competition.
Establish credibility
Patient trust is the heart of any successful dental practice. When someone is searching for a new practice, they want to be sure that they will feel comfortable at this new dental office. Reading that other patients had a great experience helps patients know that you are a credible, trustworthy practice.
Don't be afraid to ask for requests
Many dental practices struggle to collect reviews because they think that patients who have had a positive experience will be motivated to leave a review on their own. This is not the case. Few people are motivated to take time out of their day to leave a review unless it is specifically requested of them. So, don't be afraid of sending your patient's review requests. Review requests show patients that you value their feedback, which motivates them to respond.

2 major review websites you can't ignore
1. Google
Google accounts for 57.5% of all reviews worldwide. Patients can easily leave reviews on Google and it helps your practice rank higher in relevant search queries. If you have multiple positive reviews, this will be one of the first things that people see when they are searching for a new dentist in your area. Take advantage of the most popular review site by claiming your Google Business Profile and setting up Google reviews for your dental practice.


2. Facebook
Facebook is the second-largest review platform and has 2.6 billion monthly active users. Creating a Facebook business page is a great way for a dental practice to gain visibility. When people search for a local dental practice on Facebook, these reviews (now called recommendations) can help you appear at the top of the search results. Encourage your patients to leave you recommendations on Facebook to spread the word about your practice.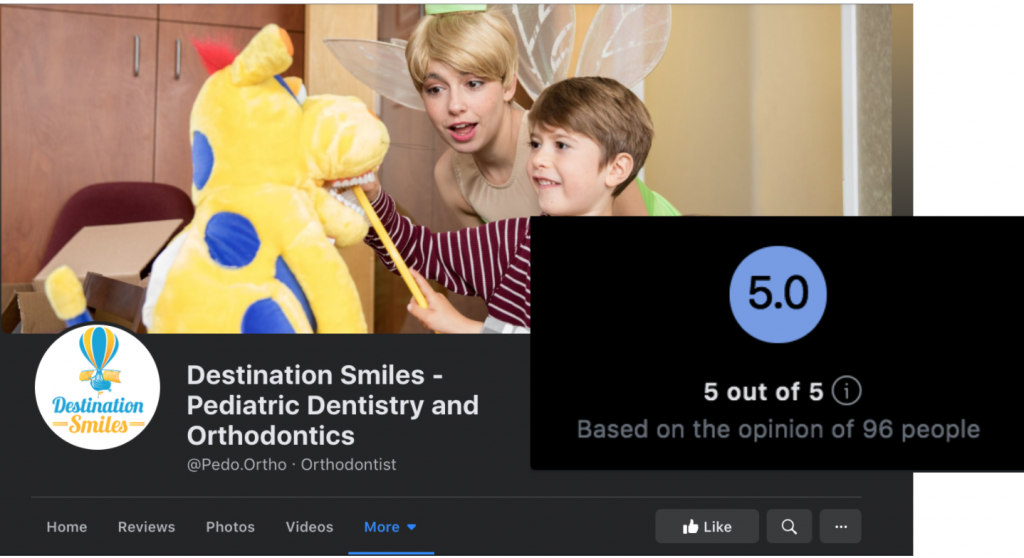 Top 6 dentist review websites that you can't ignore
It's important to get reviews on dentist review sites that your prospective customers know about and visit. Here are the top 6 review sites your dental practice should focus on. 
1. Healthgrades
Healthgrades has millions of reviews for dentists and doctors. With its intuitive search function, people can easily find a dentist in their area. Patients can also use this platform to request appointments and leave reviews. Healthgrades features free profiles for all dentists and doctors, and it posts health-related content for patients.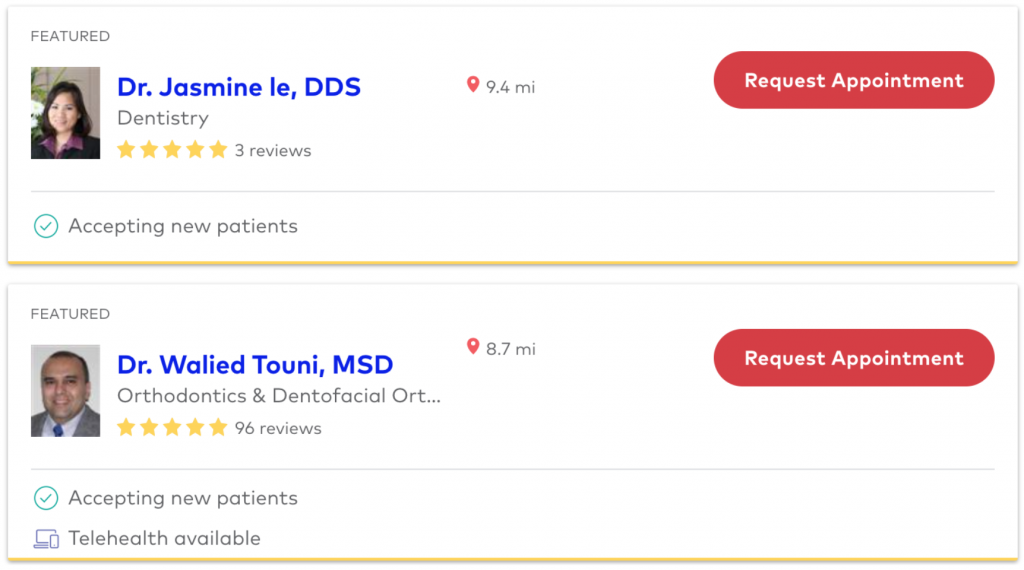 2. Zocdoc
Zocdoc lets patients book appointments online according to their search parameters like ZIP code, insurance, availability, and languages. After you've completed an appointment that you set up through Zocdoc, you will receive a request in your email to leave a review on the Zocdoc platform. Zocdoc also sends reminders to patients when it's time to schedule their next cleaning.
3. Vitals
Marketed as the largest online database for patient review, Vitals also provides education guides. Unlike Zocdoc, not all dentists displayed in the site's search results are bookable online. However, Vitals is a great way for people to discover new dentists in their area and leave reviews on their patient experience.


4. 1-800 Dentist
In addition to having extensive articles and videos on dental care, 1-800-Dentist gives patients custom recommendations based on a short questionnaire. Once the questionnaire is completed, an operator then calls the patient back with options that meet the criteria that they filled out. After a patient has completed their appointment, 1-800-Dentist requests patients to leave a review on their experience.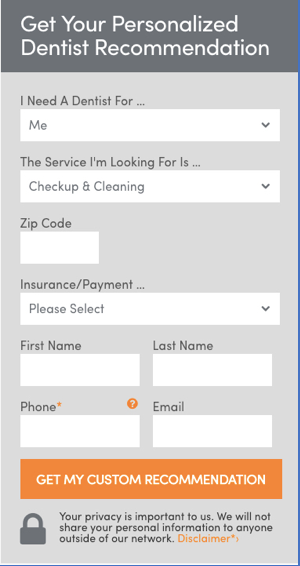 5. Dentistry.com
Dentistry.com is a community where you can interact with fellow dentists, previous patients, current patients, and potential patients. You can also answer direct questions about dentistry, publish articles on dental care, and direct your patients to book appointments through the site.
6. CareDash
Reaching one million users in 2019, CareDash is an all-encompassing healthcare review site that includes dental care. This site prides itself on transparency and lets users search for dentists near them and compare their reviews directly to find the best fit for them. After they've picked a dental practice, they can leave ratings and reviews from their experiences. As a dentist, you can claim your CareDash profile for free and respond to your patient reviews to further bolster your online reputation.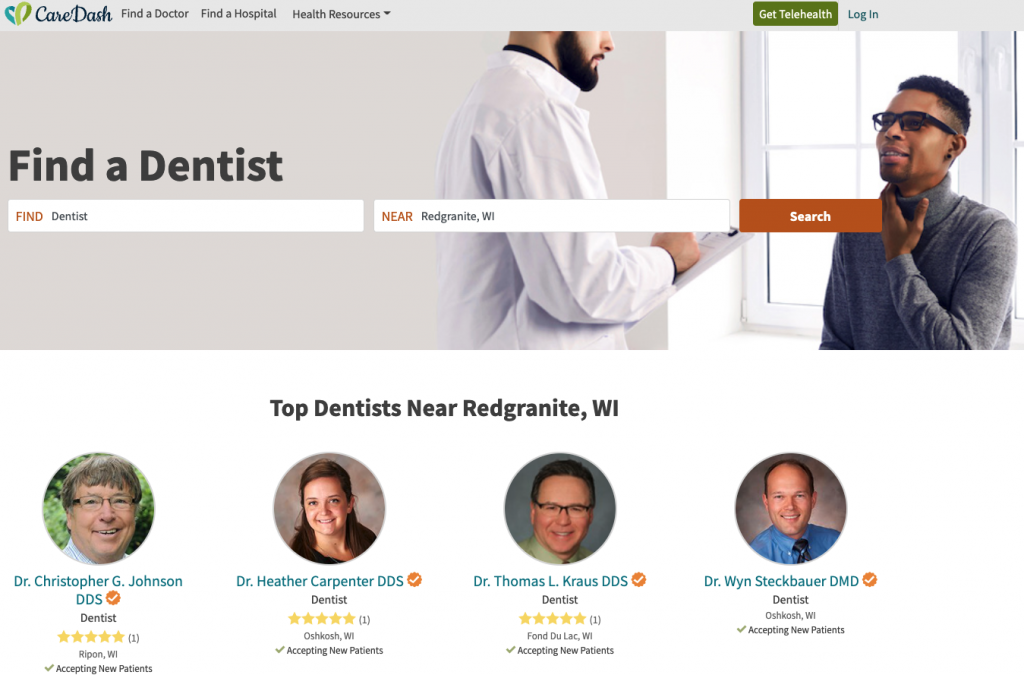 Frequently asked questions about dental reviews
How do I get more reviews for my dental practice?
The best way to get more reviews for your dental practice is to ask for them actively. You can use an automated review request platform that will automatically send your patients a polite request to leave a review on your website of choice.
How do you ask for a dental review?
There are several ways that you can ask your patients for reviews, including in-person requests, personalized emails, text messages, and more. The best option is to determine what review method your patients prefer and prioritize requests through that method.
Get more reviews with Birdeye
Help your practice get valuable, timely reviews through Birdeye. Our customer experience and reputation management platform helps you get the reviews you need on the sites that matter most. Through Birdeye you can also send automatic review requests, monitor your patient responses, and get notified when patients leave new reviews. What are you waiting for? Start collecting patient feedback for your practice today.


Originally published