Online presence management – If you aren't familiar with the phrase, now's the time to change that. Retaining existing patients, as well as attracting new patients, requires looking awesome online. In the increasingly competitive healthcare industry, simply creating a website will not give you the results you want — you need a presence on a variety of sites in order for prospective patients to find you.
Read also: 7 online reputation management strategies for doctors
Related: In this 11-minute free audio guide, you'll learn key tactics and tips to optimize your business listings for SEO that will boost search ranking, drive more traffic and grow your business like never before.
How to take online presence management to the next level
Fix your local listings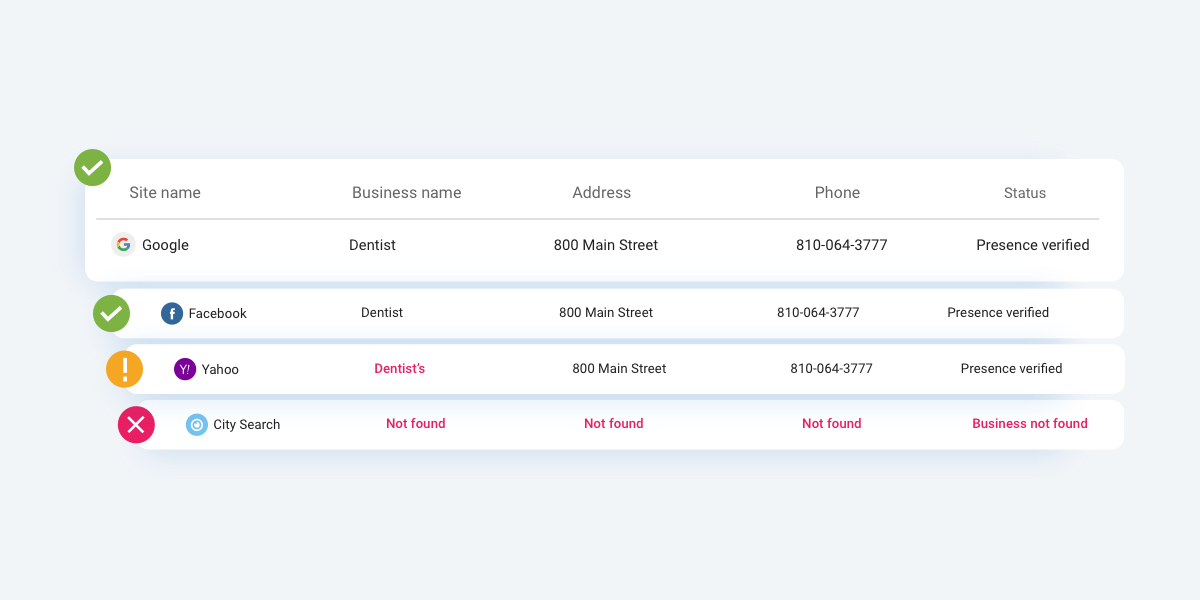 Your local SEO refers to how well you rank in localized searches, like "pediatricians near me" or "eye clinics in San Jose". How well you rank in these searches depends on whether your local listings (name, address, phone number) are consistent everywhere online. Local listings are the third most important factor in search engine rankings, because when they match across all sites, Google knows you're the real deal. What's more, patients want a seamless journey from initial online search to appointment-booking. They may turn to competitors if they can't find the information they need quickly and easily. Make sure that your local listings are up-to-date and accurate everywhere. This means all website, business directories and social media platforms. If you change your address, update all your listings. Yeah, this sounds like a lot of work. That's why many doctors are using automated solutions to sync their listings for them.
Read also: Listing management: your guide to local SEO
List your practice on Google My Business
When it comes to online search, Google is the undisputed leader. Perhaps the most crucial of all your listings is your Google My Business listing. Google My Business is a directory listing platform that displays and syncs the subscriber's business information on Google Search and Maps. So if you haven't already done so, claim your practice on Google My Business.
Gather reviews from existing patients
After that initial online search, patients narrow down their choices by reading online reviews from existing patients. More than 90% of patients choose a healthcare provider based on reviews (Inc.com).

The first step in getting new reviews is setting up profiles on all the important review sites for healthcare providers. In addition to Google and Facebook, other top healthcare sites include ZocDoc, RateMD, and Vitals. The more sites you have reviews on, the more patients you reach and the more credible you appear. After you've set up these profiles, start asking your existing patients to share feedback after their appointment. Collecting more reviews will not only move your practice up in search results, it will also help minimize the damage of any negative reviews you receive.
Create mobile-optimized websites
Mobile optimized websites are crucial for online presence management. More than 72% of adults in the U.S. use a mobile phone and 62% of them use it to search for healthcare providers, as well as health-related information. This means that the majority of your patients will use their phones to view your website. Additionally, with Google's updated search engine algorithm, websites that are optimized for mobile devices are given preference for display to users searching with their phones. Therefore, an easy way to boost your search engine ranking and improve your online presence is to make sure your website is optimized for mobile.
Get into blogging
One of the best ways to improve your online presence is to create a blog. Publishing blog posts on a regular basis is a great way to improve your search engine ranking. It also sets you apart by showing off your expertise, which increases your patients' trust in your service. An engaging blog can also be helpful in establishing yourself as an industry leader. When thinking about what to post, focus on content that is relevant to your audience and related to your area of specialization. You can add value to your content by targeting high-traffic keywords and building links from high authority websites and credible bloggers. Another way to drive traffic to your blog is by promoting your blog posts on your social channels. This leads us to the next tip.
Be active on social media
One of the most important aspects of online presence management is the activity on your social media profiles. Any activity, like "tweets", "likes", or "shares" can have a great impact on your search engine rankings. You should be regularly sharing any blog posts, patient testimonials, and company updates on sites like Facebook, Twitter, and LinkedIn.
Remember that every share or retweet that your post gets exposes you to even more prospective patients. And putting a voice and a face on your business can be beneficial for your healthcare practice.
Take your practice to the next level with online presence management
You can take your healthcare practice to a new level and attract more patients with a strong online reputation management strategy. Not sure where to start? Birdeye lets scan your practice for free to get a glimpse of your online reputation across the web and see how you rank among your competitors. Give it a try!


Originally published