Customer acquisition cost (CAC) has increased by 60% in just six years.
Consumers are spending more time online with increasingly high expectations. This makes competing for conversions on saturated marketing channels more costly than ever.
Cultivating sustainable growth is imperative for success, and understanding how to keep your CAC low and ROI high is the foundation of sustainable growth.
By the end of this blog, you'll learn how SMS Marketing is the ideal strategy to reduce your CAC while yielding significant returns.
Before we dive in, it's important to understand the definition of CAC.
What is Customer Acquisition Cost (CAC)?
Customer Acquisition Cost (CAC) is the total cost of marketing and sales to acquire a new customer. Simply put it's the cost of convincing a potential customer to buy a product or service from your business.
How to calculate Customer Acquisition Cost (CAC)?
In order to lower CAC you first need to put on your mathematician hat and calculate your current customer acquisition cost. The basic CAC formula is:
Customer Acquisition Cost = Cost of sales + Cost of marketing / Number of new customers acquired.
As a marketer you should have a firm understanding of your sales and marketing costs, but just in case here are some suggestions to keep in mind:
Ad spend
Employee salaries
Technology costs
Pay for vendors and suppliers
…and the list goes on
Now that you understand how to track your CAC, you can begin using effective strategies that reduce costs.
SMS Marketing keeps Customer Acquisition Cost low and ROI high
Did you know the average person checks their phone 160 times a day? Smartphone usage has increased to exponential heights.
The point is people keep their phones readily available to find information and, most importantly for the context of this article, to communicate – especially when engaging with businesses.
Customers prefer texting. Very few people want to communicate with businesses via a phone call, especially if texting is an option. When it comes to winning on the battlefield of customer experience, it's important to meet your customers where they prefer and texting is where it's at.
A whopping 9 out of 10 consumers want to use messaging to communicate with businesses.
85% want this communication to be two-way where they are able to respond to the business using text as well.
To top it all off, SMS Marketing is low cost because the only expenses associated with it involve using a text message service. This makes SMS marketing an inexpensive alternative that yields great results.
You might be wondering what makes SMS Marketing so incredibly successful? Text messaging's direct nature results in high click-through rates, which increases the success and conversions of other business channels. While SMS itself isn't a new channel, it's one that marketers have only recently begun to regularly use and refine.
However, with more businesses refining their SMS Marketing strategy, it's important for your business to provide an innovative texting experience that stands out.
With that in mind, here are some best practices to help you deliver text messages that boosts conversions while keeping CAC low.
Get the word out at low cost with Mass Texting
Mass texting is an effective and cost-efficient way to send a single text message to thousands of subscribers all at once. It saves time and effort while also offering a complete analysis of the results achieved through texting.
With the right solution you can send or schedule text messages to a large number of leads at once.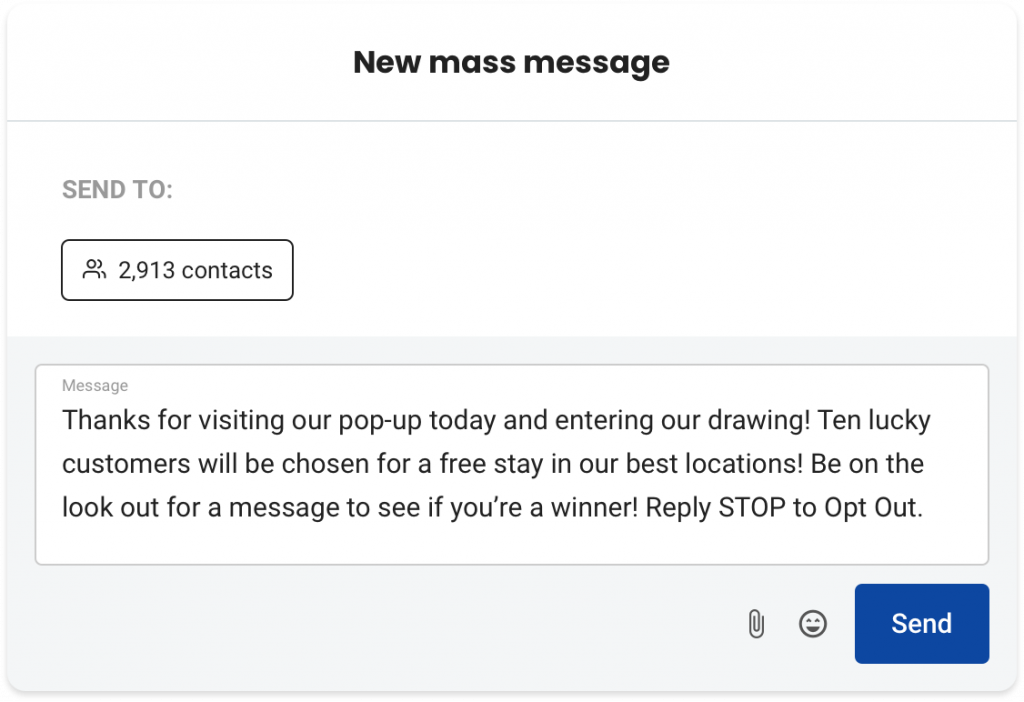 Considering the incredible metrics SMS Marketing generates, it's worth investing in mass texting rather than throwing more spend towards display advertising. Given that consumers only see half of the 1700 ads they're bombarded with per month due to ad blockers, mass texting quickly becomes the more cost-effective channel to reduce CAC while improving engagement.
Pro tip: Your leads need to have opted-in to receive texts from your company in order to be compliant with TCPA guidelines. Additionally, make sure that your text messages have an opt-out that allows consumers to unsubscribe from your messages. Not doing this is a violation of FCC regulations.
Additionally, mass texting enables you to handle responses from one centralized place. Remember, 85% of consumers want two-way texting where they can respond to businesses.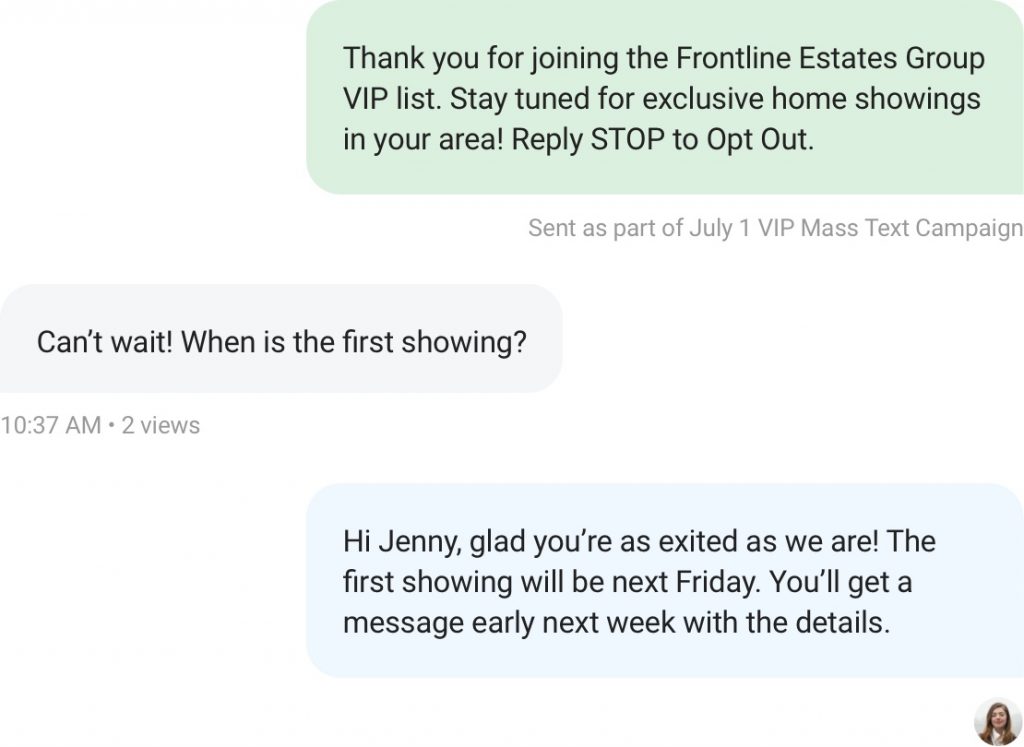 Seamlessly turning mass messaging into one-to-one chats with prospects will provide a unique experience that helps your business stand out from the competition.
Personalize messages for every occasion
By sending personalized business text messages your brand will cultivate more emotional connections with your target audience. In fact, 54% of consumers are more likely to make a purchase if the messages they receive are personalized. 
However, this is only possible if you're able to create these high-converting, and highly personal, messages at scale. SMS marketing enables your business to easily send texts to multiple people at once using personalized text templates for all locations.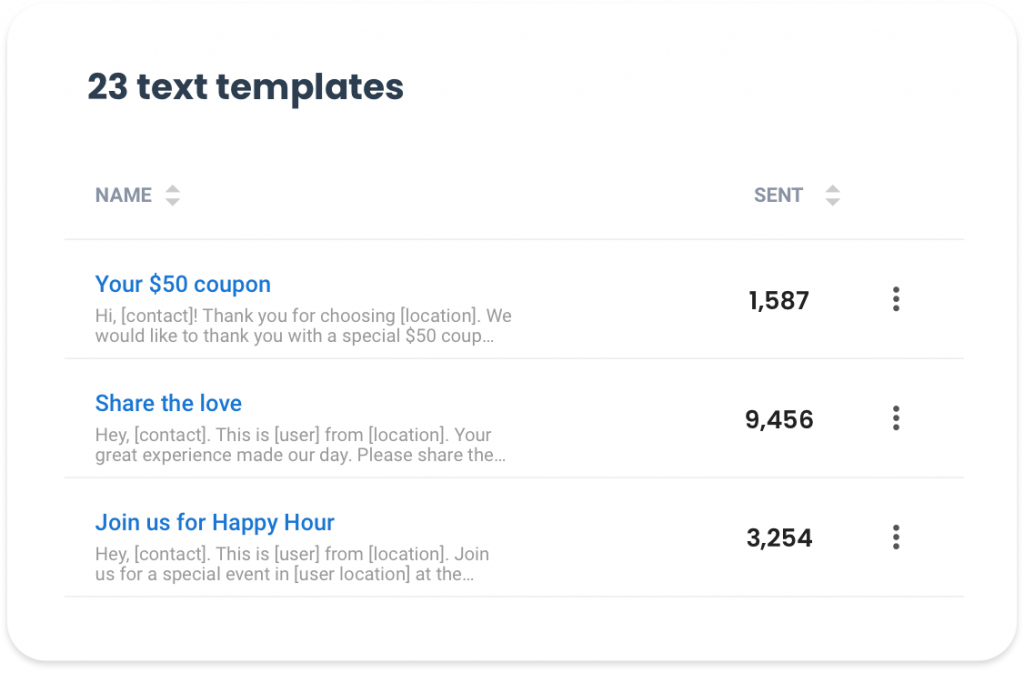 Quickly text 10 or 10,000 contacts and engage your customers at scale on this low cost, high performing channel.
Boost conversions through SMS promotions
85% of customers tend to use discount offers sent via text within a week of receiving it. On the contrary, discount offers sent via email are redeemed by only 0.5% – 2% of consumers.
Pricing based offers such as buy-one-get-one offers are the most preferred amongst consumers. Time-sensitive SMS campaigns focused on flash sales, holiday special sales, and sales expiration reminders are also found to be effective.
Besides these, location-based offers and product-based offers are some other ways to trigger actions and generate leads.
Use SMS Marketing to get more referrals
Referral requests are typically sent through email. However, despite more people communicating online in 2020 the average email open rate dropped by 3%. Meanwhile 48.7 million people opted to use business text messaging services in the same year, making it one of the most rapidly growing marketing channels.
If you want to boost engagement for your referral requests business texting is the route to go. Not only will it keep your CAC low, but it will generate much better open rates than referral requests sent through email.
With the right platform fueling your SMS marketing you can make it easy to send out referral requests at scale with a link to your business included in the message.
"Our new patient numbers have continued to grow due to the ability to communicate with prospective clients via SMS 24/7, and also due to automated referrals requests sent to existing clients. This allows happy clients to recommend us to their friends and family via sms."
Adam Thorne – Harley Street Dental Studio
Learn how Birdeye can help you get started with SMS Marketing
Text Messaging is one of the most cost-effective customer interaction tools for today's businesses, and if you're not taking advantage of its many benefits you are most definitely missing out. Birdeye's all-in-one Experience Marketing platform helps over 100,000 businesses of all sizes reap the many benefits of SMS Marketing.

Originally published