According to industry analysts, people are four times more likely to purchase when referred by a friend. From referral cards to social media plugs online, a referral program is the golden egg for businesses. One of the best methods to ensure your customers can easily promote your business is to create an incentivized referral card program.
And if you are wondering how to do that, this blog post explores everything you need to know about referral card ideas and creating referral cards for your business.
What are referral cards?
Referral cars are similar to business cards your customers can carry around if they want to talk about your business to friends and family. They talk about incentives like cash, discounts, free services, or gift cards. Based on your choice of marketing channels, referral cards can be physical or digital.
People love to share their experiences about businesses with others, good and bad. And businesses today are capitalizing on that need to share by incorporating rewards programs and referral cards.
Leveraging referral cards also promotes brand awareness. The more people see your business' branding and hear of positive experiences, the more likely they are to patronize and recommend the business.
Referral cards are an effective tool that allows your company to capitalize on great customer service experiences and drive new business.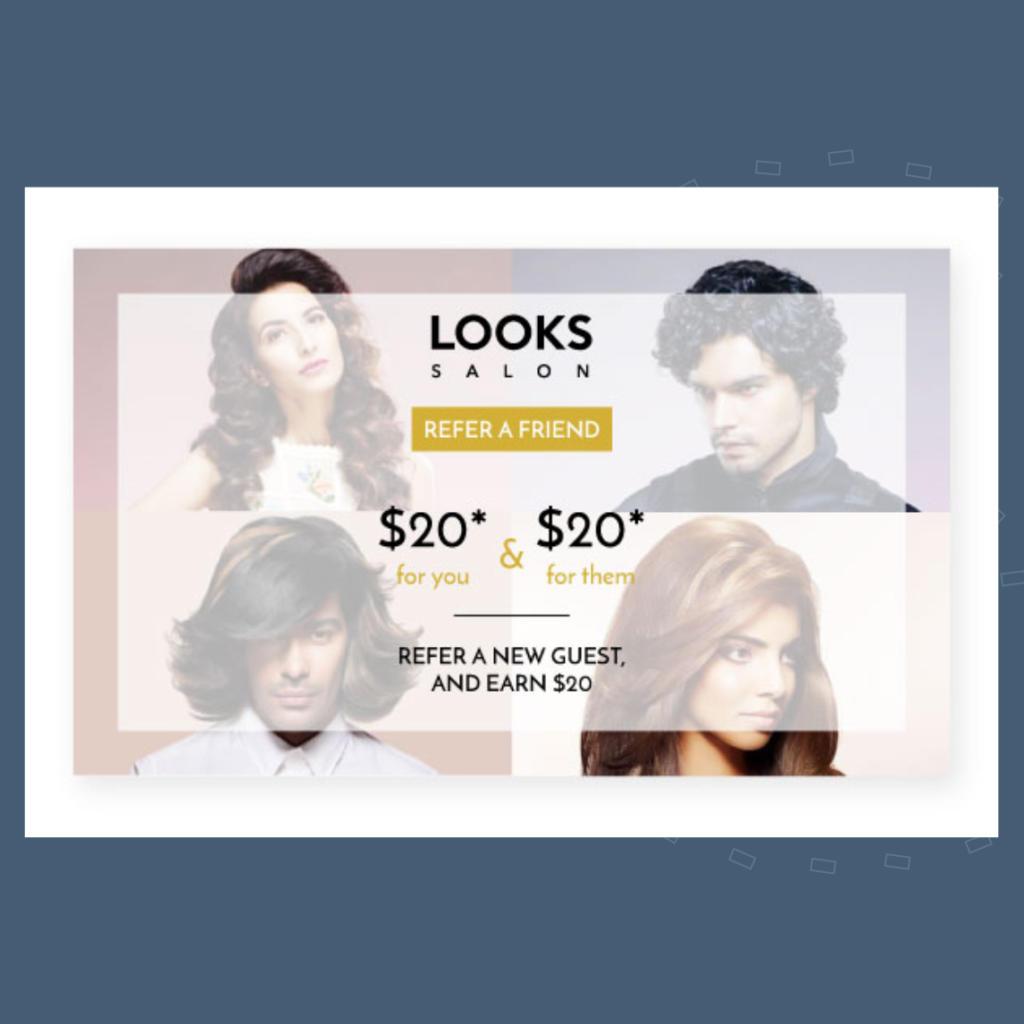 How do referral cards work?
Referral cards are quite simplistic in their function. All you have to do is ensure that your customers can share them easily via physical or digital mediums.
You can hand out referral cards
After a customer has made a purchase
Shared a positive review
Visited your store
As part of your mass lead generation campaigns such as flyer distribution, mail campaigns, and so on.
The referral card carries your business name and a description of the incentive the customer can claim if they share the business with a friend or family member.
The incentive motivates your existing customers to share these cards with people they know, especially if they like the product or service.
How to make a referral card?
You don't necessarily require sophisticated technology to make referral cards. Even a standard business card or any communication tool can work as a referral card.
On your referral card:
Share the details of your business so customers know about your products during the referral process. Always make sure to include your contact details.
Offer a brief description of your program. Share what the existing customer and the prospective customer gets when they use the referral card.
Most importantly, keep it simple and make it easy for your customers to participate.
You don't want your referral program to be complicated or hard to take advantage of.
Read on to find some of the best referral card examples below. Use these as inspiration to develop your own and come up with rewarding referral card ideas.
8 best referral card ideas for your business
Referral business cards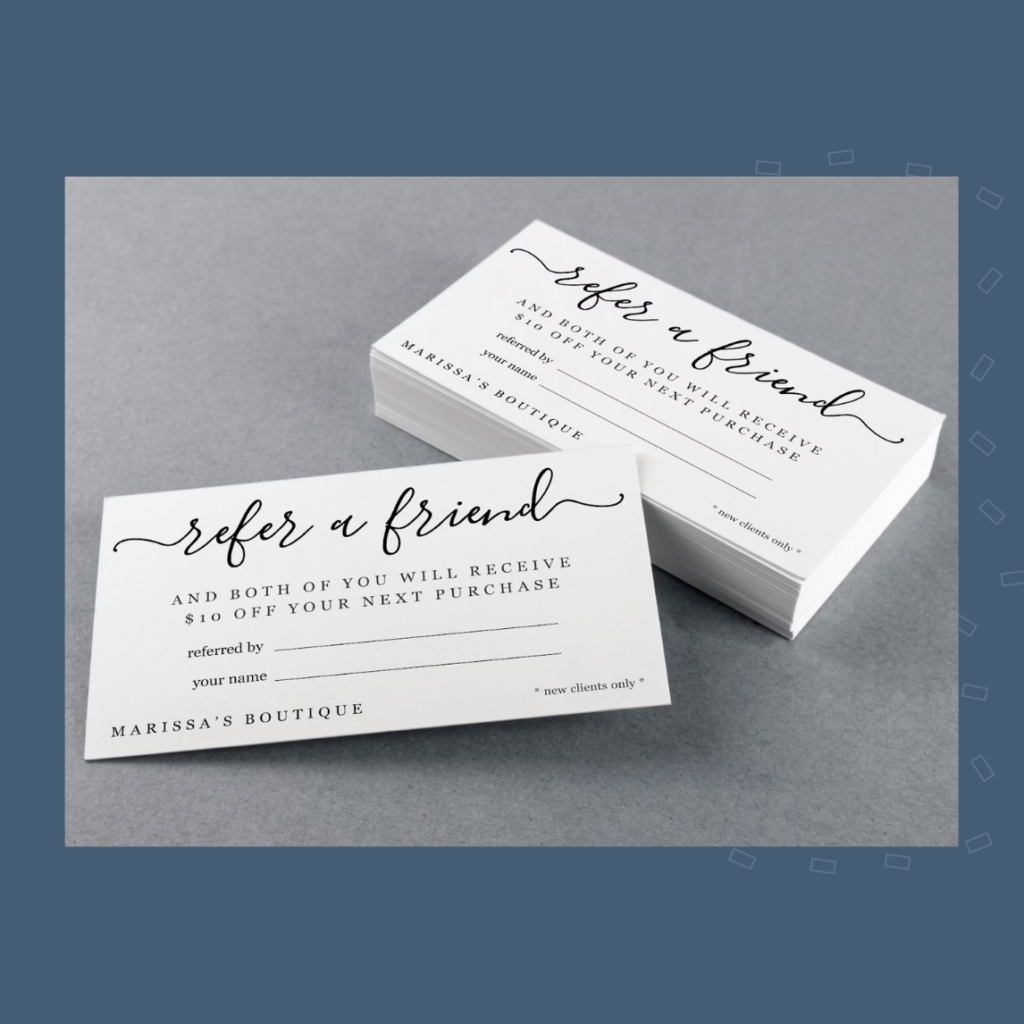 Business cards usually get tossed in a drawer, or worse, directly into the recycle bin. But a referral business card is another matter entirely. When you assign new value to your traditional company business cards by making them referral cards, you incentivize customers to hold on to them.
Business cards turned into referral cards serve two purposes.
They share your business information with your customers.
They offer an incentive for referring a friend.
The front of the card works best for relevant business information, while the back of the card can outline the details of the referral program.
Referral postcards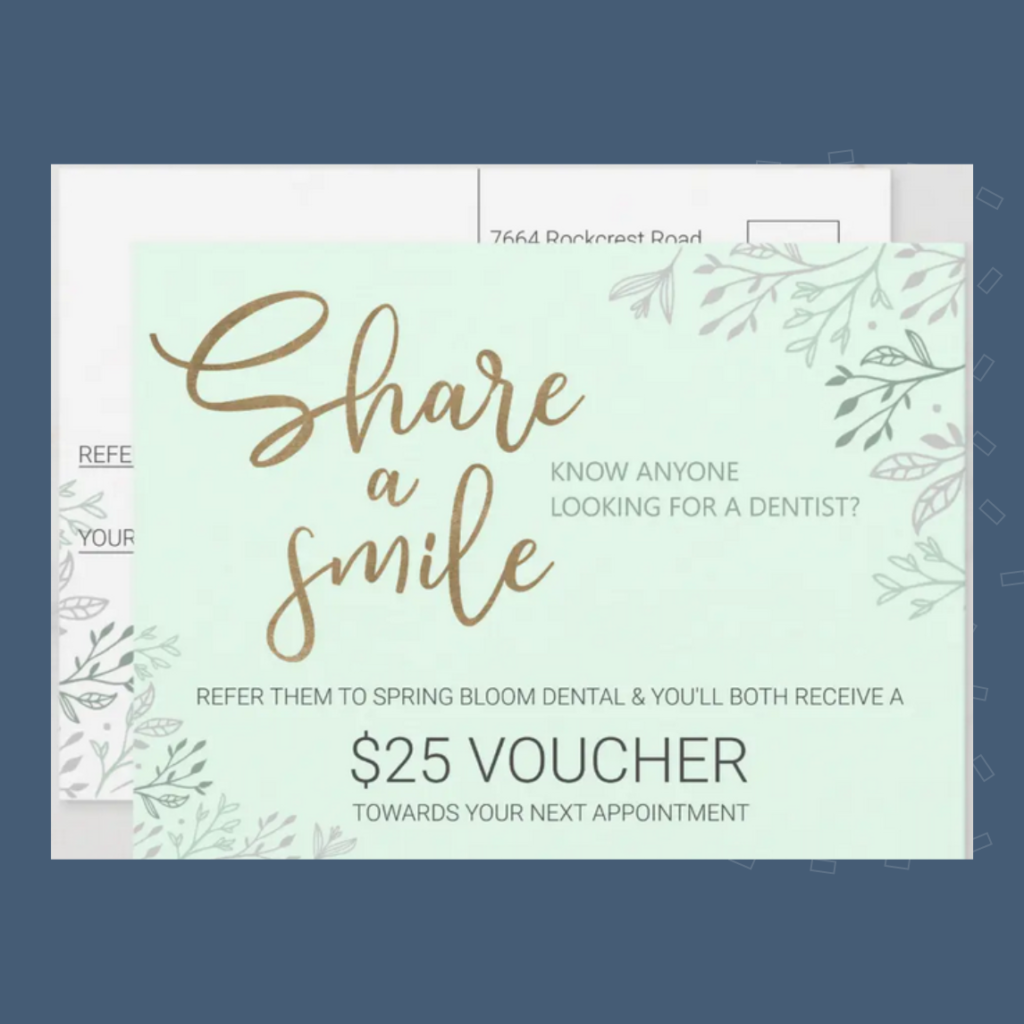 Postcards are great tools for sharing your referral program as they can be used in multiple ways. You can send them to your customers via postal mail or hand them out at your store with purchases.
Referral postcards work best when they prominently display the discounts so customers can instantly spot the value in the referral program. Be sure to create an eye-catching, recognizable design with an attractive offer.
Referral newsletters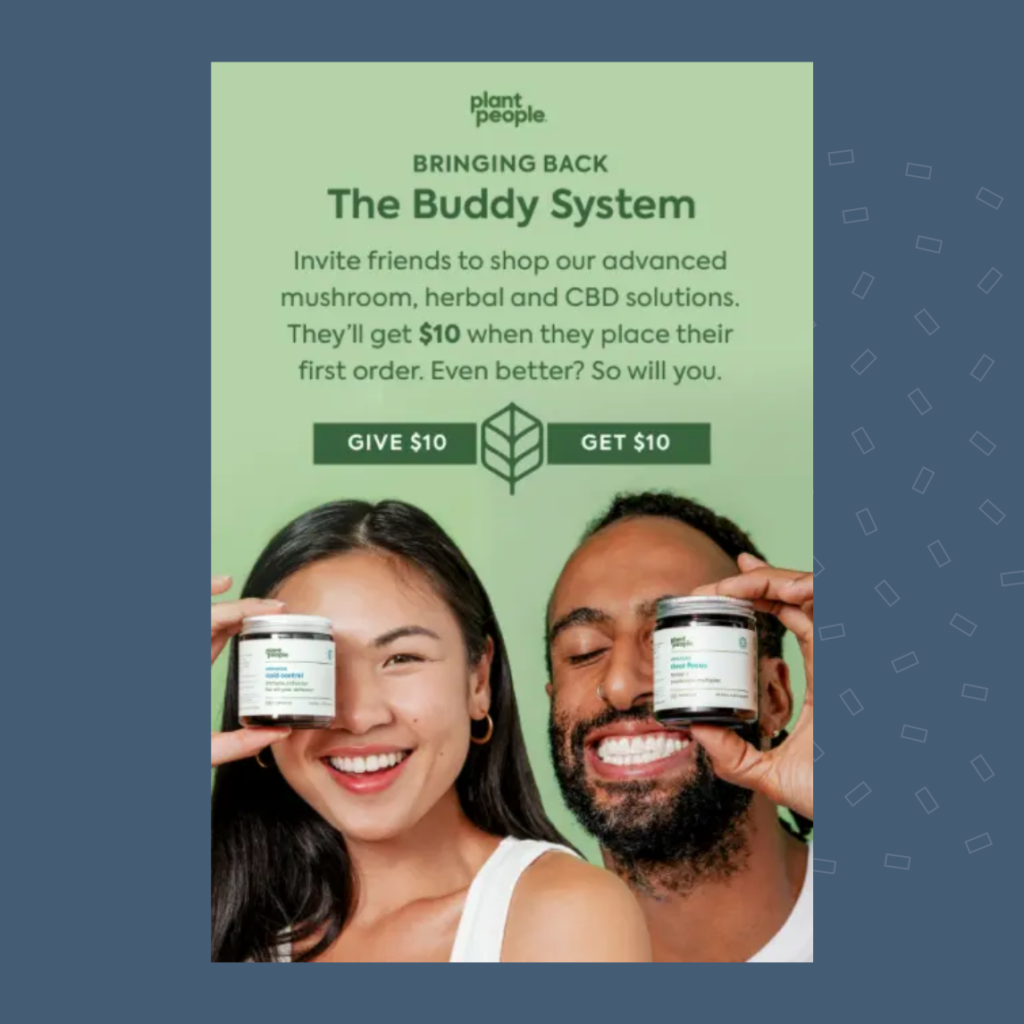 Most businesses have an email newsletter program to share company updates, promotions, new products, and engage with your customers.
You can leverage them to promote your referral program too. Newsletters are great for promoting your referral program and digital referral cards as the recipients are people who have already expressed interest in your brand and enjoy communicating with you.
With referral cards in newsletters, you can also generate new business from otherwise dormant customers by offering them discounts with referrals. The prospect of a discount can motivate them to buy from you again.
Referral newsletters must be:
Succinct and on topic. Don't crowd them with other content, links, or product offers.
Use a clearly marked call to action button where people can click to join. Include the link in the body of your text once or twice so users who don't read to the end can sign up right away.
Have easy to download referral cards that people can send to their friends and family.
Referral coupons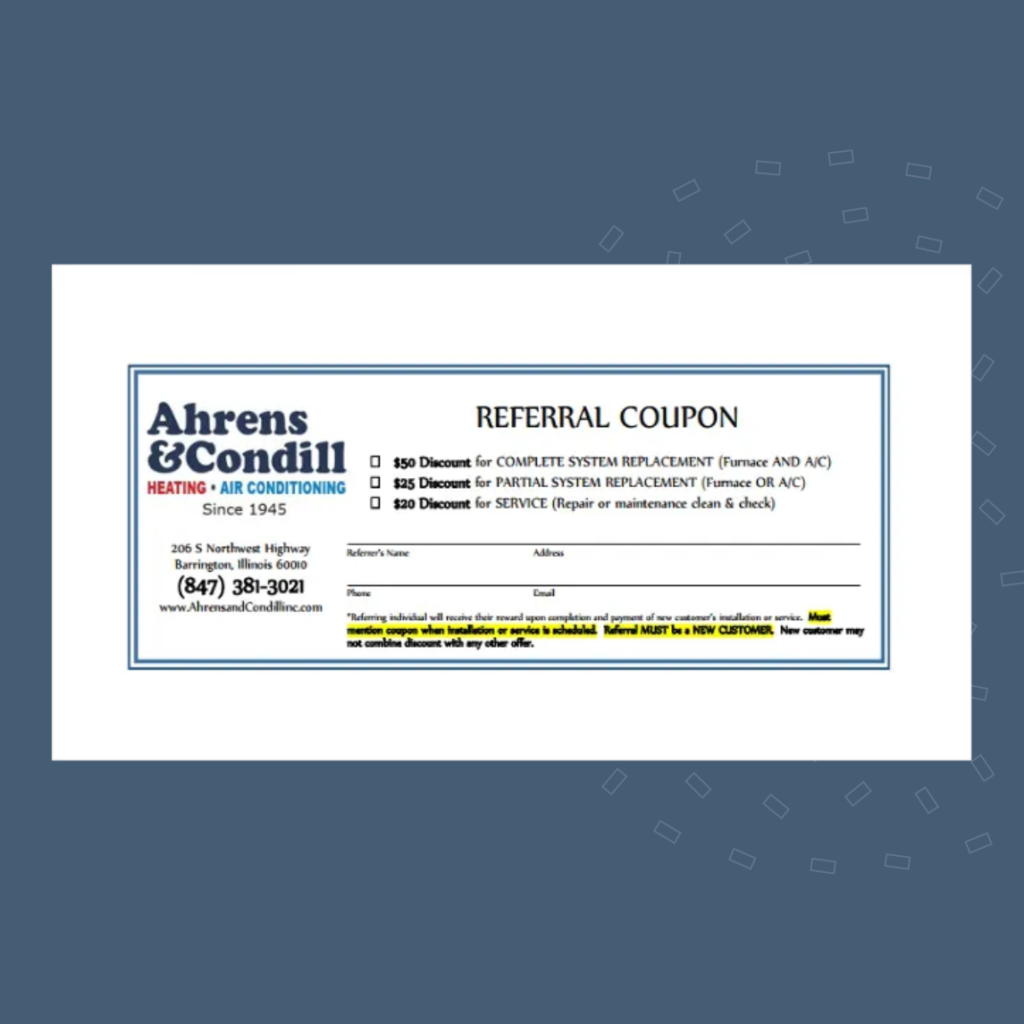 The goal of a good, old-fashioned coupon is to incentivize a purchase with a discount. And that works in referrals too.
With these, customers receive additional discounts in the form of cash bonuses, a free gift card, and so on. Referral coupons are easy to implement in your business as you can ask your customers to bring them with their person. You don't need additional technology to use coupons but they are prone to fraud.
Employee referral card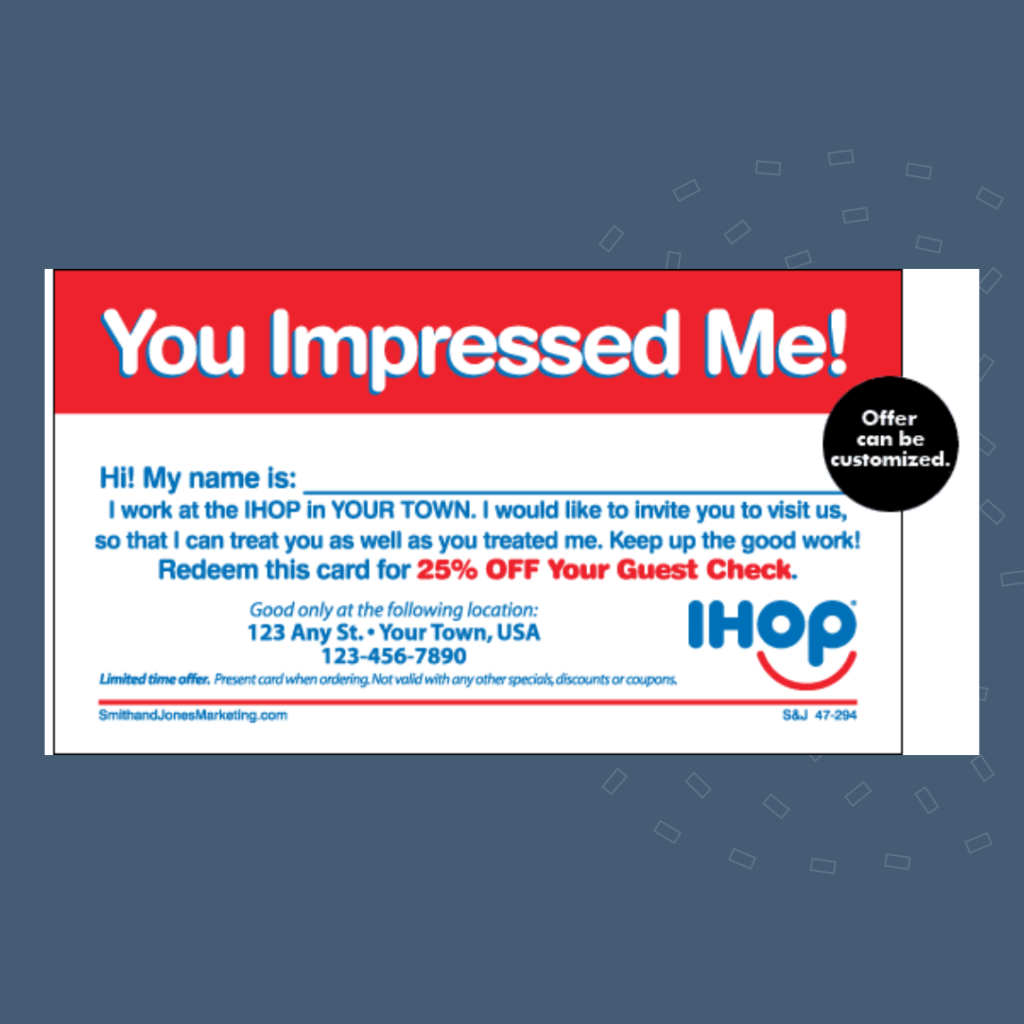 Incentivize your employees with employee referral cards and programs to tap into employee brand loyalty and grow your business. By offering a bonus to your employees for referring their friends and family, you can leverage your vast employee base and turn them into brand ambassadors.
Employees feel valuable to the company and the business grows, it's a win-win all around. Also, employee referrals are often more trustworthy, as people feel they know the company well enough to recommend them.
Referral QR codes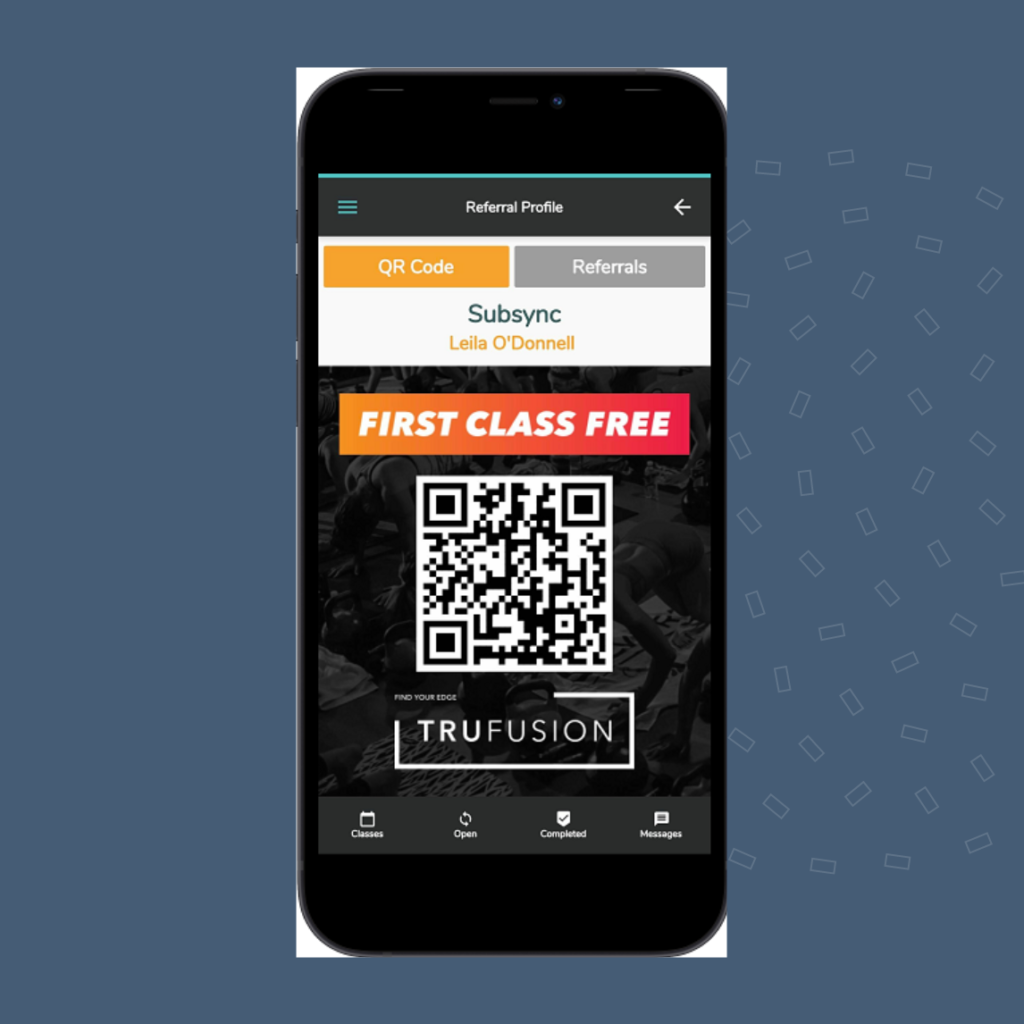 Referral QR codes are super-convenient to share and can be used on physical and digital referral cards. A quick scan with a mobile device, wherever they're on display, makes it easy to redeem on the go.
QR codes for referrals can be implemented in a variety of creative ways.
For example, you can have your customer send their referral QR code to a friend. Or you can use a QR code on business cards, postcards, or emails to direct your customers to specific websites. They can then purchase at a discount or fill out an online referral form.
By customizing the QR code for each customer with an online tool, you can also track where the referral came from.
Related read: Grow your business with referral tracking
Online referral forms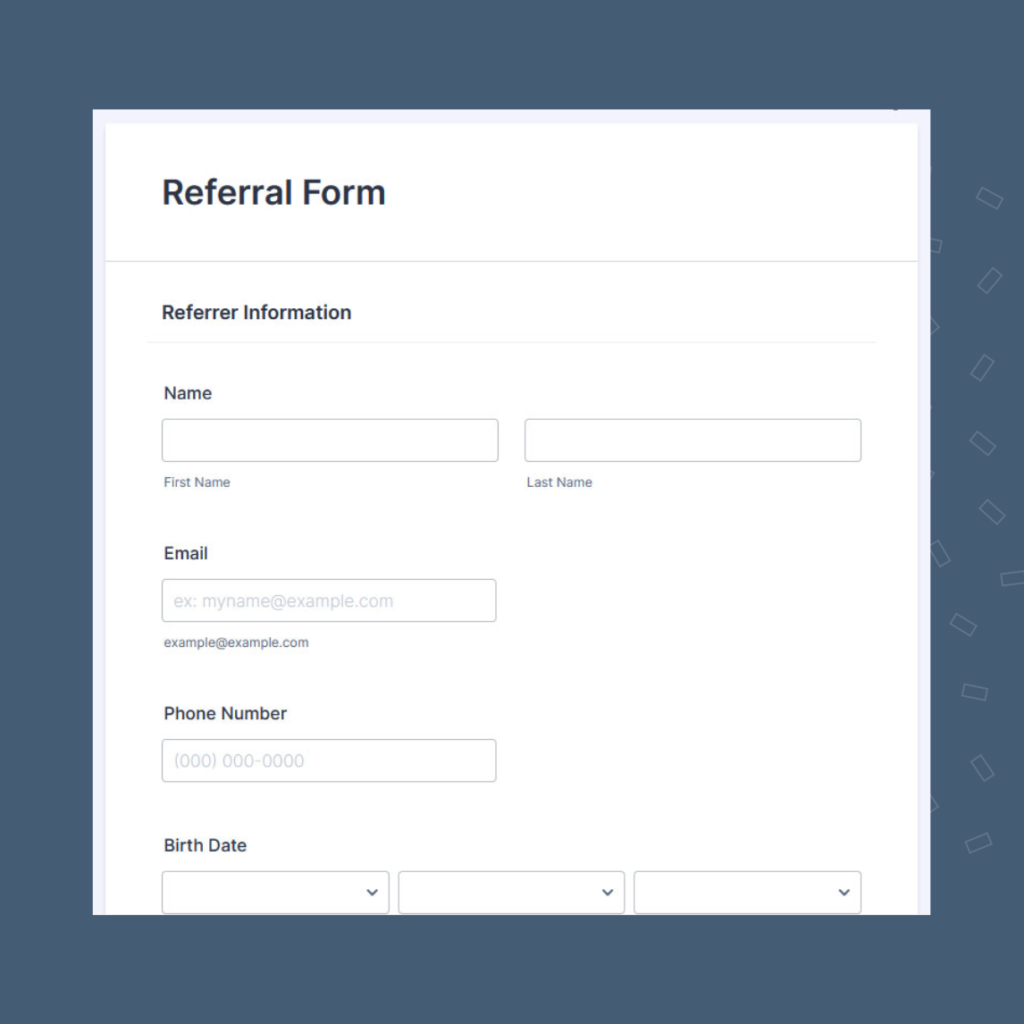 Online referral forms are usually used in tandem with other types of referral cards mentioned here. You can directly send customers to your referral forms from anywhere, including from your business cards, postcards, flyers, QR codes, and newsletters.
Starbucks uses one for its Rewards Program, where regular customers can sign up to earn free food and coffee. The idea is to send your customers to a specific landing page where they can complete an opt-in form to get credit for the people they're referring to your business. Those credits can then be applied toward their own purchases, resulting in discounts and free coffee.
Referral flyers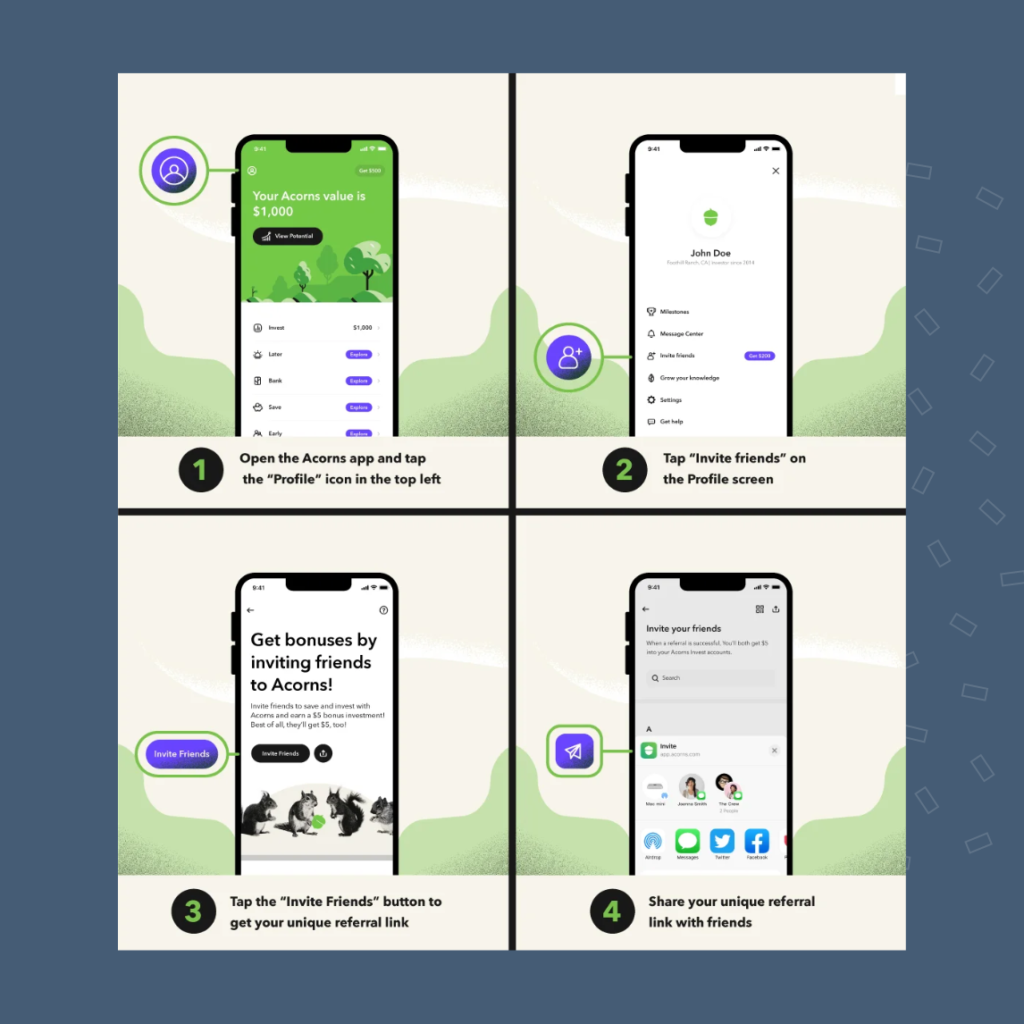 Flyers or posters serve the same function as referral business cards and postcards. They are displayed in public places and give people other than your customers the opportunity to join your referral program.
This Acorns example demonstrates how companies can use referral flyers to promote their business.
With this referral card type, you can prompt your audience to go to a web address to learn more about your program or fill out an online form with a well-designed brochure, high-profile poster, or brilliant handouts.
You can hand out flyers, display them inside your store or at a particular high footfall public space to generate interest in your program.
FAQs about referral cards
Do credit card referrals help?
Yes, credit card referrals can be beneficial, especially when you can introduce customer cash back and custom savings, like Gap Rewards. Benefits for customers include points, cash-back, or miles.
How to ask for referrals on a business card?
Consider including a message like "refer a friend and earn $X" or "tell your friends about our product and get rewards." Make the incentive prominent and visible.
How do referral programs work?
Referral programs inspire word-of-mouth promotion for your business. They include incentives for the customer for sending more customers your way.
How do you reward customers for referrals?
Reward customers for referrals with cash, gift cards, discounts, or even free products or services. The more attractive your reward, the more likely customers are to share within their networks.
What is the best type of referral?
This will depend on your business niche and customer profile. All businesses should consider asking their customers for referrals and test the most promising opportunities to land on the best method.
Conclusion
Every business owner wants their products and services to spread through word of mouth. It's often been said that it's the best form of advertising because it's free, but it can be hard to make happen without precedent. Today's businesses can use the right referral card ideas and strategies to engineer word of mouth.
Referral cards for business can do the heavy lifting for you, especially if a high margin is built into your products and services. Build a strong referral program with Birdeye's unique and custom-made solution to manage your business.
Book a demo today!

Originally published