Email marketing is a digital marketer's favorite tool. People who opt-in to hear from your business are usually easier to convince than the leads from social media or other channels. But sometimes, the email marketing campaigns don't go as planned.
Reducing open rates, increased spam folder markers, and a low conversion rate can hamper your campaigns' success. So before you send your first email, it is important to ensure it reaches your customers.
And that depends on Sender score. Read this blog post to know everything about Sender Score and how you can improve your email reputation.
What is a Sender Score?
Sender Score is a service from Return Path and also refers to the total score the service provides after analyzing your domain/IP address to measure your email reputation.
The score ranges from zero to 100 and considers factors such as open rate, click-through rate, and IP address sender reputation, among other metrics. Sender Score is just one of the most important tools to gauge your email-sending reputation.
With 15 billion spam emails traveling every day, users have every reason to be cautious while opening an email. Internet service providers, email clients, and virus protection services have put many restrictions to make sure their customers stay safe.
Businesses must take every step possible to uphold their email reputation to cross these barriers. Knowing your Sender score and working to improve it can significantly help that goal.
Importance of sending reputation for businesses
Sender Score uses the same information mailbox providers use to bless — or blacklist — your email campaign. Of course, the mailbox providers are tight-lipped about their exact rating system for spotting spam. That's why you'll want to use best practices to avoid having your email campaign flagged as spam. Being on the mail providers' hit list leads to a chain reaction of bad outcomes for your business.
· Avoid missed opportunities. Email marketing campaigns make 25% of consumers more likely to purchase. But the most eye-catching email in the world will go to waste if the intended recipient never sees it.
· Protect your brand's reputation. Your business's domain reputation is tied closely to your brand and factors heavily into your Sender Score. A low sender score due to low domain reputation can mean serious damage to the brand's reputation as well.
· Avoid fraudsters looking to hijack your domain. Maintaining a strong sending reputation means protecting your domain from any possibility of hijacking. Spammers would find it hard to manipulate your domain if you work on a stronger sending reputation.
Check your Sender Score in simple steps
Your business may have a poor sender reputation, and you may not even know it. If so, your email campaign will land in the spam folder. Luckily, with Sender Score, you can work on building a good sender reputation and ensure inbox placement with every email marketing campaign.
Mailbox providers use a variety of data to assess the reputation score of each email sender. This reputation score determines if your message makes it to the inbox of those on your email list or if it moves to the dreaded spam folder.
Sender Score attempts to replicate the reputation score formula that mailbox providers use.
Let us take a look at the easy steps you can follow to determine the sender score of your business:
Visit the website of the tool
Take the first step to evaluate your email sender reputation by using the Sender Score here.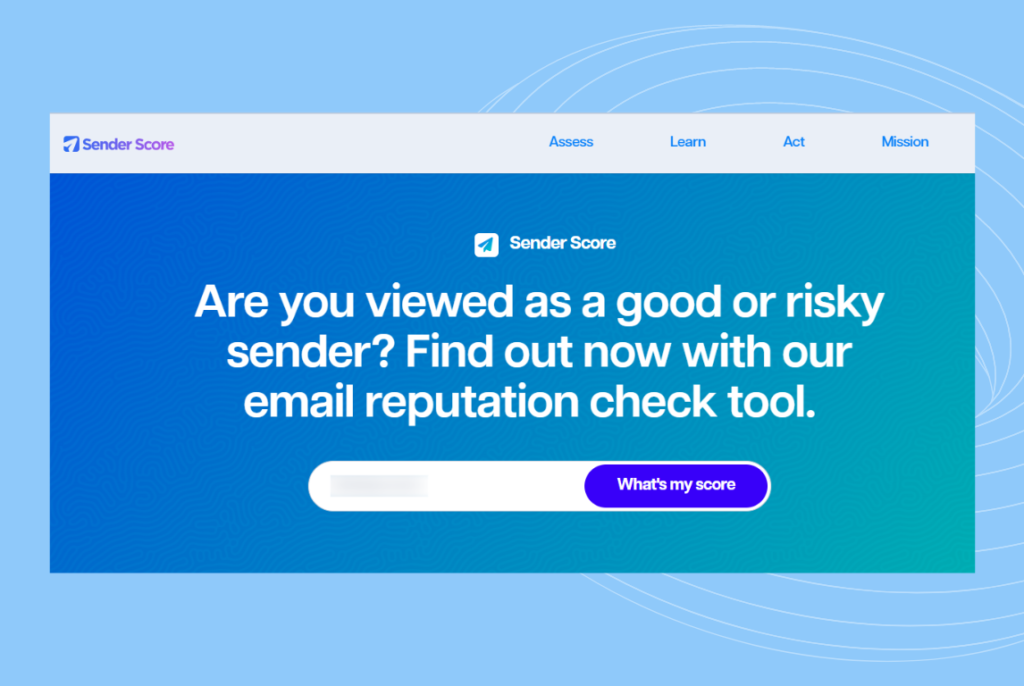 Enter the information
You can enter your IP address or the domain you wish to verify. You can find your IP address in Windows by opening Settings, clicking Network & Internet, then WiFi. Now, click on the WiFi network you're using. Then, you'll be able to see your IP address.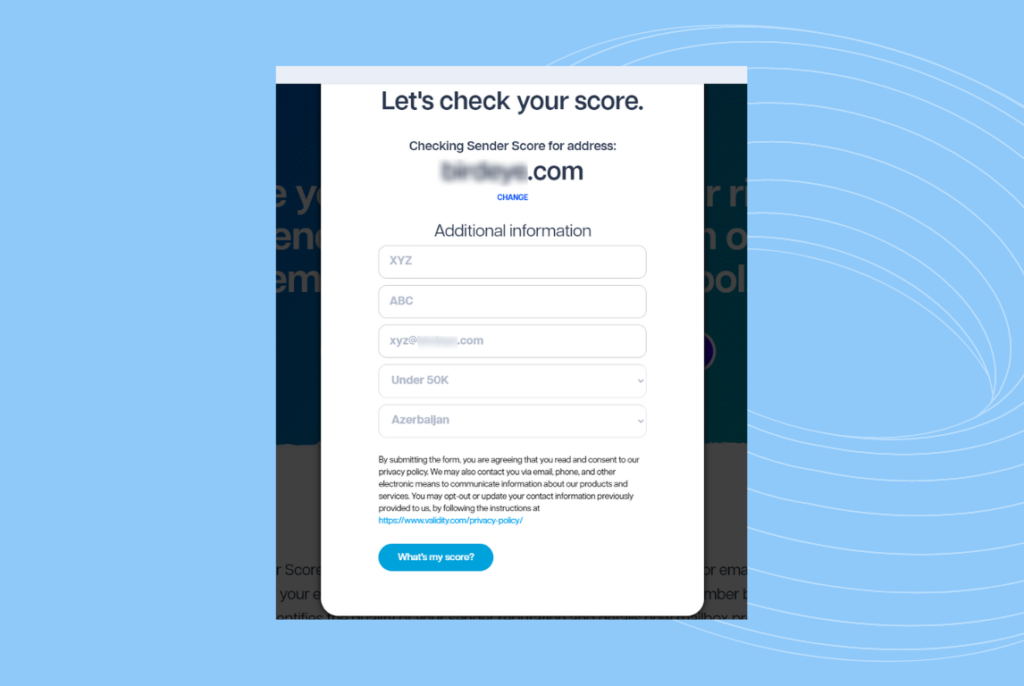 Enter the domain address if you are checking the Sender score from a place you don't usually send emails from or not registered to your company. This provides for a more accurate picture.
If you are using the service for the first time, enter the details in the next form as shown in the image above. You would have to enter your name, email volume, and location.
Click on 'What's my score'
Once you've entered your information, click "What's my score."
View results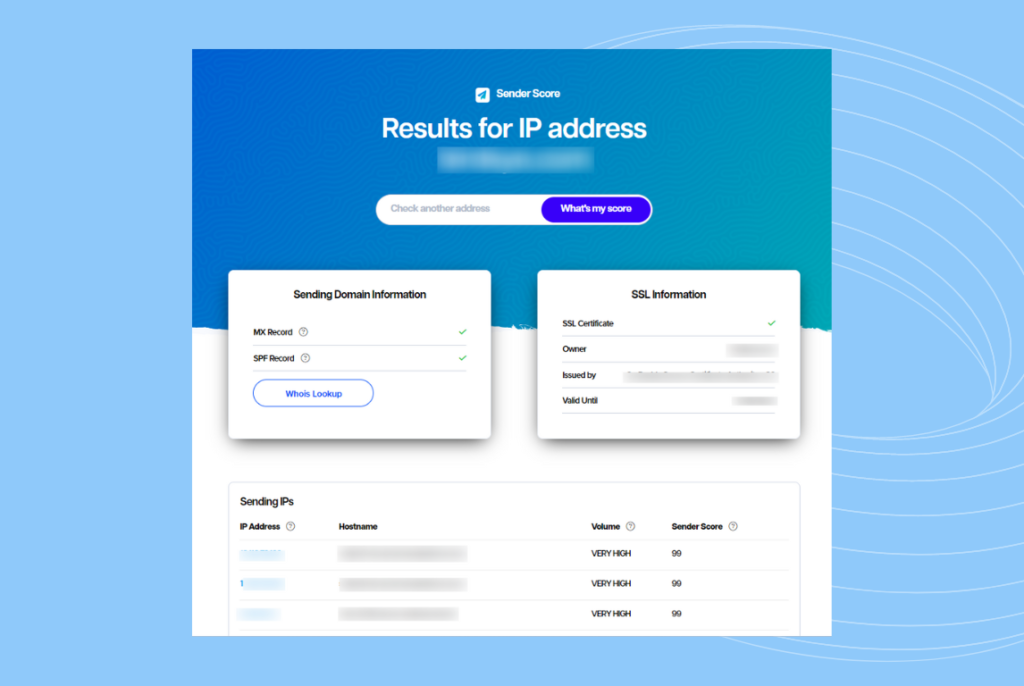 The service provides you an IP-wise report along with the email volume, sender score and any other details. Carefully analyze them to spot any threats and work on improving your sending reputation.
How to interpret your Sender Score?
Your sending reputation will be a score between zero and 100.
To interpret the Sender Score, understand this – anything below 70 on Sender Score pretty much means your email sender reputation needs work. Your marketing emails are probably languishing in spam folders.
Even worse, confirmation emails or customer service emails may be thrown in spam jail before the intended recipients can see them.
A sender reputation score between 70 and 80 is considered "Fair." Your domain reputation is good enough that your messages will land in most inboxes on your email list.
If your sending reputation score is over 80, congratulations. Mailbox providers think your IP address is reputable.
How to handle a bad Sender Score?
A bad sender score will result in a low email sender reputation for your business and will make it more likely your promotional emails will go to the spam folder. As such, you'll need to improve the factors affecting your sender score. Below, we've listed these factors as well as things you can do to improve your Sender Score.
Factors affecting your Sender Score
Here are the five email marketing factors that affect your score to become an email sender with a top-notch domain reputation: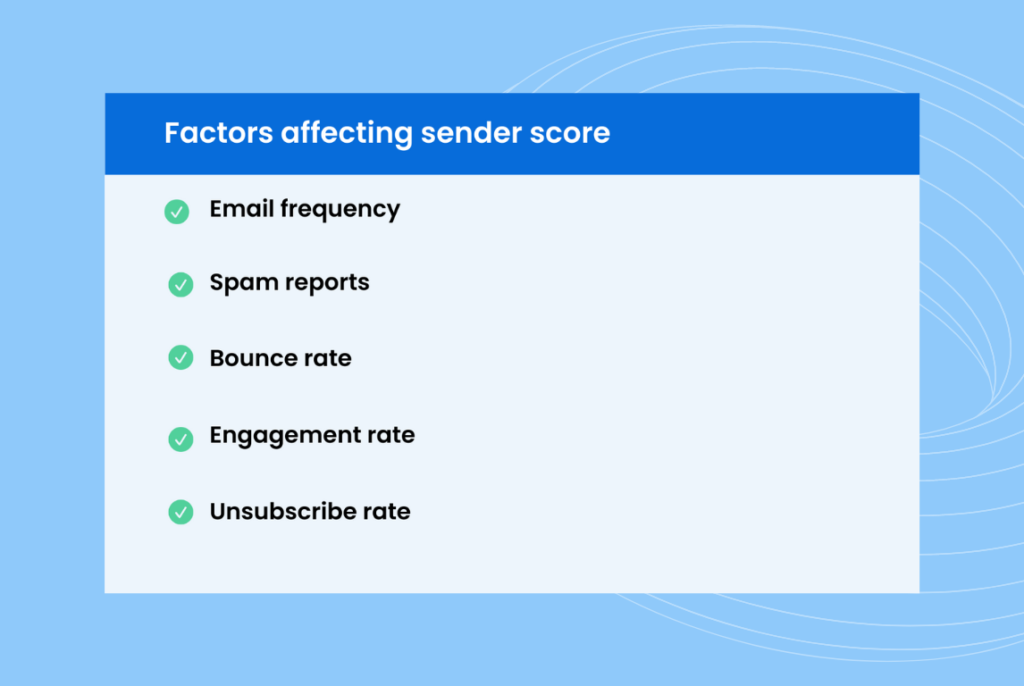 Email frequency
Your email frequency should be consistent. Your sender score will take a hit if there's a significant variation in how much mail originates from your IP address.
Maintain a regular cadence and do not deviate from it unless absolutely necessary. Try to use the same mass email provider for all emails if you go down that route.
Spam reports
Your IP reputation will be in trouble if too many email addresses report your messages as spam. That's why it's important to only send emails to recipients that have signed up for emails from your business.
If you see too many spam reports coming in, take a look at your unsubscribe process, email list, and content.
Sometimes customers mark business emails as spam when the content is not relevant, it is hard to unsubscribe, or they never directly said yes to receiving emails. Fixing these will improve your sender score.
Bounce rate
Your email reputation will also nosedive if too many email addresses in your list are invalid, increasing your bounce rate. Make sure that the email addresses in your mailing list are valid and in use to avoid this situation.
You can use online tools to purge out invalid email addresses that do not work anywhere. This simple exercise makes a huge impact on your sending reputation.
Engagement rate
Your engagement rate affects your Sender Score. You don't want recipients to ignore your message. If customers like your message, they are more likely to open them regularly and avoid sending them to the spam folders.
Unsubscribe rate
A skyrocketing unsubscribe rate will tank your domain reputation. To reduce your unsubscribe rate, only send to recipients who have signed up for your email list. Also, track which subscribers are leaving your messages unopened. Then, send a follow-up email asking them if they want you to remove them from your email list.
Things to do to protect your Sender score
There are plenty of strategies for maintaining a top-notch reputation. To get you started, we've put together a helpful to-do list of the best ways to protect your sender score.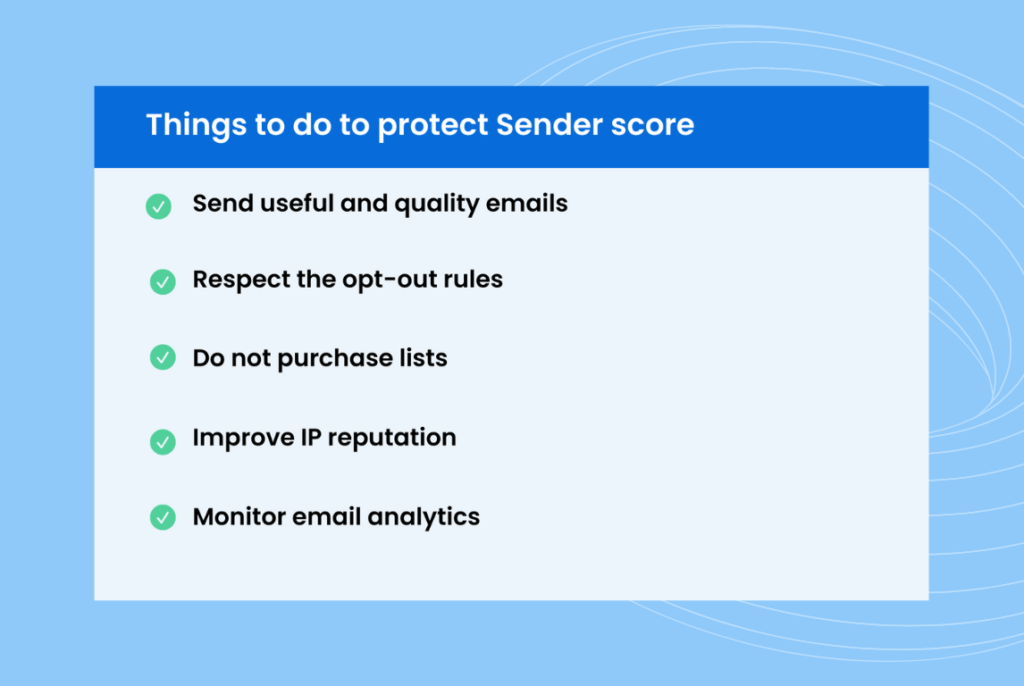 Send useful and quality emails
Email campaigns will be all-around more successful if you send first-rate messages.
Work with your team to identify the content style, design style, and frequency that your audience would appreciate.
Regularly conduct surveys to understand if the emails are up to their satisfaction.
You can also insert links within the email to see how the customers respond to it and track their activities thereon.
Respect the opt-out rules
When someone wants to leave, politely show them the door. Make sure there is a clearly labeled opt-out link, usually at the bottom of your emails, that doesn't require a login.
Do not purchase lists
Steer clear of purchased email lists. Many of the email addresses on these lists are defunct. Instead, create an appealing email sign-up campaign by offering discounts or other goodies.
Instead, invite visitors to your website to sign up for your email list. Or offer a promotion to encourage people to sign up for your email list.
Improve IP reputation
You'll want to assemble all hands on deck to implement strategies to improve your IP reputation. First, IT should protect your servers from infections and review authentication procedures for proxy servers.
Then, they should set up separate servers for marketing emails and other transactional emails. Finally, your marketing department should start small and stay consistent. Performing these steps will ensure that your IP remains reputable.
Monitor email analytics
Click rate, engagement rate, unsubscribe rate, bounce rate, and every other kind of email-related rate should be on your radar. Analyze everything about your email marketing campaigns, and you'll not only boost your Sender Score, but you'll also boost your sales. Email management software will compile the data you need to analyze your email marketing performance.
FAQs about Sender Score
How do I fix my bad IP reputation?
Fix your IP's bad reputation by removing viruses and creating separate email servers.
Is a low spam score good?
Yes, a low spam score is good when checking your email's spam risk. Also, it's easier to achieve.
How do you calculate email quality scores?
Sender Score is one of the best tools to calculate email quality scores. But keep an eye on all your email metrics.
What does Sender Score too low mean?
A low Sender Score means that your promotional emails may end up in the spam folder. 
How can I improve my Sender Score?
To improve your Sender Score, start by cleaning up your email lists, reviewing your opt-out links, and tracking your email campaign metrics.
Conclusion
Mailbox providers are constantly on guard against spammers. Without the right measures, your email campaign can land in the spam folder and never reach your customers.
Monitor your sender score regularly to avoid any missteps and boost the growth rate of your email campaigns.

Originally published