Over 75% of small businesses use social media platforms to promote their content, products, and promotional campaigns. But not every post looks right. Some have images missing, some titles get cut off abruptly and some have non-existent descriptions.
If this sounds like something that plagues your business too, it is time to understand the world of social media meta tags. Fixing these can help you improve your success on social media.
Read this blog post to know more.
Scale your social media for all locations with powerful tools
Want to see the impact of Birdeye on your business? Watch the Free Demo Now.
What are social media meta tags?
Social media meta tags are little pieces of HTML code that determines how your link previews/displays on social media. This code controls how URLs appear when shared on social media.
These HTML codes allow website owners to control what information is available for display such as title, image, short description when users share their webpage on social media platforms like Facebook and Twitter.
These little tags are remarkable online marketing tools. By optimizing them for effective communication, you can:
Boost your traffic to your website.
Improve click though rates on social media improving social media engagement rates
Increase brand recognition.
It is important not to mistake social media meta tags with hashtags. Social media meta tags are pieces of code users never see. But hashtags are phrases people attach to posts to group them along with similar posts.
The importance of social media meta tags
Social media tags significantly impact how your social media post is visible and shared on social platforms. They contain vast information about your webpage's title, description, image, and other vital elements.
Here are some reasons why social meta tags work in improving a brand's efforts on social media:
They create tempting previews that encourage people to click on the link.
They grab users' attention and compel them to visit your business website.
They help business owners showcase the most relevant information through visually appealing images, increasing click-through rates and boosting engagement.
They help businesses keep branding consistent across social media platforms through visual elements such as brand colors and logos.
Social media tags give your webpage engine rankings a leg up and drive organic traffic to your website.
They also provide a way to use rich media elements in your digital marketing, like audio and video files. You can create a more engaging user experience and increase their chances of interacting with your content.
When should you use social meta tags?
Social media meta tags can only play their role well if you know how to leverage them in the right manner. Here're a few examples of when it's best to use social meta tags:
When sharing content from your website: Social media tags are extremely helpful when you want to share content on social media from your blog or website. Tags allow you to control the title, description, and image that appear on socials preview. That way, you always know the content correctly represents your brand and encourages users to click the link.
When promoting a service or product: Social media tags are also helpful when sharing your products or services on social media, especially if you have an e-commerce store or website. These tags provide product images, details, and pricing information, enticing users to click your links and buy.
When boosting engagement for media files: Videos, audio clips, and other media files you want to share on social media are more visible when you throw in a few social media meta tags. Using specific meta tags ensures users see the correct information when sharing files.
When focusing on branding and visual representation: Social meta meta tags help your business maintain a solid brand identity. Tags let you choose a specific image, logo, or other visual elements to showcase your brand when sharing content online. Remember, consistent branding promotes brand recognition and increases brand credibility.
When improving SEO and visibility: Social media has an impact on your search engine optimization efforts. Once you share content on social media and users interact with it, it generates backlinks, visibility, and traffic. And that can significantly help your SE ranking. Using the right meta tags make sure your content works well on search engines too.
How do you keep track of social meta tags?
You can only know what works when there is a process to track it. To help you out, here are some great ways to track and analyze the effectiveness of your social meta tags:
Social media platform analytics: Today, most social media platforms provide users with analytic tools to track their performance. These tools provide information that includes engagement, clicks, impressions, and other helpful metrics. These measurements help business owners see how social media meta tags influence engagement levels and visibility of shared content.
URL shorteners and tracking parameters: URL shorteners are tools you can use when using social media. Bitly or tracking parameters (UTM codes) are examples of URL shorteners. They help you track traffic and engagement of your social media posts that contain links.
Third-party analytics tools: Marketers can use an array of third-party analytics tools to track and analyze social media performance. These handy tools provide insights into the performance of your shared content. Some go as far as showing you how your social meta tags affect the performance of your shared links.
A/B testing: Carrying out A/B tests with different versions of your social meta tags helps you know which tags work the best. Comparing the performance of meta tags helps identify the winning combinations that will make your social media marketing soar.
Social listening tools: Social listening-related tools are a great way to monitor social media conversations and mentions related to your brand. Wielding these tools, you can learn how users share and talk about your content. They also help you see firsthand how your social meta tags perform. You can measure the impact of your shared content on social media by keeping a close eye on these conversations.
Understanding meta tags in the web page's HTML code
Meta tags in HTML give out a lot of information about a particular web page to search engines and browsers. They describe HTML elements buried deep within the webpage and communicate what's on the website for search engines.
Search engines or social media platforms then interpret the information on the website to determine its relevance to a user's search query. While keywords and backlinks play a crucial role, metadata briefly explains the purpose of a page to allow it to rank.
Some important meta tags you need to know are:
Meta title – <title>
A title tag typically appears on SERPs as the title of your web page. You should create a unique title tag on every page of your website. While the title tag looks like the H1 tag, the two aren't the same. Title tags have about 50-60 characters which help avoid truncating them when searched.
You can insert the title to a web page by looking for the <title> tag within the source code and adding the words. Once added, the title tag will look like this:
<title>Title goes here </title>
Meta description – meta name=" description"
The meta description appears as a short SERP summary right below the title. Business leaders must have unique and accurate descriptions of content on them. A meta description runs about 150-160 characters. That way, you can make sure that the description is not cut off mid-way.
The best way to add a meta description tag to your website page is by finding the <meta name=description" content= "content goes here"> part of the HTML code.
A clear meta description boosts the flow of organic traffic to your website because it sets a clear expectation of what a user will find. It's a good idea to use keywords in your meta description. Doing so helps people find your content easily.
Through A/B testing, you can also check which version of your meta description is likely to get more clicks and help you rank higher.
Understanding the various social properties
Social properties in meta tags give specific information to social media platforms whenever the user shares the content. Their purpose is to help improve how shared links are displayed. Some common social properties in meta tags include open graph protocol (OGP,) Twitter card tags, and schema.org markup.
OGP is a meta tag explicitly designed for social media platforms like Facebook, Pinterest, and LinkedIn. They help provide structured information on shared links in a visually appealing and informative way.
Here are some OGP tags you should know about:
og: title meta property
This tag helps specify the title of shared content. It correctly and precisely represents the content that draws the user's attention. Its length should be about 50-60 characters.
og: image meta property
This tag identifies the image associated with the shared content. The image should be visually appealing, relevant, and high quality. Shared images should have a minimum resolution of 1200×630 pixels for better display on social media.
og:url meta property
This tag identifies the URL of the shared content. Your web page's URL should match the URL users will use when they follow a link on shared content.
og: description meta property
This tag details the description of shared content. It appears as a summary describing the content and encouraging users to click and should be about 120-200 characters.
Facebook meta tags
When you share a website link in a post on Facebook, Facebook will show a preview of the linked page content. How does Facebook know the content of this website? Facebook crawls the link and looks for open graph tags on the website.
These open graph Facebook meta tags include og: title, og: description, og: image, og:url, og: type, og:site_name, og: locale, and article. These tags on your website determine how your shared content appears on a Facebook post.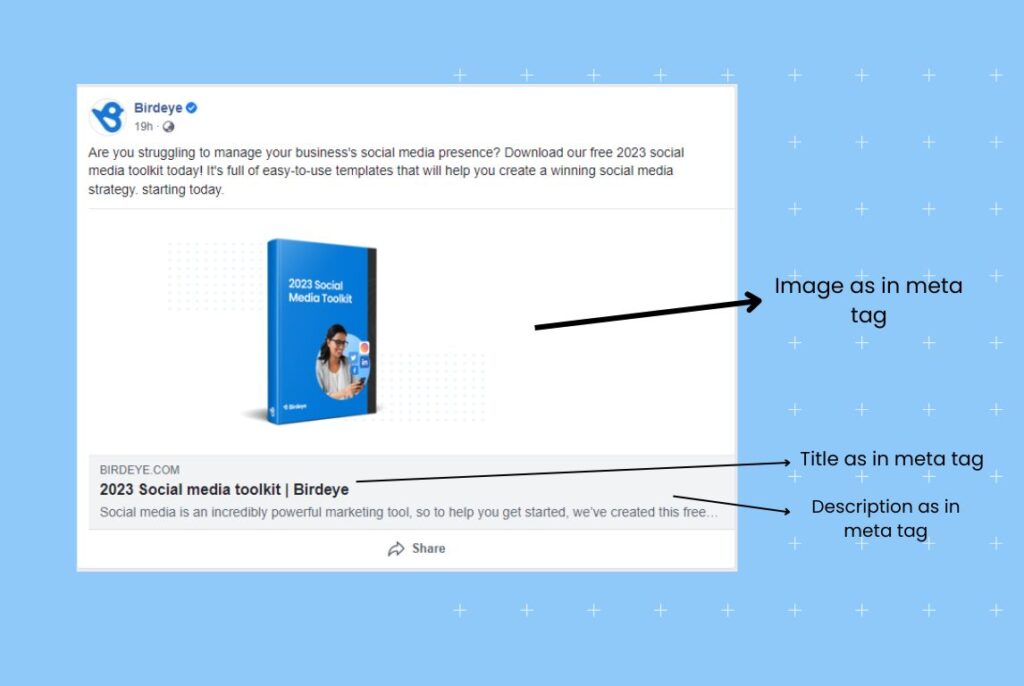 Twitter meta tags
Twitter uses meta tags called Twitter Card tags. A Twitter Card enriches your tweets with media data from your website.
When someone shares the link, the posted tweet will have this additional embedded information in multimedia format. The multimedia format could be photos, images, and videos chosen by the author. Using Twitter meta tags helps increase engagement.
Twitter Card tags are quite similar to open graphs. Its list of tags includes Twitter: card, Twitter: title, Twitter: description, Twitter: site, Twitter: image, Twitter: image, and Twitter: creator.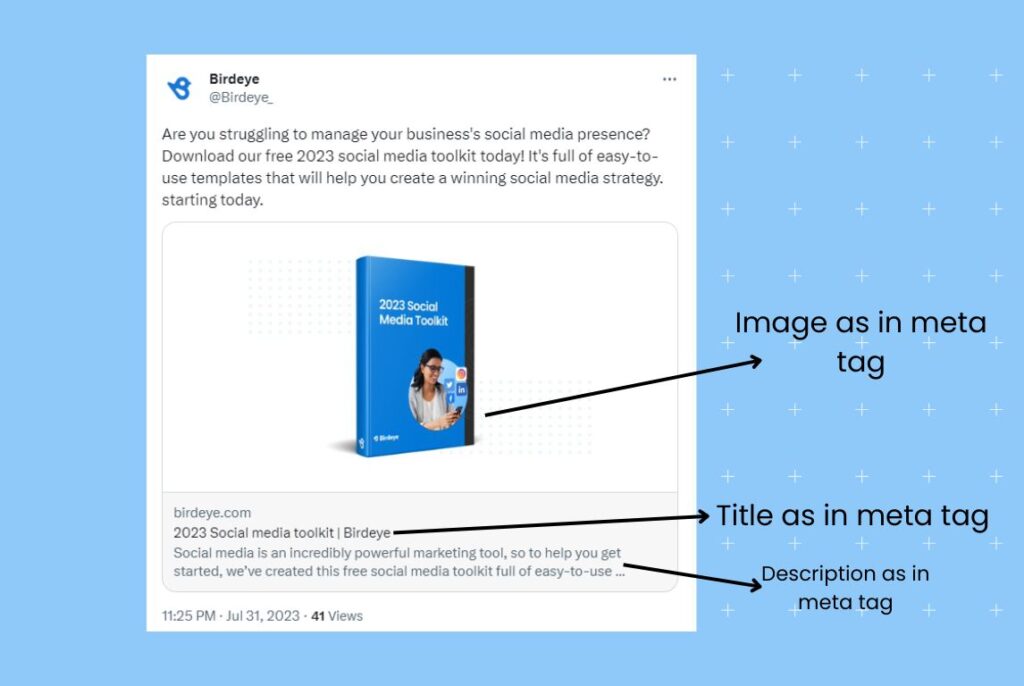 Guidelines on using social meta tags
There are many best digital marketing practices for using social meta tags. So here are some of the most essential guidelines you should consider:
Use relevant and correct information
The content you use in your social meta tags should correctly represent the shared content. Misleading or inaccurate information can discourage engagement and lead to user dissatisfaction. Your descriptions should be concise. And titles should be descriptive to align with the actual content.
Optimize for character limits
Every social media platform has unique character limits for descriptions, titles, and other meta tag values. It is advisable to keep these limits in mind. And always double-check that your content stays within them.
Select compelling titles and descriptions
Create titles that grab readers' attention. And write descriptors that encourage readers to click and interact with your content. Use precise language and focus on the most attractive aspects of the content. Also, remember to use keywords relevant to the content and reader.
Use high-quality images
Choose high-resolution and visually appealing images for social meta tags. Clear and attractive images draw the reader's attention, increasing clicks and traffic to your website. The images should be relevant to the content and optimized to suit different platform requirements.
Always test and preview
Before sharing or publishing your content, check how the meta tags appear on all platforms. Platform-specific tools such as Twitter Card Validator and Facebook Debugger help you check how your tags are displayed and parsed. Adjust and refine as needed to make sure you achieve the desired results.
Stay updated with platform guidelines
Every social media platform has specific guidelines and best practices that inform users about using meta tags. It's essential to stay informed about any changes and updates to these guidelines to ensure your tags are compliant on each platform.
Review and update your meta tags regularly
Since the quality of content evolves, it's advisable to periodically review and update your social meta tags to adopt any changes. However, make sure the content in the tags remains relevant and accurate.
Adopt schema markup
When incorporated with social meta tags, schema.org structured data provides additional context to social platforms and search engines. It helps make the representation more detailed, accurate, and better displayed.
Editing social media meta tags in your website's CMS
To rework social media meta tags in your website, you must access the HTML code or use specific CMS features designed for managing metatags. Here's how you can edit meta tags in a content management system:
Identify the CMS
Your first step is identifying the CMS your website is on. The most popular CMS systems include WordPress, Drupal, Shopify, and Joomla. Each CMS system likely has its unique way of editing meta tags.
Gain access to the CMS backend
Access the administration of your CMS or simply log in to its backend using the necessary credentials. You can now edit the website's settings and content from this point.
Find the relevant post or page
Identify the post or page for which you'd like to edit the social media meta tags. Find the CMS editor to access the content on that post or page.
Edit the HTML code or meta tag field
Based on the CMS, you likely have different options for editing meta tags. If your CMS leads you directly to the HTML code of your web page, look for the <head> section of the page. This is where you'll find existing meta tags. You can now edit or add new ones.
If the CMS platform provides a specific field to edit the meta tag without accessing the HTML code, search for options or fields related to SEO settings or social media content sharing. These fields will likely include inputs where you can edit meta tag values.
Save or update the changes
After editing the meta tags, remember to save or update the changes. That way, you'll know they will apply to the respective post or page.
Preview and test
To confirm the changes, preview the post or page and check how the meta tags appear using the platform's respective validation or debugging tools. Doing so helps you determine whether the updated meta tags are correctly parsed and displayed when shared on social media.
Repeat the process for the rest of the posts or pages
Repeat the process for every page or post where you want to edit meta tags.
Testing your new social media meta tags
After editing your social media meta tags, you can go on to the next step. Double-check they are working correctly and appearing as you intended when shared on social media. To test your social media meta tags, here are some helpful ideas:
Chrome offers an Open Graph Preview extension
Chrome's open graph preview extension is a lightweight extension that allows you to preview graph tags of the page you're currently in. The extension gives you an idea of how the link will look when users share it on social platforms.
Facebook Debugger
The Facebook Sharing Debugger validates and previews how Facebook will interpret meta tags. To use it, enter the URL of the page you'd like to test, and the debugger will show you how Facebook sees and displays your content.
FAQs about social meta tags
What are examples of social metadata?
Some examples of social metadata include og: title, og: description, og: image, og:url, og:site_name, og: locale, article: author, and article:published_time.
What is an example of a meta tag in social media?
Some good examples of meta tags commonly used in social media are open graph meta tags and Twitter Cards.
What is an example of a meta tag?
A typical example of a meta tag is the meta description which appears as <meta=" description" content=" example description">.

Streamline your social media marketing with the right software
Streamlining your social media marketing efforts is crucial to remain competitive in today's ever-changing digital landscape. By using the right software, you can preview how your content looks before you post infinitely improving performance.
Social media management tools like Birdeye also help you batch produce, schedule posts, analyze performance, and help move the needle faster on social media.

Originally published