Growing your business is a top priority. However, that growth doesn't come by chance. You need to master the art of finding new clients and engaging existing customers for repeat business. That's where a great marketing strategy comes into play.
In this blog post, we'll share 12 marketing strategy examples to help get your creative juices flowing. Plus, we'll provide tips to ensure your strategies are successful.
What is a marketing strategy?
A marketing strategy is a deliberate plan to showcase your business for the purpose of attracting customers and growing revenue. When you're looking to grow your business, a marketing strategy will enable you to reach potential customers and effectively promote your products or services. Whether you're selling directly to customers (B2C) or to other businesses (B2B), you need a solid marketing strategy to engage with your target market and inspire them to buy from you.
A good marketing strategy may include the following:
Your company's value proposition (what it brings to the table)
Brand messaging
Details about your customer demographics
Channels to reach customers with your messaging
12 Top marketing strategy examples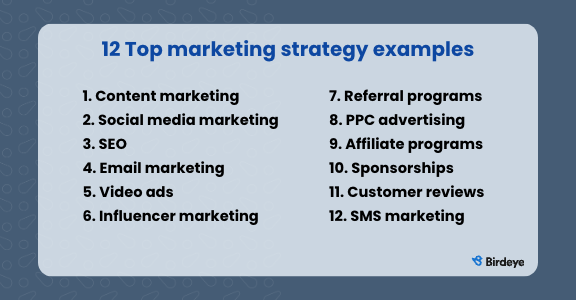 Use the following marketing strategy examples to aid your strategy efforts. When executed correctly, you can expect to reach your ideal customers and grow your business faster.
1. Content marketing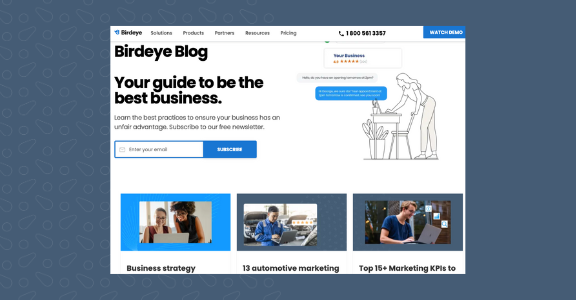 Attract potential clients and generate revenue with high-value content. This means sharing accurate and helpful information with your audience on what they like, need, or prefer. Consistently educate, inform, and entertain them while simultaneously familiarizing them with your products or services.
Create SEO optimized blog articles, social media posts, infographics, and videos. The trick is to provide content that can engage and convert your prospects by evoking emotional connections to your brand and offerings.
Example:
An insurance agency creates a series of blog articles that cover complex insurance topics in simple terms.
2. Social media marketing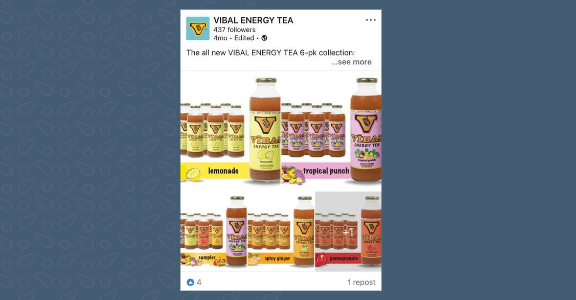 With 54% of social media users reporting they use social networks to research brands and products, businesses should seek ways to leverage this opportunity. Use social media to promote content that drives engagement and builds trust with your target audience. Additionally, you can tap into social ads to target your potential customers with personalized messages to convert them sooner.
Example:
A mortgage loan officer hosting a live session on Twitter to answer questions about loans, mortgage underwriting process, qualification, and more.
3. Search engine optimization (SEO)
Implementing an SEO strategy for your website can significantly reduce your customer acquisition costs. These are techniques to boost your ranking in search engine results pages to increase online visibility. Furthermore, the more you improve SEO, the more traffic you'll drive to your website.
Use SEO tools like Google Keyword Planner to find relevant keywords related to your business. Next, add those keywords in your page titles, meta descriptions, headings, and inside the content.
Example:
To help reach local clients, a law firm optimizes its landing page with the keywords: "premises liability attorney in Joplin, MO."
4. Email marketing
Start engaging with prospects through email and inspiring them through their inboxes. Email marketing has an ROI of $36 for every $1 spent. Build your email list by enticing prospects to share their email addresses in exchange for an exclusive coupon, eBook, or free trial. Follow it up by showcasing the value of your products or service to educate and build customer relationships.
Example:
A design studio seeking to nurture prospects sends a welcome email when a prospect subscribes to their newsletter.
5. Video advertising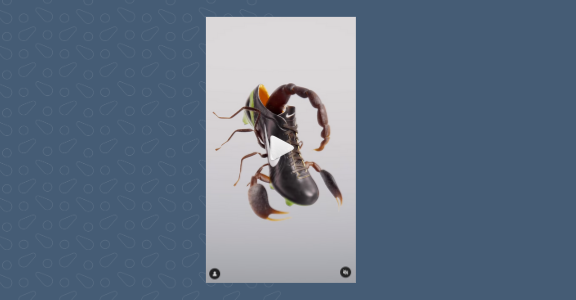 Video provides an emotionally engaging method to connect with customers and captures their attention in ways that text or images can't. Creating easy-to-digest video content can add more substance to your brand messages and boost engagement.
In fact, consumers are spending an average of 19 hours per week watching videos on platforms like TikTok, YouTube, Twitter, and Facebook. If potential customers watch product videos or testimonials, it can be incredibly persuasive, resulting in a purchase.
Example:
To reach out to potential clients, an online accounting firm shares a video on Facebook demonstrating how to use the platform.
6. Influencer marketing
Partnering with the right influencers can help you endorse your offerings to an audience you otherwise don't have access to. Influencer marketing is a proven strategy that can raise brand awareness and drive sales. Instagram and YouTube are some of the best platforms to find well-connected influencers who can help you engage audiences and generate sales.
Example:
A subscription-based wine delivery service collaborates with a well-known influencer to spread the word about its great-tasting wines.
7. Referral programs
People's friends, family, and coworkers will always be a go-to resource for which products to buy or services to use. Referral marketing is a strategy to encourage your most passionate customers to refer their networks to your business. If you're offering enticing incentives, like discounts or free trials, they'll happily spread the word about your business. This helps drive a steady flow of high-quality customers to grow your business.
Example:
A cloud-based accounting firm offering clients (and their referral) 20% off their subscription bill in exchange for referring like-minded businesses to the platform.
8. Pay-per-click (PPC) advertising
A PPC campaign can be a great supplement to your SEO, social, and referral marketing efforts. This approach uses relevant, targeted ads to grab the attention of your target customers. Plus, you only pay when a customer sees the ad and clicks on it.
PPC ads are typically visible at the top of search engine result pages. Make sure you define your goals before launching a PPC campaign, so you know which keywords will be the most effective for your campaign. The goal could be to drive 50 leads in the next 30 days or simply to generate brand awareness and increase engagement.
Example:
To generate leads and nurture prospects, a SaaS company launches a PPC campaign on Google Ads around the fiscal year on October 1, when many companies are looking for new SaaS options.
9. Affiliate programs
The often underutilized affiliate marketing strategy is not only highly effective but can be low-stress, thanks to good word of mouth. For example, a travel booking company that received some mentions in round-up articles might set up links with affiliates to further promote its services.
When a client clicks on the affiliate's link and follows through with a purchase, the publishing affiliate earns a commission. And you get to capture a sale that you may not have obtained elsewhere.
Example:
A dating advice blog makes its money by referring readers to paid dating websites.
10. Event sponsorship and promotional activities
Many event planners seek sponsors to support their events and promotions. You can use these opportunities to expand your brand reach and attract new customers. Studies have shown that sponsorship can enhance the buyer intent of potential customers by 10%.
Focus on local events to keep costs low and target a specific audience. Strategically place your banners or advertisements so that it captures people's attention. This approach helps maximize brand awareness and exposure.
Example:
A stock trading app sponsoring a charity walk may request the charity to display its logo on the advertising materials for the event.
11. Reviews and testimonials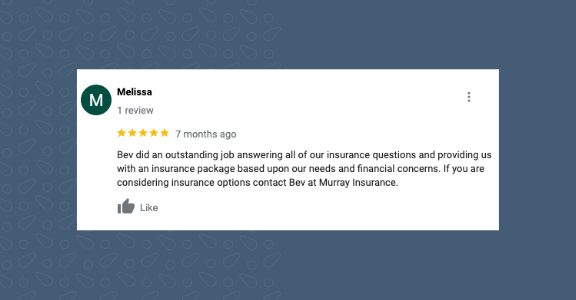 Customer testimonials are a powerful driver for new business. Before making a buying decision, 95% of consumers read reviews. And 46% of consumers say they trust reviews as much as direct recommendations from friends and family.
Reviews can take various forms, like social media posts, star ratings, or reviews attached to business listings. To generate positive reviews, you must first provide high-quality customer experiences. Next, ask for reviews at the conclusion of a successful interaction.You can prompt customers to leave reviews through an email campaign, on your website, or QR codes too. Just remember to respond to all customer reviews, positive or negative.
Example:
A makeup company integrates Instagram into its website to show how real customers have used their product.
12. SMS marketing
SMS marketing is another highly-effective solution in the toolbox of marketing ideas for small businesses. Text messages typically receive a 98% open rate and a 36% click-through rate. SMS marketing is especially beneficial for campaigns that rely on location or urgency purchases. Keep text messages short and to the point. Use a CTA to encourage customers to engage. Include a link to a designated landing page or your website.
Example:
An eCommerce store sends a returning client a text reminder that their flash sale ends in 12 hours.
Best ways to develop your marketing strategy
Understand your audience: Know your ideal clients. Understand what they want, need, and expect from you so you can accurately target them.
Set goals and objectives: Explain what you hope to achieve with your marketing strategy and the techniques you plan to use to realize those goals.
Identify your competitive advantage: Define what makes you different from your competitors by highlighting your products or services' unique selling proposition.
Research your competition: Examine your competitor's paid ads, social media campaigns, and website to identify their strengths and weaknesses. Researching competition helps you understand the market and identify ways to differentiate your campaigns.
Create a brand message: Develop a message that resonates with your audience and clearly communicates the unique value of your brand.
Design promotional content: Create engaging content like blog posts, social media posts, email newsletters, and videos that are relevant to your target audience and that reinforce your brand message.
Utilize digital media tools: Leverage the power of SEO, PPC advertising, social media marketing, and other digital marketing tools to reach a wider audience and increase sales.
Track performance metrics: Measure KPIs, including website traffic, conversions, customer sentiment, and other metrics. Measuring performance lets you determine which parts of your marketing campaign are working well and which need improvement.

Examples of successful marketing strategies
Apple: The iPhone launch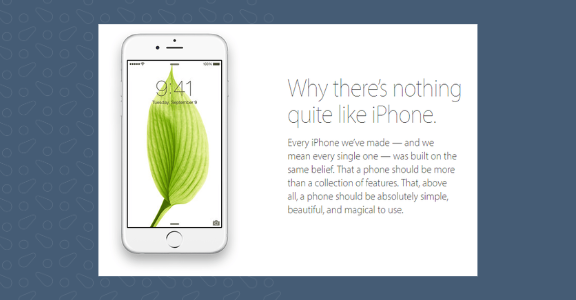 Most people have an iPhone nowadays. But when it launched in 2007, it was one of several smartphones. Nokia was the dominant device at the time. So how did the iPhone take over?
The company used inspirational messaging to penetrate the market. This approach emphasized the iPhone's value proposition to customers. Apple's messaging focused on unique features such as the sleek design, ease of use, and the experience of using an iPhone.
After enjoying success with the first iPhone, Apple built up anticipation to pique interest and thrill audiences about new product launches. As a result, it avoided the growth challenges that led to Nokia's decline.
Dove: Real Beauty campaign
Dove is a beauty brand in the Unilever family of products. It's one of the few brands that mastered the power of user-generated content (UGC) to fuel growth. UGC is when users submit photos and videos that are then featured on your company's marketing channels.
Dove's "Real Beauty" campaign focused on showcasing the beauty of ordinary people rather than models or people of a so-called "perfect" size. It worked because it helped Dove project an authentic brand voice. By encouraging customers to share their own experiences, Dove inspired a new vision of how women and girls saw themselves represented in the media.
Tesla: Mastering word-of-mouth marketing
Tesla is a perfect example of how to use customer advocacy to drive sales, especially when you're new to a market. They offered a rewarding referral program that gave customers $1,000 for every referral who bought a car. At various stages, the program allowed customers to earn Tesla charging credits or win a free car.
The referral program has since been discontinued, but it enabled Tesla to generate an ROI of about 42x on every dollar spent on converting newly referred clients.
FAQs about marketing strategy examples
What are marketing strategies examples?
Marketing strategy examples include promoting your brand on social media, content marketing, organic search (SEO), SMS marketing, and email marketing.
Are marketing strategies free?
Some marketing strategies are free. This includes collecting customer reviews, building a social media presence, optimizing your website for SEO, email marketing, and creating blog content.
What is the easiest marketing strategy?
The easiest types of marketing strategy is to use social media platforms to promote your product or service. This strategy can be cost-effective, efficient, and easily implemented even with a limited budget.
Use marketing strategies to get your business seen
Whether you're an established business in your market or are just starting, developing a marketing strategy is essential. Even more important is executing that strategy. Use these marketing strategy examples and tactics to effectively engage potential clients and grow your business.

Originally published