Social media is an amazing platform for customers to discover brands, local businesses, and products for their needs. But these platforms hold the potential to be so much more, when combined with social shopping.
You can turn your social media audience into customers without them having to leave the platform at all. And that is what social shopping is. Integrating products and services with popular social media platforms can significantly enhance customer experience in the purchase stage.
This blog post explores the world of social shopping and how you can scale your business with it.
Scale your social media for all locations with powerful tools
Want to see the impact of Birdeye on your business? Watch the Free Demo Now.
What is social shopping?
Social shopping is the process of creating a shopping experience for customers within social media platforms itself. This process takes them from browsing to purchasing seamlessly. Social shopping or social commerce enables users to begin and complete their purchasing journey without leaving their favorite social media platform.
This is an effective strategy especially as it develops an interactive purchasing journey. With a solid presence on social media platforms, businesses can do more than just advertise. They can now connect with people, build communities, and promote products to the point of sale.
Almost all major social media platforms offer social commerce tools to help businesses set up shop within their app. Studies project that social shopping revenue will account for about 80% of e-commerce sales by 2025.

What are the benefits of social shopping?
Social shopping practices can help businesses turn lead-generating channels into revenue generating channels and scale business faster. But there are many other benefits to this too:
Brand awareness
Businesses can directly sell products on social media using the Shop features on these platforms. As this in native (without any external link) content, these posts reach a larger audience.
Even if they don't buy from you right away, they're more likely to remember you due to the frequency of content they see from you. This grows brand awareness and eventually, your sales.
Improves user experience
People are spending more time on social media than ever. Instead of leaving the platform and buying from your ecommerce site, you can improve their experience with in-app shop features.
This makes it easier for them to browse the content, connect with the customer service team, and complete the purchase in a few simple clicks.
Targeted advertising
In the ecommerce industry, businesses try to convince customers who visited them earlier with retargeting ads of the products they wishlisted. With social shopping, retail businesses can target customers who viewed their products with curated advertisements and convert them.
Social shopping makes it possible for businesses to easily identify interested customers and convert them.
How can businesses start with social shopping?
Retail businesses can easily target customers and improve their conversion rates on social media by implementing social commerce practices in a few simple steps.
Step #1: Create your social commerce accounts.
Setting up commerce accounts on top social media platforms is the first step to putting your business on a path to social shopping dominance. Your commerce account gives you access to the platforms' social commerce tools. These tools look a little different for each platform. But they will allow you to set up a commerce shop where customers can complete the buying journey within the app.
Step #2: Market your business on social media
About 70% of Americans use social media. So you should already have a rock-solid social media marketing strategy. Promoting your social media with helpful content, regular posting, and growing your audience informs the algorithm that customers desire your brand.
For success in social shopping, building a strong presence on social media is vital.

Step #3: Understand your customers
Get specific about whom you're targeting and marketing to. You need to know if you're selling to busy moms on the hunt for a miraculous anti-wrinkle cream or teens still experimenting with every eye shadow color under the sun.
This helps you:
Identify the right social media platform
Host products that your customers would buy on social media
Create content that promotes the value of your products to your target audience
Step #4: Connect product site to social media profile
The next step is for the business to connect your products to your social media profile. This process varies for each platform. You can either connect your ecommerce site or list your products via the social media platform's integration tools.
If the platform doesn't have a Shop feature, you can still implement social shopping strategies by posting links to your profile.
Step #5: Track success with analytics tools
Social media offers a wide range of data about your customers and potential customers. By analyzing their shopping habits, you can serve them with better content, ads, and products. Businesses can also understand what products have the best success on specific social media platforms to tailor their strategy accordingly.
What are popular social shopping platforms?
Out of the 100+ social media platforms, there are a few where customers regularly go to research businesses, gain inspiration for products, and buy what they like.
Some of the most popular social shopping platforms are:
Instagram
Facebook
TikTok
Pinterest
Snapchat
Instagram shopping
Instagram influences its users' purchasing behavior the most, with 72% of users making buying decisions based on what they see on the platform. You can capitalize on that influence when you set up social commerce on Instagram.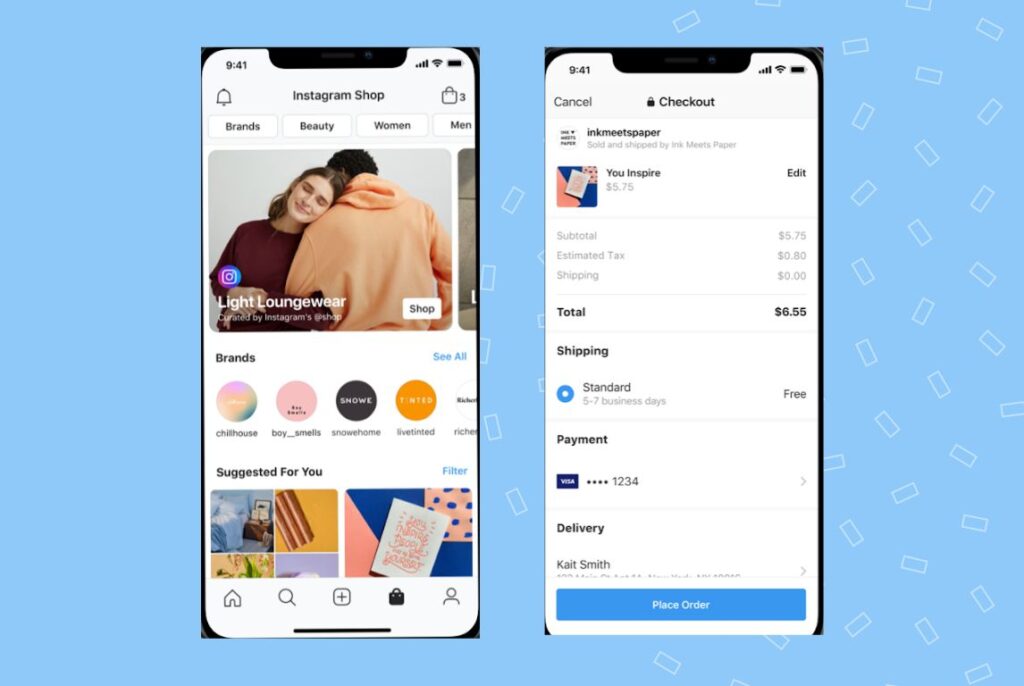 Instagram has many features to help you set up a social commerce shop:
You can create collections within your Instagram shop to assemble your products around a theme, like holiday themes, new arrivals, or seasonal trends.
Instagram also allows users to click on products in images and videos to jump onto the detailed product page. People can dive deeper into your products with detailed product pages that include everything from pricing to links to your website.
Instagram shopping offers easy checkout within the app.
Instagram also offers targeted paid ads with features to help businesses reach a wider audience.
Facebook shopping
Facebook is the most widely used social media platform. And it has a lot to offer businesses looking to set up a social commerce shop. As users across all age groups are active on Facebook, you're likely to find your target audience for all industries.
As Meta owns Facebook and Instagram, you'll get many of the same social commerce perks on the two social media platforms.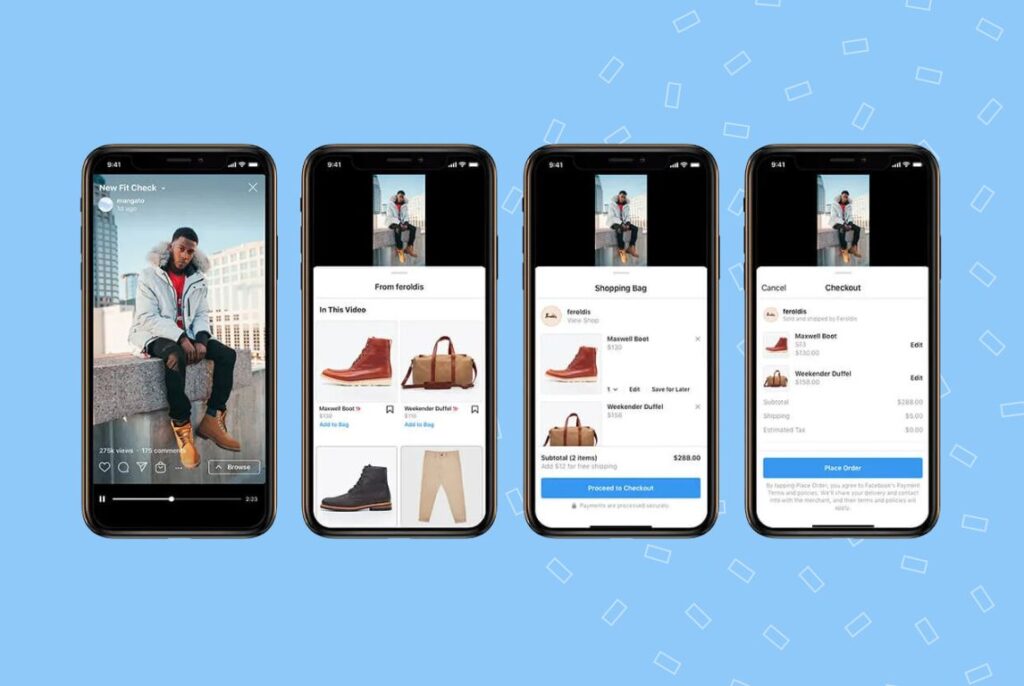 An effective way to use your Facebook shop is by staging a live sales event. You can create and promote the event as an online shopping event where users can react, purchase, and interact with you in real-time.
With your Facebook business account, you can access the Commerce Manager to get insights for both sites. You'll see everything from shopping behavior to conversion metrics.
TikTok shopping
TikTok users are one of the most active social media users, especially when it comes to business interactions. According to TikTok, 92% of users move towards buying when they see a product on this social commerce platform.
With its highly effective algorithm, TikTok holds the potential to put your products in front of your target audience. This is helpful as most customers using TikTok shopping make their purchases directly within the app.
The social network also has an "affiliate marketplace," which means influencer marketing has taken off like wildfire on TikTok.
Pinterest shopping
Pinterest is the social media platform that comes closest to replicating the browsing experience in search of purchasing inspiration. Most style, decor, and DIY purchases begin here with customers actively looking for shopping ideas.
The trick to generating sales with your Pinterest catalog is using tags correctly. These tags are little bits of code that help Pinterest send your products to the best-matched users and help you track information about your social media marketing campaign.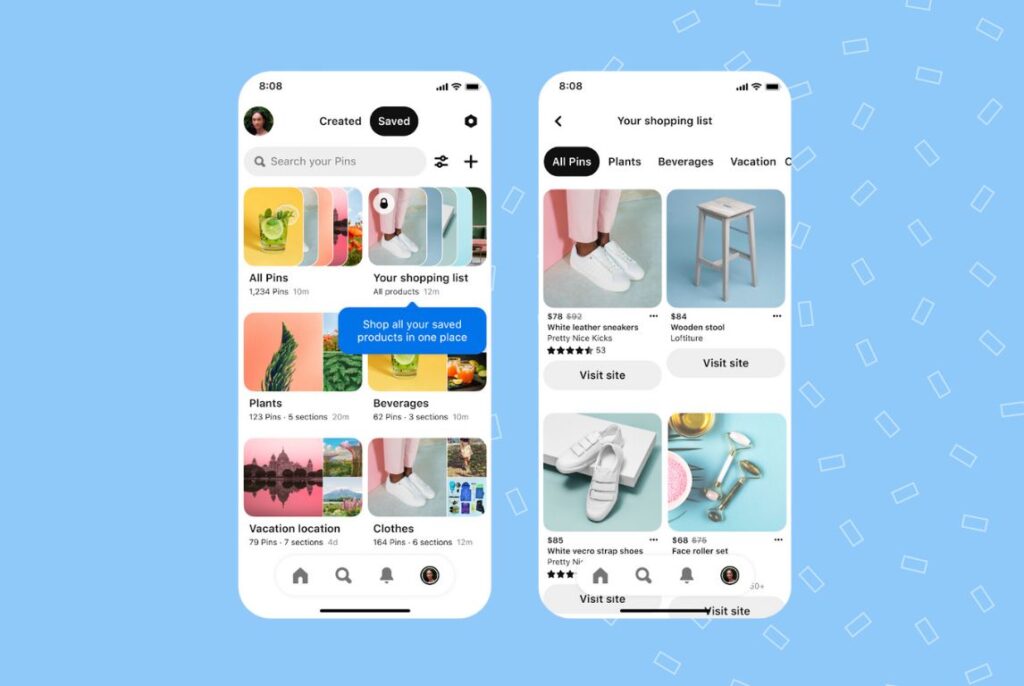 According to Pinterest, advertisers increased their ROI by 15% by using catalogs and shopping ads.
To do this, businesses must:
Create a Pinterest catalog
Upload your products with all relevant information in it.
From there, Pinterest puts products in front of relevant users. You can also connect your Shopify account to upload your product offerings to Pinterest automatically.
Snapchat shopping
Snapchat invests heavily in offering imaginative new ways to shop on the social platform. This platform is also leading the charge in bringing augmented reality to social commerce. Using AR on your Snapchat social commerce shop lets shoppers "try on" your products. And Snapchat lenses on Snapchat also let users compare products side-by-side.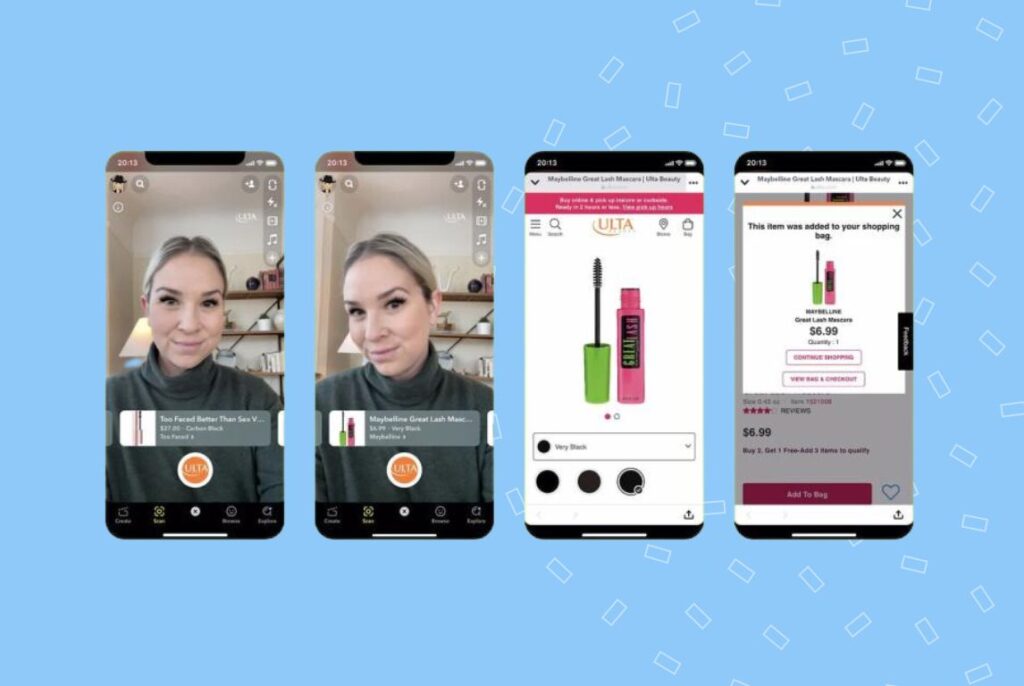 Social shopping best practices
To stand out against your competitors in social shopping, businesses must bring their A-game. And to do so, you can start with the best practices we have put together.
Stage your products naturally
Let shoppers imagine themselves using your products by staging them how they will use them. For best results:
Use models so shoppers can see how your products look while being worn or used.
Make sure your products are the center of attention in your photos.
Choose a plain background near natural light, or use bokeh to blur the nonessential elements of your images slightly.
Remarket to website visitors
When visitors leave your website, follow them to their social media feeds using targeted ads. The beauty of social commerce is that you can target your audience with bullseye precision. And unlike customers browsing products on Google, social media users are passively browsing and more likely to engage with your ads.
Consider influencer marketing
Influencers create communities of followers that are passionate about their niche. Using influencer marketing increases your brand awareness among consumers highly likely to buy products like yours.
If you have a limited influencer marketing budget, Instagram or Tiktok is the way to go based on your audience demographic.
For growing businesses, starting with micro-influencers with less than 5,000 followers can be a good starting point.
FAQs about social shopping
Does social selling work? 
Social selling definitely works as it helps businesses reach customers where they have the highest purchase intent, thereby increasing conversion rates. 
Which social media is best for shopping?
The social media platform best for your social commerce efforts depends on your target audience. But Instagram and TikTok are good platforms to start with. 
How does social media shopping work?
Social media shopping works by putting your content and shop in front of users and enabling them to purchase directly within the app. 
Grow social shopping with Birdeye
Social shopping is like a digital shopping mall where users socialize and enjoy the purchasing journey. It's about to become one of the most significant drivers of e-commerce sales. But to have a successful stint at social commerce, you must manage and grow your social media business accounts.
With the most effective and AI-driven Birdeye Social, you can grow your business across multiple locations at scale. You can post, schedule, and create the most engaging content from a simple easy-to-use dashboard. Birdeye also enables you to engage with your customers and monitor all activity.
Originally published