Text messages are the best way to connect with customers and prospects. While emails are mostly ignored or deleted, texts have a stunning 98% open rate. Of course, there's one big thing to keep in mind before you start sending marketing and promotional communications: the Telephone Consumer Protection Act (TCPA).
The TCPA was designed to protect consumers from unwanted spam calls and text messages. The law imposes stiff penalties on businesses that do not follow guidelines. Of course, businesses that take the right steps to remain TCPA compliant have no need to worry. In this article, we'll break down what your business needs to know about the TCPA and what steps you can take to avoid violations.

Why TCPA compliance matters
There's a reason why businesses need to comply with the TCPA while sending marketing and promotional communications. Delivering great experiences is all about trust. Following TCPA guidelines helps you build closer relationships with customers and prospects over time — when you follow rules, they'll feel more comfortable doing business with you in the future.
In addition, not following TCPA guidelines can be costly. Remember, businesses are ultimately responsible for complying with the law. Every individual violation can lead to a fine of up to $16,000. In addition, individuals who were contacted can claim up to $500 to $1500 for each text message or phone call. This does not include possible private causes of action from your contacts.
What is Prior Express Written Consent?
To contact customers and prospects on their cell phones via text or phone call, it's important to gain Prior Express Written Consent (PEWC). With an Interactions platform like Birdeye, you can collect PEWC from your customers and prospects when they're filling out a Website chat form: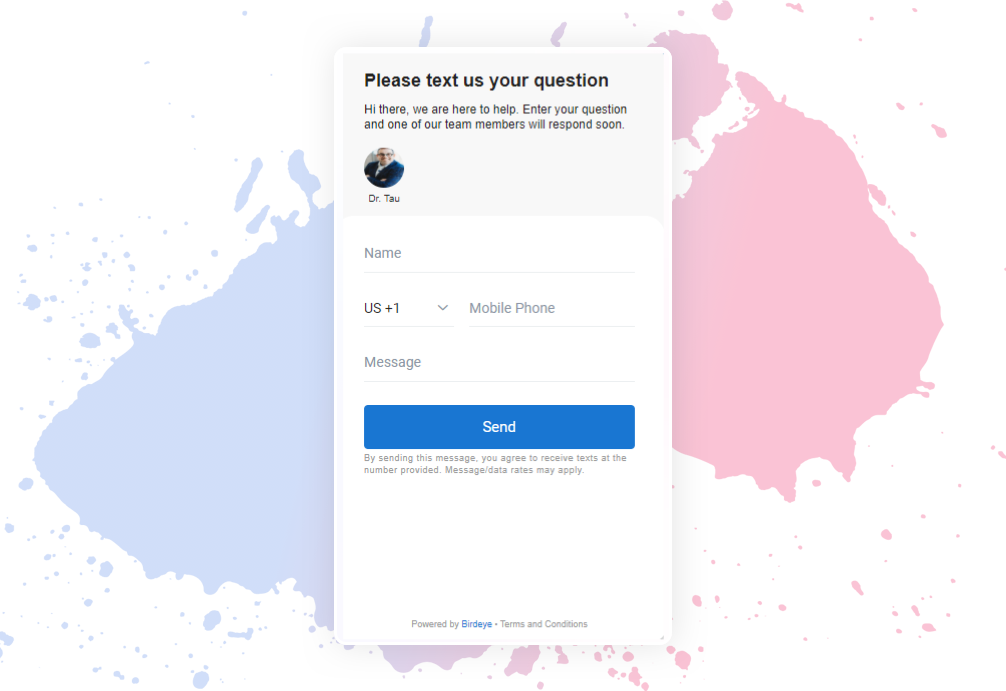 If you're promoting your mass texting list in-store, you should let customers and prospects know right away what type of messages they can expect to receive when they sign up.
You can also use Birdeye to ask for PEWC when a customer is checking in to your business.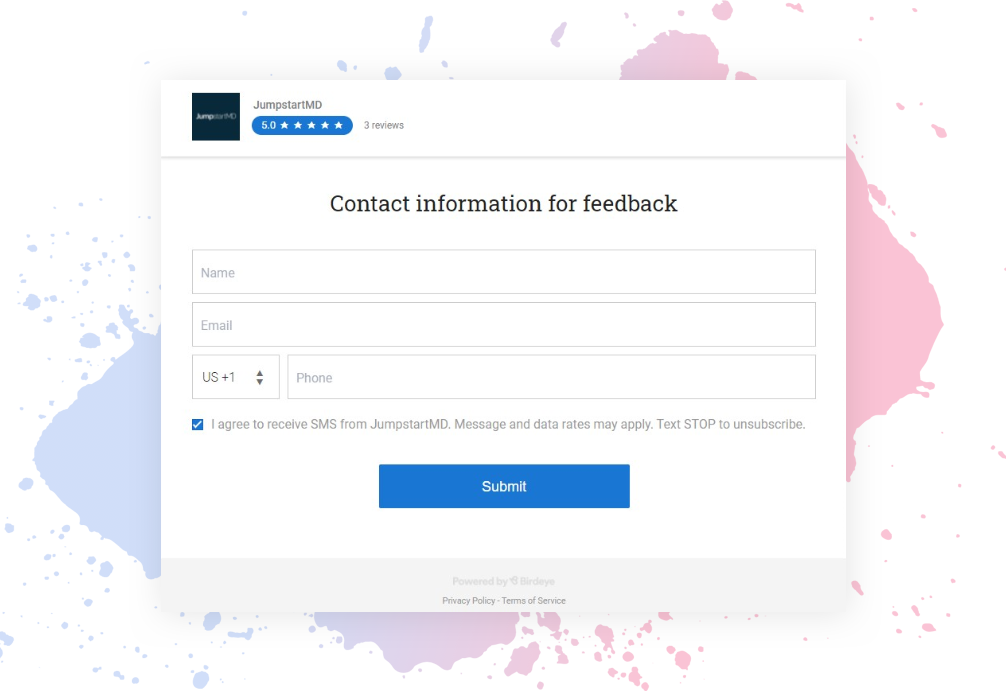 Once you have PEWC, send a message that looks like this so your contacts know that they can unsubscribe at any time.
Please reply YES to receive news and offers from MyBusiness. Standard messaging and data rates apply. If you prefer not to receive text messages, reply STOP at any time.
TCPA compliance checklist for text messages
Here are a few simple steps to ensure that your business is maintaining TCPA compliance when sending text messages.
Offer the ability for customers to unsubscribe: Remember to offer an unsubscribe option to text messages. Typically, businesses allow customers to unsubscribe simply by texting "STOP".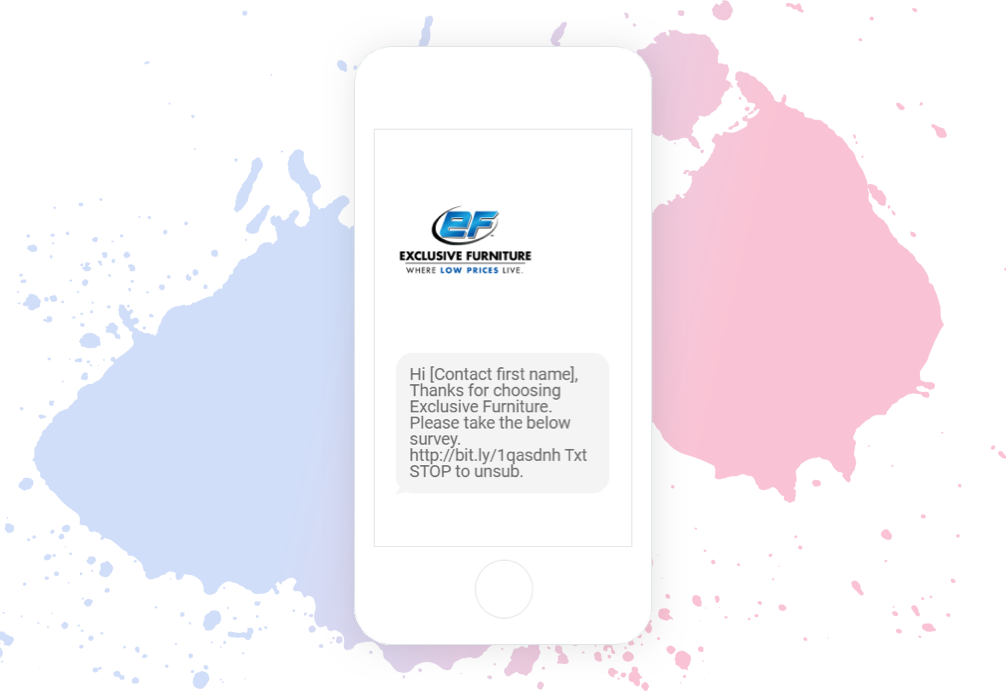 Keep in mind maximum character count: The maximum character count allowed for marketing and promotional text messages under the TCPA is 160, including spaces and punctuation. If you need to send a longer message, it may be better to send an email.
Remember the TCPA's time restriction: The TCPA forbids any telephone solicitation, through call or through text, before 8 am and after 9 pm in the contacted party's local time zone.
Keep track of reassigned numbers: Sending solicitations to numbers that have been reassigned can be considered a TCPA violation. It's important to regularly check your contact database against the Reassigned Numbers Database.
Train your team: If your team members are regularly communicating with customers through text messages or phone calls, make sure that they're aware of TCPA and its associated rules and regulations.
TCPA compliance for telemarketing
One of the aims of the TCPA was to eliminate repetitive calls. As a result, automated telemarketing calls are strictly regulated. You will need PEWC from your customers or prospects before the following:
Prerecorded messages: Prerecorded voice messages include automated voice messages and recorded voices of real human beings.
Autodialer calls: Autodialers include software tools that automatically dial a contact's phone number.
TCPA regulations are less stringent when there's a human being making a phone call. Still, there are a few rules to be aware of.
TCPA compliance for phone calls
If you're currently calling prospects and customers manually, you should pay close attention to TCPA guidelines for phone calls. In addition to the regulations, we discussed earlier on time restrictions and reassigned numbers, keep in mind the following.
Check the Do Not Call list: Before making calls, businesses must check whether the contacted party is on the National Do Not Call list every 31 days.
Keep an internal Do Not Call list: In addition to the National Do Not Call list, businesses are required to keep an internal Do Not Call list. Your team is required to add customers to your internal Do Not Call list upon request.
Frequently asked questions about TCPA compliance
Here are some answers to a few frequently asked questions about the TCPA.
Who must comply with TCPA? 
Any business that communicates with customers via phone calls, text messaging, and fax machines is subject to the TCPA. Healthcare-related businesses do have an exemption for matters that explicitly pertain to patient health. 
Who enforces the TCPA? 
The Federal Communications Commission (FCC) as well as state Attorney Generals can enforce the TCPA and bring lawsuits against businesses to federal courts.  TCPA violations can also lead to private causes of action from contacted parties. 
How long does TCPA consent last? 
TCPA consent does not have an expiration date. However, it's important to remember that consent can be revoked at any time. 
Does TCPA apply to business cell phones? 
Do Not Call restrictions do not apply to calls between businesses (however, they can apply when a business number is also used as a residential number). Still, some states do have differing regulations for business-to-business solicitations. 
Looking for more best practices for texting your customers?
Want to get started texting your customers? Check out our comprehensive SMS marketing report for 2022. It breaks down best practices and industry trends for texting customers.

Originally published