Staying in touch with customers helps businesses strengthen their relationships and build a stronger customer base. The current digitally connected world makes that process very easy. There are multiple avenues for businesses to reach out to their customers and make sure they notice every word.
This blog post covers the top 8 types of messages that customers can leverage to stay connected with their customers.
8 types of messages to interact with customers
Explore the untapped potential of mobile messaging for your customer interactions in these eight different types of messages below.
Email
We check our emails every day for personal and business communications. This message type allows businesses to impress their customers with visual aids, product links, and specially designed communication.
Email also allows automation for regular communication, such as product alerts, appointment reminders, etc. With the best email services in the market, you can understand your customers' preferences and always put your best foot forward.
Some popular communications businesses use for this type are welcome messages, referral emails, curated information, periodic newsletters about business updates, etc.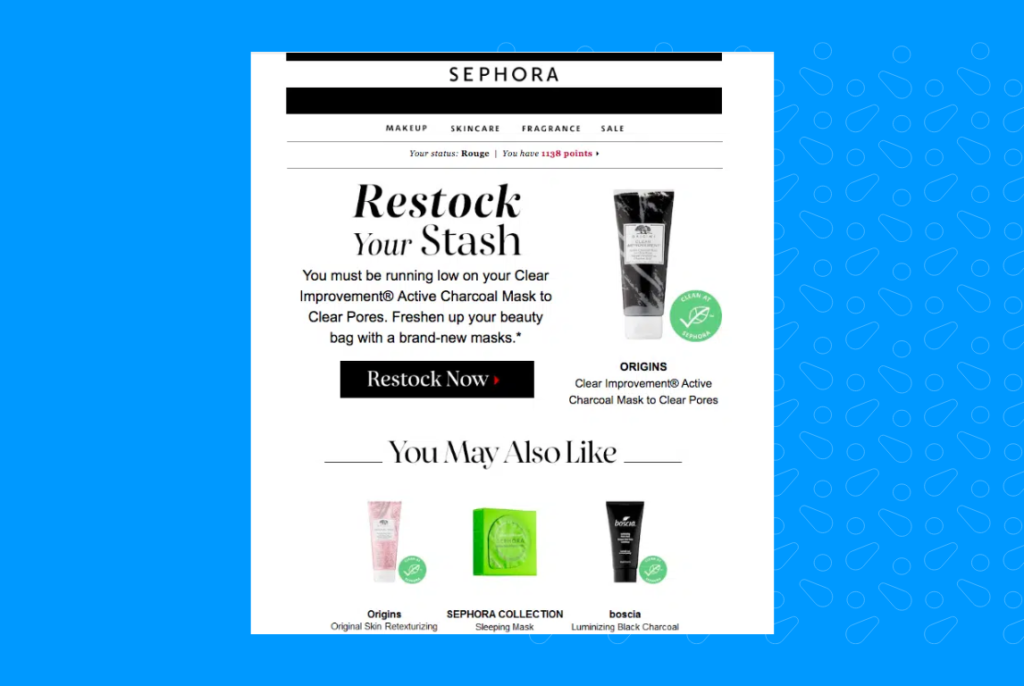 Always remember to maintain your email reputation and content quality to avoid spam filters.
With the right content and email marketing strategy, this can be an effective and profit-making message type for your business.
Direct mail
Some messages call for an offline approach, and direct mail is one of the promising channels for this. These types of messages have held their ground steadily, even with the rising popularity of digital messaging channels.
For decades, businesses have used this channel to distribute catalogs, pamphlets, event announcements, flyers, postcards, and personalized greetings.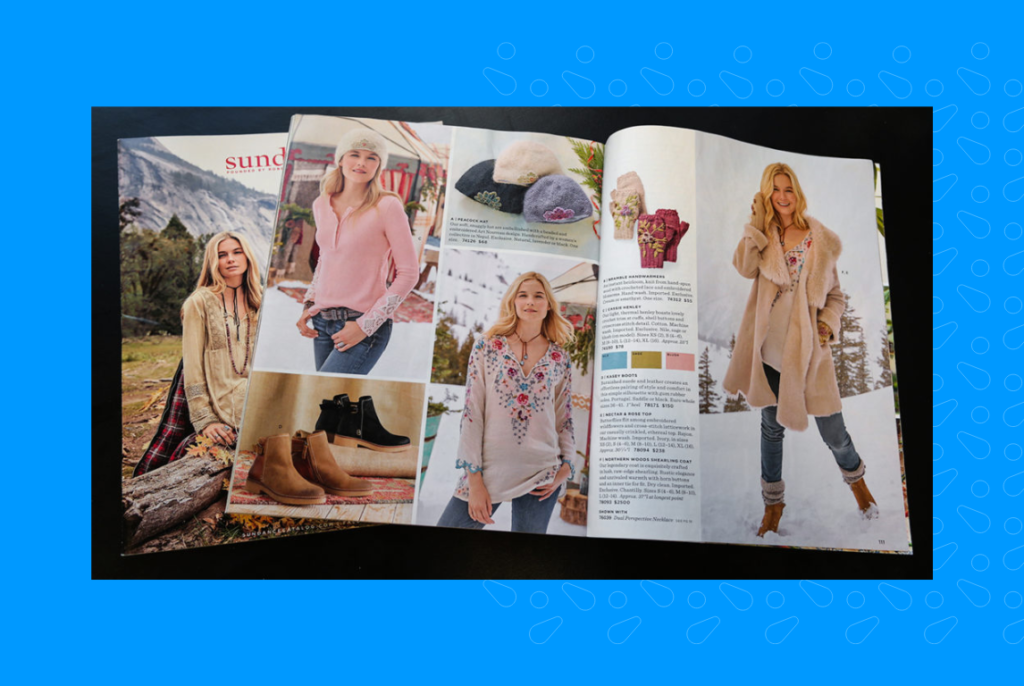 By targeting the right audience with direct email, you can make sure that your message gets your customers' attention and interest. Digital channels come with the challenge of maintaining focus, while offline messages via direct mail garner attention easily.
For best results with direct mail:
Maintain the right customer list with accurate mailing addresses
Respect customers' wishes to unsubscribe
Send quality and useful content to gain the trust of customers
As crazy as it sounds in today's digital world, some still shun anything and everything "online."
For these customers, direct mail can and does still work.
Short messaging service (SMS)
This service is probably one of the most common types of messages businesses use to communicate with customers. Short messaging service (SMS) is a text-based messaging medium that helps you send and receive messages across all mobile devices.
You can send SMS through internet providers, mobile networks, and other channels. Services like Birdeye can help you automate, track, and integrate your text messages with other client communications.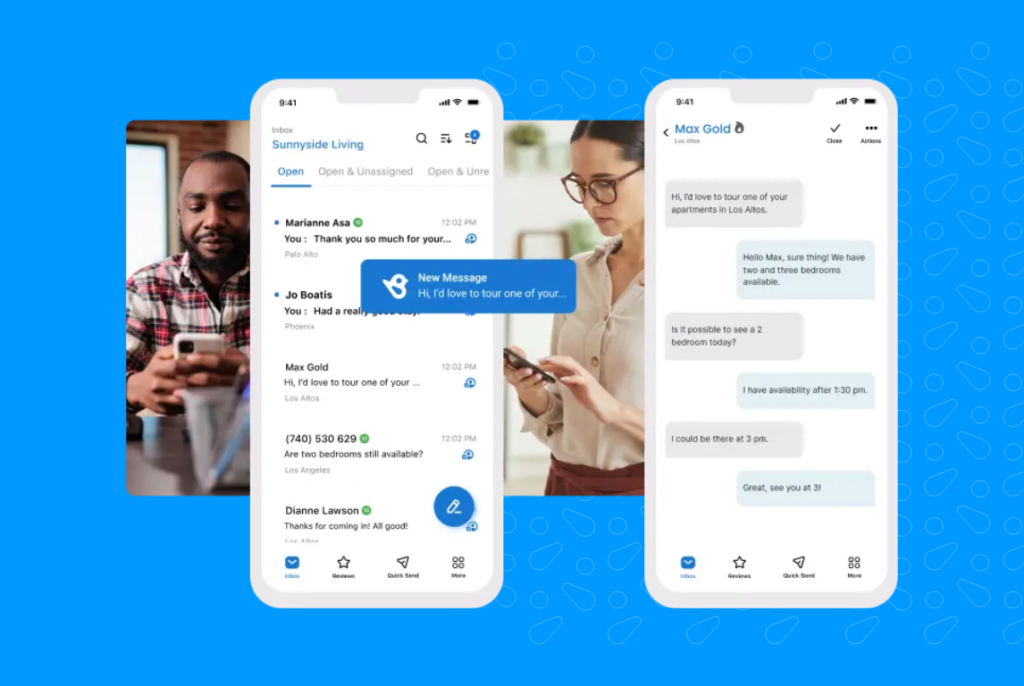 It is ideal for short messages sent to convey a quick message without any elaborate design or visual aids. The standard SMS has a limit of 160 plain text characters.
Usually, businesses use SMS to send the latest offers, promotions, appointment reminders, payment reminders, authentication messages, and more.
Multimedia messaging service (MMS)
This is ideally an extension of the SMS facility in mobile devices. MMS allows businesses to incorporate graphic aids such as images, emoji, videos, and an external link. With the right design, businesses can repurpose their email marketing campaigns into text messages with MMS for their audience.
Multimedia messaging services (MMS) and short message services (SMS) form the bedrock of the mobile device communication domain worldwide. These two messaging services are paramount when it comes to mobile texting.
Some customers show a higher response rate with text messaging than with email marketing. In such instances, businesses can send important communication with MMS without compromising their brand identity or design ethos.
Rich communication services (RCS)
Sending text messages via phone networks has its limitations, and not every carrier or mobile device allows for the MMS functionality. Hence, the RCS has been a huge bridge between the worlds of SMS and MMS without the additional hassle.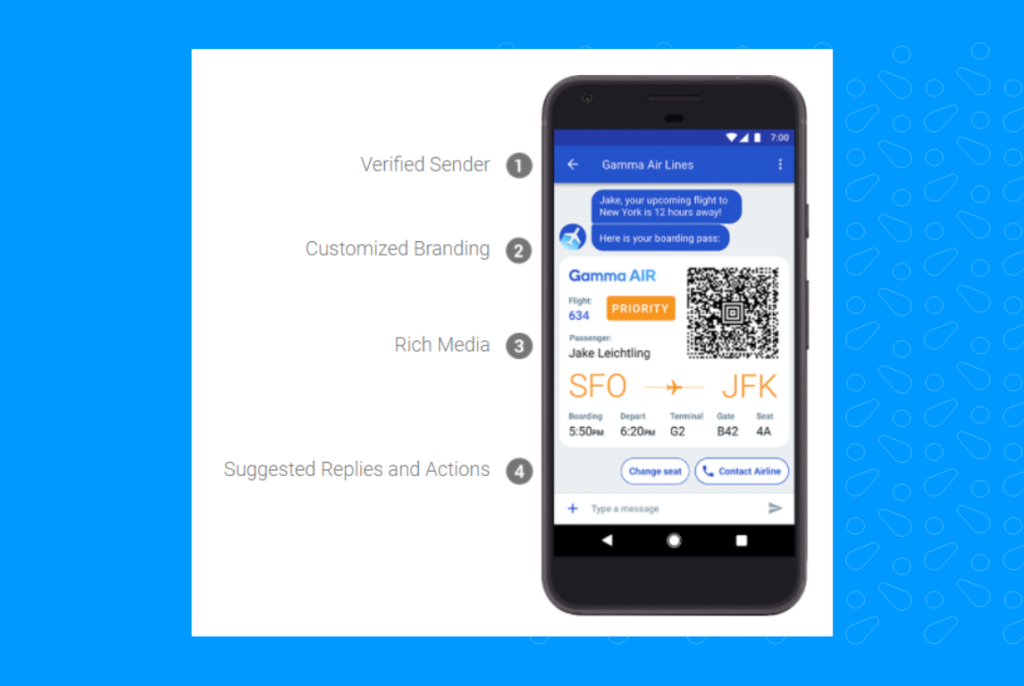 RCS allows users to instantly access an app-like interface on their mobile devices without requiring separate downloads. Its integrated feature simplifies customers' interactions much like making phone calls would.
When customers turn on this facility on their mobile devices, they can receive text messages via Wi-fi. This message comes with graphic aids and other interactive features.
Ranging from scannable coupons and digital menus to flight tickets, RCS offers several opportunities that elevate mobile users' overall messaging involvement.
Push notifications
Businesses can use push notifications to send messages to customers. These messages pop up on a mobile device, even if the device is in a locked state. You can instantly catch the audience's attention, even if they are not looking for a communication.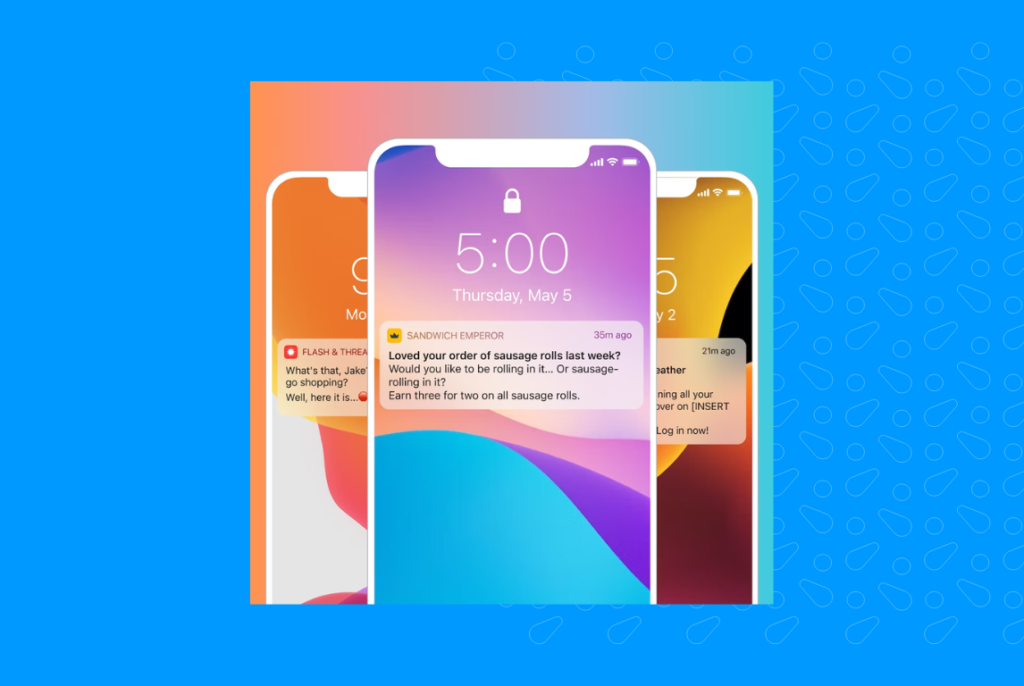 And businesses can 'push' these notifications anytime, conveniently, through their mobile apps. As is the nature of these notifications, they stand out amidst the clutter of other messages.
Push notifications work for all types of messages, such as promotional deals, order updates, or loyalty membership status.
In-app messages
In today's world, customers rely heavily on various applications to interact with businesses and make their purchase decisions. That's why exploring the possibilities offered by in-app messaging is extremely important to reach customers at the right stage.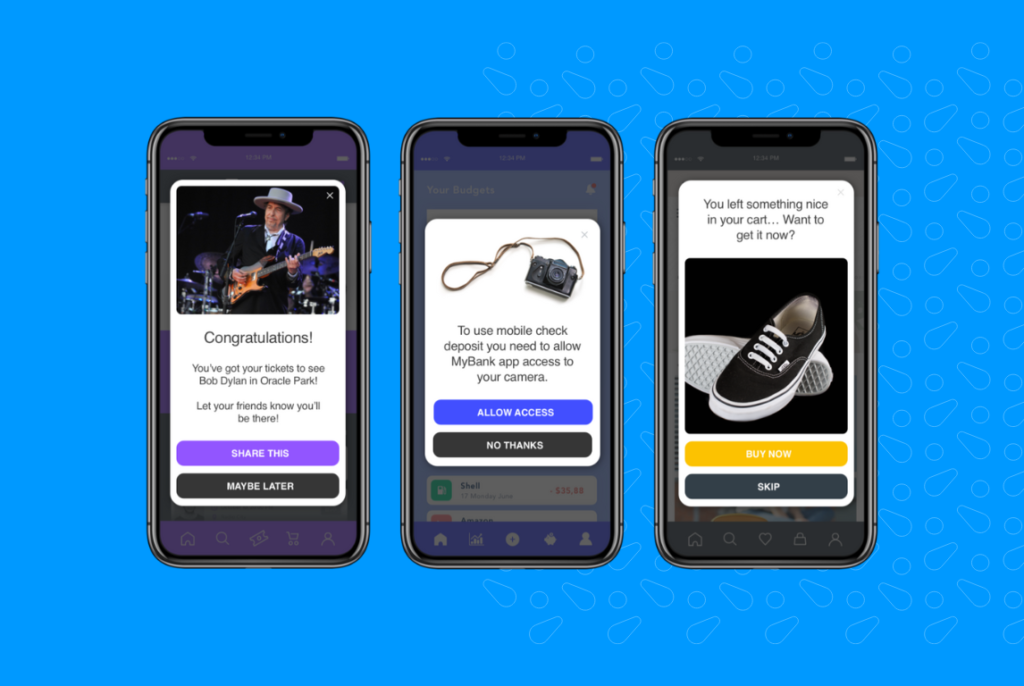 Unlike push notifications outside an application, in-app messages appear exclusively within them once the users enable them upon app launch. This means your messages reach the right people.
The effects are astounding. You can engage your app users with these pop-ups and announce promotions without interference from external messaging networks.
It's crucial not to underestimate their versatile functions – such as welcoming new users into your app ecosystem or promoting specific products.
Instant messaging
Instant messaging is another powerful and engaging tool that has revolutionized how businesses communicate. The internet-based platform enables easy exchange of messages in real-time through popular options like:
Facebook Messenger
WhatsApp
Line
Signal
Telegram
One significant advantage that distinguishes this messaging type is its flexibility. Unlike other message types, there are no restrictions when engaging with instant messaging. However, it requires both parties to use the same application for communication.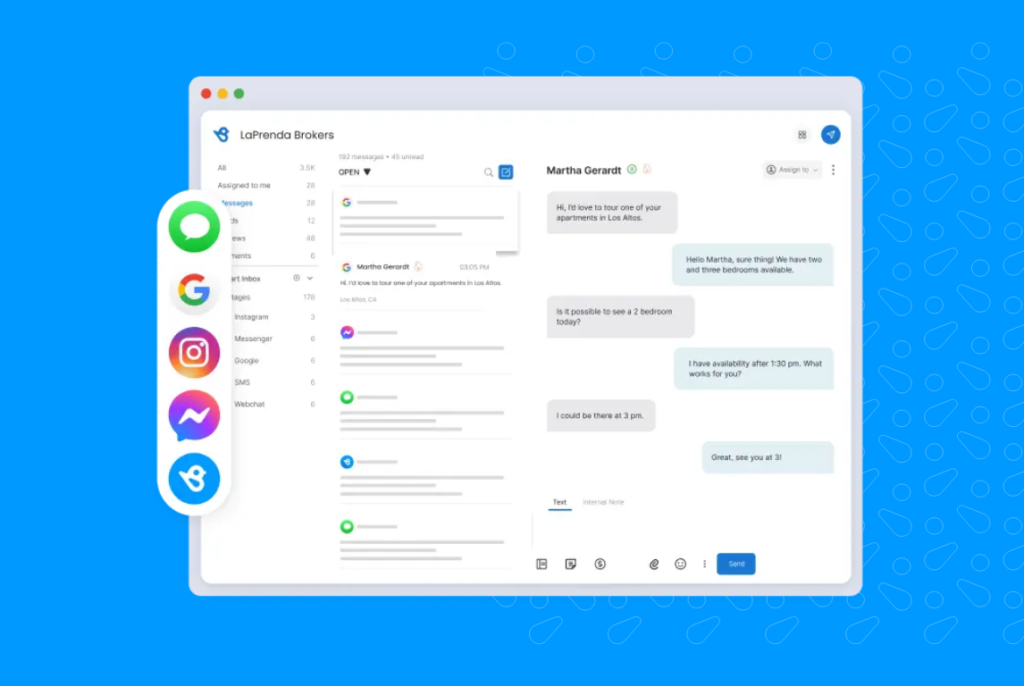 You can also use Birdeye to build a unified messaging inbox to manage all your messages from different channels.
Additionally, instant messaging supports multimedia transfers, from pictures to videos and even file documents.
How to use different types of messages for marketing
Promotions: Use text messaging, emails, or push notifications to promote your latest products, services, or discounts. As part of your marketing strategy, these messages will actively engage your customers and accelerate sales.
Appointment reminders: Send timely reminders for appointments, reservations, or scheduled deliveries with messages. This way, you can maintain punctuality and reduces no-shows.
Holiday greetings: Cultivate customer loyalty and demonstrate your brand's personability with heartfelt greetings. A thoughtful message during festive periods can significantly enhance customer relations.
Announcements: Keep your customers informed with announcements about new products, updates, or changes in operations. Emails and push notifications are the perfect channels for big news you want to share.
Customer support: Resolve customer concerns and provide instant assistance using platforms like Facebook Messenger for customer support. This ensures a quick response rate and boosts excellent customer service.
Billing information: For detailed and organized financial documentation, use emails to convey billing information. It's a convenient channel for keeping track of transactions and documenting communications.
FAQs about types of messages
What are the 4 features of instant messaging?
Instant messaging shines in four distinct ways such as personalized text communication, vibrant audio sharing, video conferencing, and seamless file transfers.
How many types of text messages are there?
Text messaging on mobile platforms comes in two varieties – short message service (SMS) and multimedia messaging service (MMS.)
What are the 6 message strategies?
The six prevalent message strategies are emotional, unique selling proposition, generic, positioning, brand image, and preemptive.
What are the 3 mediums used to send messages?
Three communication mediums commonly used for sending messages are verbal, written, and visual. Each offers varied advantages for conveying information and connecting with customers effectively.
What are the different types of messages?
The five common types of messages on mobile devices are short message service (SMS,) multimedia messaging service (MMS,) instant messaging, rich communication services (RCS,) and mobile push notifications.
Conclusion
To sum up, understanding and leveraging the full suite of messaging types is vital for businesses engaging in today's marketplace. This would help customers stay in touch with you and get all the necessary information from your business.
Each platform caters to different preferences, enabling businesses to connect with their audiences in a tailored and impactful way. Work with Birdeye messaging to send bulk messages, unify all message inboxes under one dashboard, and get detailed analytics on your messaging efforts.

Originally published