(The following is a post submitted by a guest contributor.)
The email channel is a marketing staple used by nearly all businesses to engage their customers. There are many benefits to building a strong email marketing program at your practice that's incorporated into your customer experience strategy. However, email marketing is a skill that takes time to learn. To help you get started, we've put together a list of the top five email marketing dos and don'ts for dentists.
The best practices below will help you build an impactful new email marketing program, or sharpen the program you already have. Read below to learn about selecting an email software provider, building email lists, using email templates, the CAN-SPAM guidelines, and the most important email campaigns for dentists to operate.
Do: Actively Build an Email List
One of the foundations of your email program is your email list. This is the list of your audience with their corresponding emails, names and other information. Building an email list takes time, so you should get started early. You can capture patient emails from many sources. Here's a few specific tactics to build your email list:

Find any existing email addresses in your practice management system
Ask for patients' emails when they arrive at your practice
Put a widget on your website to capture email addresses
Your email list should be stored in your email software program. For dentists, you can choose to have either a patient communication system like Lighthouse 360 or Weave, or a general email tool like Mailchimp or Campaign Monitor. Visit SoftwarePundit for a list of dental software options.
Do: Get Email Templates Designed
All emails that are sent are HTML files. Emails can be text only or designed similar to a web page. To support your email marketing program, you should assemble a library of 3-5 email templates. These 3-5 templates can be modified to create any email that you want to send.
Here's an example of the templates you should have:
A plain text email that includes your practice contact information and logo in the signature
A template that you can modify for appointment related messages
A template for one-off promotions that you send to patients
A newsletter template for longer emails that include copy, images and content hosted on your website
Once you build your templates, they will be stored in your email system. Many email systems actually come with pre-built templates that can also be used for your emails. Before finalizing your templates, it's a best practice to use a tool like Litmus to see how the templates render in various email inboxes and browsers.
There are two common ways to edit templates. If you are more technical, you can use an HTML editor to modify emails. However, most people will use what is called a what you see is what you get, or WYSIWYG, editor. WYSIWYG editors have drag-and-drop features that make it easier to edit emails. When evaluating any email system, be sure to test out its email editor.

Do: Use Segments
It's critical that you use segmentation for all email campaigns. Segments are groups of customers that have similar interests or information. By using segments, you can ensure that the emails patients receive are relevant. For example, you would not want to send a promotion for a service that a patient has already purchased.
Here are some common segments that you can consider:
Active patients vs. inactive patients
Segments for each service you provide
Most loyal patients
Segments for each practice location
Segments for each dentist
Segments for patients who are more engaged with the email channel, or each campaign
Do: Analyze Campaign Performance
Your work is not complete when campaigns are sent. After each campaign is complete, you should use your email software tool to understand how well the campaign performed. Here are the core email marketing metrics:
Send volume
Open rate
Click rate
Conversion rate
Revenue generated
Unsubscribe rate
A good rule of thumb is that your marketing emails should have a 20% open rate and a 20% click rate. Your unsubscribe rate should be less than 0.5%. Campaigns that perform significantly worse than these benchmarks should be tested and improved before sending again.
Do: Optimize Your Highest Impact Campaigns
After you measure campaign performance, you should invest time optimizing your highest impact campaigns. It's likely that you don't have time to optimize all of your campaigns. However, it's worthwhile to invest time improving the performance of major campaigns by 10-50% over time.
The best performing campaigns for dentists are typically:
Appointment reminders
Patient recalls
Monthly newsletters
Seasonal and promotional campaigns
Here are some ideas for optimizing your campaigns:
Experiment with different subject lines to increase open rates
Experiment with different copy at the top of emails to improve click-through rates
Test different call-to-actions, or buttons, to improve click-through rates and conversions
Try sending text-only or fully-designed emails
Experiment with different content blocks in emails
Your email software tool should come with an A/B testing feature that allows you to run the experiments above. In an A/B test, you create two versions of the email and send each to 50% of your email list. Then, you can see which version performs better and incorporate the improvements into all future versions of the campaign.
Don't: Send emails that aren't valuable for recipients
It's tempting to send as many emails as possible, or to send emails because you feel you should. However, you should resist this approach and only send emails that you strongly believe have real value for your patients.
Monthly newsletters are a common example of emails that dentists send because they feel that they should. However, many practices do not think about their newsletters from the perspective of patients: What specific value are patients gaining from the newsletter? Why will they want to receive, open and read the newsletter? Until you have compelling answers to these questions, you should not send a monthly newsletter.
In addition, you should leverage your segments to ensure that your emails are relevant for all recipients. For example, you can identify the segment of patients who never open your newsletters. In your email tool, you can exclude these patients from receiving future newsletters that they likely are not interested in.
Don't: Forget to Include Exactly One CTA in Every Email
Every email should be sent for a specific reason. Each should be optimized to nudge patients to take an action. This is known as the call-to-action, or CTA.
Promotional emails are sent to drive sales of products and services. They should be optimized to help patients easily complete these purchases. The goal of an appointment reminder is to get a patient to confirm their appointment. The entire email, including the content and the button, should be created to make it easier for patients to take this action successfully. You can see the 'Click to confirm' button in the example email below.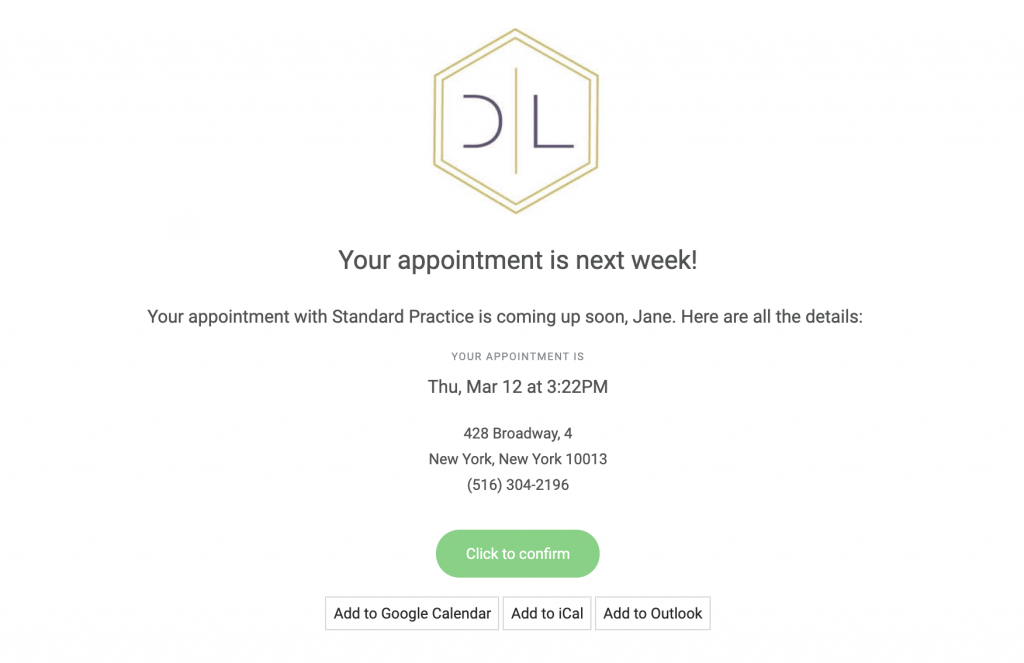 Here are some tips for improving your emails:
Use the subject line and first paragraph to make the purpose of the email clear to the patients
Include a button at the top and bottom of each email that the patient can click to visit the right page on your website
Remove any unnecessary content that is not relevant to the email or might be confusing to the reader
Create emails that are shorter rather than longer
Avoid having multiple call-to-actions or buttons in your emails
Don't: Ignore CAN-SPAM Act
The CAN-SPAM Act was created to establish rules and guidelines for companies' use of email. It's important to understand the regulations and follow them at your practice. Violations of the CAN-SPAM Act can result in monetary penalties and the shut down of your email program.
Some of the most important topics covered in the CAN-SPAM Act are:
Getting patient opt-in to receive emails
Rules on including an unsubscribe link in your emails
The difference between marketing and transactional emails
Avoiding deceptive email marketing practices
Don't: Buy Email Lists
Many companies will try to sell you lists of dental patients that you can add to your email list. While this is a quick and easy way to dramatically increase your email list, it's typically not a smart decision. These email lists often have outdated or inappropriate email addresses that you don't want to email. In the best case, you'll waste email volume on ineffective addresses. Worst case, you'll send emails to addresses that companies like Google and Hotmail know are fake accounts. If you do this, it can hurt your overall email deliverability, and result in all of your emails landing in the spam folder.
Don't: Overspend on Your Email Tool
Email software systems are an important piece of software. You should expect to spend up to a few hundred dollars per month to support your email program. However, it's important that you don't overpay for an email system, or purchase a more expensive system than you need.
Here are some benchmarks for email systems and patient communication systems:
Mailchimp is a great email tool, and starts at $10 per month
Campaign Monitor is another really strong email system, with a starting price of $9 per month
Top patient communication systems like Lighthouse 360, Solutionreach and Weave cost $300-500 per location per month
If you're part of a large dental network and want an enterprise tool like Iterable or Salesforce, expect to pay around $0.40 for every one million emails you send each year
While you're here, you can also delve into the top 6 dentist review sites your dental practice should prioritize.
Originally published