With all the options for communication, people have nowadays, you may think phone calls are old fashion or outdated. However, don't let all those smart screens fool you. People are making and receiving more phone calls than ever. And as a result, more businesses are turning to voice messaging.
Voice messaging technology can help you tap into the power of communicating via phone more efficiently. In this blog, we'll share the benefits of voice messaging systems and how they can enhance everything from marketing campaigns to in-house communications.
What is automated voice messaging?
Automated voice messaging is an innovative technology that communicates on your company's behalf. You can use a real person's voice or interactive voice response (IVR) that will convert text to speech.
Your business can use this messaging technology to send calls and voice messages. These messages can be sent to one person or thousands on your call list. Use it to communicate with your customers about anything you have going on in your business, from appointment reminders to event promotions.
It can also respond to customers when they call your business. Automated messaging can provide your customers with basic information, such as your store hours and address, or it can provide them with a secure way to access their accounts. You can also use messaging to route calls to a live agent based on the customer's reason for calling.
5 Benefits of automated voice messaging
1. Saves time and money
Whether you run a pizzeria or a construction company, many people who find your business online will eventually call. Yet, most people who call businesses get frustrated by being put on hold or by having to repeat themselves to multiple employees.
You can use voice messaging to make sure those calls are handled properly without the cost of hiring a receptionist. The technology can answer frequently asked questions or route calls to the most appropriate person. Both you and the customer save time and money.
2. Increases the outreach
Using voice messaging allows you to effortlessly promote sales, events, and discounts. Instead of staff calling one prospect at a time, you can use messaging to contact thousands of people automatically. This software can even help you identify which customers you should send your messages to based on their predetermined needs.
3. Offers a more personal touch
Messaging software also provides insights to help you personalize the experience. That personal touch can help you increase your revenue by about 40%, according to McKinsey.
4. Ease of use
No need to revamp your IT department. Messaging platforms are intuitive and easy to use. Also, in many cases, the technology can seamlessly integrate with your current customer messaging platforms.
5. Prevents churn
According to one survey, 80% of churn is due to poor service. Customers experience poor phone service in several ways. Needing to repeat themselves to multiple representatives, being on hold too long, and being directed to the wrong department can all increase your customer's frustration.
Messaging can reduce these issues by providing consistent service and quick access to common information while also directing calls to the correct department.
Popular voice messaging systems
When choosing a messaging system, begin by deciding how you'll use it. From there, choose the automated voice messaging systems that best fit your needs. The following are some of the top platforms for communicating with customers and your teams.
Echo: Echo uses AI or IVR to provide customers with automated personalized customer service.
Voxer: Voxer is a mobile app that allows customers to listen, respond and interact with your business in real-time
Marco Polo: Marco Polo takes voice messaging systems one step further with video. This allows you to convey emotion and connect where voice alone can't.
Line: Line is an app that combines voice with text message and chat. Users can send messages, videos, and photos within the app.
Setting up voice messaging the right way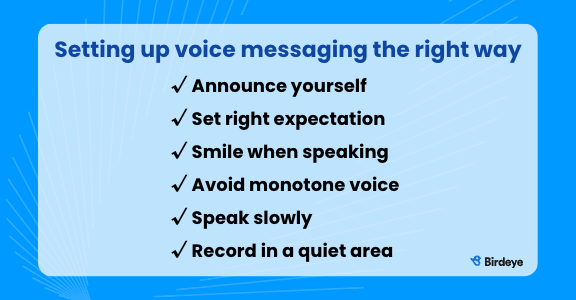 Now that you have the right software, the next question is what is the best way for setting up voicemail on my phone? This is important because your messages impact how customers view your business. Here are some tips to make sure your customers have a good experience with your system.
Announce yourself: Start with a greeting, along with your complete business name. Identify your position and thank the customer for their call.
Set the right expectation: Tell callers to listen carefully to your menu options and when they can expect a callback. If they require immediate assistance, have the option to direct them to a live representative or provide your company's website as an option.
Smile when speaking: Smiling as you speak, even over the phone, will make your voice sound friendlier and more cheerful.
Don't speak in a monotone voice: It's important to make your voice sound natural, with the same inflections it would have if you were speaking in person. Writing down your greeting and rehearsing can help you sound more authentic.
Speak slowly: It's much easier to correctly hear someone when they are calm, clear, and patient. Speak slowly when recording your messages so that customers can understand every word.
Record yourself in a quiet area: Background noise can make it difficult to understand speech over the phone. Make sure you're in a quiet area when recording.
FAQs about voice messaging
Is voice messaging better than texting?
It depends on the context and individual preferences. While voice messaging can convey tone and emotion faster, texting is often preferred for convenience and clarity.
What is a voice messaging service?
Voice messaging service is technology you can use in place of email, text, or a live representative to communicate with your customers and teams over the phone.
What is the difference between voicemail and voice message?
The difference is that voicemail is live voice messaging to one individual. On the other hand, voice messaging is a single voice message that can be sent to a few or thousands of people.
Business messaging software for streamlined communication
You would think smartphones would make customers more likely to text, email, and message companies using social media or website chat. Instead, your customers are making more phone calls than ever. They're also more likely to respond to automated voice messaging and calls for everything from promotions to appointment reminders. Whether you're communicating with customers or with your team, voice messaging can streamline your efforts and drive growth.

Originally published