A vast majority of businesses rely on customer appointments as their major source of revenue. However, most of these businesses struggle to streamline customer appointments to set better work schedules, reduce cancellations, and boost productivity. Most local businesses still rely on manual booking and tracking appointments which leads to further loss of revenue due to human errors.
If your business is struggling to manage customer appointments and keep your calendar filled, you have come to the right place. In this blog post, we will look at the real impact of mismanaged appointments on your business. We will also explore some efficient ways to streamline your appointments and grow your revenue.
But, first let's start with understanding the importance of appointments for a business.
How important are appointments for a business?
For a service-based business time is money and appointments help businesses stay organized, maximize productivity, and predict revenue. While customer walk-ins are always welcome, knowing how many customer appointments you have daily helps you plan better. That is why over 80% of businesses opt to book appointments for their business operations.
With timely booked appointments, businesses can be prepared in advance and be better positioned to serve their customers in a timely manner. Efficient planning means that the appointment slots are always booked and yet the customers are never waiting endless hours in the waiting area.
Who is using appointment scheduling and why?
If you're wondering if appointments are suitable for your industry, we have news for you. Almost every leading service-based company uses appointments.
According to our recent internal survey, here is the breakdown of appointments by industry and their impact on their revenue.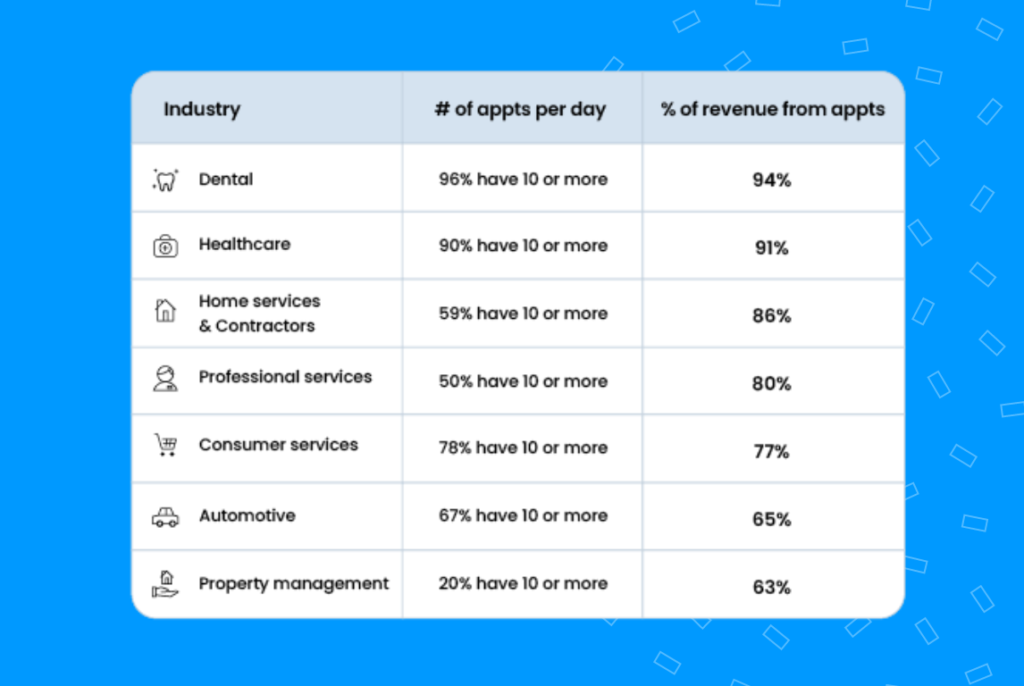 As you can see, most major service-based industries use appointments, which directly impacts their revenue.
Why do customers book appointments?
The main reason why customers book appointments is because they crave personalized interactions and convenience while working with the business. Appointment booking systems allow the customers to be in control of their own experiences and help them do business with the company on their own terms.
Customers like the freedom that comes with booking appointments themselves. They can book an appointment any time they want and not just between 9 to 5 pm from Monday to Friday. Having a view of all the available time slots at one place allows them to select one that suits them. They are spared the back and forth phone calls or emails to find a convenient appointment time.
Now that we have established the convenience that appointment scheduling softwares provides, let's talk a bit about what these appointments may be booked for.
Our survey identified 4 main reasons why customers book appointments.
The graph shows that most customers use appointments to take the first step with a business. Leveraging an appointment scheduling service to make this step smoother for your customers can help you improve your conversion rate.
More on appointment scheduling services in the following sections. Scroll ahead if you want to read that first.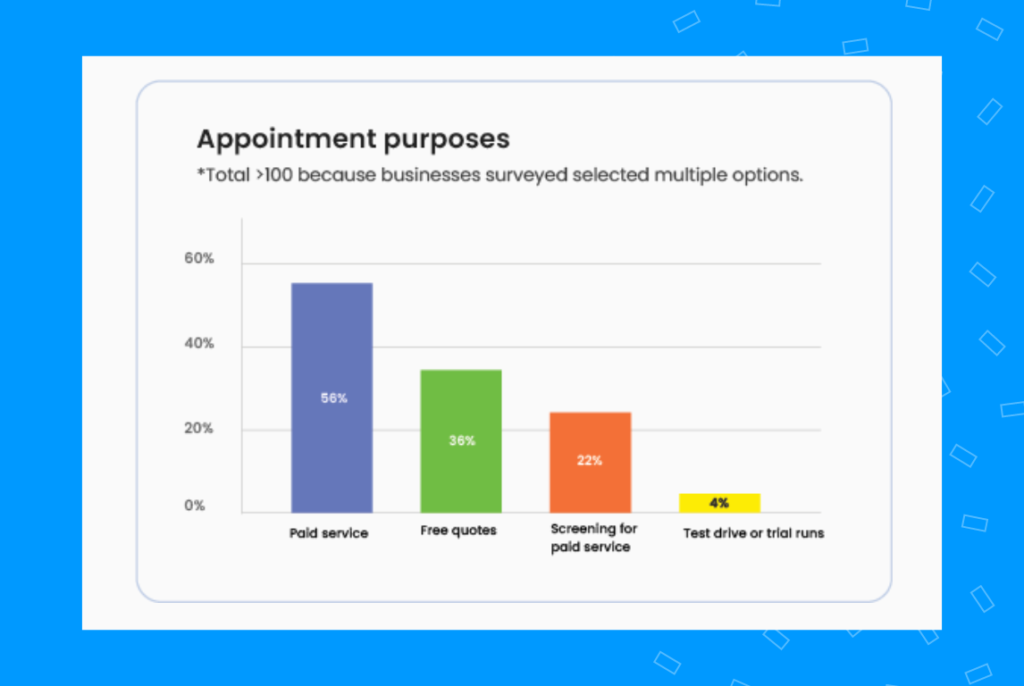 Challenges in appointments for businesses
With such strong data backing the need for businesses to have an appointment model, you may wonder why it doesn't have a more robust adoption rate. While using appointments to book time with customers sounds good, booking appointments has its challenges..
When you build a business around appointments, you run the risk of
No-shows: Many customers book business appointments but forget or change plans at the last minute. They may not inform you as well, leading to a drop in productivity and businesses suffering a loss of revenue.
Last-minute cancellations: Even if customers do cancel their appointment before time, it may be last minute and already be too late for the business to offer that slot to another customer.
Inefficiency due to unfilled appointments: Without a robust system, a business may be unable to fill all the appointment slots and may even turn away potential clients due to a lack of data.
But you can overcome these challenges by developing a solid process and using the right tools to schedule customer appointments.
Strategies to increase appointment revenue
Using an appointment software would definitely help combat the challenges we saw in the previous sections. But it is important that businesses pay attention to a few specific strategies and know how to use the tools at their disposal to the fullest and make the most of their investment.
Reminders
As a business owner, you want customers to keep the appointments they make and arrive at the right time. You can significantly reduce no-shows and appointment time mixups by sending reminders via text message or email to your customers. You can also automate these reminders to go at a preset time before the appointment.
Also, instead of having a team member call or message a customer, you can use an appointment scheduling tool to eliminate the possibility of human errors.
Create a waitlist
If you are a business owner struggling with filling last-minute canceled appointments, then a waitlist is the solution for you. When you have filled all your appointment slots and are still getting queries, create a waitlist for your customers. This way, when a customer cancels, you can call the waitlisted person and book that appointment slot for them if they are available.
Businesses can maintain a digital database of waitlists and have the team coordinate with potential clients to streamline the process.
Rebook appointments
Some businesses need customers to come in more than once or regularly for some time. Most customers forget to book appointments, and that leads to the business losing potential revenue. But if you offer a rebooking system, customers can easily book appointments for the next visit.
Instruct your receptionist or administrative assistant to make sure that customers know of the rebook feature when they come for the first appointment.
Make it easy to book appointments
When you are building the process of appointments, make sure that this process is more convenient for customers than the previous one you had in place. The easier it is, the more you encourage everyone to book appointments with your business.
A few ways to do that are:
Webforms on your website
When a customer is considering your business for a service, the first thing they do is visit your website. If you want to capture the lead at this stage and encourage them to connect with you, start by adding the option to book an appointment with your business from your website.
With an easy way to take the relationship ahead, customers are more likely to book the appointment than if they have to use another channel to do so.
We know customers are most likely looking to book appointments for a free trial or a demo, so this is the best place to have the appointment form.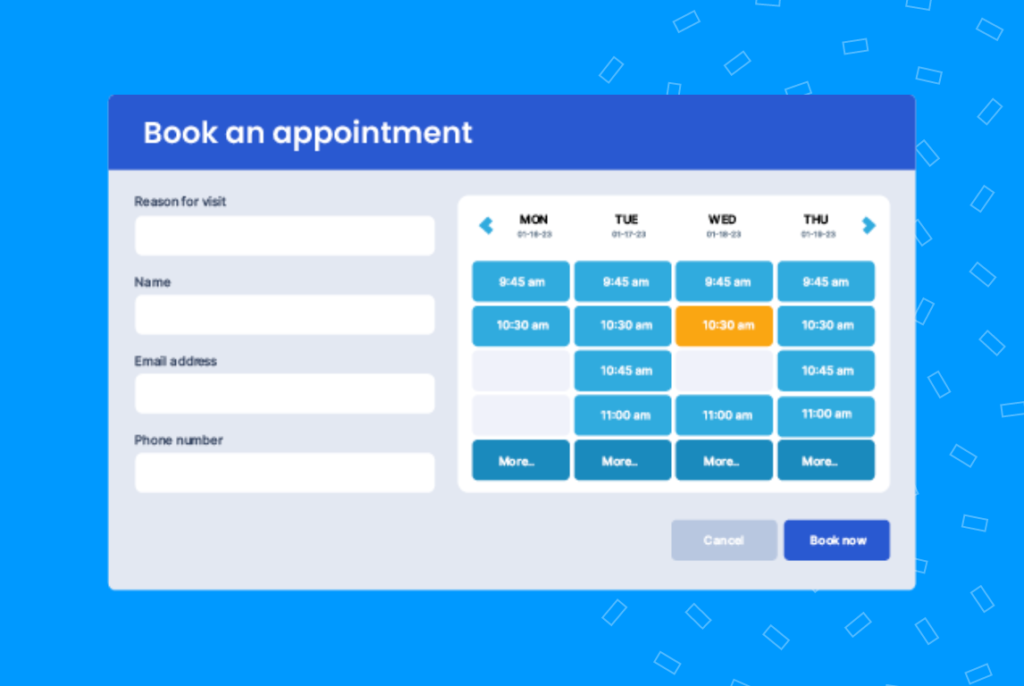 Webchat
Let's suppose a customer visits your website and is interested in booking an appointment with your business. But they may have a few more queries before they can pick a slot. Having a web chat service on your website makes sure that customers can have their questions answered instantly. They can then book an appointment within the webchat service immediately after.
With Birdeye Webchat service, you can also automate a few replies and connect it with our appointment booking system.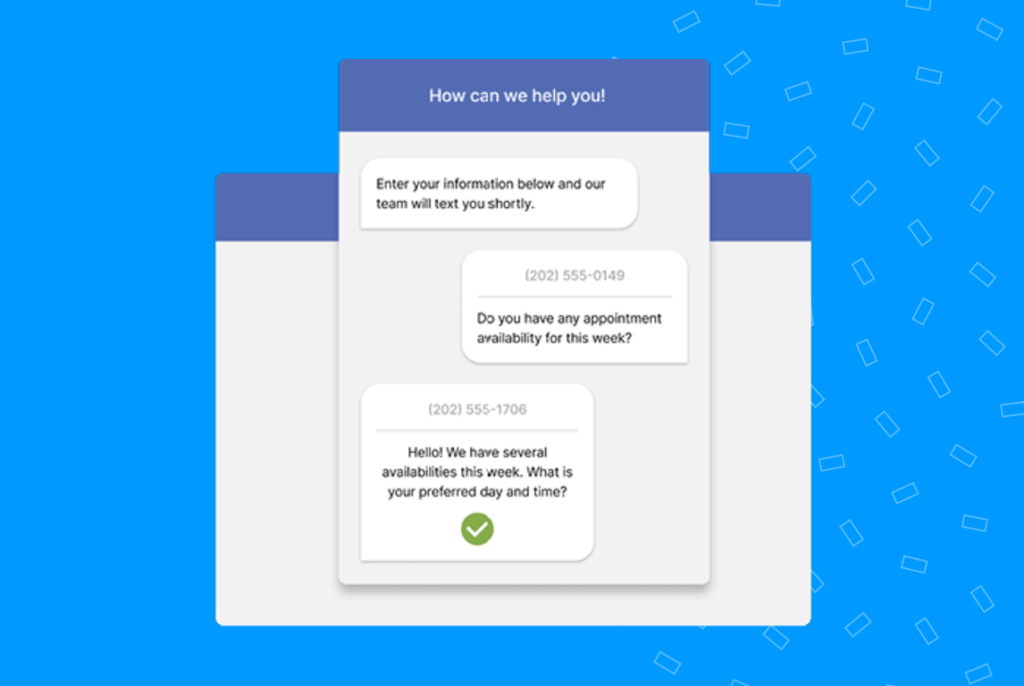 Google Business Profile
1.6 billion local searches occur every day on Google looking for local businesses. If you have optimized your Google Business Profile listing, then the odds are customers are discovering your brand through this channel. You can further leverage this listing by connecting your appointments tool with your Google Business Profile.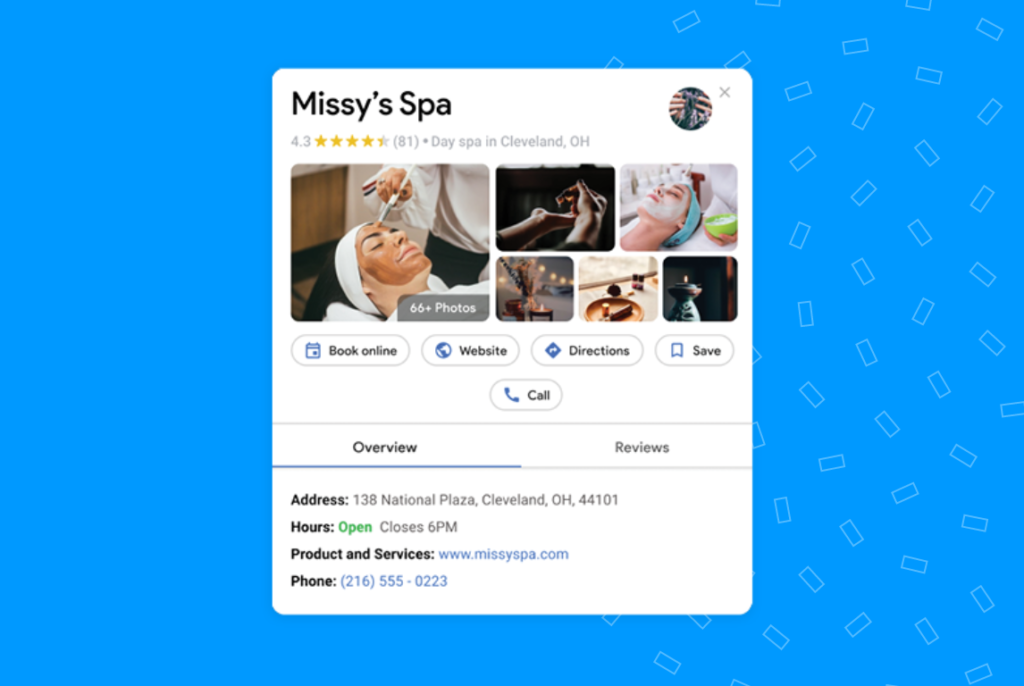 Most customers prefer this instant appointment booking service instead of calling or messaging the business. This way, you can make sure you effectively capture all leads generated from your Google Business Profile.
Social media
If your target audience mostly comprises Millennials and Gen Z, they are more likely to discover your brand via social media channels. Allowing them to book appointments directly from your social media profile can reduce the friction in the conversion process and improve your lead conversion rate.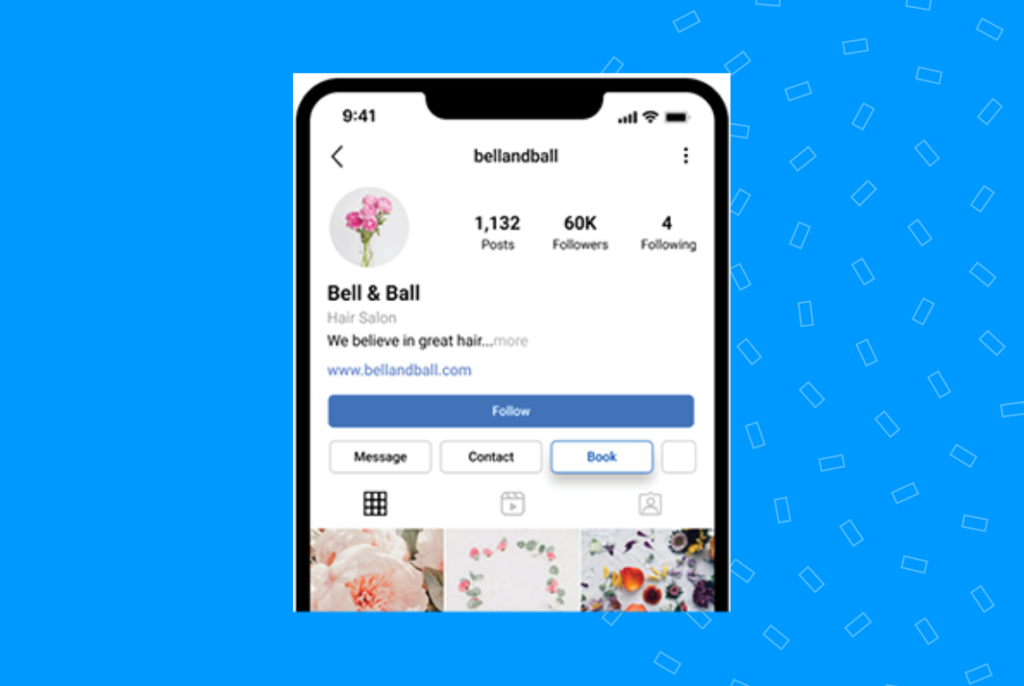 If you have a business account on social media, you can use the contact button options on social media channels like Instagram and Facebook to book appointments. On other channels, you can set up an automated response template for your inbox and leverage it to book appointments for your business.
Appointments software
Last but not least, local businesses must streamline their appointment booking and managing process by using appointment software. With the right tool, you can increase appointments, reduce cancellations, improve customer experience, and significantly boost your revenue.
Let us take a look at what appointment software is and what it can do for your business in detail.
What is appointment software?
Appointment software is a tool that helps businesses streamline productivity by allowing them to digitally schedule appointments, manage bookings, and understand their schedule.
These solutions are primarily used in the service industry, especially in the medical appointment scheduling , including dentists, chiropractors, hospitals, and private clinics, to name a few. They are also increasingly used in other service-based businesses such as home services, contractors, automotive repairs, etc.
An appointment software primarily has four functions – schedule, reminder, recall, and calendar presentation.
Let us explore these in detail.
Appointment scheduling software
An appointment scheduling software mainly focuses on providing an online platform or interface for businesses to book customer appointments. With this, your customers can book appointments with a single click anytime without needing to call or message your employees.
This software also ensures that:
You don't double-book any slots
Customers get an instant confirmation upon booking their appointment
Businesses can utilize administrators more efficiently
Human errors in the booking process are minimal
Appointment reminder software
It is important to have a system that reminds them of their appointments to ensure that your customers show up without fail and at the right time. An appointment reminder software can help you accomplish this task.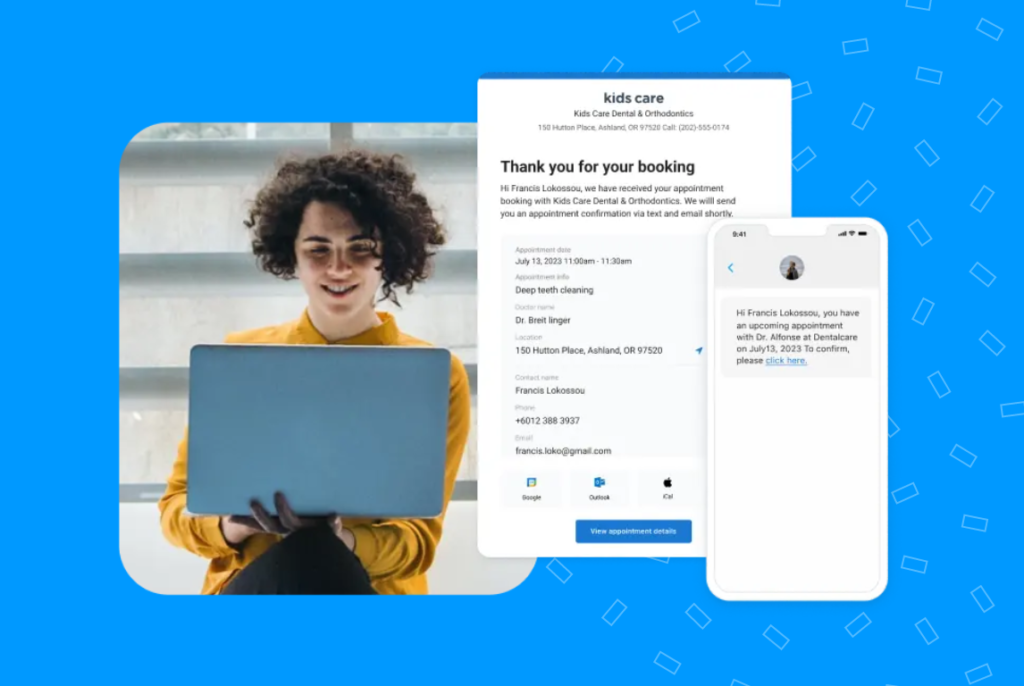 You can leverage this tool to:
Automate preset reminders to avoid no-shows
Remind customers so that they actually turn to the appointment
Avoid late-comers by giving them a heads-up of the schedule well in advance
By including reminders in your appointment scheduling process, you can elevate the customer experience while reducing revenue loss.
Appointment recall software
Booking the first appointment and ensuring customers show up is only a small part of the appointment system. Most businesses that rely on appointments for their revenue need customers to come back for follow-up appointments as well. And the appointment software that helps you automate this process is called an appointment recall software.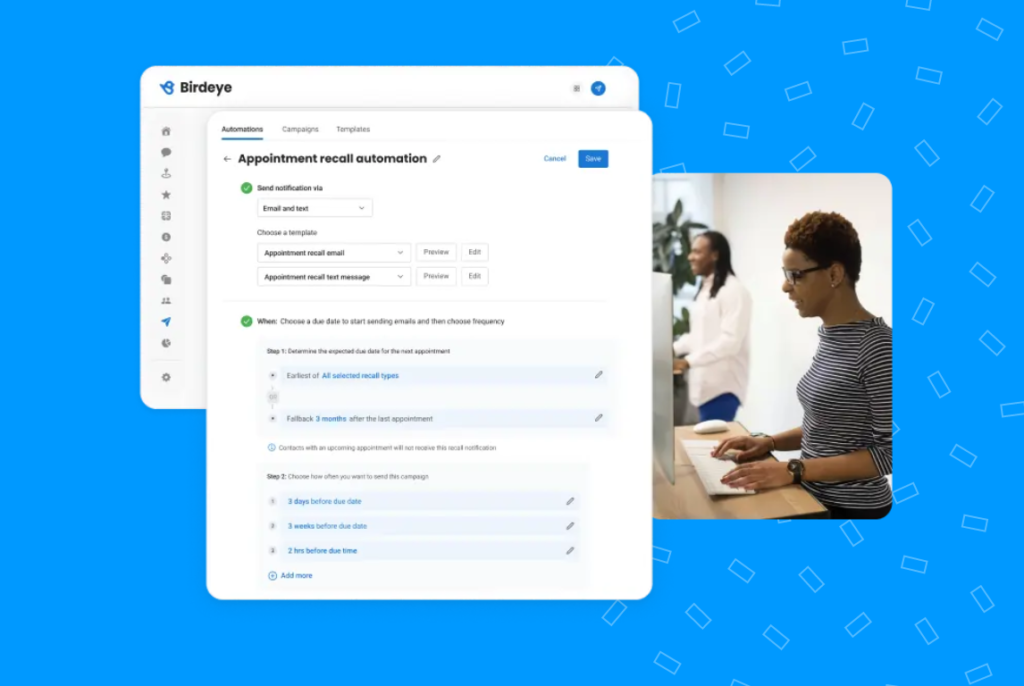 An appointment recall software reminds customers to rebook their appointments based on your input to the system. This ensures a steady stream of appointments and revenue for your business. It also positively impacts their overall experience with the business as it removes the burden on customers to remember the follow-up appointments
Appointment scheduling calendar
As a business owner, you need a bird's eye view of how your business is booked up for the upcoming period. An appointment scheduling calendar helps you analyze your busiest and slowest days and take stock of the expected revenue for your business in a given period.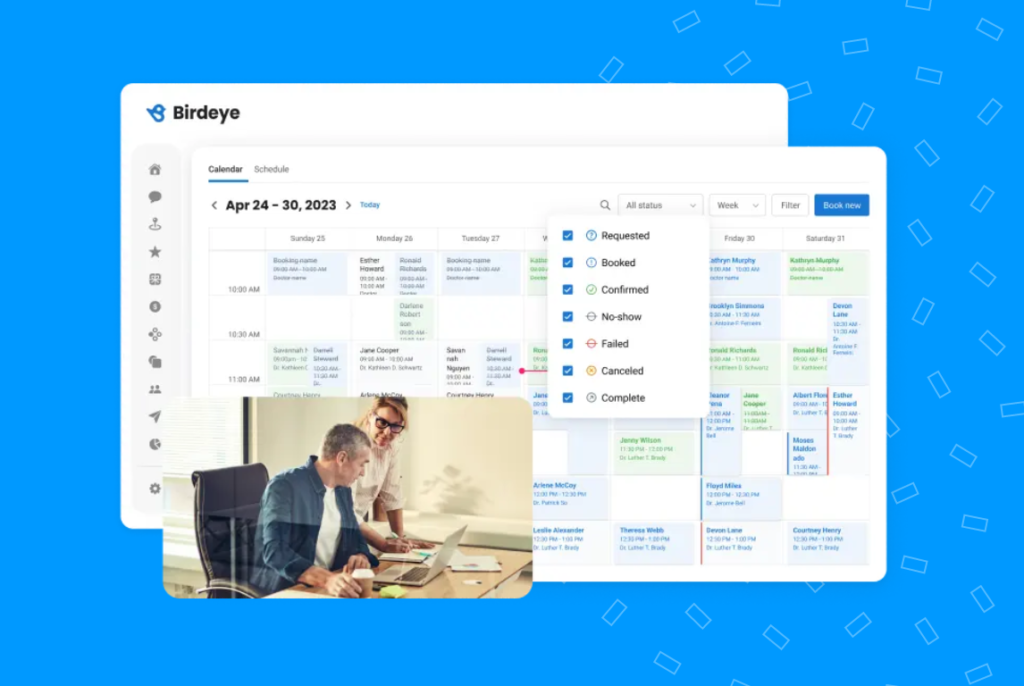 With this information, you can then schedule resources, plan promotions to boost revenue and formulate a growth plan for your business.
Benefits of appointment scheduling software
Appointment software has a far-reaching impact on any business implementing it in their processes. In addition to streamlining customer bookings, this tool can change how you serve customers, implement policies, and grow your business. They allow you to build omnichannel, efficient, and personalized customer experiences.
This section covers some of the major benefits of appointment scheduling software for local businesses:
Increased revenue
We have seen that including appointments in your customer service process has a direct upward impact on business revenue. When service-based businesses move to appointment scheduling software, they increase the volume of booked appointments, fill appointment slots, and reduce no-shows and cancellations.
This means that customers not just book appointments but keep them and keep coming back for subsequent meetings.
Integrating appointments with Google Business Profile, CRM, and other management tools also makes sure that you find opportunities for improving ROI in other areas of your business. For example, integrating "Book now" with Google Business Profile can help convince leads to interact with you and convert them faster.
Streamline resource scheduling
For a local business, the biggest challenge in implementing the appointment system is having enough resources to cover all appointments. Without robust scheduling systems, there can be missteps in resource scheduling, leading to disappointed customers and a sharp drop in revenue.
By working with appointment scheduling software like Birdeye that integrate with your internal systems, you can make sure that you schedule resources in tandem with your booked appointments to streamline the process.
Improves retention
Service-based businesses need customer retention to be at its highest to succeed in the competitive world. More than 50% of customers mention that ease of shopping and customer service are essential for staying loyal to a brand.
Appointment scheduling software significantly improves customer autonomy, provides them with a seamless booking experience, and helps them confidently navigate the transaction. These factors can make a customer continue the relationship for a more extended period.
Better customer experience
Let us talk about one of the most important benefits of appointment scheduling software for a local business. Implementing this tool can help you become an "always-on" service provider, a trait that most customers expect in the digital age. Businesses can significantly improve customer experience by improving ease in scheduling appointments, sending reminders, and managing employee schedules based on appointment schedules.
Reduces errors
The business front desk is a fast-paced environment. Without scheduling software, businesses rely on phone calls, manual texting, or handwritten notes to keep track of appointments. The probability of human error is high in such cases.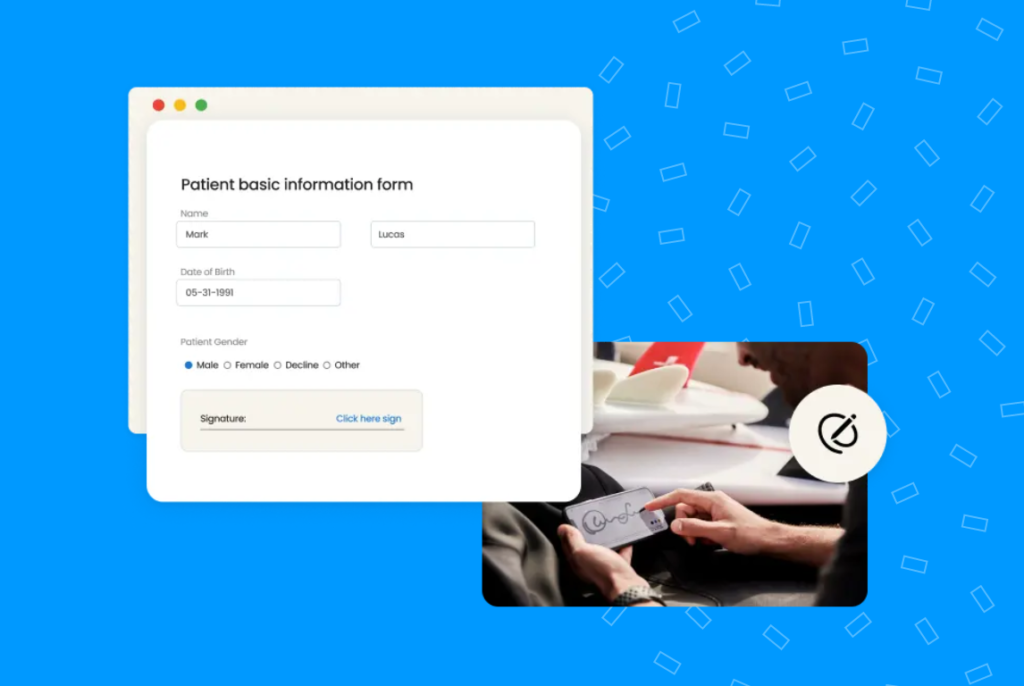 When you work with appointment scheduling software, you can reduce errors in:
Recording names, phone numbers, and other essential customer data
Appointment timings
Case history records
Allows multi-channel availability
Customers like easily accessible businesses. Your presence on multiple communication channels can boost brand awareness and ease of booking for new and existing customers. If customers can book with you while browsing social media, on your website, and even from your text messages, the volume of repeat appointments significantly increases.
Appointment scheduling software makes it easy for businesses to allow customers to reach them via multiple channels. You can integrate them into your marketing and communication tools for best results.
Important features of appointment scheduling software
A good appointment booking system will have the following features:
Online booking
We live in a world where most customer-business interactions have completely become digital. Customers prefer online scheduling over making a phone call or walking into a store to make an appointment later that week.
Your appointment scheduling software must allow you to create bookings from various digital channels such as Google Business Profile, website, social media, text messages, and native apps.
This helps customers to book an appointment at their convenience and stops a business from losing a potential client just because it is after business hours.
Automation
Efficiency comes with automation. The most significant advantage that appointment software can bring to your business is free up time and resources from doing recurring tasks in addition to booking appointments.
With the right tool, you can automate the following:
Appointment confirmations
Resource scheduling
Appointment reminders
Waitlist creation
Automating these tasks is an important feature to look for in any appointment-scheduling software you are considering.
Recurring appointment scheduling
Most service-based businesses need their customers to return for frequent appointments. If your appointment scheduling software allows customers to book these recurring appointments during or immediately after their first appointment, your customer retention rate will skyrocket.
Choose a flexible software to set up ad hoc and preset recurring appointments as the need varies across industries. Here is a snapshot of how often service businesses need their customers to book recurring appointments.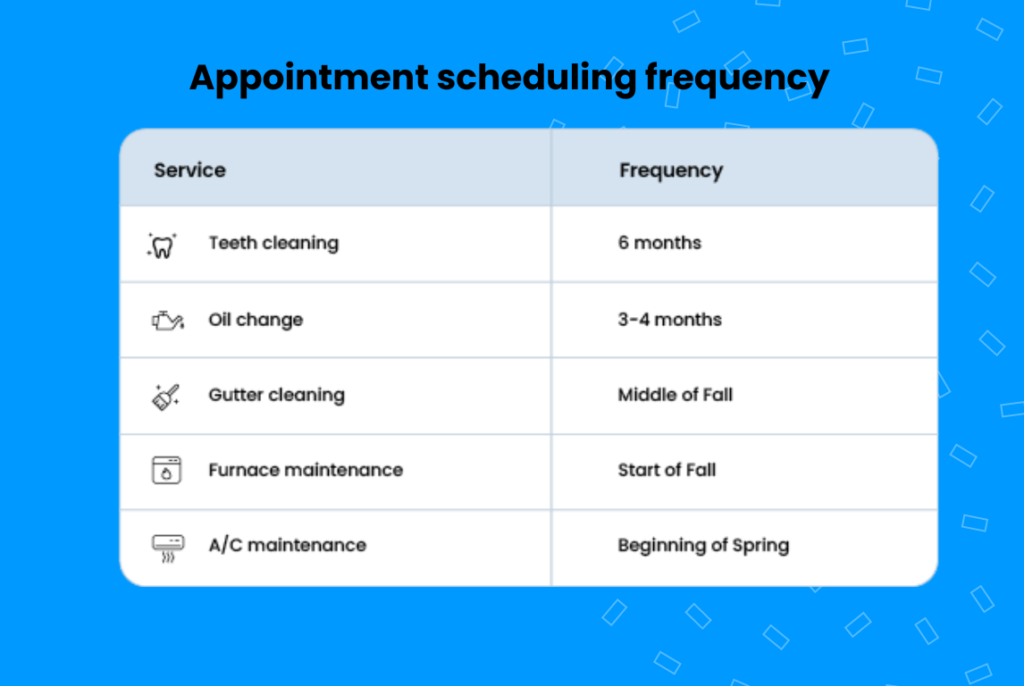 Rescheduling
Even your best customers may need to cancel appointments, leading to a drop in expected revenue. But you can easily convert a lost opportunity to a delayed opportunity by choosing appointment software that allows rescheduling.
Appointment scheduling software should help you motivate customers not to cancel but instead just reschedule with toggle buttons, prompts, and more. This feature can greatly impact the success of your appointment processes.
Calendar syncing and scheduling
The best appointments software will do more than just book appointments for you. It must allow you to
Sync those appointments to your employee calendar
Schedule resources in sync with the appointments with Calendar syncing
View the appointments booked for a particular period
Enable customers to add appointments to their personal/work calendar
Integrations
No business operation works in silos. It is important that the various tools a business uses daily interact with each other and help the business recognize opportunities, patterns, and issues. The right appointment software must integrate with essential tools like CRM, work schedule apps, PMS systems, payments, website management tools, etc.
UI customization
Appointment forms are an important part of customer checkpoints. They form a core part of your branding identity. As a business, your customers must interact with consistent-looking tools at all stages.
The appointment scheduling software must allow businesses to customize the UI/appearance of the appointment form to be consistent with their brand identity.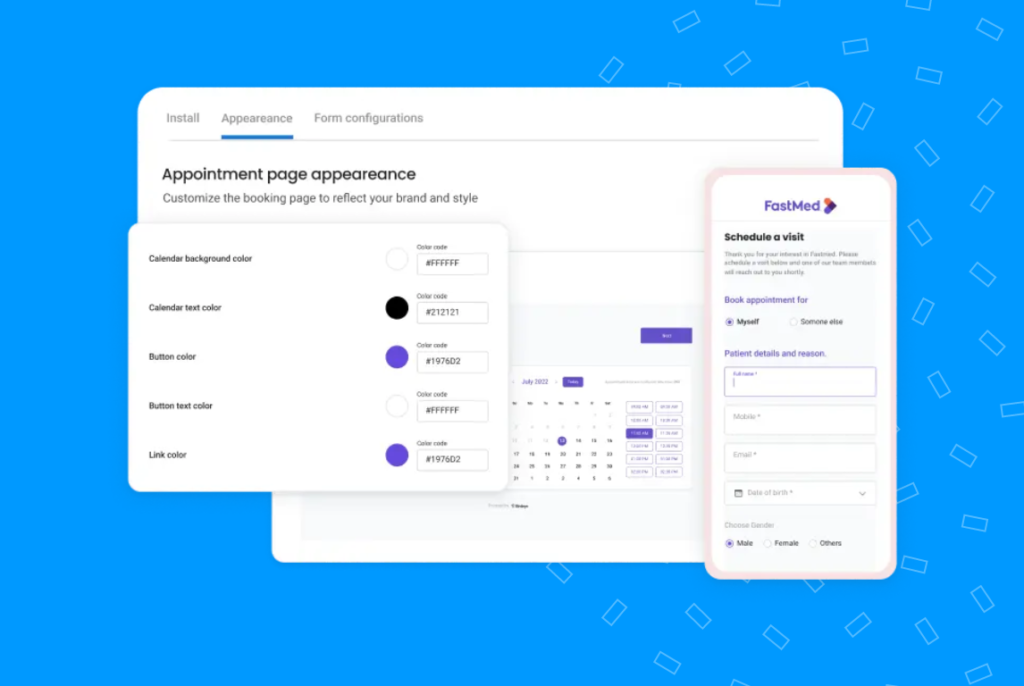 Flexibility
Depending on your business type and industry, you may need your appointments system to handle more than one type of appointment. As we see below, this is not a one size fits all solution, so it is crucial that the software can serve this need.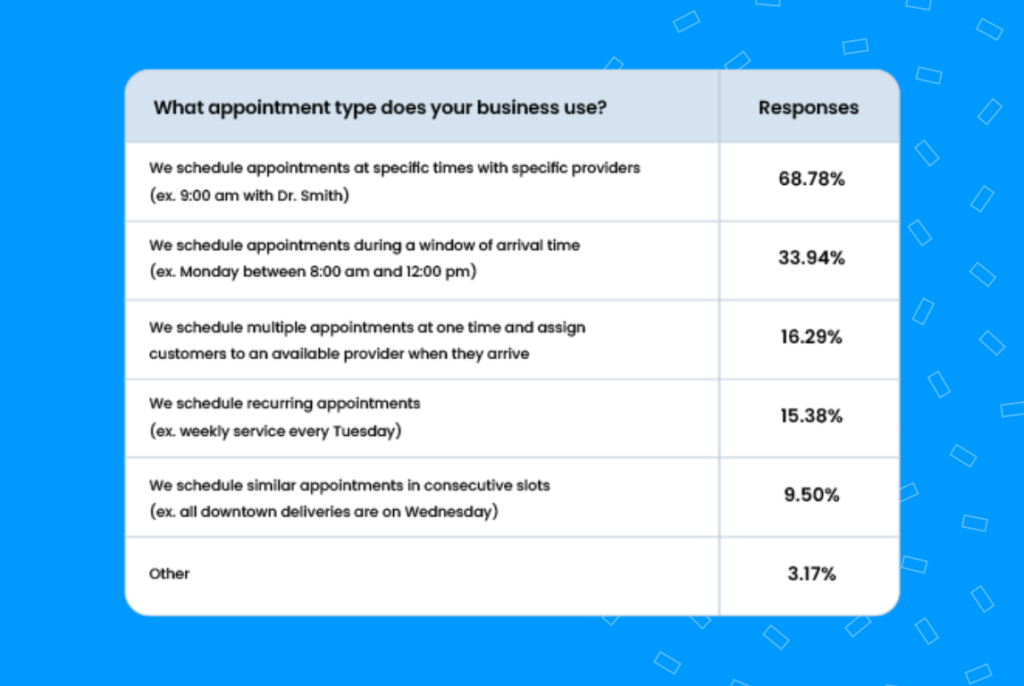 Choose an appointment scheduling software that can accommodate more than one type of appointment and allows you to choose how you wish to handle the process.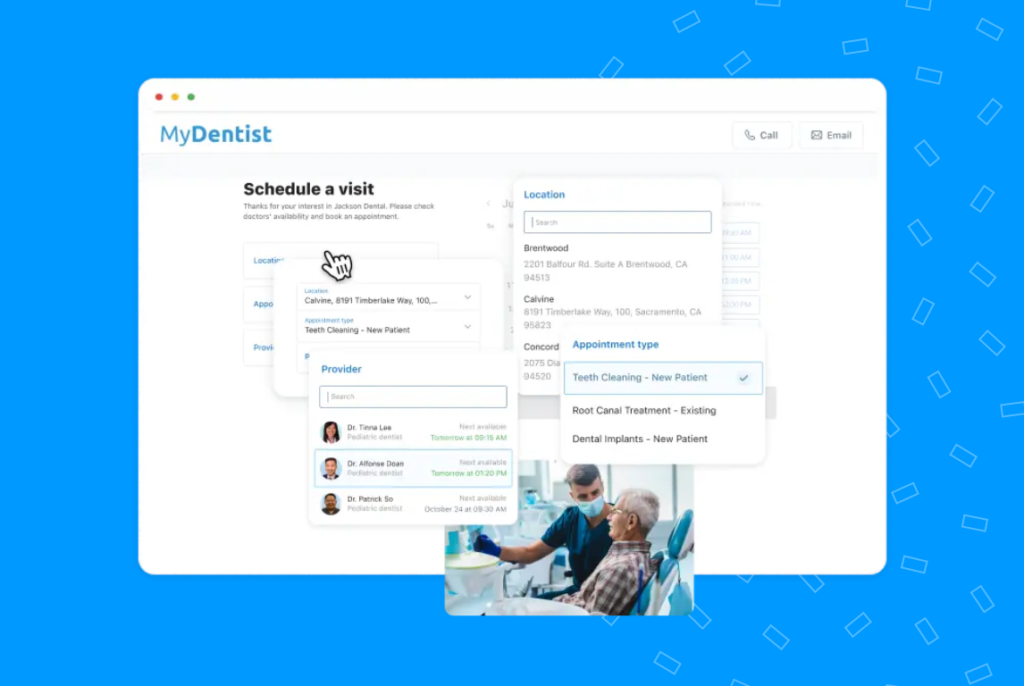 This ensures customers get the best experience and do not have to adhere to a standard appointment type due to the system's limitations.
Scalability
While you leverage your appointment scheduling software to grow your business, choosing one that grows with you is also important. Most appointment systems that cater to single-location businesses do not allow them to sync their other locations when they expand. This means you will have to look for a different provider or maintain two systems leading to additional work.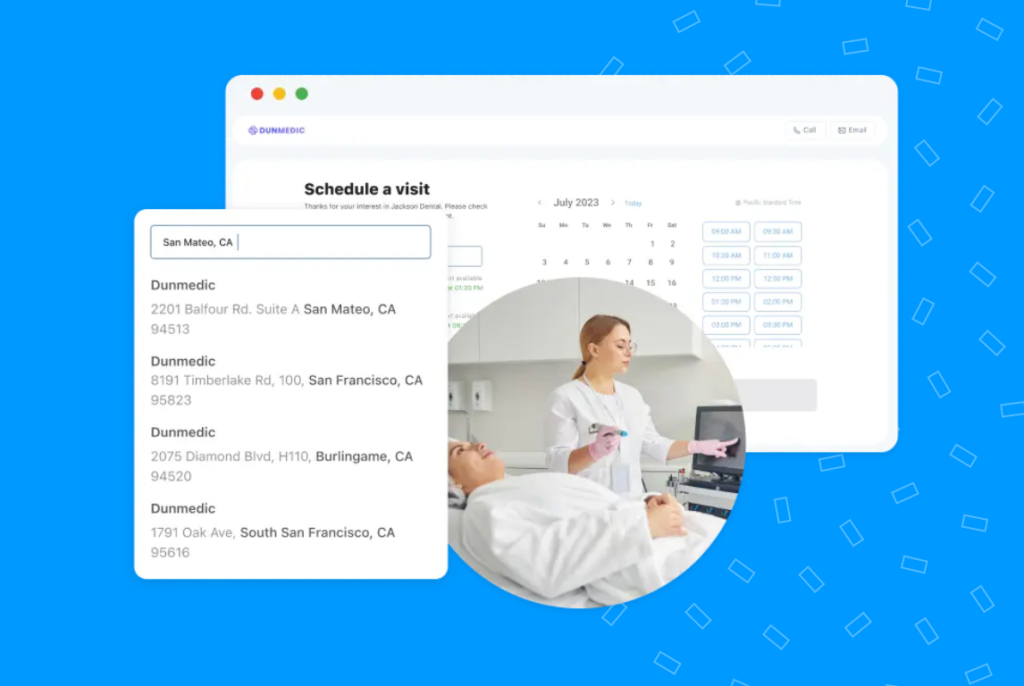 It is best to choose appointment systems that allow multi-location scheduling, robust reporting, and calendar syncing across the organization for the best results.
Customer intake forms
In our earlier sections, we saw that customers book appointments with businesses for various reasons ranging from test drives, free trials, quotes, and more. If you had this information beforehand, you can prepare better for the appointment and serve your customers swiftly.
That is why appointment scheduling systems need to incorporate appointment intake forms. With this feature, you can qualify leads, prep resources, and significantly improve customer experience.
Analytics
Appointment scheduling systems can help businesses grow faster by providing analytics on customer preferences, behavior, and other related information. Choose systems that help you understand patterns, evaluate cancellations and no-shows, understand business growth, and more.
This data can help you promote, position, and build a better product for your customers.
Top 20 appointment scheduling tools of 2023
1. Birdeye
Birdeye Appointments allows you to save time by automating appointment scheduling, reminders, reporting, data entry, lead qualification, calendar syncing, and more. With this appointment scheduling tool, you can: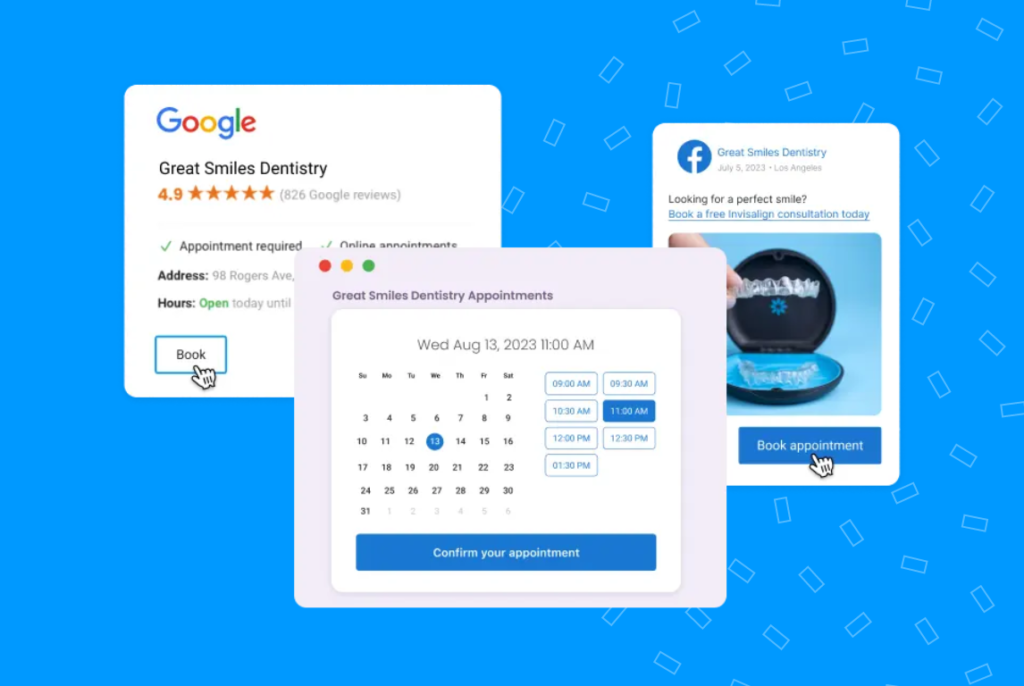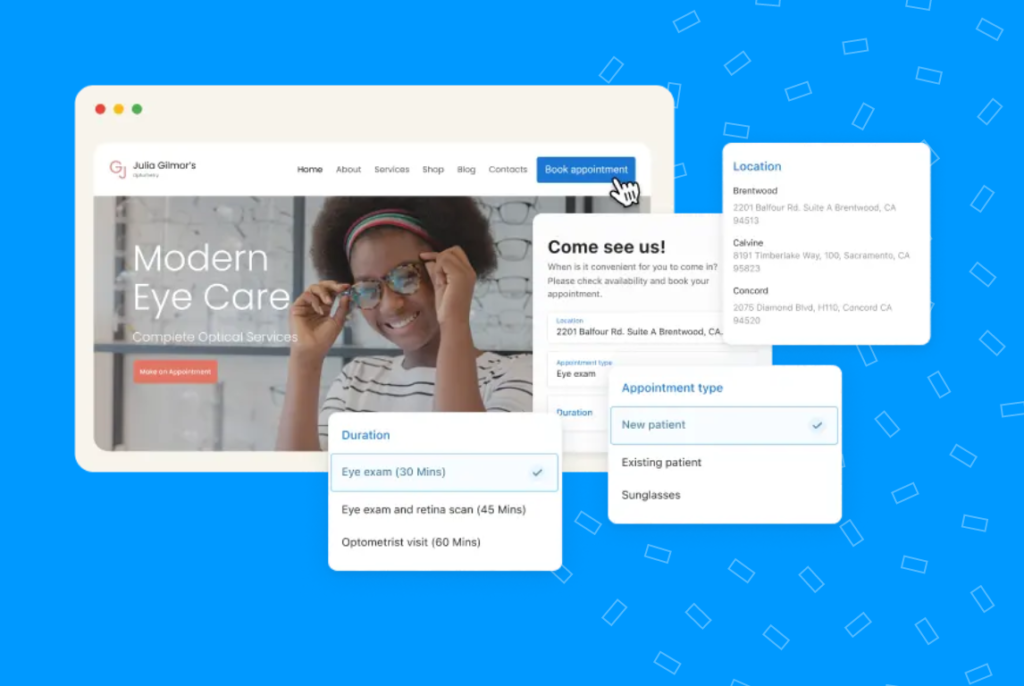 Build branded appointment forms for your website
Enable two-way PMS integration
Send reminders via email, text, and other channels
View all upcoming appointments in a single dashboard
Allow customers to book different appointment types from the same form
Know more about customers with intake forms
Track trends and make informed decisions
Use the same system for multi-location scheduling
Reduce cancellations and no-shows with automated reminders
Have an overview of each customer appointment and activity using Birdeye smart inbox.
Setup recurring appointments and reschedule appointments
Follow-up appointments with review requests, referral requests, and surveys
Birdeye is ideal for all appointment-based businesses, especially health practitioners and other multi-location businesses. It is built from the ground up for the health industry with integrated insurance payment options, data security features, and health record systems.
Connect with a Birdeye expert to know more.
2. Zoho Bookings
Zoho Bookings is a free appointment scheduling software that allows businesses to book appointments from their website. You can also sync your calendars, collect payments, and customize forms with this tool.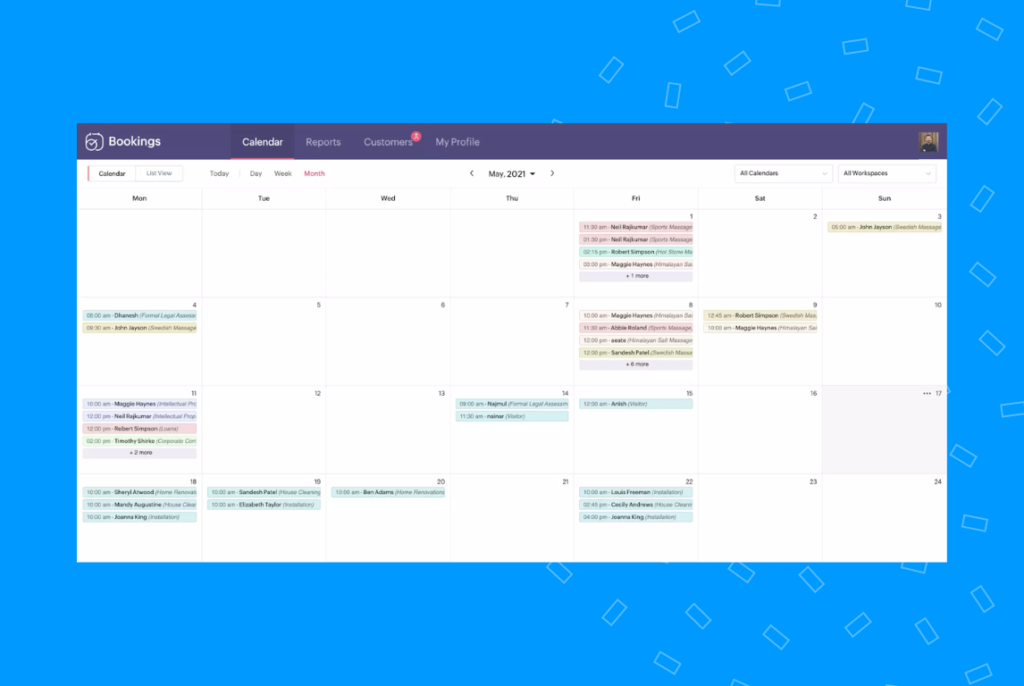 This appointment scheduling software allows you to:
Integrate with other Zoho apps
Collect customer information with intake forms
Integrate with online meeting tools
Customize your appointments page
Send reminders to customers and reduce cancellations
Businesses looking for a standalone appointment system or those already working with Zoho apps can consider this. It is not built keeping the niche requirements of different industries.
3. Calendar
Calendar is a simplistic appointment scheduling software enabling businesses to manage calendars better with AI and a virtual assistant. You can bring Google Calendar, iCal, and Outlook Calendar to a single dashboard.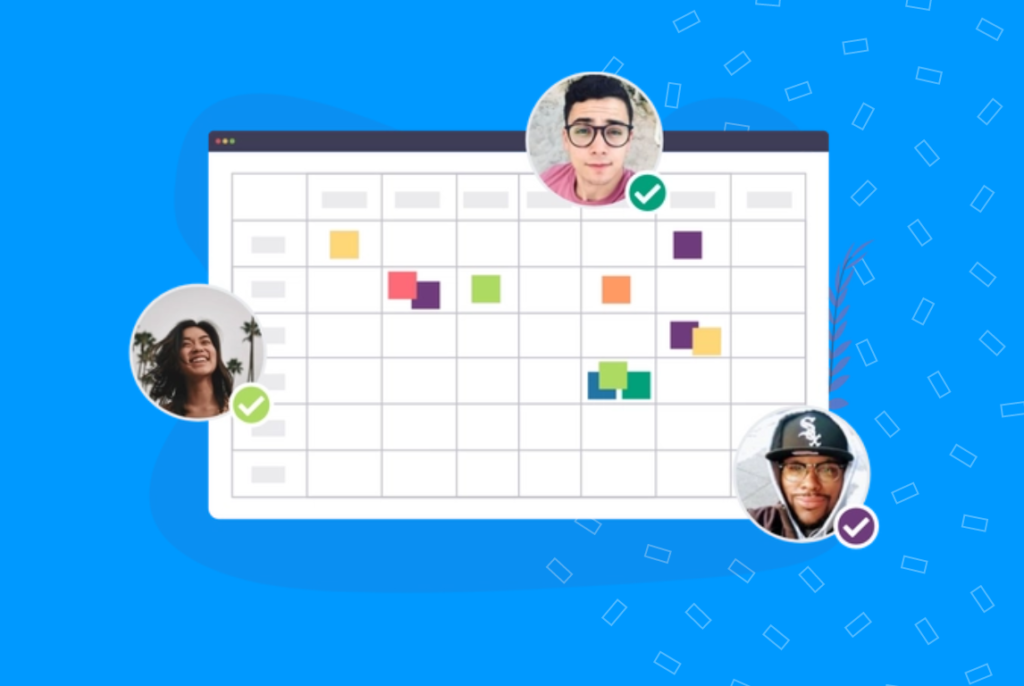 With this tool, you can:
Send appointment invitations
Send reminders for meetings
Automate confirmations
Schedule across time zones
Integrate Stripe for payments
Gain insights into your meeting data
Businesses looking for just meeting scheduling needs, especially online meetings, can consider this tool. This tool could not support advanced scheduling needs or provide UI customization services.
4. Bookeo
Bookeo is an appointment scheduling software that allows businesses to schedule, manage and analyze their appointments. You can integrate this system or app with your website and allow customers to book time with you. It can be used by small businesses in the industry of service providers, schools, teachers, tour guides, and activity planners that rely on employee scheduling and appointment sync.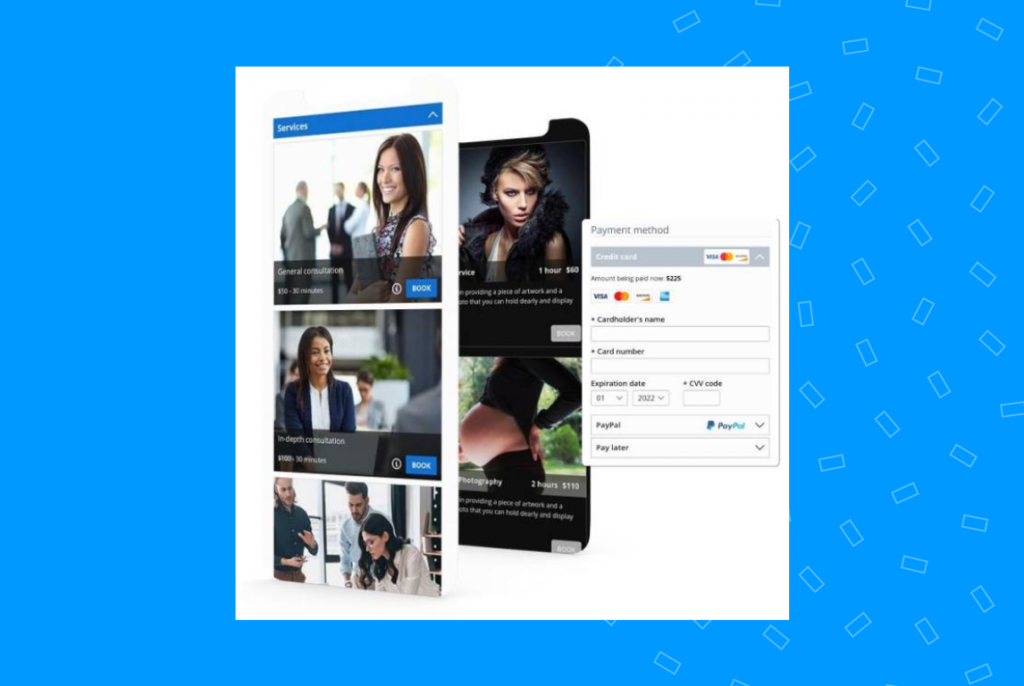 This system offers:
Appointment reminders
Customized appointment forms
Ability to track appointments, no-shows, and cancellations
Integrate payments
Sync employee calendars to boost efficiency and productivity
Calendar sync with Google Calendar, iCal, and Outlook
Reminders to employees on any change in appointments
Intake forms
5. Square appointments
This appointment scheduling software is part of the Square group that caters to retail, food and beverage, beauty, home services, and similar industries. You can buy this solution as a standalone option or integrate it with their other products.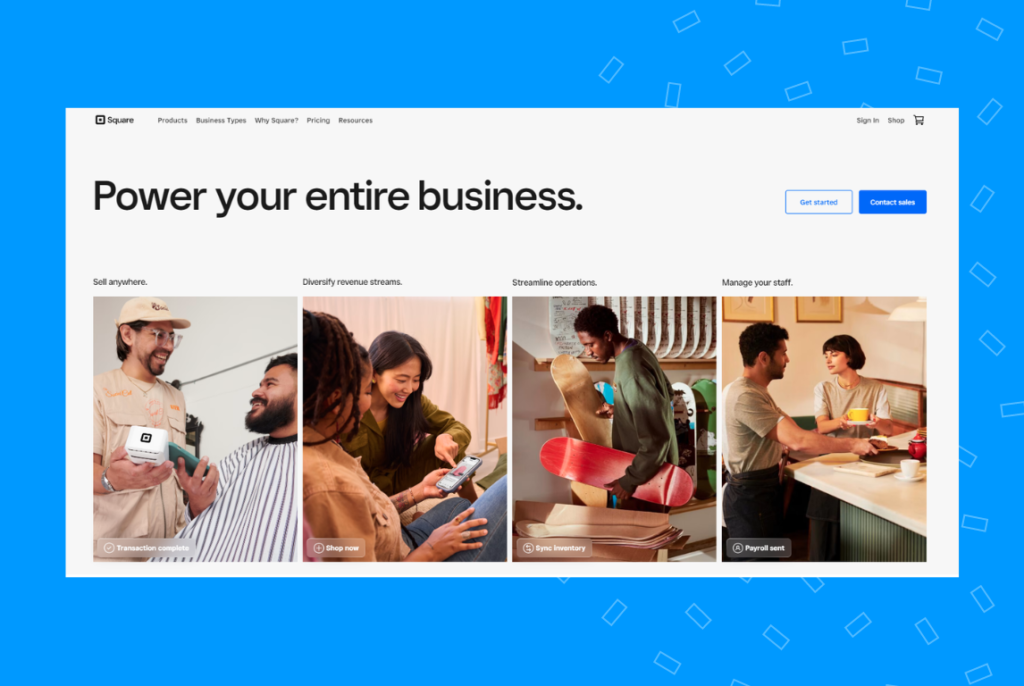 Square appointments allow businesses to:
Schedule appointments, send reminders, and follow-ups
Sync with calendar and team management tools
Integrate with POS (point of sale) systems
Build customer profiles, and record customer interactions across text, emails, etc.
Integrate with e-commerce, payment, and marketing tools.
6. SimplyBook
SimplyBook is an appointment scheduling tool that allows businesses to collect bookings from their website, the tool's booking page, and social media channels such as Facebook and Instagram. They have a free and paid plan for businesses that need a higher volume of bookings.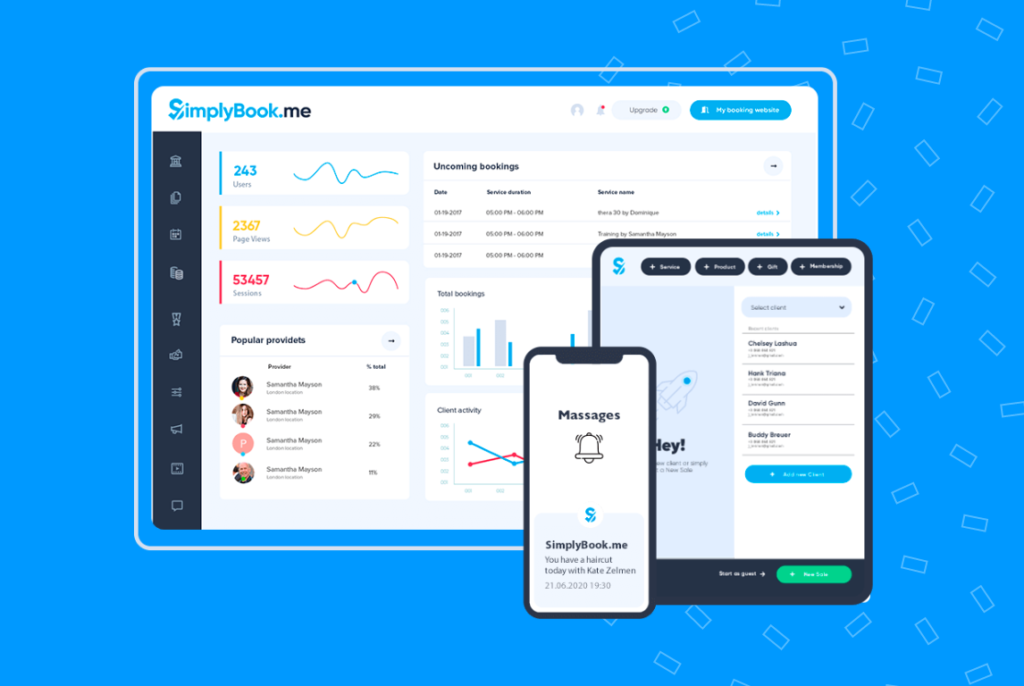 With this tool, you can:
Schedule appointments, and send reminders via email and SMS
Sync the Book Now option on your Google Business Profile
Integrate video meetings
Sell memberships, classes, event tickets, and more
Use intake forms for collecting client information
Collect payments by integrating popular payment service providers
7. Setmore
Setmore is a free appointment booking platform that allows businesses to sync their employee calendars (up to 20) and send links to customers to book time with them. This is ideal for companies with many customer-facing staff that handles their meetings autonomously.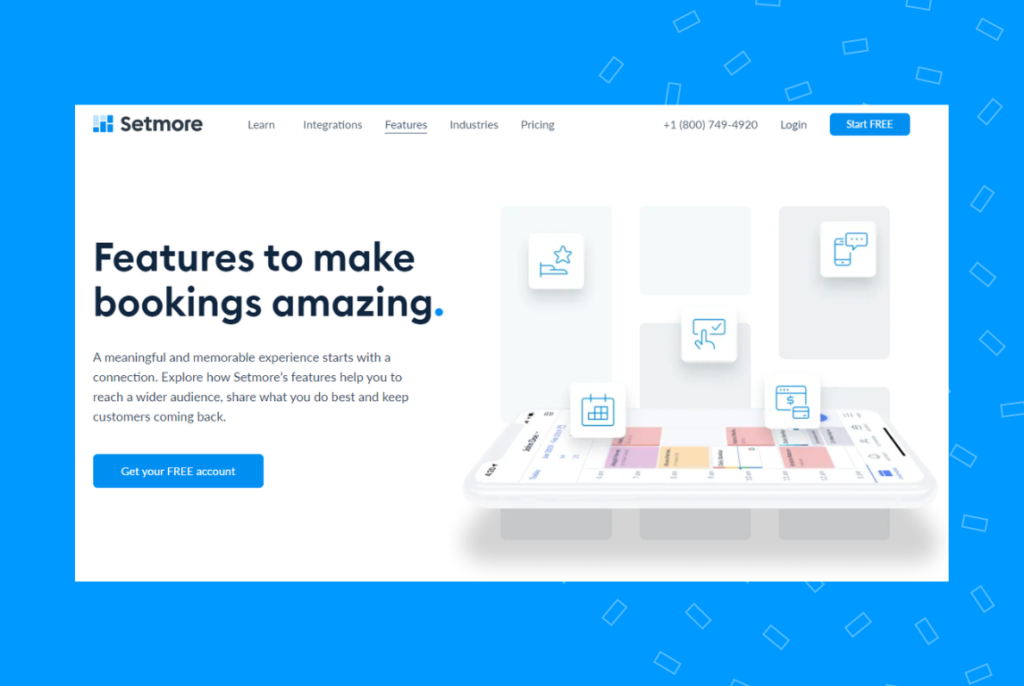 With this tool, you can:
Create booking calendars for your employees
Integrate popular payment options, calendars, and social media profiles
Work with their mobile app to manage appointments
Send appointment notifications to clients
Add appointment pages to your website
8. Calendly
Calendly is a popular appointment scheduler with individual professionals and small teams. The tool allows you to enable customers to book appointments with your team members by syncing their calendars with the tool.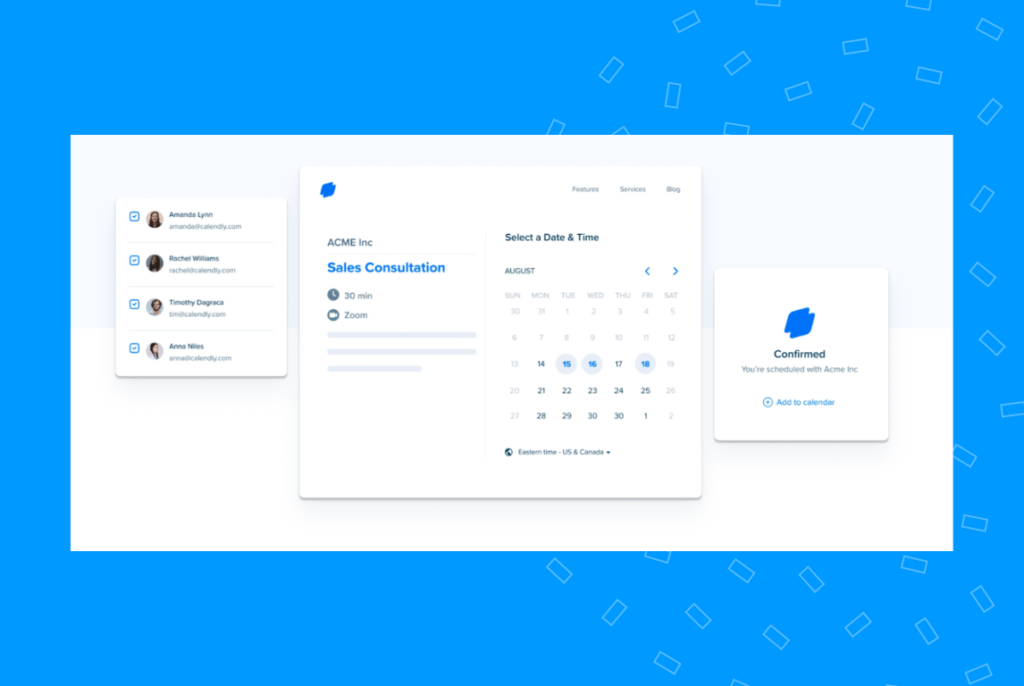 This tool mainly works for teams that meet clients every day via online meetings. You can invite customers to book time with you by sharing the custom Calendly link you generate within the system.
With this tool, you can:
Set up workflow integrations for your teams
Integrate CRM and Salesforce tools
Sync professional calendars
Manage calls from a single dashboard
Embed the appointment widget on your website
9. Appointy
Appointy allows businesses to book appointments from their website and social media profiles such as Facebook, Instagram, and Google. The tool is built for small and medium-sized businesses that work across time zones and must streamline resource and client scheduling.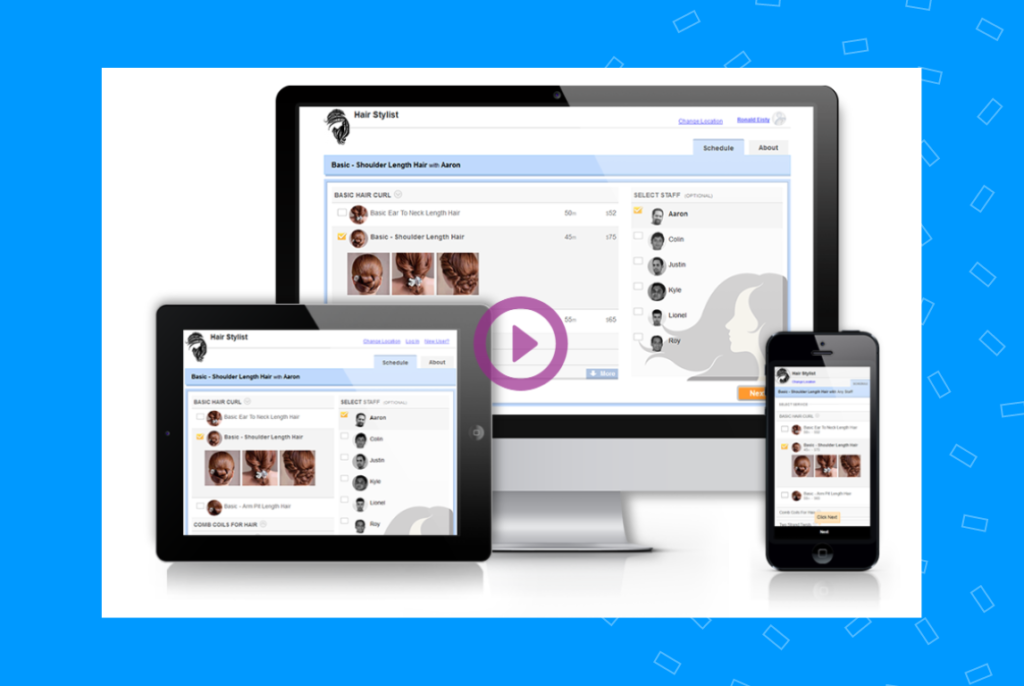 With this tool, you can:
Schedule appointments
Manage staff productivity
Create a booking page for your business within the company's sub-domain
Set up recurring appointments
Depending on your chosen plan, you can set up payments, sync calendars, and integrate your management tools via Zapier.
10. Acuity Scheduling
This appointment scheduling software helps businesses to book appointments by displaying the team's real-time availability and letting customers choose their convenient time slot. Its a simple tool built for small businesses.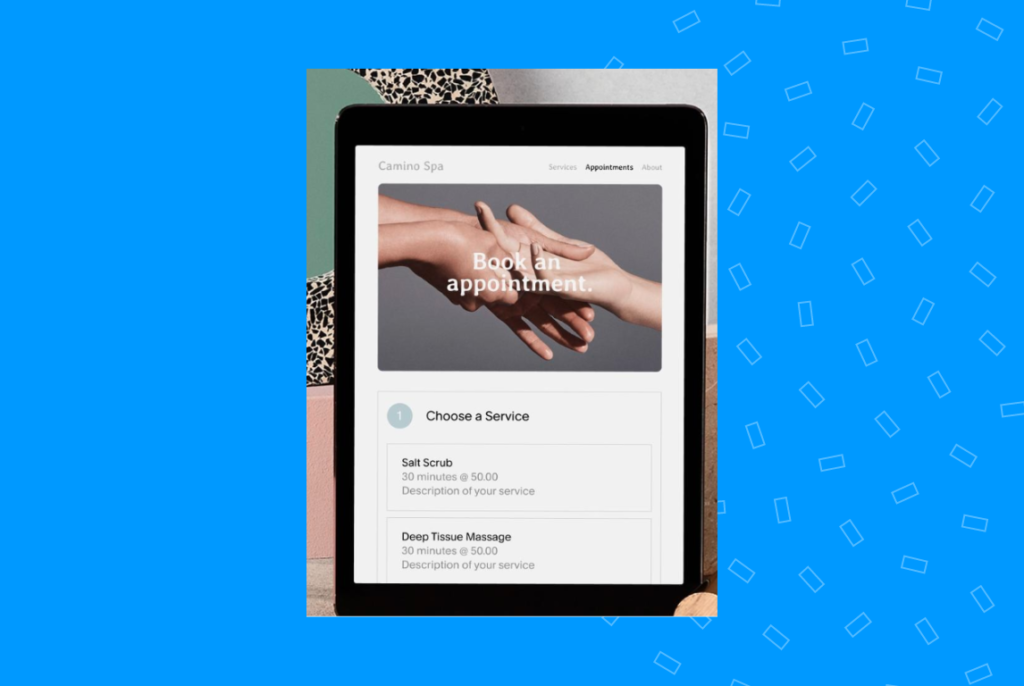 With this tool, you can:
Integrate calendars to book appointments
Accept online payments via popular platforms
Send reminders to reduce cancellations via email and text
Customize forms, messages, and emails to reflect the brand identity
Offer bulk bookings for classes and memberships
Create client profiles
11. Hubspot meeting
The Hubspot meetings tool is part of the Hubspot CRM package. It is an appointment booking system that allows small businesses to streamline their productivity—ideally made for sales and marketing teams, as it allows them to share their calendars with customers to book time.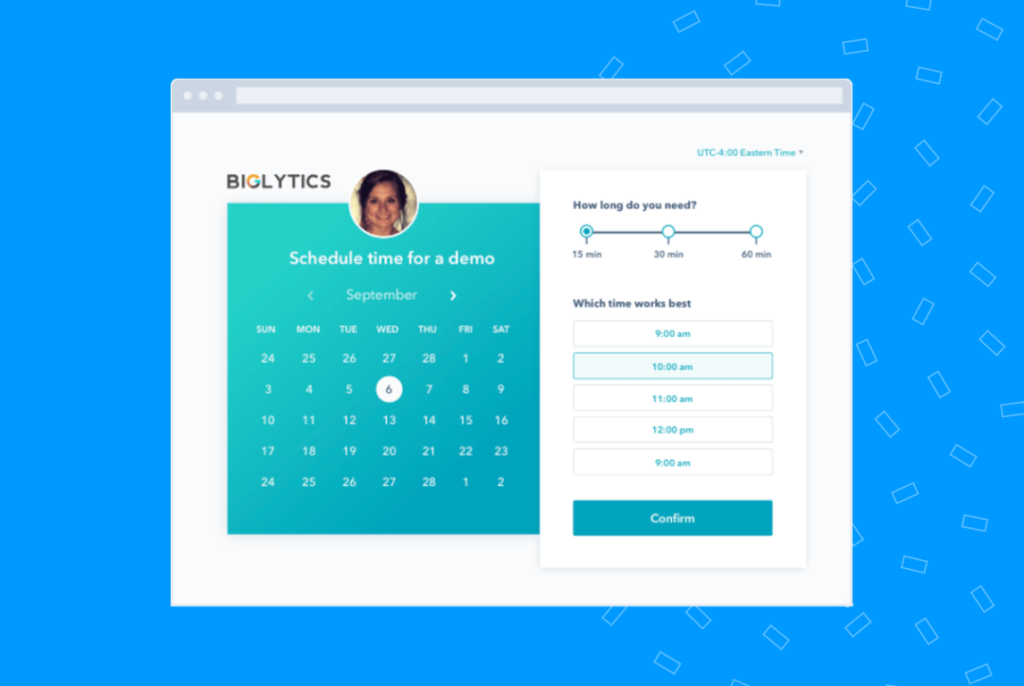 With this tool, you can:
Collect customer data via intake forms
Schedule appointments, send reminders, and follow up with clients
Integrate payments, calendars, and other management tools
Create personalized booking forms or links
Embed the forms or links on your website
12. 10to8 Scheduling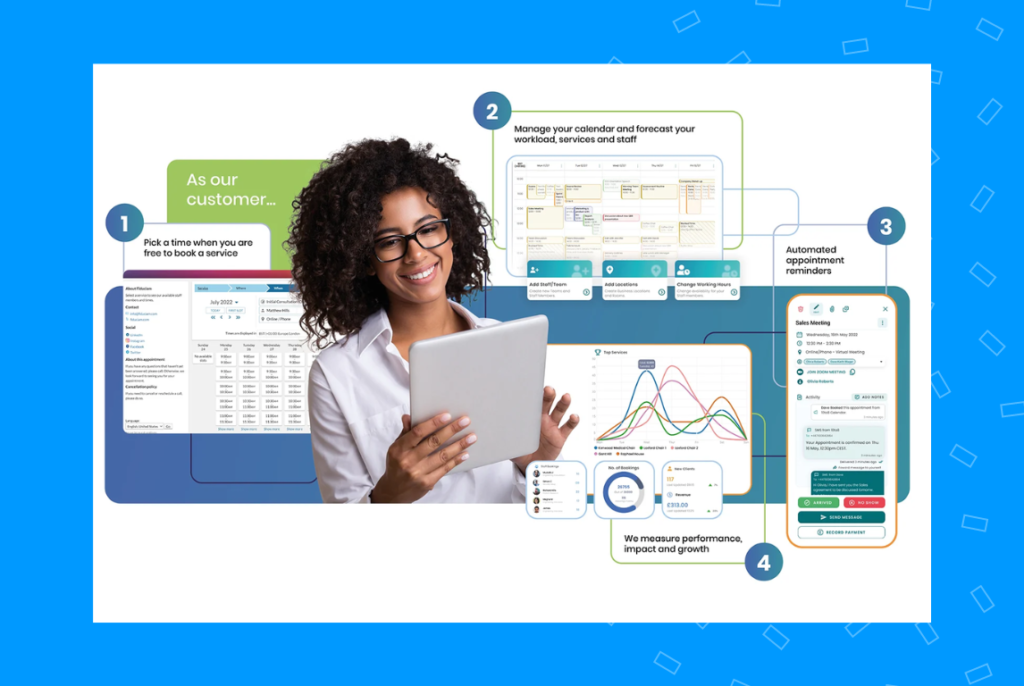 10to8 scheduling tool allows businesses to collect online bookings, manage them across verticals, and streamline their operations. With this tool, you can:
Share your calendars with clients and collect bookings
Chat with the clients using their two-way calendar integration and chat options
Schedule staff according to appointments
Collect online payments
Sync calendars
Customize forms according to your brand identity
13. Weave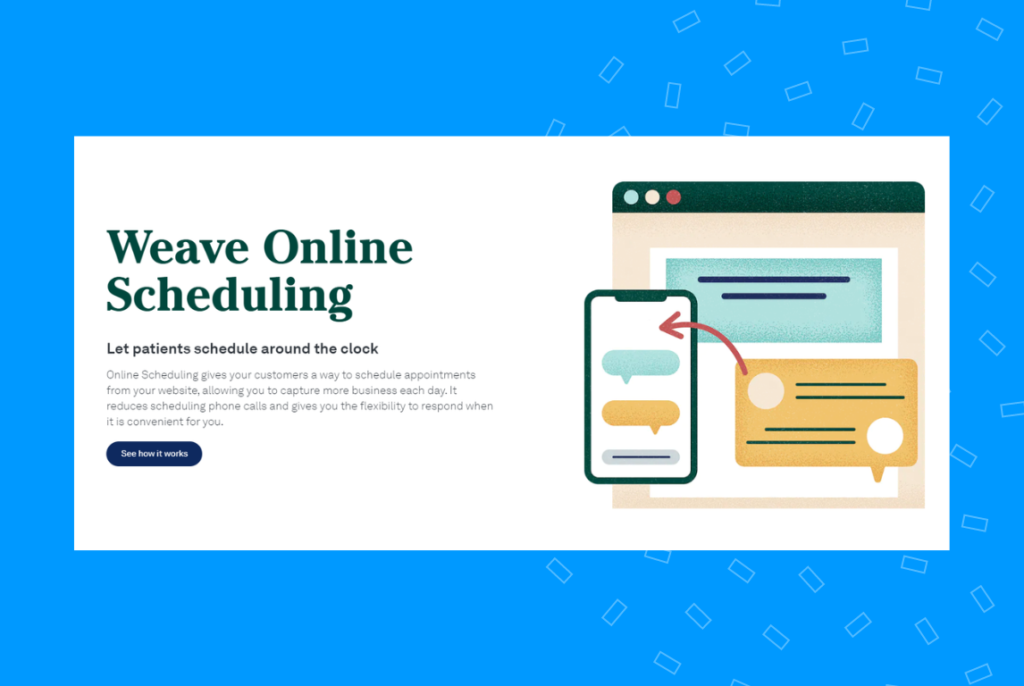 Weave helps businesses in the healthcare industry schedule appointments with patients with their tools. Clinics can set up appointment scheduling from their website with Weave. Home service businesses and other professionals also can use this software.
Using this tool, you can:
Schedule online appointments
Confirm appointments and handle walk-ins as well
Setup appointments according to different appointment types
Respond with confirmation to customers
Integrate with PMS and EHR calendars
Send reminders
Verify insurance details
Create intake forms
14. YouCanBook
This appointment scheduling tool is ideal for small businesses that deal with customers from various parts of the world, as it supports more than 44 languages. Additionally, you can customize booking pages based on your brand identity to collect customer appointments.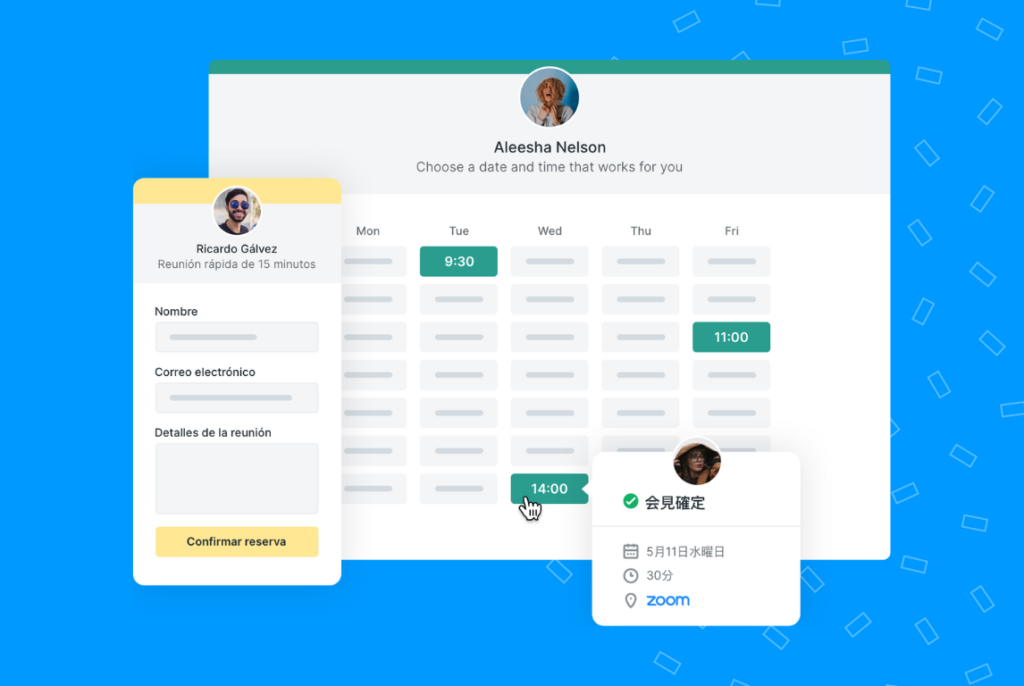 With this tool, you can:
Automate scheduling appointments
Book appointments via custom booking pages that sync with your calendar
Customize forms according to branding
Display available team members on the appointment form so that customers can choose
Integrate with video conferencing apps, calendar apps, and other management tools
Streamline video meetings across team members
15. Doodle
Doodle manages appointments for teams and individual business owners by allowing them to create polls and choose the best meeting time. This tool is ideal for businesses with online meetings.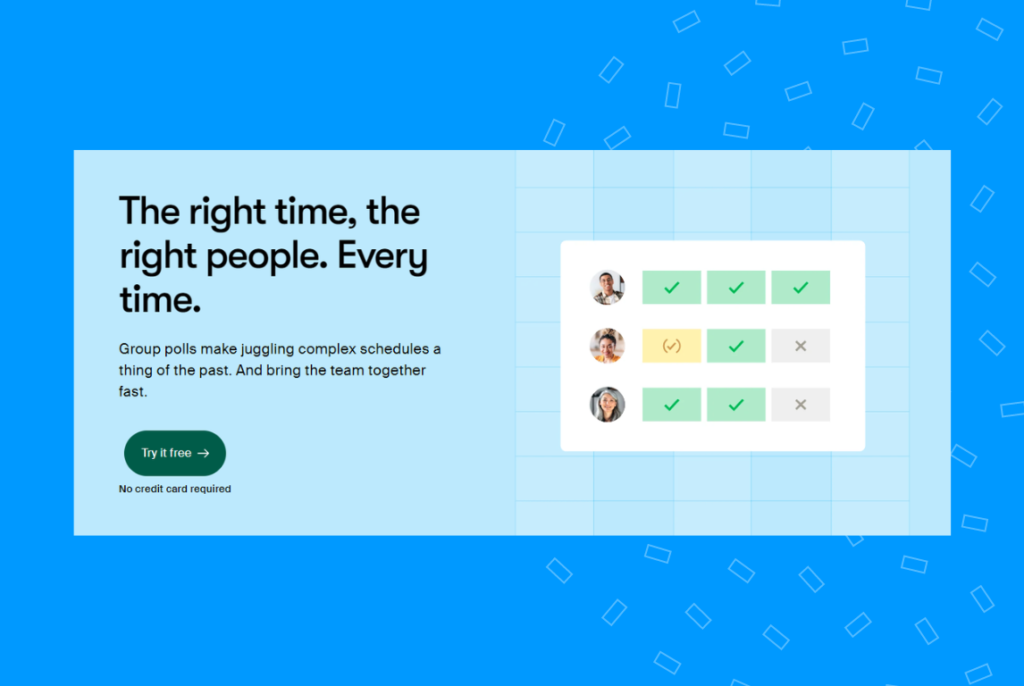 With this tool, you can:
Send polls to multiple people and book automated appointments with the people who respond
Integrate calendars to track appointments
This tool does not have any reminder, reschedule, or follow-up features. It is ideal for one-time appointments and meetings.
16. HoneyBook
This appointment scheduling tool allows freelancers to track appointments, projects, invoices, files, and invoices from a single dashboard. It allows you to manage projects and all related communication from a single folder.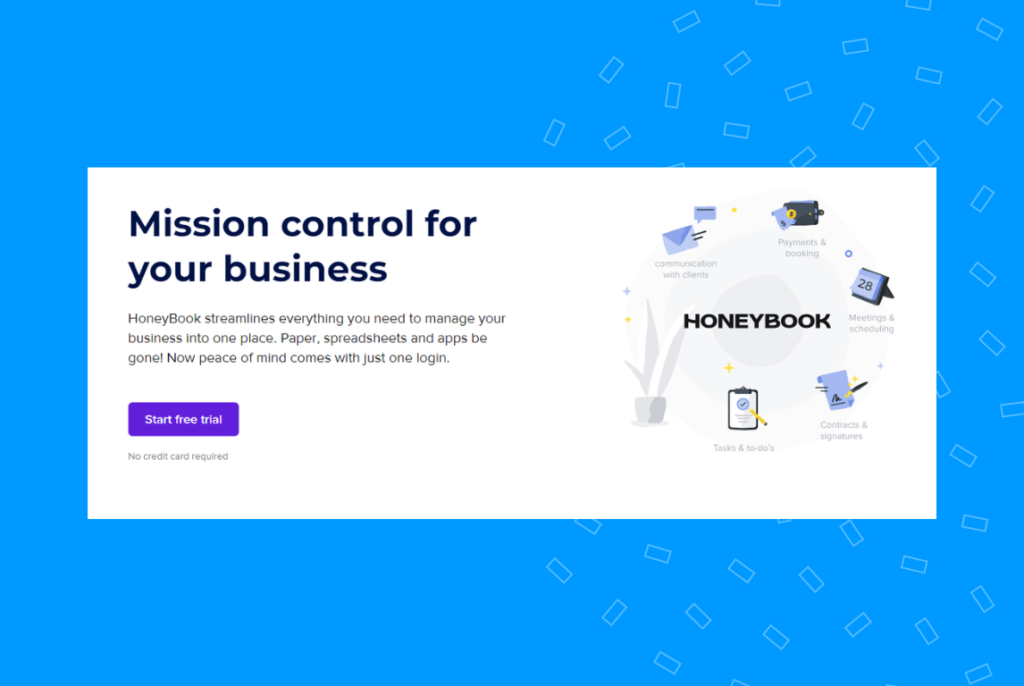 HoneyBook is ideal for a freelancer managing their workload but cannot support the robust requirements of a growing business.
A small business can use this service if they manage a team of freelancers or consultants for efficient communication.
17.Vagaro
Vagaro helps small businesses book appointments from their clients by working as a marketplace for service providers with dedicated booking pages. Businesses can use their service to advertise their business and send reminders to booked appointments using their service.
This is ideal for home service providers, beauty technicians, fitness professionals, salons, and more.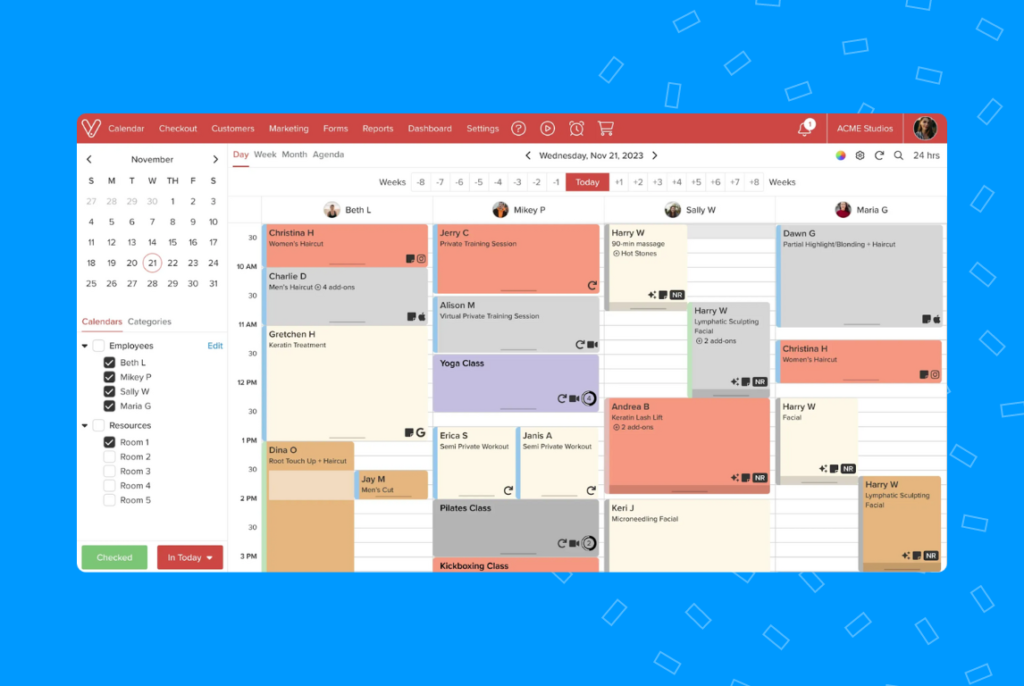 With this tool, you can:
Book online appointments
Collect online payments
Send rewards to customers
Promote your business online
18. Fresha
Fresha is a free appointment scheduling service mainly for businesses in the health and wellness industry. They also have a marketplace where customers can find nearby spas and book appointments with them.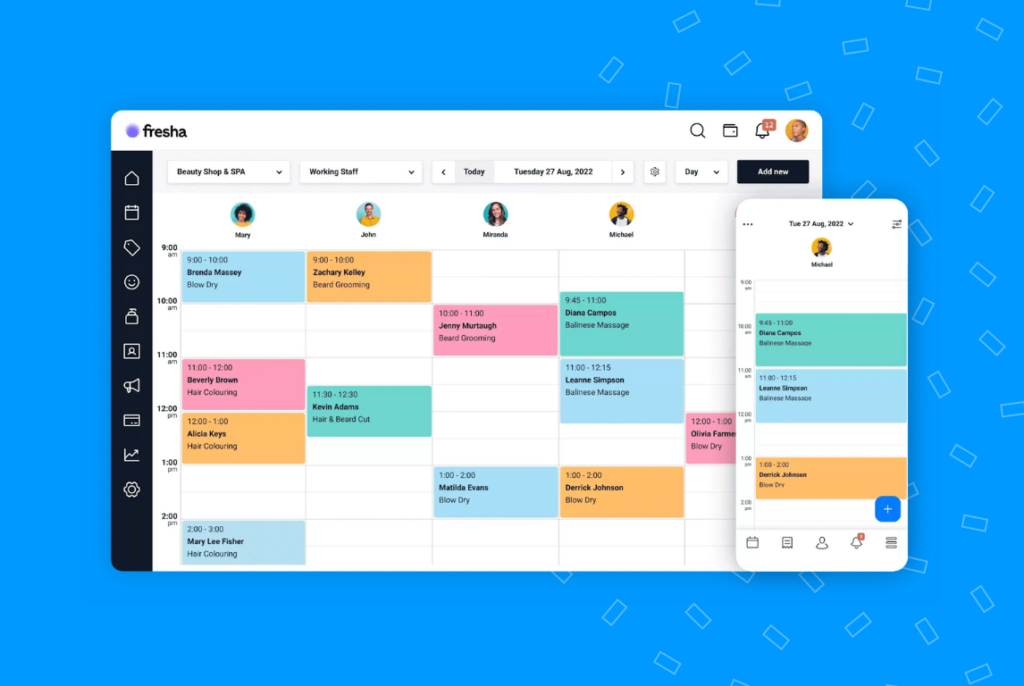 With this tool, you can:
Schedule online appointments
Collect online payments
Manage your store with a POS system
Track inventory
Get data on past appointment trends
Promote the latest offers to customers
19. Booker
Booker is an appointment scheduling software built especially for salons and spa. It is a platform that allows businesses to manage appointments from a single dashboard, block time, and schedule daily tasks. From POS, membership management, and loyalty programs, all can be handled from a single dashboard.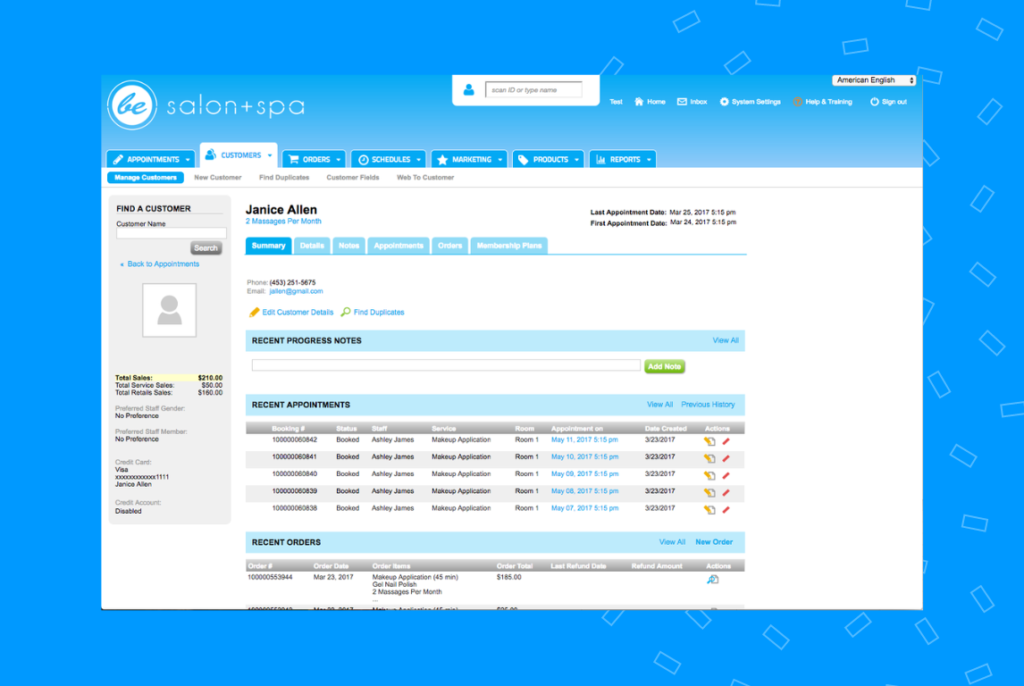 With this tool, you can:
Book online appointments and collect payments
Integrate resource management
Send reminders, recurring appointments, and notifications
Sync professional calendars
Integrate CRM and other management tools
Create customer profiles
20. OnceHub
OnceHub is a collaborative appointment scheduling tool that allows professionals to share their calendars and enable customers to choose the slot that best fits their requirements.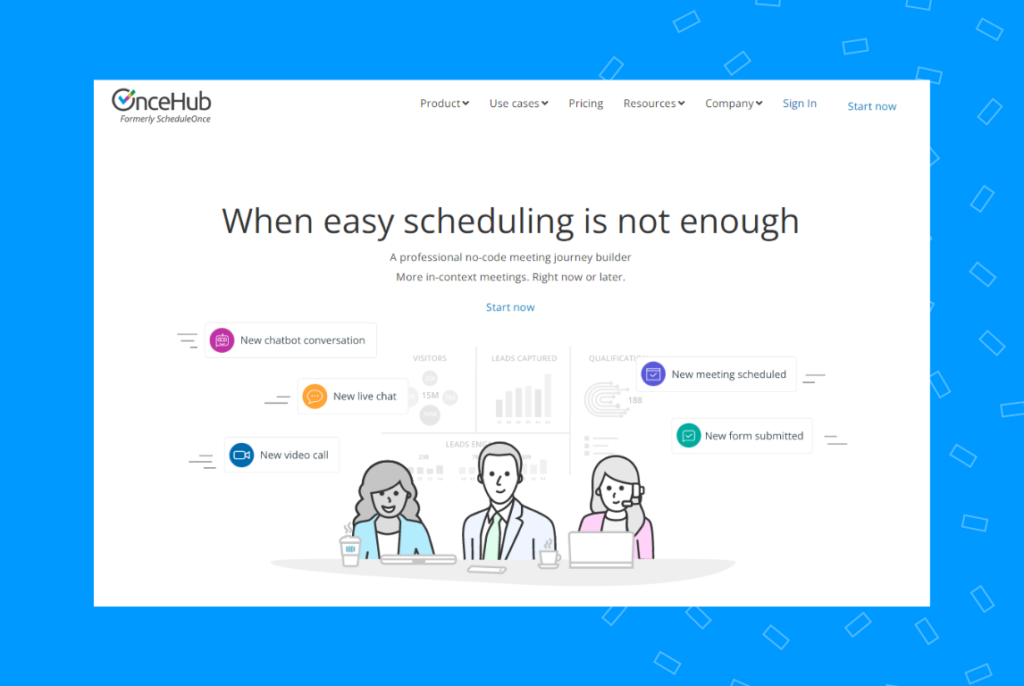 It is a simple tool that allows you to collect payments, integrate calendars, send reminders, and schedule appointments across time zones. It can work well for businesses with an event or simple meeting scheduling needs.
Frequently asked questions about appointment scheduling services
Can Google Calendar be used for appointment booking?
Yes, Google Calendar can be used for business appointment scheduling. Simply open Google Calendar and click on the day and time. You'll see an event box open up where you can enter the appointment details and invite guests.
What does an appointment scheduler do?
An appointment scheduler makes sure that people's (employees, customers, or patients) appointment times are scheduled. The duties of an appointment scheduler include making a weekly employee schedule, figuring out how long each appointment should be, and making phone calls to patients or customers to remind them about their upcoming appointments.

Is there an app for scheduling appointments?
Yes, there are many different appointment-scheduling apps on the market. However, features, support, and pricing may vary depending on your business needs.
Grow with Birdeye Appointments
Appointment scheduling software can be a game-changer for every service-based business by boosting productivity, improving revenue, and increasing customer satisfaction. With a robust system, businesses can avoid costly cancellations, no-shows, or double-booked appointments.
The best appointment scheduling software must have automated reminders, the ability to set up recurring appointments, integration with significant management platforms, an omnichannel booking facility, online payment collection, a customizable interface, and more.
With Birdeye Appointment Scheduling Software, you can overhaul the productivity of your business and grow faster than before. Our innovative, easy-to-use, and robust system allows you to provide your clients the best customer experience possible.
Reduce no-shows, avoid cancellations, secure customer data, and gain insights from a strong appointment reporting platform with this tool.
Originally published