Patients nationwide turn to various healthcare review websites when searching for new healthcare providers. One of those websites is HealthGrades. Millions of Americans trust healthcare reviews – and if your practice isn't listed on HealthGrades, you could be missing out on patients who instead choose providers with strong HealthGrades reviews and profiles.
HealthGrades should definitely be a major part of your marketing strategy if you're a medical provider looking to improve your online reputation.
In this article, we'll explain why HealthGrades reviews matter and help you set up a HealthGrades profile that will attract new patients.
More reviews
More revenue
Want to see the impact of Birdeye on your business? Watch the Free Demo Now.
What is HealthGrades?
HealthGrades is an online review site with data on more than three million healthcare providers. Users can look up the names and locations of doctors, dentists, practices, specialties, and conditions to find healthcare options that best suit their needs.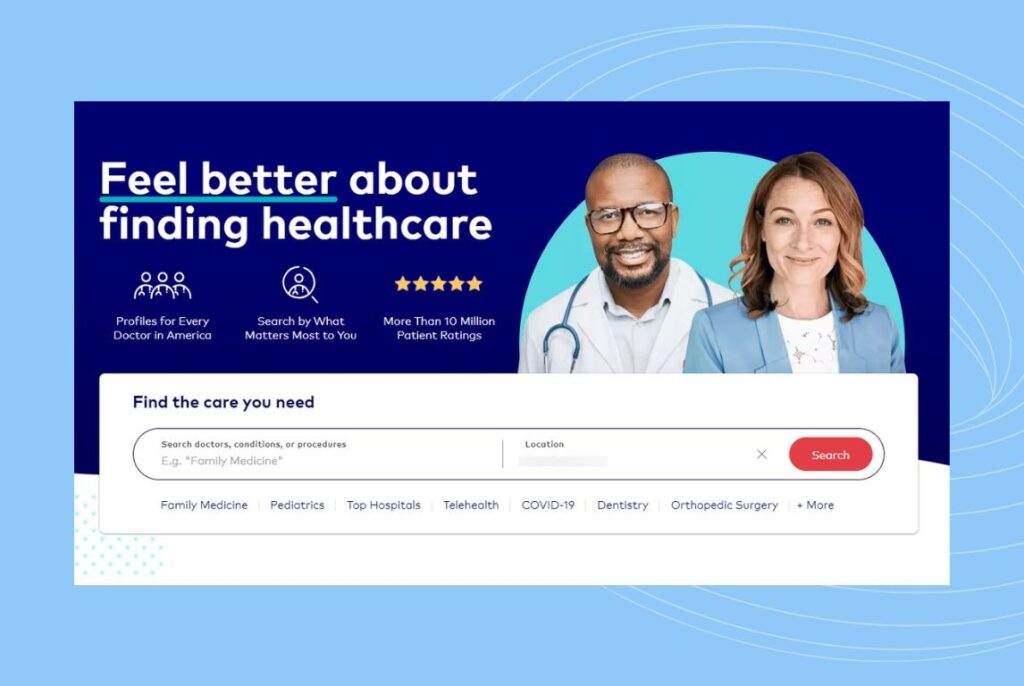 HealthGrades listings can also include information about a provider's degrees, education background, certifications, areas of specialty, and insurance policies. The information on HealthGrades is reliable because it's pulled from the US government's National Provider Identifier Registry (NPI).
Millions of patients visit HealthGrades each month, and the platform has become an extremely important tool for providers who are eager to be more visible online. It's super easy to use HealthGrades and give your online reputation a boost.
How to claim your HealthGrades listing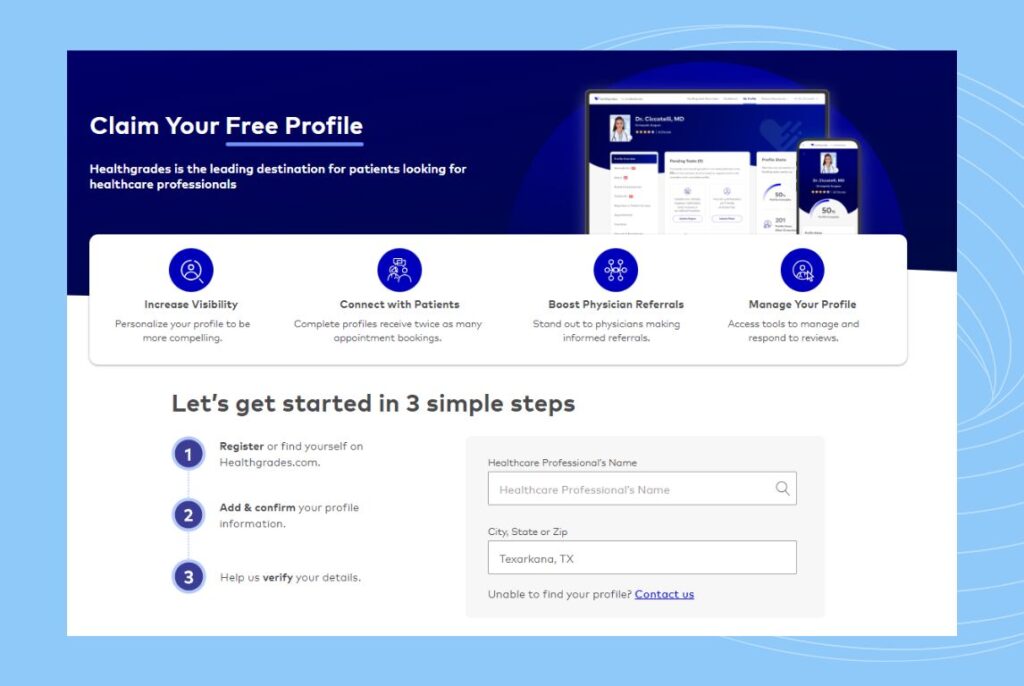 Go to the account registration page.
Use the search bar to find your name and city.
Click on your listing.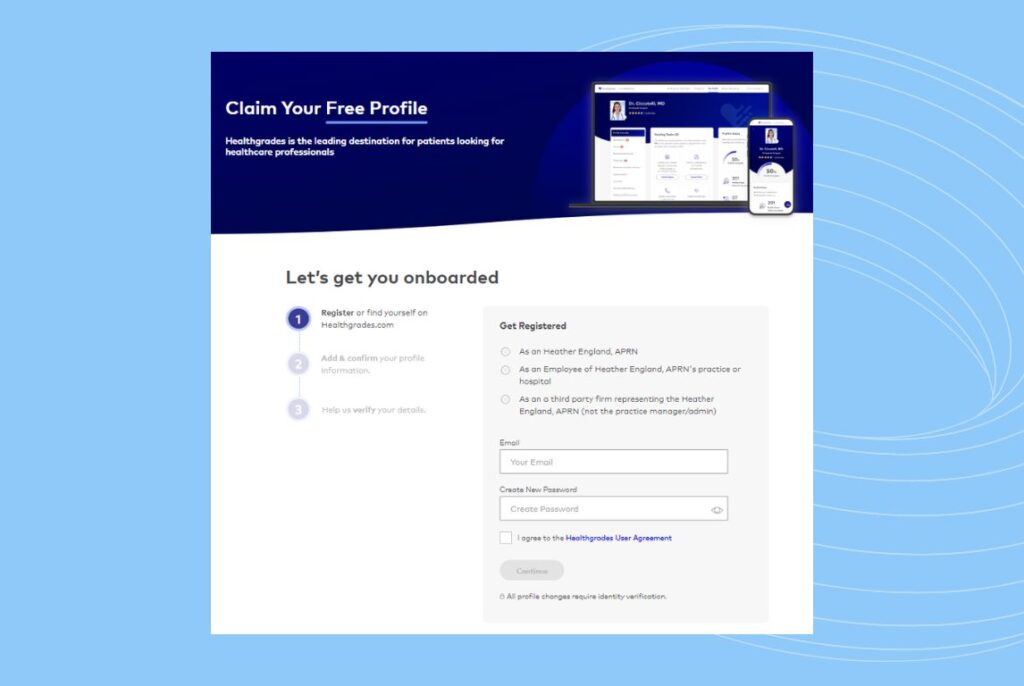 4. Select from the options of being an employee, the provider, or a third-party registering for the firm. 
5. Enter an email address and password for your account.
6. Read and agree to the terms and conditions.
7. Click "Continue" to proceed with the verification process.
Once you've registered, HealthGrades will send you a prompt to verify your account. After your account is verified, you can add and edit information about your practice, add pictures, and interact with reviews.
How HealthGrades patient reviews work
When a potential patient visits your HealthGrades profile, they'll see a "Patient Experience" section where they can read reviews written by your other patients. These reviews are collected through Patient Satisfaction Surveys.
Patient Satisfaction Surveys ask patients to review several aspects of their visit including scheduling, friendliness of staff, and how well a physician explains conditions. Patients can rate their experiences using a one to five-star ranking system. There's also a 500-character limit text box where they can write a brief written review and a section to rate the likelihood they'd recommend the healthcare provider to friends and family.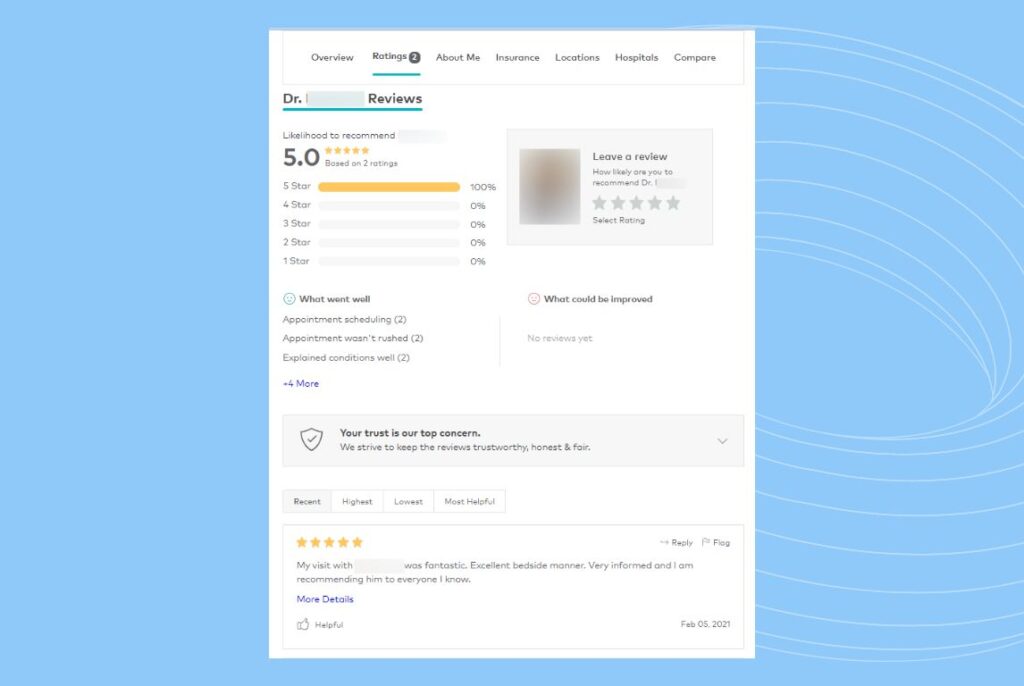 How to get more HealthGrades reviews
HealthGrades profiles with lots of reviews are considered more reputable by patients. There are a few easy ways you can get even more reviews on HealthGrades, including:
Reminder cards – After a patient visit, there are survey cards that can be sent from HealthGrades to remind a patient to leave you a review on HealthGrades along with other information like scheduling another visit.
Star rating badge – If you have a high HealthGrades score, you can display a badge showing your rating on your website, emails, and anywhere else you want your score to be seen. The badge also provides a direct link to the Patient Satisfaction Survey.
Review link – You can always attach a direct link to your HealthGrades survey in your emails to patients, on your social media accounts, and anywhere else you'd like patients to find it.
Managing your HealthGrades reviews
Once you've set up your HealthGrades profile and start getting reviews, you'll need to manage them. Here's how to respond to three different kinds of reviews.
Positive reviews
Positive reviews are the reviews you want, but you shouldn't just read a glowing review and move on. Now more than ever, people now expect responses to the reviews they leave – which means writing a response can lead to better patient relationships.
When you get a positive review, a simple response saying thank you can lead to happier patients and more referrals to your practice. Responding to your positive reviews will make your patients feel even more valued. Plus, other patients will see that you've responded to those reviews making them more likely to leave their own.
Negative reviews
Nobody wants to receive negative reviews, but they're sometimes inevitable. Your response to a negative review can remedy a poor experience and show patients that you take their concerns seriously.
The best way to respond to negative reviews is by being as respectful and objective as possible while still addressing the issues mentioned in the review. Insisting you are correct or demanding a better review will hurt your chances of improving your reputation with your patients.
Fake reviews
It is unfortunate that you get a fake review, but it is not all bad. If you get a Healthgrades fake review, you can report it to the platform to remove it. First, locate the fake review and click "Flag Comment" in the upper right-hand of the review. HealthGrades will look at the offending review and remove it from your listing. 
In addition to any Healthgrades fake reviews, you should report any reviews violating the HealthGrades guidelines. Reviews that violate the guidelines may contain vulgarity, hate speech, discrimination, or misleading information.
Frequently Asked Questions about HealthGrades reviews
Is HealthGrades peer-reviewed?
HealthGrades affirms any information related to conditions, treatment, and wellness is reviewed by at least one medical professional and is backed by peer-reviewed journals.
Can HealthGrades reviews be removed?
Once you have a HealthGrades account, you can edit and remove reviews by going to "My Reviews" and selecting the reviews you want to change. 
How many people use HealthGrades?
HealthGrades says more than 100 million patients and more than three million healthcare providers use the platform in 2022.
Get more reviews with Birdeye
You'll be more visible to potential customers if you have plenty of online reviews. Birdeye online review management platform that can help you get more authentic reviews on HealthGrades by directly requesting them from your happy patients. Birdeye lets you manage the reviews you get from all review sites like HealthGrades quickly and easily in a single streamlined dashboard.
Originally published