Responding to negative reviews is the key to creating a positive online reputation for your business. Many businesses dread negative reviews without understanding that when managed correctly, they can help to create a positive impression among your customers.
In this guide, we will help you deal with customers who've left a negative review on your Google My Business profile. We'll give you the tools you need to make sure these reviews don't hurt customers' perception of your business.
Why customers post negative reviews
If you get a negative review for your business, it does not mean that your product or service is terrible. No matter how good your business is, not all customers that you work with are going to leave your business happy.
Though you can't prevent every bad review, you can be prepared for when it happens. Having a plan in place for responding to negative reviews will prepare you for the inevitable.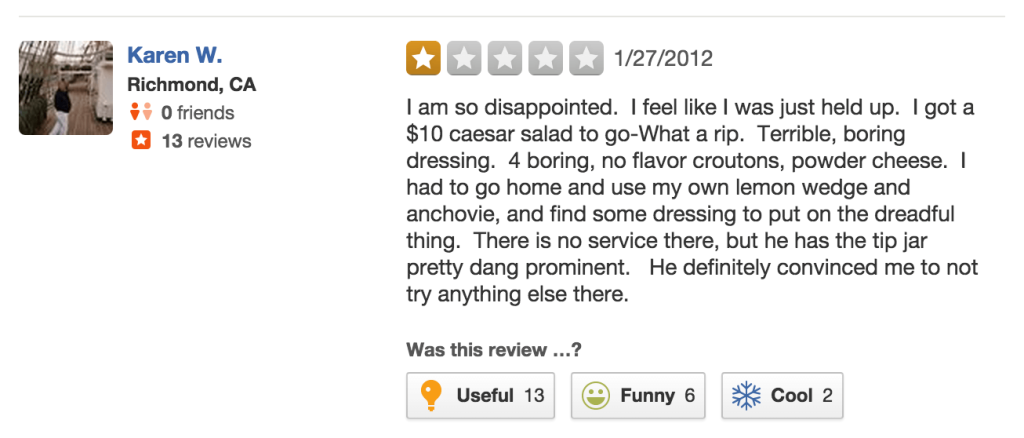 Negative reviews – A necessary evil
It's easy to feel frustrated when you get negative reviews, but these feelings are misguided. Here are a couple of reasons why negative reviews are a blessing for your business:
They prove your reviews are genuine
A mix of negative and positive reviews shows customers that all your reviews are genuine. Review pages with all positive reviews appear a bit suspicious in the eyes of most customers. Research shows that customers trust reviews more when they see a mix of positive and negative reviews.
They surface problems and, sometimes solutions
Often, negative reviews can uncover real problems and improve your business's overall customer experience. Listening to customer feedback offers a great opportunity to understand and fix issues that your customers are experiencing.
All reviews, positive or negative, have an important place in your online reputation. The key is to effectively respond to the feedback and use it to grow your business.
Why You Should Respond to Negative Reviews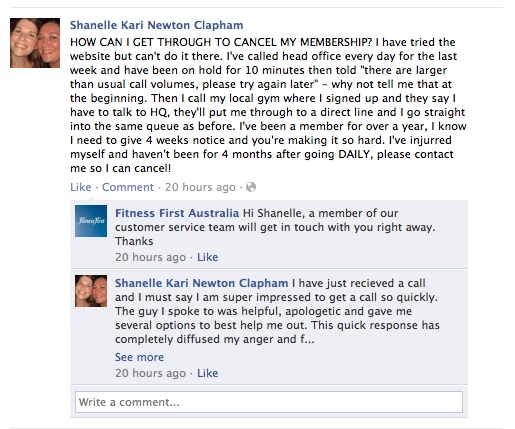 Potential customers are looking at your business's review page. 92% of customers check online ratings and reviews before making a purchase. 40% of them form an impression of your business' reputation based on those reviews.
It's crucial that these potential customers walk away with the impression you want them to have. Customer perception is shaped by how well your business responds to negative reviews. The way you handle complaints shows the quality of your service.
Change the perception of prospective customers and the reviewer.
A recent study shows that 7 out of 10 customers changed their opinion about a business after the business owner responded to their negative reviews.
Prove that you are committed to customer service.
Responding to reviews shows that you are are genuinely interested in addressing to customer feedback. When a business takes actions to respond to customer feedback, it shows that it is committed to providing a superior experience for everyone.
Build a strong bond with your customers.
Once you respond to a negative review, you start a conversation with the customer. This can be leveraged to build a stronger relationship and turn the reviewer into a loyal customer. Keep the communication going until their issue is addressed and show that you appreciate them bringing the concern to your notice.
You got a negative review – what's the next step?
Here's what you can do to ensure that the negative review does not hurt your reputation.
Stay calm, don't press the panic button.
Take a deep breath. Stay calm and respond tactfully to the negative feedback. Don't act like the business owner below.
Keep the conversation going
Make sure that you follow-up with the customer until the customer's issue has been resolved. Once the problem has been solved, you can politely ask the customer to edit the review or delete it altogether.
Get more positive reviews
While responding to negative reviews is important, it is equally important to minimize the impact of negative publicity. it is important to get more positive feedback coming in for your business. Email or text some review requests to your customers. Studies show that 70% of customers will leave a review when asked.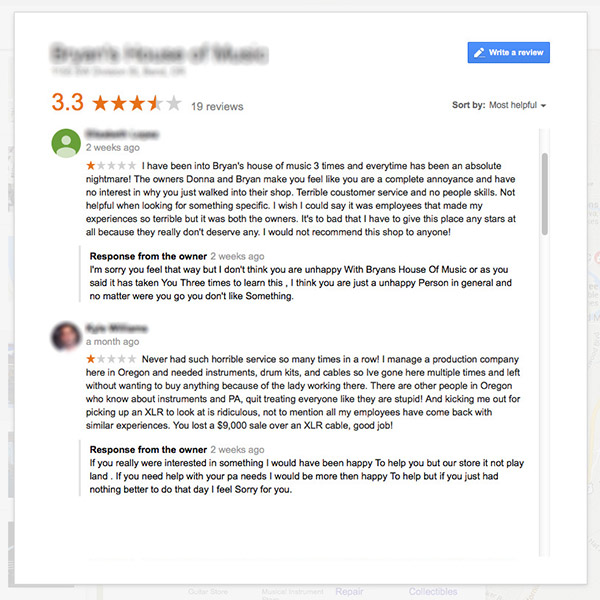 How should you respond to a negative review?
Respond to negative reviews tactfully to turn the customer's negative experience into a positive one. Here are a few helpful tips on how to respond to a negative review.
Apologize
By apologizing, you show your customers that you are hearing them and are acknowledging their concerns. You make it clear that you are willing to provide fantastic service for all of your customers.
Offer a solution
Offering a concrete solution to the problem is more important than merely apologizing. The solution should show that you've put an effort in the response and aren't just posting a canned response.
Offer to take the conversation offline
In the case of a very angry customer, you can offer to speak to them offline. Explain that this will help you ensure that the problem is resolved quickly.
Say "Thank You"
Show that you appreciate their time and feedback. Be sympathetic to their concerns and thank them for leaving feedback that will help you build a stronger business.
Draft a personalized response
When responding to a customer complaint, use the customer's name and promise to respond to the specific problems they encountered. Before taking action, you need to first show that you sincerely care about the customer.
Be patient and sympathetic
While dealing with an upset customer, take a step back and put yourself in their shoes. Whether or not it's your fault, a polite apology can help retain the customer and help with the way other customers perceive your business.

By being patient and sympathetic towards the customer's concerns, you stand a much better chance of resolving any issues and having the customer continue to use your business.
Talk to the customer over private messages
Take the conversation offline by giving a phone number or email where customers can complain. Whether you are extending them an invitation to visit your office or making up for the bad experience by providing an additional discount, moving the conversation from a public platform to private can add a personal touch.
Think the reviews is fake? Your last resort
If you feel that one of the Google reviews on your business is fake, flag the review and request Google to take it down. Unfortunately, there is never any guarantee that Google will actually remove the review from your Google My Business profile. To protect your business's reputation, respond to the review and make sure that customers reading the review understand why you think the review is fraudulent. See the example below.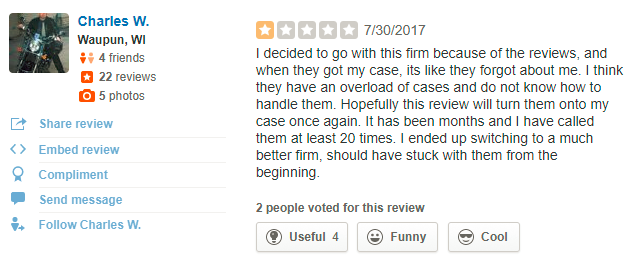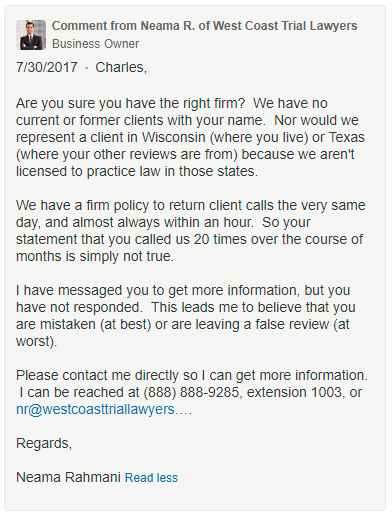 How can I avoid negative reviews?
To some extent, negative reviews are inevitable. However, businesses can limit the number of negative reviews coming in by doing the following.
Focus on great customer service
Exceptional customer service is key. There is no cure for habitual complainers. Still, a majority of the customers do appreciate great customer service and will review your business accordingly.
Create a dedicated platform for customer complaints
Create a separate space for customer queries and concerns. Let customers know about the different channels they can use to get in touch with you. This can be Twitter, Facebook, a website contact form, or any other method you find convenient.
Help customers understand that the best way to get their issue resolved is by contacting the company's customer service team rather than posting the issues on review platforms.
Quickly respond to customer feedback
Make sure that you are responding to customer feedback promptly. You want to make sure that problems are taken care of before the situation escalates and your business's reputation suffers. If you respond to customers' complaints two weeks after the fact, it's probably too late to change their minds.
Display accurate information about the product or service
Customers are often annoyed if a product or service does not meet their expectations. To avoid potential problems, provide sufficient information on the product or service page such as description, images, questions & answers, and customer reviews.
Keep your promises
When it comes to things like delivery timelines, always stick to your word. When you break promises, you open the door to customer complaints.
Stay on top of your reviews with Birdeye
Staying on top of customer feedback is hard. Birdeye's platform can help. With Birdeye, you can get a steady stream of fresh reviews, manage feedback, respond to reviews immediately and share them on your social media pages. There is a reason why Birdeye is the top choice for customer experience and reputation management.
Watch a demo now to see how Birdeye's review generation, review monitoring, online review management, and review marketing solutions can benefit your business.

Originally published