Customer insights software
Scale your success with data-driven insights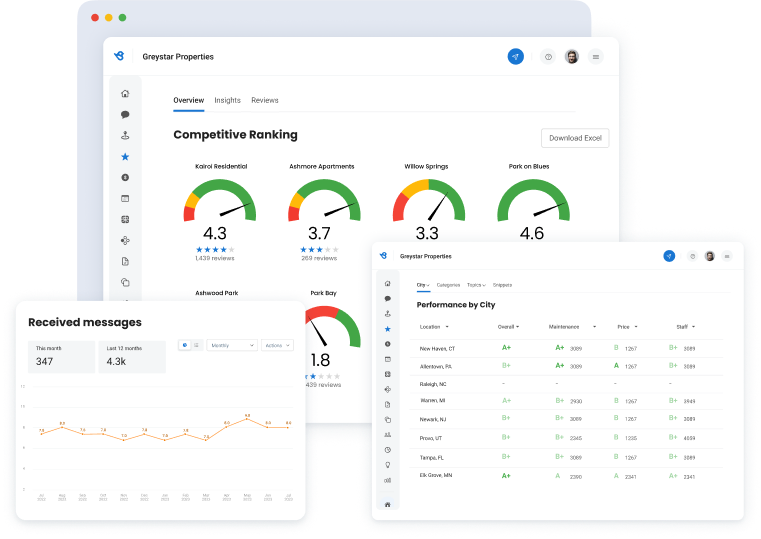 Monitor and manage customer sentiment 
Take action
Learn what your customers love and identify areas that need improvement.
Built for enterprise
Analyze insights across hundreds of locations from a single, scalable dashboard.
Grow with AI
Use artificial intelligence to understand the "why" behind your customer feedback.
Performance by location
Maintain a high standard
Track your performance across every location to learn what's working — and what's not.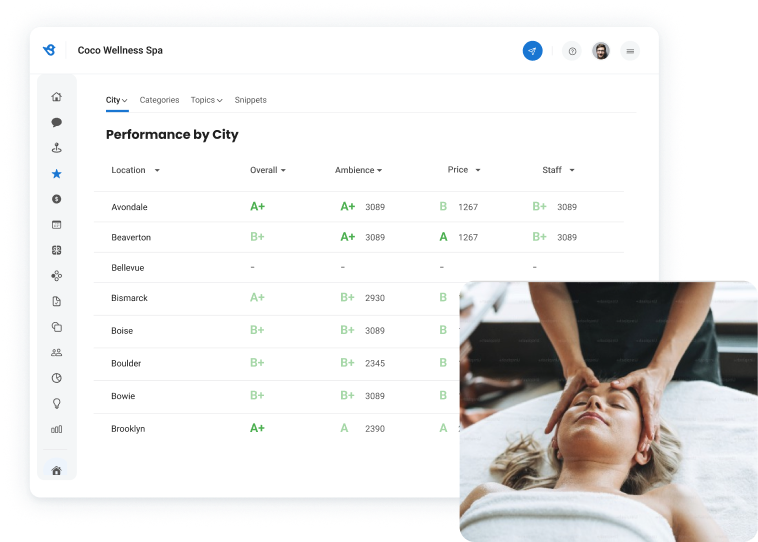 Customer feedback topics
Keep tabs on trends
Get granular feedback with Birdeye's set-and-forget automation. Choose the topics you'd like to track, and we'll do the rest.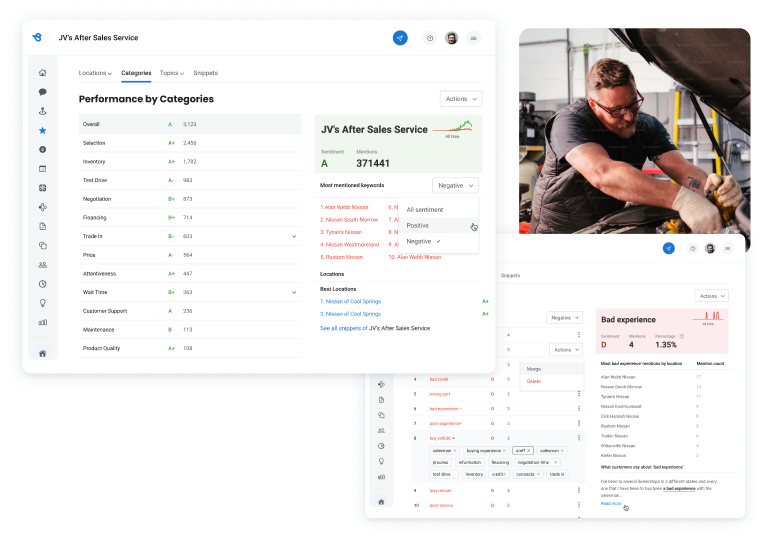 Competitive benchmarking
See how you stack up
Monitor and analyze your local competitions' reviews to see where they're struggling — and where you can shine.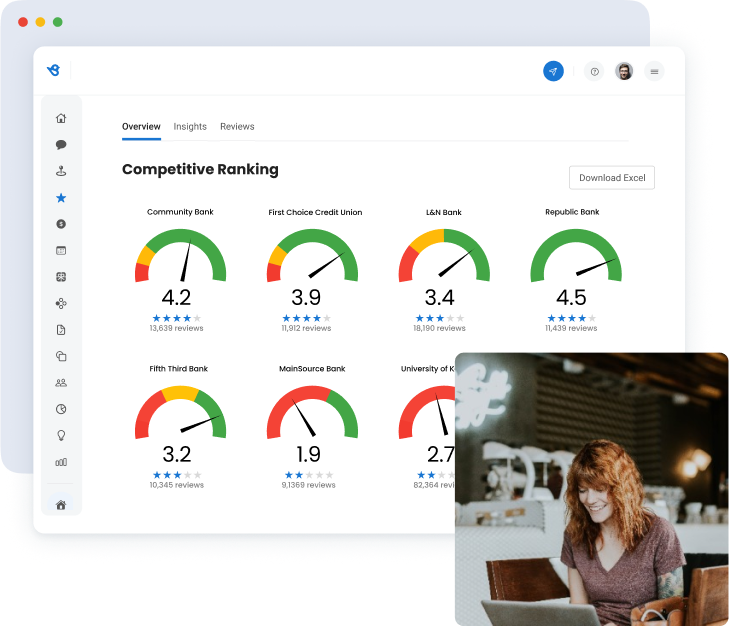 Reports
Better understand your performance
Track, analyze, and optimize your performance with custom-built reports tailored to your goals.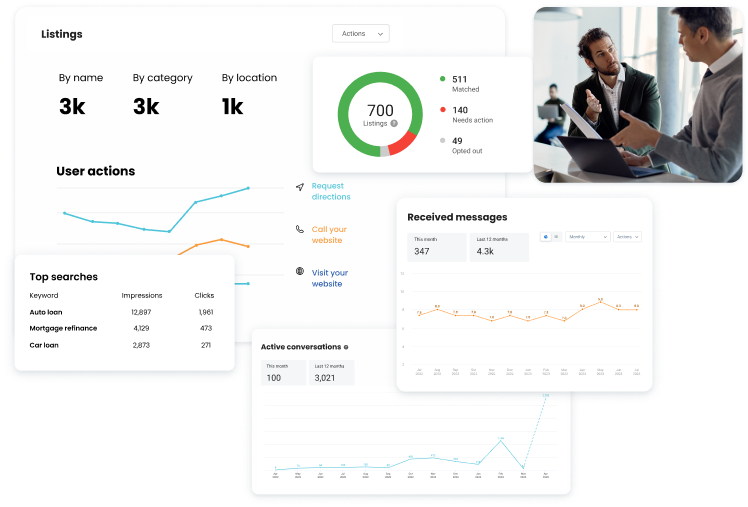 Birdeye outranks the competition
Based on 7,000+ reviews on

Birdeye customers get results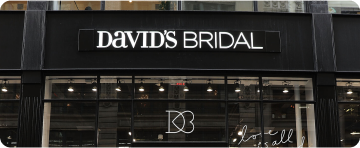 Instead of taking a broad stroke approach, Birdeye allows us to drill down by region, district and individual stores, then come up with really detailed action plans that leverage our strengths while addressing our biggest opportunities.
Holly Carroll
Vice President, Customer Service & Contact Center Operations at David's Bridal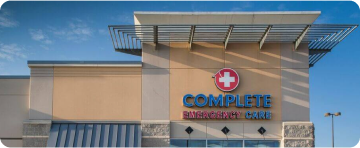 Birdeye has really allowed us to get a good sense of where the pulse is. We can see where we're thriving and where maybe we've fallen short.
Kelly Palms
Director Of Business Development at Complete Emergency Care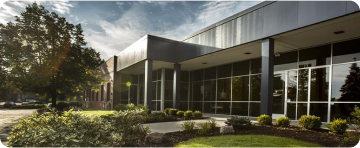 Birdeye helps us provide a better experience for our customers. It provides us with real-time data that is actionable. It improves internal processes and allows us to better manage our online reputation.
Lisa Buller
Digital Marketing Specialist Waterstone Mortgage
Products that pair with Insights
Birdeye is the only comprehensive platform for customer experience to offer a range of products that scale with your business.
Reviews
Automatically request customer reviews and amplify them where they matter most.
Listings
Build a powerful online presence and boost your search ranking
Surveys
Send text-friendly surveys to better understand and optimize customer experience
Meet the all-in-one platform to drive customer acquisition and retention
Drive traffic
Put your business at the top of search with a stellar online reputation and local SEO.
Connect & convert
Message customers from anywhere, stand out on social, and collect payments faster.
Raise the bar
Create exceptional experiences that boost brand loyalty and set you apart from the competition.
Start growing with Birdeye today
Frequently Asked Questions
What is insights software?

Click to open
Insights software, also known as an analytics software or business intelligence software, is a type of application that helps organizations collect, analyze, and interpret data to gain valuable insights and make informed decisions. It enables businesses to extract meaningful information from large volumes of data and presents it in a visual and easily understandable format.
What insights should I be able to get out of my customer feedback?

Click to open
Customer feedback provides insights on customer satisfaction, product/service improvement opportunities, feature requests, brand perception, customer experience, loyalty/churn indicators, trend identification, sentiment analysis, and customer persona refinement. Analyzing feedback helps understand customer needs, prioritize improvements, and differentiate from competitors. It guides product development, enhances the customer journey, and identifies brand advocates or at-risk customers. Monitoring feedback systematically using analytics tools ensures actionable insights to drive business growth and improve customer satisfaction.
What is competitive benchmarking software?

Click to open
Competitive benchmarking software is a tool that helps businesses compare their performance, metrics, and strategies against their competitors in a specific location. The software provides insights into how a company measures up against its competitors, identifies areas of strength and weakness, and helps inform strategic decision-making.
Why do I need software to benchmark my business against the competition?

Click to open
Managing competitive intel manually, especially when you have hundreds of locations, is not feasible. By leveraging competitive benchmarking software, businesses can gain a competitive edge, optimize their operations, and identify opportunities for improvement and growth.
What are the best practices while running competitor benchmarking analysis?

Click to open
When conducting competitor benchmarking analysis, it's essential to follow these best practices:
Define Clear Objectives: Clearly define the goals and metrics you want to benchmark against your competitors to ensure focus and relevance.
Select Appropriate Competitors: Choose competitors that are relevant to your industry, market, and target audience to ensure meaningful comparisons.
Collect Reliable Data: Gather accurate and up-to-date data from reputable sources.
Analyze Data in Context: Analyze the benchmarking data in the context of your business strategy, strengths, and weaknesses to gain actionable insights.
Focus on Competitive Advantage: Identify areas where your business can differentiate and gain a competitive advantage based on the benchmarking insights.
Regularly Update Analysis: Conduct benchmarking analysis periodically to track changes, stay informed about industry trends, and adjust your strategies accordingly.
Translate Insights into Action: Transform the benchmarking insights into actionable strategies and initiatives to improve your business performance and stay ahead of competitors.