SUNNYVALE, CA (PRWEB) MAY 02, 2017
Birdeye Honored as Stevie Award Winner in 2017 American Business Awards
Birdeye's Customer experience and business reputation platform recognized for excellence in business insights and competitive intelligence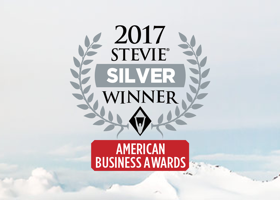 Birdeye wins Stevie Award for Business Intelligence
Customer experience and business reputation leader Birdeye was named the winner of a Silver Stevie Award for New Product or Service of the Year at the 15th Annual American Business Awards today. The award recognized Birdeye's Natural Language Processing (NLP) engine, Athena, for delivering unprecedented results to businesses of all sizes and types with its competitive insights.
"All of us at Birdeye are honored to be recognized by the American Business Awards, " said Neeraj Gupta, COO at Birdeye. "Customer voices hold incredible power, and we're giving businesses a way to connect with their customers and unlock that power to drive revenue. We've been amazed by the results we've seen from our customers. They are what drive us to constantly improve and expand the platform's capabilities."
The American Business Awards recognize accomplishments from public and private organizations of all sizes operating in the U.S.A. More than 3,600 nominations from organizations across almost every industry were submitted for consideration this year. Birdeye was nominated in the Best New Product category for Software.
Birdeye built Athena to empower businesses to identify root cause of positive and negative sentiment in customer feedback from all channels -- review sites, social media comments, and surveys -- and make improvements that yield tangible results. It tells businesses what to fix and where so they can turn insights into action at the frontlines.
Not only can businesses analyze their own customer insights--Birdeye gives them access to NLP insights on their competitors' customer feedback as well. Businesses can analyze sentiment themes against their competitors at a national, regional, and branch level to discover opportunities to capture market share. For a more contextual perspective, Athena offers businesses the full flexibility to zoom in on the verbatim customer feedback where themes are mentioned for them and their competitors at both a brand and location level.
In the past year, Athena's business insights and competitor analytics have helped several large enterprises boost same-store sales and rank above competitors in their industry.
"Providing insights on competitors' customer feedback is really unheard of," said a Stevie Awards judge. "[This] can be a useful tool for any growing business to stay ahead of competition."
More than 190 professionals worldwide participated in the judging process to select this year's Stevie Award winners.
Customer voices hold incredible power, and we're giving businesses a way to connect with their customers and unlock that power to drive revenue.
About Birdeye
Birdeye is a SaaS platform that reimagines the way customer feedback is used to acquire and retain connected customers by closing the loop between reputation marketing and customer experience. Birdeye enables businesses to get new reviews and captures existing customer sentiment from review sites, social media, Net Promoter Scores, and support cases in real-time. Birdeye converts all feedback into actionable insights so businesses can engage in every step of the customer journey, establish a positive online presence, and benchmark performance across locations and against competitors. The Birdeye platform is trusted by 25,000+ businesses and prominent F1000 enterprises. Birdeye was founded in 2012 by Google, Yahoo, Amazon alumni and backed by Silicon Valley who's who including Trinity Ventures, Salesforce founder Marc Benioff and Yahoo co-founder Jerry Yang. Learn more at Birdeye.com.