PALO ALTO, CALIF. (PRWEB) NOVEMBER 01, 2018
Rocket Matter Partners with Birdeye to Help Law Firms Build Long-Lasting Client Relationships
The Birdeye and Rocket Matter integration enables law firms to automate the process of acquiring new reviews to attract & improve the client experience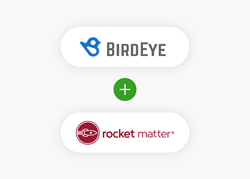 Birdeye + Rocket Matter Integration
Today, Birdeye formally announces its partnership with Rocket Matter, the pioneering cloud-based legal practice management software used by both small and medium-sized law firms, offering features including billing management, tracking, payments, calendar etc. With this new integration option with Birdeye, Rocket Matter customers will have the ability to automatically send review requests to clients based on critical touch points.
Client reviews can shape a law firm's online profile and ultimately impact search engine results. 96% of people seeking legal advice use a search engine like Google and 62% of legal searches are local-specific (e.g. "Florida divorce lawyer") according to The National Law Review. Furthermore, 83% of clients read online reviews as the first step to finding a lawyer. Before this integration, lawyers using Rocket Matter would have to manually manage what their clients were saying about their firm online. It can be overwhelming for lawyers dealing with complicated cases to dedicate the necessary time, resources & staff to manage a firm's online reputation. Therefore, this critical piece of the business can often get overlooked or forgotten.
With the Birdeye integration, lawyers can now automate the process of sending out review requests to their clients when legal matters are completed/closed (triggered within Rocket Matter). Birdeye will seamlessly pull client information from Rocket Matter and automatically send review requests via email or SMS based on the preferences set within the Birdeye dashboard.
"We're excited to partner with Rocket Matter to help lawyers and their firms develop long-lasting relationships with clients," said Neeraj Gupta, Co-Founder and COO of Birdeye. 'Together, Rocket Matter and Birdeye are providing law firms with the resources they need to improve their online presence, and foster trust and loyalty with their clients."
"At Rocket Matter, we're committed to helping our partner law firms boost their revenue and profits, which is something we have done consistently over the last 10 years," said Larry Port, CEO of Rocket Matter. 'By partnering with Birdeye to provide an automation solution for word-of-mouth marketing, we're excited to offer our clients new ways to drive business to their firms."
Together, Rocket Matter and Birdeye are providing law firms with the resources they need to improve their online presence, and foster trust and loyalty with their clients.
About Rocket Matter
Rocket Matter helps law firms offer better client service and also increase revenues by more than 20%. The company was the first cloud-based legal practice management software on the market, landing its first client in 2007. It has been a leader ever since—Rocket Matter has the most powerful, easy-to-use time and billing software in the industry. Also, when law firms want to make more money, go paperless, or increase confidence in their trust accounting, Rocket Matter helps them achieve those goals. With award-winning customer service based in the United States, it's no wonder thousands of law firms swear by Rocket Matter.
About Birdeye
Birdeye is a SaaS platform that reimagines the way consumer feedback is used to acquire and retain connected customers by closing the loop between reputation marketing and customer experience. Birdeye enables businesses to get new reviews and captures existing customer sentiment from review sites, social media, Net Promoter Scores, and support cases in real-time. Birdeye converts all feedback into actionable insights so businesses can engage in every step of the customer journey, establish an effective online presence, and benchmark performance across locations and against competitors. The Birdeye platform is trusted by 25,000+ businesses and prominent F1000 enterprises. Birdeye was founded in 2012 by Google, Yahoo, Amazon alumni and backed by Silicon Valley who's who including Trinity Ventures, Salesforce founder Marc Benioff and Yahoo co-founder Jerry Yang. Learn more at Birdeye.com.