Academy Mortgage
Boost online presence for mortgage brokers through CRM and Google Adwords
Company Snapshot
Founded in 1988, Academy Mortgage is one of the nation's largest and most respected independent mortgage lenders. Academy's mission is to be 1st choice in delivering the dream of sustainable homeownership by inspiring hope and building prosperity in the families and communities they serve.
When it comes to major life decisions like paying off a mortgage, homeowners want to be certain they work with a loan officer whom they trust. Even with a great referral, clients conduct thorough research online for proof that they're choosing the best officer. The most powerful proof is getting lots of online reviews with good ratings. Although Academy Mortgage was making its clients happy, there was no evidence online to support it.
"We just weren't getting feedback. We didn't have a bad online reputation -- we had no online reputation. Our loan officers were practically impossible to find online, so clients weren't able to get that validation they needed when researching their loan officer online," said Tim Marti, Marketing Director at Academy Mortgage.
"Birdeye has helped us increase awareness by being found more easily with higher search rankings, and provide validation for people who've been referred to us."
Tim Marti
Marketing Director for Academy Mortgage

Marti understood that to earn a strong online reputation, the company would need a lot more reviews.
"A lot of our close competitors were miles ahead of us in the review collection game so we really had a lot of catch up to play with other lenders in the area." Academy Mortgage only looks good if its 7 loan officers do. The digital marketing agency they were working with offered a very rudimentary solution to collect reviews at a brand-level only, but these generic reviews didn't help build clients' trust in their officers.
In order to get more clients and beat the competition online, Academy Mortgage needed to put themselves on the map by establishing a reputation for each officer and the brand as a whole. This is what brought them to Birdeye.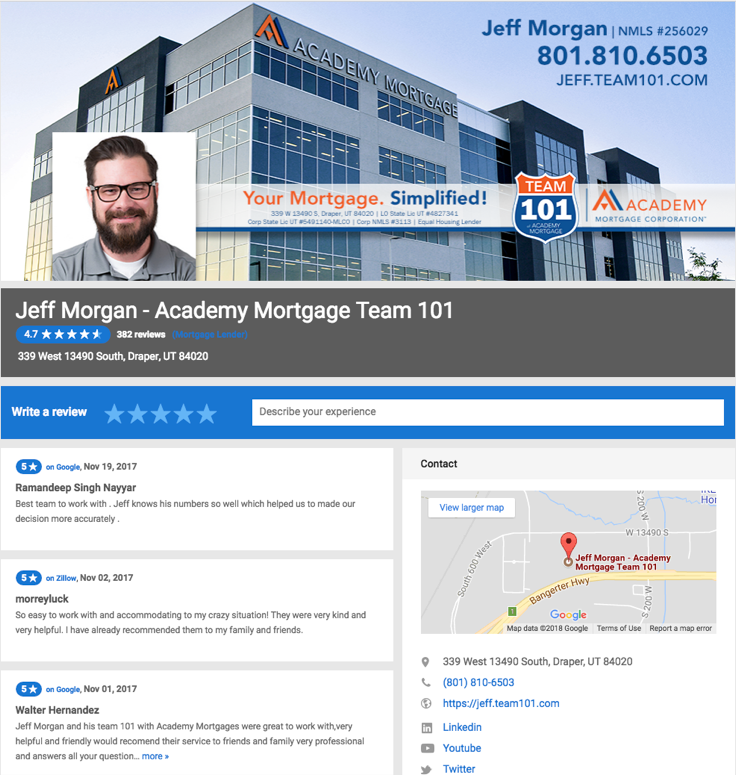 Collect reviews automatically on the sites that matter most
Academy Mortgage's CRM was already setup to automatically send survey request emails a day after a client funds their loan, so Marti now incorporates the Birdeye review request link into that existing survey. On average, a whopping 25% of clients respond to this email, and that's just the first wave.
"Every month I'll run an SMS and email campaign directed towards those clients who don't follow our initial survey link to try to get a second chance at collecting feedback from them," said Marti. "We've had really good success, especially with the SMS feature."

In fact, the SMS review requests Academy Mortgage sends through Birdeye have an average response rate of 35%, with some employees experiencing response rates as high as 46%.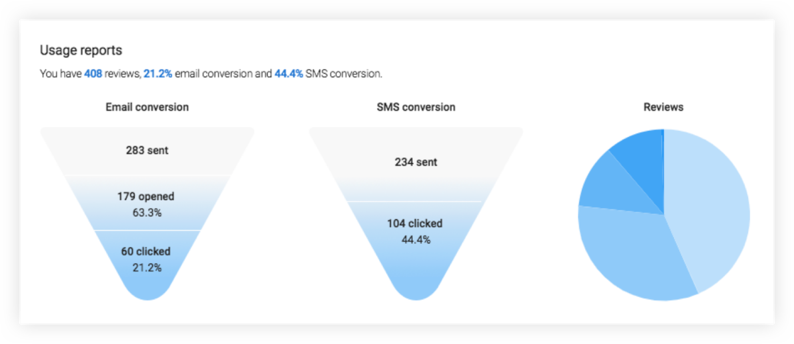 "As soon as I run one of those campaigns it's always a flood of new feedback. Our response rate is really good through the Birdeye campaigns."
Academy Mortgage chose Birdeye not just for its easy-to-use SMS and email campaigns, but also for its integration with industry-specific sites. With Birdeye, officers can get real estate reviews on sites like Zillow that are extremely critical to real estate professionals.These niche sites are home to many prospects further along the path to purchase who have a higher chance of converting into actual clients.
Custom configuration, review marketing domination
To improve SEO for their individual names, each loan officer needed to collect reviews on their own profiles for sites like Google, Zillow, and Facebook. To ensure a strong, consistent brand identity, Marti wanted to take review management to another level. He wanted to promote the branch as a whole by creating a branch-level profile. This profile would display reviews from that branch's individual officers, boosting SEO for both the individual officers and the overall brand.
"Birdeye said 'We can do that' and they made it happen really quickly," said Marti. "It's super cool that when one of our loan officers gets a review, when people are just researching our branch they're able to see reviews for those practitioners even though they weren't originally looking for that individual person."
Academy Mortgage takes full advantage of Birdeye's suite of Review Marketing tools to ensure the loan officers' reviews reach as many eyes as possible. First, Academy Mortgage runs Google Adwords campaigns, and used Birdeye to make these ads more powerful than ever. As Academy Mortgage collects new reviews, Birdeye works with Google partner sites to get those reviews indexed so Google Seller Ratings can be activated. Now, star ratings from hundreds of reviews are displayed beside Academy Mortgage's Google ads, increasing click-through rates by as much as 17%.
In addition, with the Birdeye API, Academy Mortgage is able to embed a real-time review feed on each branch and each loan officer's website.

More reviews = more visibility, more trust, and more clients
On an employee-level, most employees at least doubled their review volume, and all earned a 4.7 average rating or higher. One employee increased review volume by 10x.
These improvements have given Academy Mortgage a credible online reputation that brings new clients confidently through the door, Marti says: "When we get word-of-mouth feedback or we're referred by one of our partners, people can Google us and see all these good things our clients have to say about us."
Birdeye: The Obvious Choice
Winning over 400 awards for 10 quarters in a row, Birdeye is the most-awarded and highest-rated customer experience software for businesses of all sizes.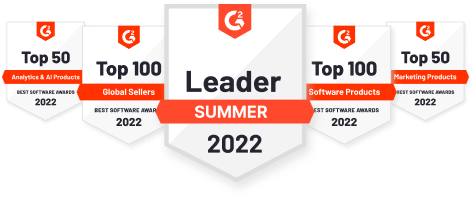 2,179 reviews

1,587 reviews

423 reviews