Are you a real estate professional looking for new ways to market your services and gain a competitive edge? One way to do this is by leveraging the power of realtor reviews and real estate agent ratings sites. These sites offer a valuable source of insights and feedback that can be used to generate leads, improve services, increase conversion rates, and stand out from other agents. By being on top review sites, you can build a strong online presence and dominate the competition.
In this article, we'll show you which review sites are best for real estate agents to be on and why.
Benefits of realtor reviews and rating sites
Before we get into the top review sites, here are a couple of the main benefits of having an online presence.
1. Establishes credibility
Reviews establish your credibility as a real estate agent and help improve your reputation. A strong reputation and proven track record in helping clients either buy or sell properties will help you show prospective buyers and sellers that you're the right choice.
When a realtor has reviews on various websites, it helps potential buyers and sellers learn about their skills, experience, and track record. Reviews build trust and establish industry credibility by providing real-world feedback from past clients. Therefore by actively managing your online reviews through online review management, you can ensure that your positive reputation is visible to a broader audience.
Show up Where Your Customers Search
Want to see the impact of Birdeye on your business? Watch the Free Demo Now.
2. Online reviews are a lead source
According to a ZipRealty study, 62% of home buyers choose a realtor based on online reviews and real estate agent ratings. As a result, online reviews can drive revenue. Having fresh, positive realtor reviews is fundamental to being seen online.
Prospective buyers and sellers will read your reviews and want to work with you. Yet, people see those realtor reviews and ratings across a number of different websites, so you want to make sure you have a presence on the top websites.
For more tips on how to manage your online reputation management, check out our comprehensive 15-minute audio guide for on-the-go listening.
4 Top realtor reviews and rating sites
When it comes to realtor reviews and ratings, real estate professionals should focus their efforts on these top four reviews and ratings sites:
Google
Zillow
Realtor.com
Facebook
Let's look at each one in more detail.
1. Google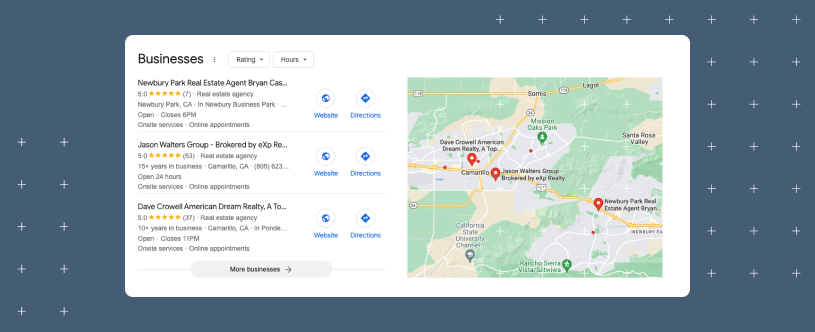 For example, let's say you meet prospective buyers at an open house, and they think, "I really like this agent. I should look them up online." Where do they go? One of the most popular search engines in the world, Google, is where many people go when they're looking for information about pretty much anything—including real estate agents. That's why it's so important to make sure you have a presence on Google.
While Google doesn't have a specific section for real estate reviews like the other sites do, potential clients will be looking for you there.
According to Birdeye's 2022 state of online reviews report, 71% of online reviews were written on Google in 2021. So if you're not already present on Google, now's the time. To request a review on Google, you need to start by creating a free Google Business Profile and add all the essential details to help boost your real estate business' visibility and attract new leads.
Pro Tip: If you switch brokerages or change locations, make sure your information is consistent across all profiles on general sites like Google and Facebook, as well as real estate sites like Zillow and realtor.com. When your profile information is consistent across the internet, it sends a relevancy signal to search engines. Search engines like Google use this data to place you or your brokerage's business listing in "Near Me" and location-based searches (i.e., "Homes in Thousand Oaks, CA").
For more information, check out our complete guide to Google reviews, which includes an audio guide.
[Free Guide] Get more Google reviews
Download Now
2. Zillow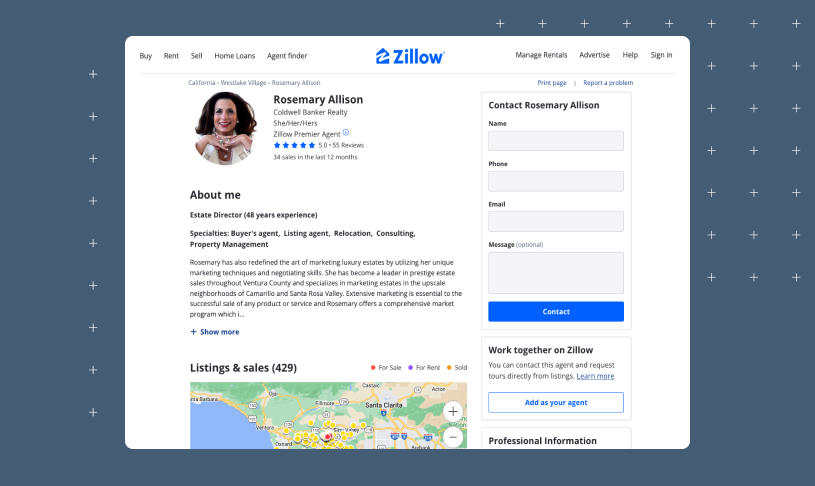 Zillow is the leading real estate website in the United States, with nearly 2 million monthly visitors. It comes as no surprise that it's also one of the top places people go to leave reviews for real estate agents. In fact, according to Moz, Zillow is the second most popular website for leaving real estate reviews — second only to Google.
If you're not familiar with Zillow, it's essentially a one-stop shop for anything and everything related to real estate — including buying, selling, and renting homes. It also happens to be one of the largest databases of homes available and includes features like Zestimates (an estimated value of homes). Zillow's mobile app makes it even easier for clients to leave you reviews on the go.
The bottom line: If you're not present on Zillow, you're missing out on a huge opportunity to generate new leads — especially since many prospective homebuyers start their search online.
To get started, claim your free agent profile on Zillow. If you can't find your profile on Zillow, go ahead and create one by registering on Zillow.
Then, encourage your past clients to leave reviews. You can even give them a nudge by sending them a link directly to your Zillow profile. Showcasing your glowing reviews will help attract even more potential leads.
Be sure to stay active on the site by responding to reviews that come in.
For a more in-depth look at how you can build your online presence on Zillow, check out our article Zillow for realtors: The ultimate guide to success in your market.
Important Note: If you weren't already aware, Zillow Group acquired Trulia in 2015. Since then, Trulia has been owned and operated by Zillow and has over 41.5 million monthly visitors.
Most of the information on Trulia will be the same as on Zillow, including listings and property information. In terms of real estate agent reviews and recommendations, that will come from Zillow. That's another reason why it's important to claim your free agent profile on Zillow.
3. Realtor.com
It's been more than 25 years since realtor.com pioneered the world of digital real estate, and it still serves as the official listing site of the 1.5 million-member National Association of Realtors.
Realtor.com is another popular real estate website that provides homebuyers and sellers with basically everything they need — including help finding a real estate agent in their area. The site has over 89 million visitors a month. And just like with Zillow, if you want people to be able to find and contact you easily, then you need to have a presence on realtor.com.
Not only does realtor.com allow people to search for agents by location or name, but they also provide an easy way for customers/clients to leave detailed reviews — which makes this site another essential platform for building your online presence and reputation as a real estate agent.
Start by creating your free realtor.com agent profile. Your agent profile can then be viewed by visitors on realtor.com and is easily searchable using the Find a REALTOR® search on the site.

Then your clients can write a review on your profile about their experience working with you, along with a rating of 1-5. This will help give your agent profile a boost.
Once your client submits a review, it will be posted to your realtor.com agent profile. In addition to a text review, you will get a summarized rating. It's important to note that once a review is posted on your agent profile, it cannot be deleted.
4. Facebook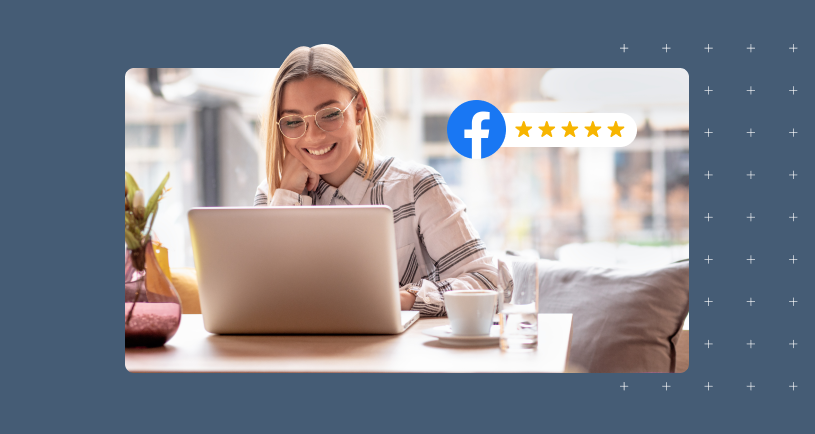 Facebook is the largest social media platform in the world, with nearly 3 billion active monthly users. Facebook is also the second largest review site after Google reviews.
Realtors can generate reviews from clients through their Facebook Business Page, helping them leverage the power of social media to increase visibility and improve their presence online. Furthermore, engaging customers through Facebook Reviews provides agents with insights into what their clients like, dislike, and expect from them – arming them with valuable tools to improve customer experience and better serve their clients.
If you're just getting started on Facebook, check out our article on how to create a new Facebook Business Page.
[Free Guide] The ultimate guide to online reviews
Download Now
The bottom line
All four of these sites offer real estate agents the chance to build their online reputation with easy-to-use profiles and pages. Best of all, these platforms don't just let relators showcase their services. They can also help realtors interact with new and existing clients to cultivate a sense of community.
No matter how long you've been in the real estate industry, these four real estate agent rating sites provide great opportunities for realtors of all levels to strengthen their online presence.
Before you go, check out our article on real estate review sites: 7 best practices for agents.
Also, learn what real estate agent and coach Aaron Novella of Keller Williams and his team are doing to increase ratings through messaging.
FAQs agents have about realtor reviews and ratings sites
How do you get reviews on realtor.com?
In order to get reviews on realtor.com, start by creating a free realtor.com agent profile. Then, ask your clients to write a review on your profile about their experience working with you, along with a rating of 1-5.
Which realtor review site has the most accurate listings?
Realtor.com has the most accurate listings, with 99% of all MLS-listed "for sale" properties in the United States, with site updates every 15 minutes.
Why would a client want to review a realtor?
A client may want to review a realtor to share with others what the experience of working with that particular real estate agent and brokerage is like.
Get more real estate leads with Birdeye
Show your local market that you're the best realtor in the area and get discovered on Google search faster with Birdeye Reviews. Birdeye can automatically send review requests to clients the moment the property is closed. View and respond to client reviews from all over the internet in one place. Check out our free guide on how to be the buyer's choice by clicking the banner below.

Originally published