How David's Bridal creates exceptional omnichannel experiences with Birdeye
Company Snapshot
David's Bridal has been creating magical experiences for brides and their families for over 70 years. With more than 300 stores in the US, Canada, Mexico, and the UK, David's Bridal is one of the biggest retailers around. One in three brides in the United States purchases her dress from David's Bridal. They are relentless in their pursuit of becoming the most relevant, digitally modern, and innovative company to serve today's modern bride.
Background
David's Bridal continually strives for a best-in-class experience throughout the customer journey for every customer that steps through their doors. Though they knew they had been providing exceptional experiences, they recognized they had only been receiving feedback from a small subset of customers, feedback which was not representative of their overall customer base. They needed a solution that could automate customer feedback, as well as an easy and robust way to get actionable insights to grow their brand - and therefore chose Birdeye as the company's experience marketing platform.
"Birdeye helps us zone in on hundreds of different locations and identify individual areas of opportunity. Instead of taking a broad stroke approach, Birdeye allows us to drill down by region, district and individual stores, then come up with really detailed action plans that leverages our strengths while addressing our biggest opportunities."
Holly Carroll
Vice President, Customer Service & Contact Center Operations at David's Bridal
Accurate Listings to be found everywhere
With hundreds of locations, David's Bridal needed a way to streamline and manage their local listings. Birdeye allows David's to instantly update locations with both location-specific information and engaging content. They're able to track their traffic and get a complete picture of how prospects are finding them online. With reporting, insights and instant updates, David's never has to worry about a potential customer finding inaccurate location information.
Automating feedback to supercharge reputation
By automating customer feedback, David's is able to solicit, manage and respond to reviews from all sites. The results have supercharged their reputation:
294.62% increase in review volume in the first 12 months.
Star ratings increase year over year, resulting in an overall increase from 4.0 stars to 4.6 stars across locations.
78% increase in social NPS score; company-wide NPS from 19 in 2016 to an industry-leading NPS of 73 currently.
The increase in volume of feedback allowed David's to uncover their strengths and weaknesses, and to easily identify trends and gaps to make long-term fixes. For example, when David's saw a recurring issue with brides feeling like they were not getting the one on one attention they deserved, David's shifted their entire store staffing model to make ensure customers felt valued and celebrated. In another instance, when they saw trends relating to specific locations needing updates or improvements, they were able to target and prioritize those stores to get renovations and fixes in place based on customer sentiments. By leveraging Birdeye's managed services, they were also able to free up internal resources and still ensure all customer reviews were responded to in a timely manner. Between auto-response, ticketing, and managed services, David's Bridal is able to seamlessly stay on top of all customer feedback across all locations.
"Birdeye managed services helps us with creating and responding to customer reviews, and we were therefore able to rapidly increase our response rate and decrease the amount of time it took us to respond to customers. This was critical season when we were getting up to 1,500 new reviews a day! It provides us with extra help and frees up internal resources to focus on solutions for customers."
Holly Carroll
Vice President, Customer Service & Contact Center Operations at David's Bridal
Insights that drive decisions
With over 300 brick and mortar locations, David's Bridal needed their field teams to know what was going on at a store level, yet lacked a consistent and intuitive way to look at customer feedback. Accountability was a real challenge and they relied heavily on trusting their own instincts instead of data to drive changes. If a customer had an issue, it was escalated to a store manager or a district manager, who might often be traveling throughout their areas. This often made it difficult to resolve customer issues in a timely fashion. This manual method also didn't give the district managers the capacity to understand trends that may be happening within their teams. They knew this was not sustainable, and turned to Birdeye to close the gap.
Birdeye allows David's Bridal to turn feedback into actionable insights. Birdeye Insights has allowed David's to drill down on various levels to understand both positive and negative trends. Understanding these trends allows the company to accurately measure and address the growing volume of online customer feedback received across all channels.
When the company saw a growing trend of customers asking to shop online from home yet to still be allowed to return something in the store, the team was quickly able to make operational changes to allow for in-store returns. This change was a huge win for customers, but also for the brand because online sales spiked, showing how critical it was to put action behind the feedback.
"Customers are vetting us before they walk in the door. We have a heavy focus on brand reputation. Our partnership with Birdeye allows us to not only respond in real time to the customers, but to use the feedback to create action behind the customer's voice. With Birdeye Insights, we are able to see exactly where and what the hot topics are based on the sentiment at each location and each topic for us. This helps us all stay focused on the customer experience and drive changes that help us be better tomorrow than we were yesterday."
Holly Carroll
Vice President, Customer Service & Contact Center Operations at David's Bridal
Eliminating customer friction with Ticketing
David's addresses feedback not only for the customer, but for the brand as a whole. They share customer feedback within the organization, both weekly and monthly, on common trends and friction points. The team then makes recommendations for both short- and long-term solutions to either enhance the experience or eliminate friction points. Anything that needs escalation and immediate attention can easily be ticketed to the appropriate team member for fast resolution. This process helps them resolve the issue quickly for the customer, turn the customer experience around, and helps their brand as a whole.
"You have a very small window of time to not only restore and resolve the issue, but restore the faith in your brand. So quick is key when keeping your customer. Birdeye helps us be in the moment with customers."
Holly Carroll
Vice President, Customer Service & Contact Center Operations at David's Bridal
An innovative partner for growth
With over 300 stores and multiple platforms, it's important to not only have the most innovative tools to do the job, but also a true partner that can help drive change across all locations. David's found a best-in-class and collaborative team in Birdeye. With the right tools and partnership in place, David's was able to quickly drive results with consumable data.
"Birdeye has been able to help us provide exceptional customer experiences with their innovative technology. They dominate the customer journey. Birdeye was able to bring the entire package together for our brand. They were able to know our needs and requirements and educate us on what is coming next so we could plan as an organization to get to where we want to be."
Holly Carroll
Vice President, Customer Service & Contact Center Operations at David's Bridal
Birdeye: The Obvious Choice
Winning over 400 awards for 10 quarters in a row, Birdeye is the most-awarded and highest-rated customer experience software for businesses of all sizes.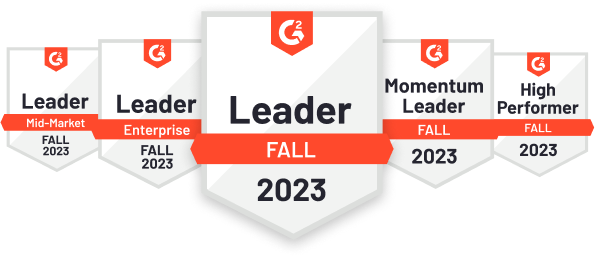 2,786 reviews

530 reviews