Just like attending to positive reviews on legal review sites, responding to negative reviews is equally important. What happens when you encounter a negative review? A barrage of questions may run through your mind, and probably all at once. "What will potential clients think?" or "I provided the best service, why did they leave such a review?" or simply "How could they do this to me?"
These feelings are natural, but you need to let yourself cool down before you respond to a negative review. And when you respond in the right way, you can turn a bad review into a positive one for your law firm. Here are four examples of responding to negative reviews:
Responding to negative reviews – Own it up and step back
In this particular example of responding to a negative review, the attorney steps up, owns up the mistake and openly states that he probably wasn't a good fit for the client.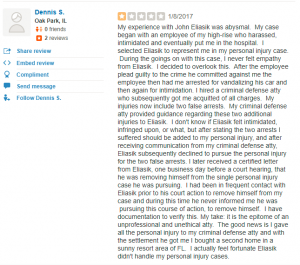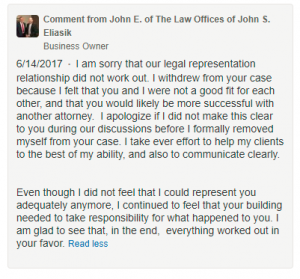 Rather than getting worked up by the allegations, the attorney provides a thoughtful response and wishes his client success with the other attorney.

The art of subtle denial
The client is unimpressed by the attorney's attitude regarding communication and is accusing him of not returning calls or emails. Rather than abruptly responding to a negative review, the attorney gently refutes the allegations. He goes on to provide the time and details of their communication.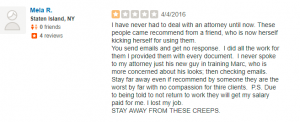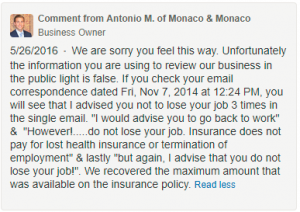 Explain the scenario
The client is unhappy with the result of a hearing and questions the authenticity of other positive reviews. The angry client attacks the attorney, making the attorney respond to the negative review with patience and the facts.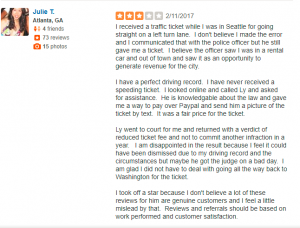 Clients often don't understand the nuances of court proceedings. They may feel that their attorney let them down because they didn't get the results they had hoped for. Go ahead and explain the situation to your clients. This will develop a more realistic perspective.
Do your homework before you reply
A customer praising your competitor, when comparing your services, on your review section is not what you would like. But the best solution is to not instantly reply. Check your records whether that person was once your client or is it someone promoting your competition. Inspect the authenticity of the person before responding to the negative review. Provide valid evidence to refute the post. Request the customer call you to address any misunderstanding.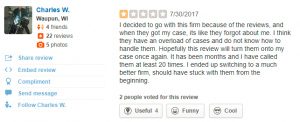 Birdeye doesn't just help you with responding to customer reviews. Whether it's collecting reviews, online review management, sharing your reviews on your business website and social media, or analyzing insights from your online reviews, Birdeye has got you covered. There's a reason why over 100,000 businesses use Birdeye to get new customers and drive revenue. 
Originally published